Area 51 is the popular name of a top-secret, classified US Air Force facility in Nevada.
Details of its operations are always confidential, though the US Air Force claims it is an open training range and it supports the development and testing of weapons and aircraft.
The secrecy surrounding Area 51, the alleged UFO sightings, and all the myths and legends make it a popular tourist attraction.
This article shares everything you need to know before booking tickets for Area 51 Las Vegas.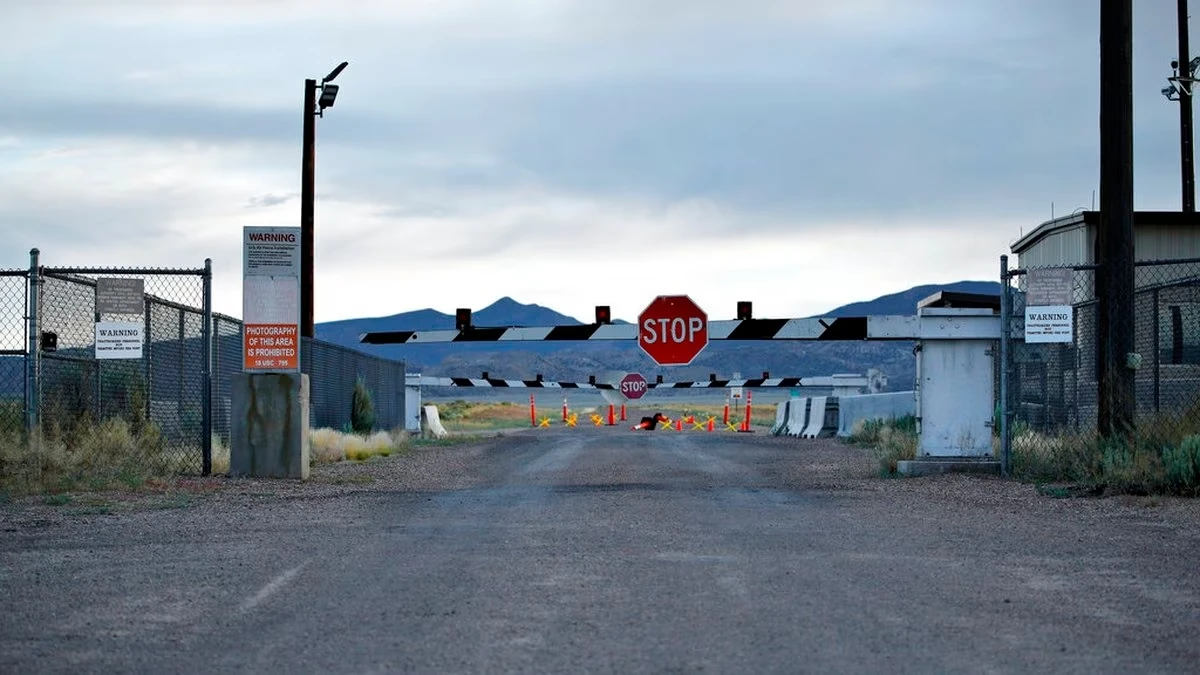 What to expect
Experience the ultimate adventure from Las Vegas with a thrilling day tour that takes you deep into the mysterious realm of Area 51.
Begin your journey with a visit to the elusive Janet Airlines, an undercover airline operating from Las Vegas International Airport.
Discover the secret fleet transporting workers to the infamous and supposedly abandoned Area 51.
As you venture towards Area 51, be captivated by the desert landscapes, including a mesmerizing Joshua Tree Forest.
Along the renowned "Extraterrestrial Highway," stop at the iconic Little A'le' Inn for amazing food.
Delve into the rich history and mysteries of the area, complete with a selection of information and souvenirs to commemorate your visit.
Brace yourself as you approach the outer perimeter of Area 51, passing through a surreal and mutated Joshua Tree forest.
---
---
Where to book tickets
Area 51 tickets are available online and at the attraction.
Online ticket prices tend to be cheaper than tickets at the venue.
When you buy online, you can avoid the long queues at the attraction's ticket counters.
Because some attractions sell a limited number of tickets, booking early helps avoid last-minute disappointment.
When you book early, you also get your preferred time slot.
How do online tickets work
On the Area 51 Day Tour booking page, select your preferred date and the number of tickets.
Your ticket is emailed to you immediately after you pay for your ticket.
On the day of your visit, you can present the e-ticket on your phone at the entrance gate.
Cost of Area 51 Day Tour from Las Vegas
The cost of the Area 51 tour varies based on the option you select.
The Small Group Area 51 Tour tickets are priced at US$215 for all visitors.
Tickets for the Private Area 51 Tour are available at US$1,267 for all visitors.
Area 51 Day Tour from Las Vegas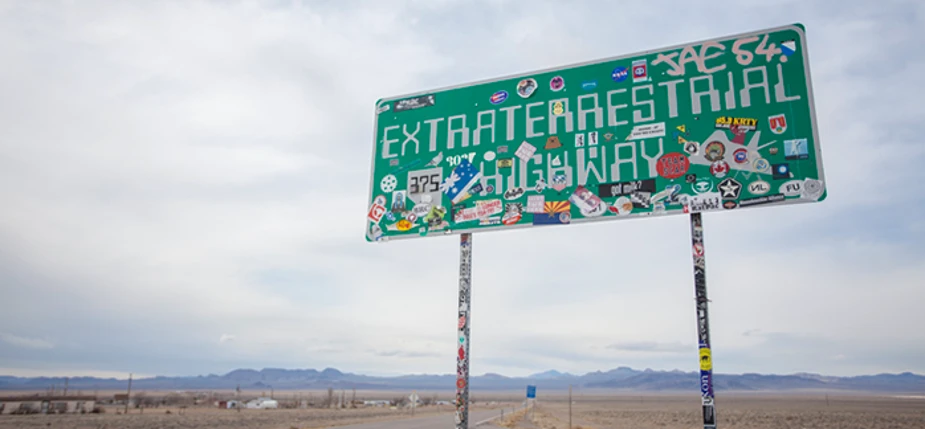 Embark on a captivating full-day guided adventure from Las Vegas to uncover the mysteries of Area 51.
Journey through the awe-inspiring, desolate desert landscape, regarded as one of the most scenic and uninhabited in the world, as you make your way to this infamous location.
This tour starts in the morning, and you'll be taken on a round-trip around Area 51.
Along the way, you'll encounter fascinating highlights, including the secretive Janet Airlines at Las Vegas International Airport.
Look at the mutant Joshua Tree Forest, the enigmatic Dry Lake, and the renowned Black Mailbox.
Explore the intriguing 'Absolute Perimeter' where everyone may observe your every move.
Enjoy a delectable lunch at the iconic Little A'Le'Inn, with snacks, bottled water, and convenient hotel pickup and drop-off included.
Immerse yourself in the notorious history of Area 51 and witness a variety of captivating points of interest.
In addition to the luxury SUV pickup and sightseeing, you will be given breakfast, lunch and snacks in the Private Area 51 Tour.
The Small Group Area 51 Tour offers pickup, sightseeing and lunch at the Famous Little Ale Inn.
Ticket Prices
Small Group Area 51 Tour Ticket Cost: US$215
Private Area 51 Tour Ticket Cost: US$1,267
Discount with Go Las Vegas Explorer Pass! If your Las Vegas trip is a week-long or more and you wish to explore the famous sites around, Go Las Vegas Explorer Pass can save you up to 60% on entry tickets. This pass covers 35+ attractions like museums, including Madame Tussauds Las Vegas and tours.It is valid for 60 days upon activation and/or the remaining number of attraction choices purchased. For US$55.20, you can gain free entry to 2,3,4,5,6, or 7 attractions.
---
---
How to reach Area 51
Area 51 is located within the Test and Training Range Nevada.
Address: Area 51, Groom Lake, Southern Nevada. Get Directions.
You can use public or private transport to reach the location.
By Bus
Here are the bus stations near Area 51 in Las Vegas – Sb Decatur Before Rice and 103 Decatur Northbound. You can easily reach the attraction by walking from these bus stations.
By Car
If you want to drive to the tower, turn on Google Maps and get started!
There are parking options available near Area 51.
Timings
Area 51 is open for visitors from 7 am to 5 pm on all days of the week.
Best time to visit
The best time to visit Area 51 is when the facility opens at 7 am.
You will have fewer crowds, allowing for a more intimate and immersive experience.
The weather is generally mild and pleasant during the spring and fall seasons, making it relaxing for outdoor activities and exploration.
How long does the tour take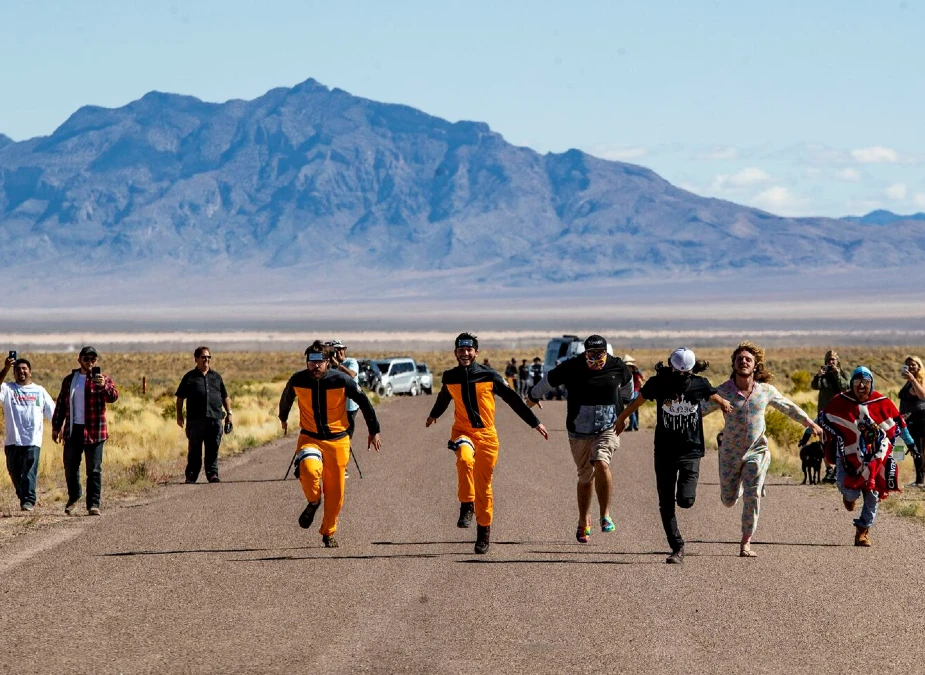 Area 51 tour spans 10 hours.
You will have ample time to explore the various points of interest and immerse yourself in the unique atmosphere of this prominent location.
FAQs about Area 51
Here are some frequently asked questions about the Area 51 Day Tour from Las Vegas.
Are children allowed on the tour?
Yes! The Area 51 tour is enjoyable for guests of all ages. 
What should I wear during the tour?
We recommend wearing comfortable hiking or athletic shoes. Dress according to the season, and you'll be good to go! 
What type of vehicle is used for the Area 51 tour?
The vehicle used depends on the group size and your selected tour option. You may travel in a seven-passenger Luxury SUV, a 12-passenger VIP mini-coach, or a 14-passenger VIP touring class mini-coach.
What is the typical group size for the tour?
This tour accommodates up to 14 guests in the group.
Can I bring my camera on the tour?
Absolutely! The route to Area 51 takes you through some of the world's most desolate, uninhabited, and scenic deserts.