Las Vegas Natural History Museum (LVNHM) is an ideal family attraction located in Downtown Las Vegas, Nevada.
Situated in Las Vegas' Cultural Corridor, the museum transports visitors back in time through two floors of prehistoric and wildlife exhibits.
It is a deviation from the attractions one expects in Las Vegas and is an ideal break from the Strip.
This article shares everything you must know before booking your Las Vegas Natural History Museum tickets.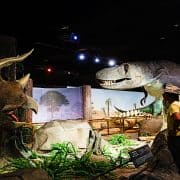 What to expect at the Museum
The Natural History Museum in Las Vegas is a natural history museum that exhibits a vast range of specimens from various segments of natural history.
Visiting this museum will help you find a newfound appreciation for the animals and their unique history and environment.
The Natural History Museum is home to live and preserved wildlife and historical exhibits from prehistoric times to the present day.
Exhibits include prehistoric animal fossils, a marine life gallery with live sharks and stingrays, a dinosaur mummy, and a wildlife gallery displaying bears, big cats, antelopes, etc.
The Treasures of Egypt is all about the discovery and artifacts found in the tomb of Tutankhamun.
The museum is both educational and entertaining and is perfect for those visiting Las Vegas with kids.
---
---
How to get to the museum
The Las Vegas Natural History Museum is on North Las Vegas Boulevard, North of Downtown.
Just between the Neon Museum and Old Las Vegas Mormon Fort State Historic Park in the Cultural Corridor.
It is 1.5 km (1 mile) from Vegas Downtown, and you can walk the distance in approximately 20 minutes. Get Directions
It is 8 km (5 miles) north of the Vegas Strip on Las Vegas Blvd, and if you are at the Strip, a taxi is the best option.
If you plan on taking the Las Vegas Monorail, get down at the Sahara Station, which is closest to the museum.
From the Sahara Station, Las Vegas Natural History Museum is 7.5 km (4.7 miles), and a taxi can help cover the distance in ten minutes.
The museum offers a free on-site parking lot.
---
---
Museum's open hours
Las Vegas Natural History Museum opens at 9 am and closes at 4 pm, all through the year.
The last entry is an hour before closure.
It remains closed on Thanksgiving and Christmas.
Shark feedings
At Las Vegas Natural History Museum, Shark feedings happen three times a week – Tuesday and Thursday at 2.30 pm and Saturday at 2 pm.
Besides giving the sharks tasty treats during the feeding session, you also learn about sharks from the museum's animal care team.
The Shark feeding happens in the Marine Life Gallery and is included in the regular Natural Museum ticket.
---
---
How long does it take
Since the Las Vegas Natural History Museum is a well-laid-out small museum, visitors can explore it in around 90 minutes.
If you are visiting with kids, you may need half an hour more.
---
---
Las Vegas Natural History Museum prices
The Las Vegas Natural History Museum adult ticket for 12 to 54 year old visitors costs $12.
Ticket discounts
Senior visitors (55 years and above) and students with valid ID cards get a $2 discount on their tickets and hence must only pay $10 for their tickets.
Kids from 3 to 11 years pay a reduced price of $6 for their museum entry ticket.
---
---
Las Vegas Natural History Museum tickets
Even though Las Vegas Natural History Museum isn't always crowded, it still makes sense to buy your tickets online.
Once you make the purchase, the tickets get emailed to you—no need to take a printout.
On the day of your visit, you can show the tickets on your smartphone and walk in.
Kids below three years don't need tickets.
Ticket prices
Adult ticket (12 to 54 years): $12
Student ticket (with valid ID): $10
Seniors ticket (55+, with valid ID): $10
Child ticket (3 to 11 years): $6
---
---
Natural History Museum + SeaQuest Las Vegas
Since both Las Vegas Natural History Museum and SeaQuest Las Vegas appeal to families with kids and are not far from each other, tourists tend to purchase their tickets together.
They are just 7 km (4.5 miles), and a taxi can cover the distance in around 15 minutes.
If you purchase the Museum + SeaQuest combo, you can get a 10% discount on the ticket price.
---
---
What to see at Las Vegas Natural History Museum
The Natural History Museum in Las Vegas has numerous sections, which we explain below.
Treasures of Egypt
At Treasures of Egypt, visitors explore how archaeologists in the early 20th century unearthed some of Egypt's most renowned treasures, including the tomb of Tutankhamun.
This section is a 4,000-square-foot exhibit displaying around 500 replica Egyptian artifacts, including King Tut's golden throne, shrine, and chariots.
One of the most striking pieces is the gold-painted sarcophagus, which sits on top of King Tut's tomb.
Visitors get to experience a walk through Pharaoh Tutankhamun's burial chamber.
This is a once-in-a-lifetime opportunity because these replicas are one of only two sets that the Egyptian Ministry of Antiquities authorized.
Visitors can also explore an Egyptian mummy by using state-of-the-art technology that allows the user to 'scan' a mummy replica in real-time.
Prehistoric Life Gallery
At the Prehistoric Life Gallery, you will see the 35-foot long Tyrannosaurus Rex that lowers its head and roars at you.
Giving T Rex company will be Triceratops, Ankylosaur, and a ferocious raptor from the past.
Don't miss out on Ichthyosaur, a gigantic marine reptile that swam in Nevada's waters during the dinosaurs' time.
In the kids' corner, your child can indulge in dinosaur rubbings and look for "Nemo" in the Find Nemo tank.
Marine Life Gallery
At the Marine Life Gallery, visitors indulge in the special effects of this ocean experience.
The 3,000-gallon tank with live sharks and stingrays is the highlight of this section.
Colorful and fascinating creatures from the deep seas occupy additional jewel tanks.
Lifesize recreations of massive whales and sharks hang from the ceilings and walls.
Visitors also hear the sounds of a humpback whale, killer whale, pilot whale, dolphin, etc., at the push of a button.
Don't miss out on the shark egg hatchery.
African Savanna Gallery
Located downstairs, African Savanna Gallery showcases southern Africa's breathtaking beauty, featuring a watering hole scene and predator-prey relationships.
Visitors get to see animals such as lions, wildebeests, zebras, hippos, hyenas, warthog, etc.
Feel like playing God? Check out the African rainforest showcase, where you can make it rain with a touch of a button.
International Wildlife Gallery
The International Wildlife Gallery showcases the fantastic adaptations of mammal families.
Animal families on display include bears, antelope, big cats, wild dogs, deer, and more.
The mounted animals help visitors understand how numerous mammals have adapted physically and behaviorally for survival.
In this section, you can also feel the texture of a black bear's fur.
Wild Nevada Gallery
The Wild Nevada Gallery draws visitors into the scenic but the rugged beauty of the Mojave Desert.
This section showcases the plant and animal life native to Southern Nevada, including bighorn sheep, coyotes, kit foxes, etc.
This multi-sensory gallery engages visitors with computer animation and interactive exhibits.
Prehistoric Mammals Gallery
This section showcases prehistoric mammals, whom we have known only from fossil records.
Visitors find out bizarre characteristics of ice age beasts, including Smilodon (saber-tooth cat), a giant ground sloth, etc.
You also get to see prehistoric camel and mammoth fossils found in Las Vegas.
Geology Gallery
The Museum's Geology Gallery explores breaking science news, the phenomenon of fluorescent minerals, and natural geological resources.
Young Scientist Center
Young Scientist Center is a must-visit section if you visit the Las Vegas Natural History Museum with kids.
The kids take on paleontologists' role and dig for fossils or explore the ocean's depths as a marine biologist inside a submarine.
The Las Vegas museum gets the kids closer to technology with computers, microscopes, and interactive exhibits.
---
---
Map of Las Vegas Natural History Museum
Even though it is a relatively small Museum, there are many exhibits to see at the Las Vegas Natural History Museum.
Being aware of the museum's floor plan helps avoid getting lost and missing out on significant exhibits.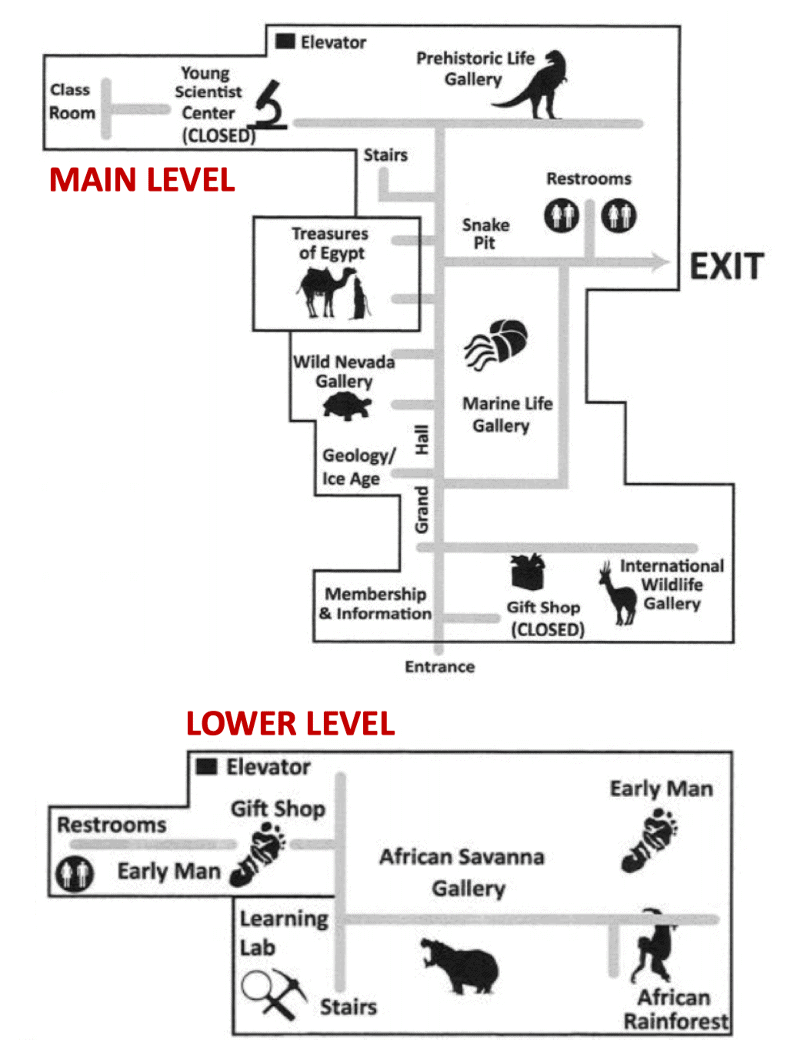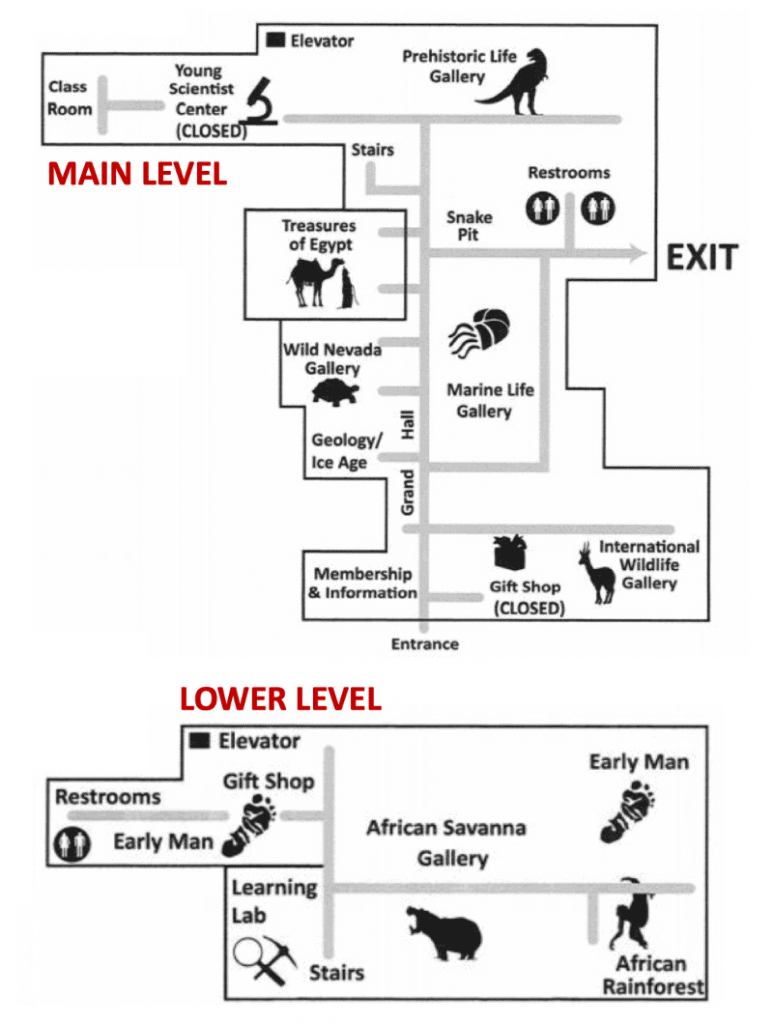 Besides helping you with the exhibits' location, the Museum map will also help you spot visitor services such as restrooms, souvenir shops, visitor assistance booths, etc.
Note: The Las Vegas Natural History Museum has no on-site restaurant or cafe.
Sources

# Lvnhm.org
# Wikipedia.org
# Vegas.com
# Tripadvisor.com

The travel specialists at TheBetterVacation.com use only high-quality sources while researching & writing their articles. We make every attempt to keep our content current, reliable and trustworthy.
Popular attractions in Las Vegas
# Eiffel Tower Las Vegas
# Linq High Roller
# Mob Museum
# SeaQuest Las Vegas
# Fly Linq Zipline
# Madame Tussauds Las Vegas