Windsor Castle is the oldest and largest occupied castle in the world.
William, the Conqueror, built the castle in the 11th century, and since then, it has been the home for 39 Monarchs.
The British Queen used to spend her weekend at this castle.
Every year more than 1.5 million tourists visit this Royal residence.
In this article, we share everything you need to know before buying Windsor Castle tickets.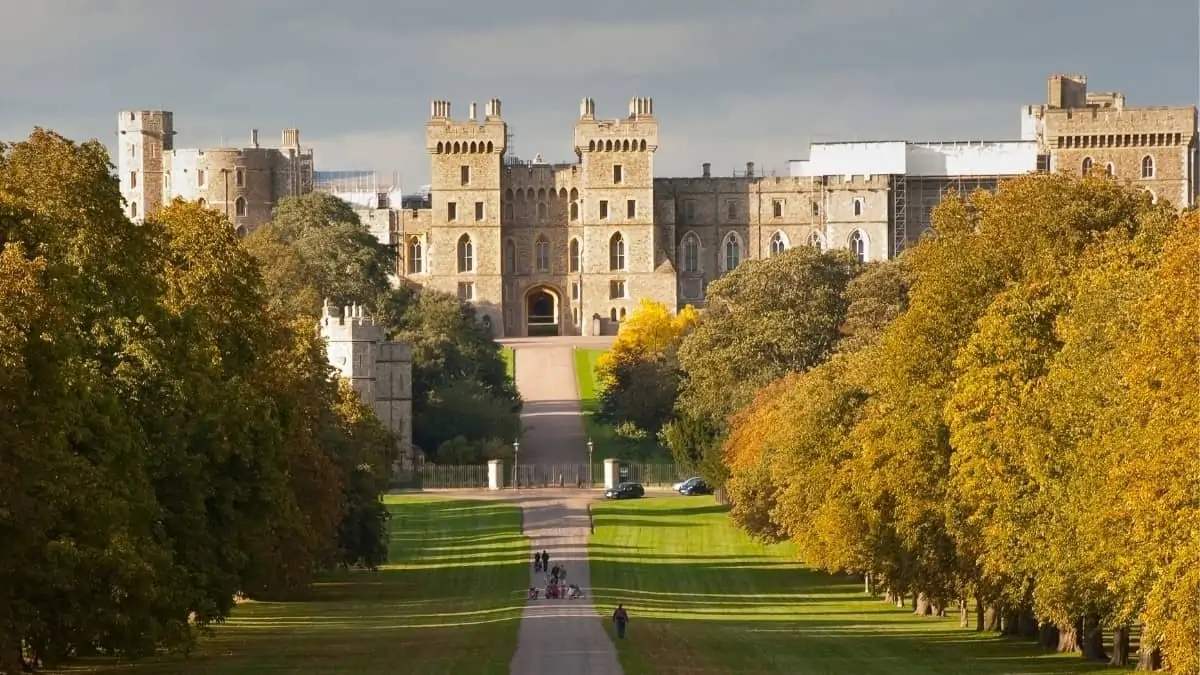 What to expect
Windsor Castle takes you back to medieval times and introduces you to the grandeur of royalty in the most beautiful way.
The Castle has a lot to offer visitors, the first being its wonderful architecture.
There are so many things to see and do at Windsor Castle, but we have a list of highlights that you can not miss:
The Grand Reception Room
State Apartments – ceremonial rooms & historic rooms
The semi-state rooms
Portrait of King Charles I and other paintings of great artists like Hans Holbein, Van Dyck, and Rubens
Rooms built for Charles II and his Queen, Catherine of Braganza, with ceiling paintings by Antonio Verrio
Queen Mary's Dolls' House
Moat Room (especially for children)
St George's Chapel
Changing of the Guard ceremony
In addition, the Castle has special exhibitions on specific days and a beautiful place to eat – Undercroft Cafe
Where to buy tickets
You can get your Windsor Castle entry tickets at the venue or buy them online, much in advance.
If you plan to get them at the attraction, you must get in the ticketing window queue.
Depending on the time of the day (and month), you may have to wait in the ticket counter line for 10 to 30 minutes to buy your ticket.
The second and better option is to book tickets to Windsor Castle online.
Online ticket prices tend to be cheaper because of the exciting discounts.
When you book early, you also get your preferred time slot.
Booking early also helps avoid last-minute disappointments.
How online tickets work
Go to the Windsor Castle ticket booking page.
Select the preferred date, time slot, and number of tickets and buy the tickets.
Immediately after purchase, your tickets get emailed to you.
Now all you must do is, reach the castle 15 minutes before the time mentioned on your ticket.
If you have a ticket printout, you can show it and walk into the royal residence.
Otherwise, you can collect a physical copy of your ticket from a ticket counter and then enter the royal residence. It is a quick process.
You can enter Windsor Castle till about 30 minutes after the time printed on your ticket.
Windsor Castle ticket prices
Windsor Castle's tickets cost £28 for visitors above 25 years.
Youth between 18 and 24 years get a discount of £10 and pay only £18 for the entry.
Children between five and 17 years get a discount of £13 and pay only £15 for the entry.
Kids up to 4 years can enter for free.
When the State Apartments are closed* to the public, the ticket prices are reduced by more than 30%.
*State Apartments remain closed on 2 Nov, and from 7 Jan to 18 Jan.
Skip the line Windsor Castle tickets
This ticket provides access to all areas of Windsor Castle and is the cheapest and most popular way to see the royal residence.
With this ticket, you can also visit the State Apartments, and St. George's Chapel
The Windsor Castle audio guide is handy for tourists who decide not to book a guided tour.
Since a lot of walking is involved, we recommend comfortable shoes.
Ticket Price
Adult Ticket (25+ years): £28
Child Ticket (5 to 16 years): £15
Youth Ticket (18 to 24 years): £18
Infant Ticket (up to 4 years): Free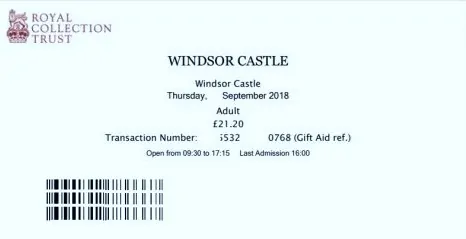 Windsor Castle entry + Transport from London
This roundtrip ticket lets you access everything inside Windsor Castle and includes transport in an air-conditioned luxury coach from London and back.
Many tourists prefer this because Windsor Castle is 35 Kms (22 Miles) from central London.
The luxury coach departs from London's Victoria Coach Station at 7.45 am and returns around 1.30 pm.
This tour is available only on Monday, Thursday, and Saturday.
Ticket Price
Adult ticket (17 to 59 years): £83
Child ticket (3 to 16 years): £73
Student's ticket (18 to 27 with valid ID): £80
---
---
Windsor Castle guided tours
These guided tours are popular with tourists for three reasons –
1) Guided tours of Windsor Castle tend to be combo tours. As a result, one gets to see more attractions at a discounted price
2) They include transportation by luxury coach
3) The tour guides take you on the shortest route, show you the must-sees, narrate stories and anecdotes, thus making the tour memorable
Check out the three best guided tours involving Windsor Castle.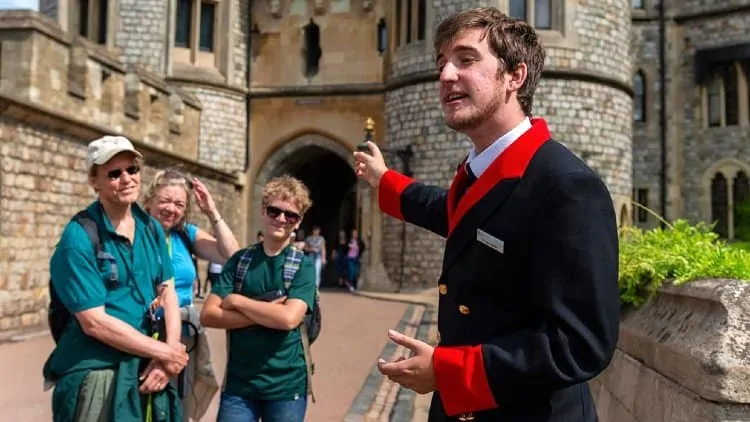 Windsor Castle, Bath, and Stonehenge tour
This 11-hour tour is one of the best ways to see the famed English countryside.
Boarding starts at 7.30 am from 164, Buckingham Palace Road, and the first stop is Windsor Castle, the English Queen's favorite residence.
You also get to visit St George's Chapel.
The next stop is Bath, where, besides roaming the city, you will also see Bath Abbey and Pulteney Bridge. When in Bath, you also explore the Roman Baths.
The last stop is Stonehenge, a topic of long-standing public debate.
Cancellations are possible up to 24 hours before your visit date.
Ticket prices
Adult ticket (17 to 59 years): £142
Child ticket (3 to 16 years): £132
Student ticket (with valid ID): £137
Seniors ticket (60+ years): £137
Infant ticket (up to 2 years): Free
Family ticket (2 adults & 2 children): £538
Windsor, Oxford and Stonehenge tour
If you book this tour, you will visit three of the best tourist spots just outside of London – Windsor, Oxford, and Stonehenge.
You must report for this 10-hour-long tour at 8 am in Central London, and the tour departs at 8.30 am.
Windsor Castle is the first stop, where you explore the Castle, the State Apartments, Queen Mary's Doll's House, and St. George's Chapel.
The next stop is Stonehenge, after which the group stops for lunch (which is part of the package).
The final stop is the University town of Oxford.
The tour finishes in London around 7.15 pm.
Ticket prices
Adult ticket (17 to 59 years): £119
Child ticket (3 to 16 years): £109
Student ticket (18 to 25 years): £114
Senior ticket (60+ years): £114
Stonehenge, Windsor Castle, Bath and Lacock tour
This tour lasts 12 hours and 30 minutes and starts from Gate No. 19-20, Victoria Coach Station.
We won't recommend this tour if you travel with kids below ten years or travel with seniors.
The first stop is Windsor Castle, which is followed by a visit to Stonehenge on Salisbury Plain.
Next, the group stops for lunch at a small village called Lacock. This village is known for its exotic beauty, which is why it features in many movies, including the Harry Potter series.
The last stop for the day is yet another town called Bath. In Bath, you will visit Bath Abbey and the romantic Pulteney Bridge over the River Avon.
Ticket prices
Adult ticket (17 to 59 years): £119
Child ticket (3 to 16 years): £109
Students ticket (18 to 27 with Valid ID): £116
Seniors ticket (60+ years): £116
Infant ticket (up to 2 years): Free
Visual Story: 14 must-know tips before visiting Windsor Castle
---
---
How to reach Windsor Castle
Windsor Castle is in Berkshire, on the River Thames about 32 km (20 miles) west of London. Get directions
Oxford is about 65 km (40 miles) NorthEast of Windsor Castle.
The fastest and most popular option to get to Windsor Castle is a train from Paddington Station.
You can also take a train from Waterloo Station, but the journey takes 10 minutes longer.
Since there is no reserved seating and the ticket is not specific to a train schedule, you don't need to pre-book your train tickets.
Trains run very late into the evening and at suitable frequencies.
If you have plenty of time and want to save on some money, the next best option is the Green Line Bus, which starts from the Green Line Coach Station in Victoria.
It is slower and cheaper than the train.
The Green Line bus trip doubles as a sightseeing tour because it passes through numerous hotels in the Kensington area and the Legoland in Windsor.
If you want to keep it simple, book a tour of Windsor Castle from London, which includes transport.
Windsor Castle parking
It takes around 45 minutes to drive from London to Windsor, and the driving distance is approximately 37 km (23 miles).
There is plenty of car parking in Windsor Castle.
Since you will be spending time exploring, it is better to opt for the long-stay car parks.
On Datchet Road: Romney Lock or King Edward VII
Next to Coach park: Alma Road or Alexandra Gardens
These recommended car parks are less than a 10-minute walk to Windsor Castle.
---
---
Windsor Castle hours
From March to October, Windsor Castle opens at 10 am and closes at 5.15 pm, and from November to February, the attraction opens at 10 am and closes at 4.15 pm.
The last entry is always one hour and 15 minutes before closure.
Entrance to the State Apartments and Queen Mary's Doll House close 30 minutes after the last admission.
Windsor Castle remains closed on four days in a year – 11 & 12 October and 25 & 26 December.
The State Apartments remain closed on 2 Nov, and between 7 Jan to 18 Jan.
St. George's Chapel timings
St. George's Chapel inside Windsor Castle closes for exploration at 4 pm, but visitors can attend the EvenSong service at 5.15 pm.
The Chapel is usually closed for visitors on Sundays as services continue throughout the day.
The London Pass helps you enter more than 60 tourist attractions for free. Save time and money. Buy London Pass
---
---
How long does Windsor Castle take
In winter, since the queues aren't long, a tour of Windsor Castle takes around two hours.
In summer, most places within the attraction have queues, because of which the Windsor Castle tour takes around 3 hours.
When you buy Windsor Castle tickets online, you save on waiting time.
Best time to visit Windsor Castle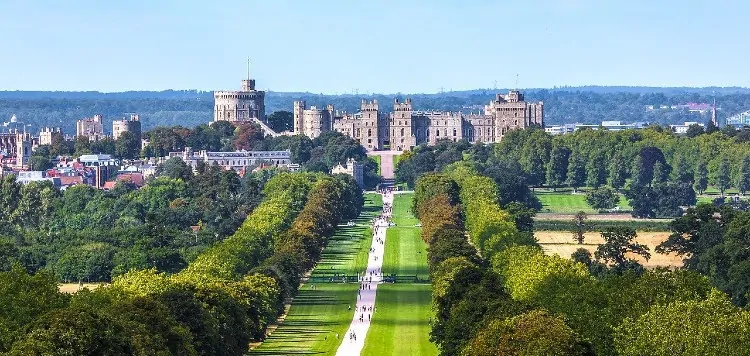 The best time to visit Windsor Castle is between 11 am and 11.30 am.
Coach tours start arriving from London when Windsor Castle opens at 10 am.
These groups leave after the Change of Guard, which happens between 11 and 11.30 am when the crowd thins drastically.
If you arrive at the attraction just after 11 am, you can catch up on the Change of Guard ceremony and then explore the rest of Windsor Castle at peace.
---
---
Windsor Castle's Changing of Guard
'Changing of Guard' is one of the highlights of visiting Windsor Castle.
The ceremony takes place in the morning from 10.30 am to 11.30 am, wherein the guards march back to Windsor Castle from Victoria Barracks.
The guards start their march from Victoria Barracks on Sheet Street, up the High Street, and into Windsor Castle.
This ceremony takes place in the lower ward of the Castle, outside the Guard Room.
You must be on Windsor High Street or the Corn Exchange under Windsor Guildhall for the best view.
During the ceremony, Traffic Wardens and Police control traffic, so movement gets restricted.
Windsor Castle's Change of Guards doesn't take place on a Sunday.
Windsor Castle vs. Buckingham Palace
Both are equally wonderful and if you are in London, missing one for the other isn't advisable. We recommend the Buckingham Palace and Windsor Castle combo tour. If you aren't sure, find out which attraction is better – Windsor Castle or Buckingham Palace.
---
---
Windsor Castle map
Since Windsor Castle is a massive tour, it is essential to have a map to avoid any inconvenience.
You don't need to buy one if you have booked a Windsor Castle guided tour for it will then be your guide's responsibility to provide you a map.
However, if you haven't booked a guided tour, we recommend you take a printout of the map below. Or bookmark this page for later.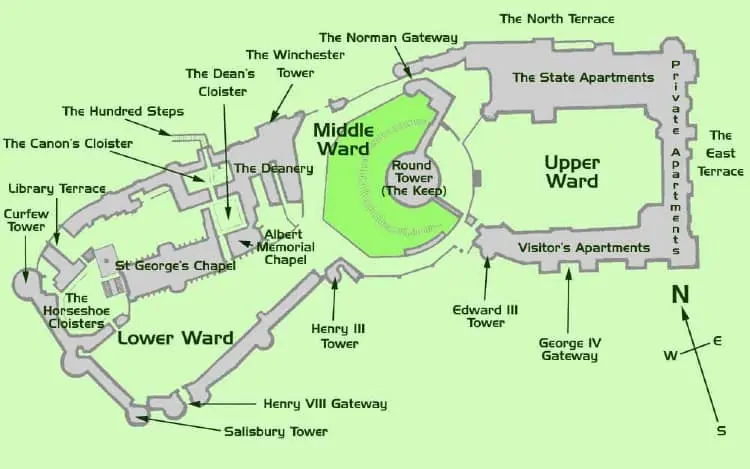 ---
---
FAQs about the Windsor Castle
Tourists visiting Windsor Castle have a lot of questions.
However, these are the most asked questions on Windsor Castle.
Do Windsor Castle tickets offer discounts for children, students, or seniors?
Yes, discounted tickets are available for children, students, and seniors. Children between 5 and 17 years get £13 off on the ticket price while youth between 18 to 24 years get £10 off.
What does the admission ticket include?
The Windsor Castle ticket includes access to the State Apartments, St. George's Chapel, and the Semi-State Rooms.
Can I bring my luggage to the Windsor Castle?
You can bring your handbags, but please avoid large suitcases or heavy luggage for a seamless experience.
Is there a parking area at Windsor Castle?
There is no visitor car parking at the castle. However, there are some public car parking in Windsor.
Is photography allowed inside the Windsor castle?
Photography, wearable devices, and filming are prohibited inside State Apartments or St George's Chapel.
Is Windsor Castle wheelchair accessible?
Yes, the castle is fully accessible. Disabled person carers can get in for free.
Sources

# Rct.uk
# Britannica.com
# Wikipedia.org
# Tripadvisor.com

The travel specialists at TheBetterVacation.com use only high-quality sources while researching & writing their articles. We make every attempt to keep our content current, reliable and trustworthy.
Popular attractions in London