London Eye is a giant Ferris Wheel at the heart of the capital and is one of the iconic symbols of modern London.
On a clear day, from the top of the London Eye, visitors can see up to 40 Kms (25 Miles) on all sides.
Every year, London Eye attracts more than 3.5 million visitors.
In this article, we share everything you need to know before buying London Eye tickets.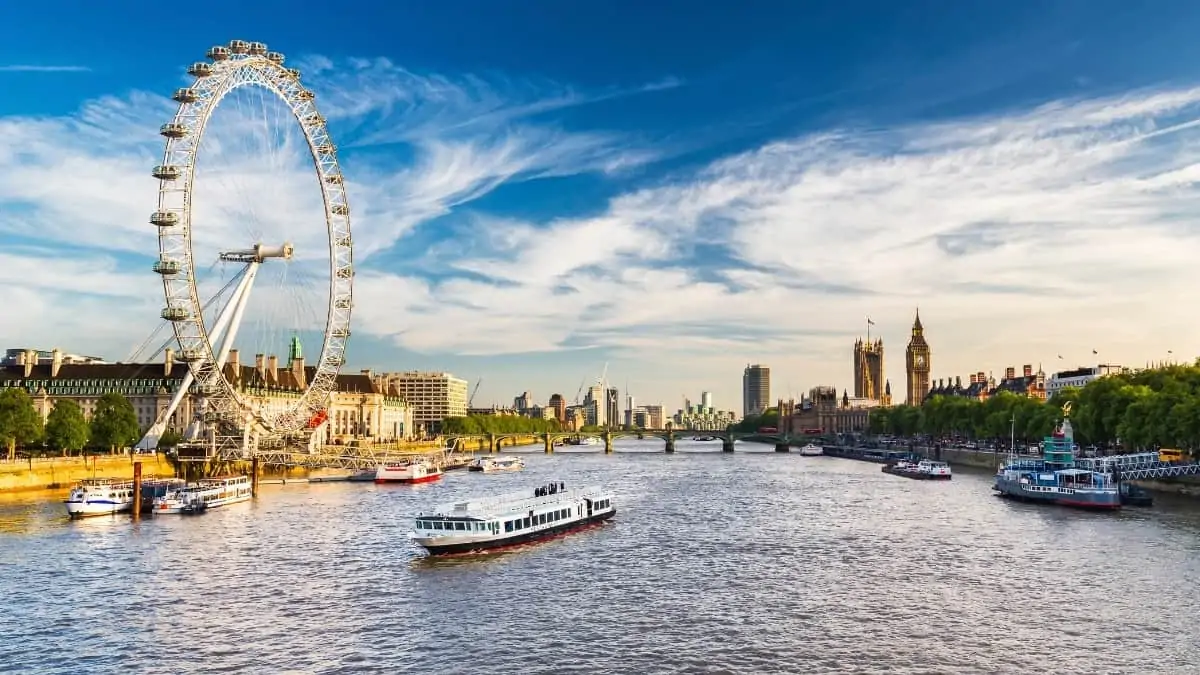 What to expect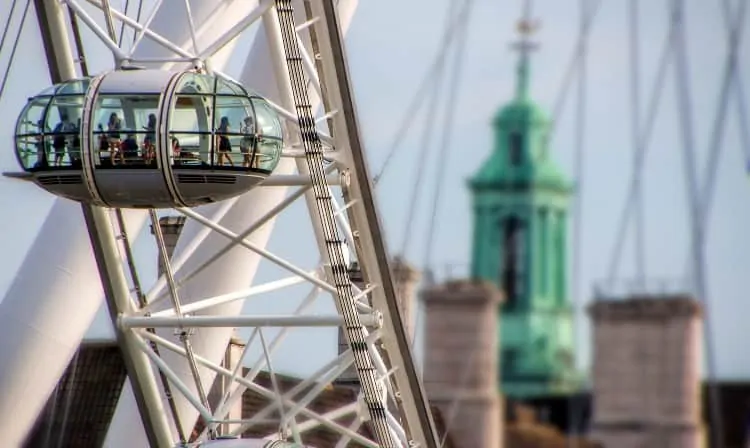 The London Eye features 32 spacious, sealed, and air-conditioned capsules, ensuring a comfortable experience for visitors.
Each capsule has interactive touch screens that provide information about the city and its landmarks.
The wheel rotates leisurely, taking approximately 30 minutes to complete a full revolution.
It allows visitors ample time to capture photographs, enjoy the scenery, and identify key points of interest as they gradually ascend and descend.
Whether visited during the day or at night, the London Eye offers two distinct and equally captivating experiences.
During the day, the city sprawls out beneath the sunlight, revealing architectural details, parks, and the winding Thames.
At night, the city lights up, creating a dazzling urban landscape that's particularly enchanting. The London Eye also hosts various events.
In fact, on a clear day, you can even spot Windsor Castle.
Within the city, besides long stretches of the river Thames, you can also see the following tourist attractions –
Buckingham Palace
Houses of Parliament
Westminster Abbey
Elizabeth Clock Tower (Big Ben)
St. Paul's
The Tate Museum
Tower Bridge
---
---
Where to book online tickets
You can get your London Eye entry tickets at the venue or buy them online, much in advance.
If you plan to get them at the attraction, you must get in the ticketing window queue, which can take up a lot of time.
The crowd at London Eye can be overwhelming sometimes, and you might regret not buying the online ticket well in advance (you will, if you do not).
Online ticket prices tend to be cheaper because of the exciting discounts.
When you book early, you also get your preferred time slot, which helps avoid last-minute disappointments.
How do online tickets work?
Go to the London Eye ticket booking page.
Select the preferred date, time slot, number of tickets and buy the tickets.
As soon as you purchase the London Eye tickets online, they get emailed to you.
If you have a printout of your tickets on the day of your visit, you can head straight to the boarding queue to have your tickets scanned.
Save time by printing the tickets at home.
However, if you forget, the folks at the Ticket Collection Desk located within the London Eye Ticket Office can print it out for you.
They will need your booking order number, the credit card used to make the purchase, and a Photo ID.
Cancellation: For a full refund, you can cancel these tickets more than 24 hours before your visit.
London Eye tickets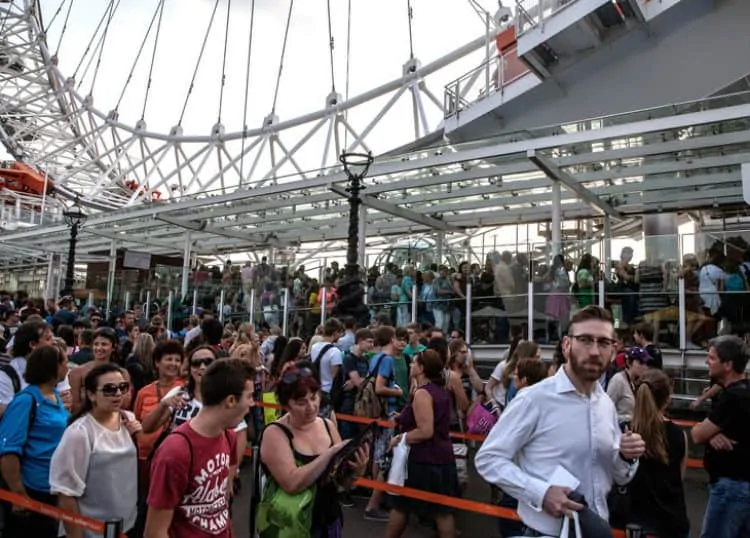 There are two kinds of tickets available for the London Eye – the Standard and the Fast Track.
The London Eye experience remains the same, but the tickets decide your waiting time.
Standard tickets vs. Fast Track tickets
Standard ticket holders enter the London Eye via the standard entrance, which has a long queue.
During peak times, you may end up waiting for up to an hour in this line.
Fast Track ticket holders bypass most of the queue and board the London Eye via the dedicated Fast Track entrance.
This ticket helps you board the London Eye, usually in 15 minutes.
Both the tickets include access to the 4D Cinema Experience, which you can enjoy before or after the London Eye experience.
If you are on a budget holiday and have a lot of time on your hands, go for the Standard tickets.
If you can afford it and are short on time, we recommend the London Eye Fast Track tickets.
Why booking in advance is better?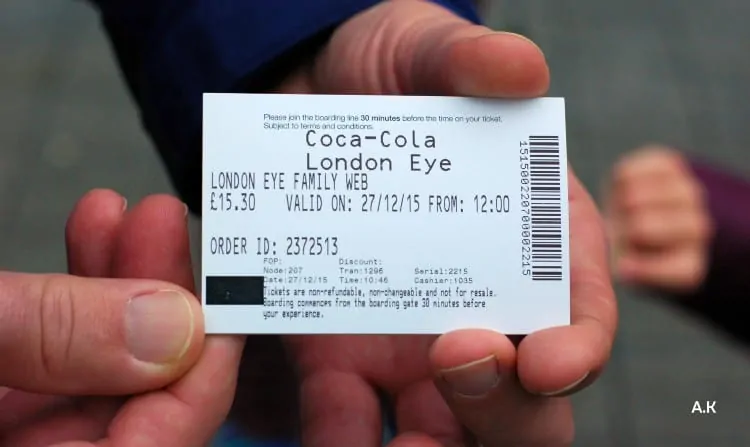 Tourists wonder if they must book their London Eye tickets in advance or on the same day.
One of the main reasons for this confusion is London's unpredictable weather.
One moment it can be overcast and raining, and the next, it is sunshine all around with clear blue skies.
We recommend that you buy London Eye tickets a few days in advance, after checking London's weather forecast.
You can also see the day's weather and then decide to visit the London Eye at the last minute.
However, you may end up purchasing the Same Day London Eye ticket, which is highly priced.
London Eye ticket prices
London Eye ticket prices are lower on certain days, which can be considered off-peak days, and on some days, the cost is higher than normal, which are peak times.
Standard tickets for the London Eye cost £29 on normal days and £33 on peak days for visitors above 16 years.
For children between two and 15 years, the tickets cost £29 per day, irrespective of the crowd.
When you book the London Eye Standard ticket in advance, you get a 20% discount.
London Eye Fast track tickets cost £48 for visitors over 16 years and £44 for children between two and 15 years old.
Infants below two can come in for free on any day.
When you purchase the London Eye Fast Track tickets within four days of your visit, you pay two premiums – to skip the lines and for a last-minute booking.
London Eye Standard tickets
Standard tickets offers the same experience as the Fast Track tickets – you go up one of the London Eye capsules and spend 30 minutes in the air. The only difference – Fast Track tickets help you skip the long queues.
We recommend the London Eye Standard tickets if you plan to visit as soon as the attraction opens, or if you are on a budget holiday, or have a lot of time on hand and don't mind waiting 30-60 minutes in the queues.
Kids two years and below can ride for free, but you are still required to mention them on the ticket booking page.
Standard ticket Prices
Off-peak days
Adult ticket (16+ years): £29
Child ticket (2 to 15 years): £29
Infant ticket (below 2 years): Free entry
Peak days
Adult ticket (16+ years): £33
Child ticket (2 to 15 years): £29
Infant ticket (below 2 years): Free entry
London Eye Fast Track tickets
We recommend the London Eye Fast Track tickets if money isn't an issue and if you want to avoid waiting in long queues.
With a Fast Track ticket already booked in advance, you can be in your London Eye Capsule in approximately 15 minutes.
We also recommend Fast Track tickets if you are visiting with kids or the elderly.
Price of Fast Track tickets (advance booking)
Adult ticket (16+ years): £48
Child ticket (2 to 15 years): £44
Infant ticket (up to 2 years): Free entry
Private capsule for couples, families or groups
If you are a couple who want some privacy even as you go up on the London Eye, or if you are a big group that wants its own London Eye capsule, this is the perfect ticket.
It is the best way to experience 360° views of London with your partner, family, or group.
You can choose a private capsule for couples, friends, and family with a maximum capacity of 25 members.
Private capsule (per a group up to 25): £675
---
---
London Eye combo tours
Families and large groups love combo tours, including access to the London Eye because they help save money.
These combo tours help you save 15 to 20 percent of the ticket costs.
London Eye + Thames river cruise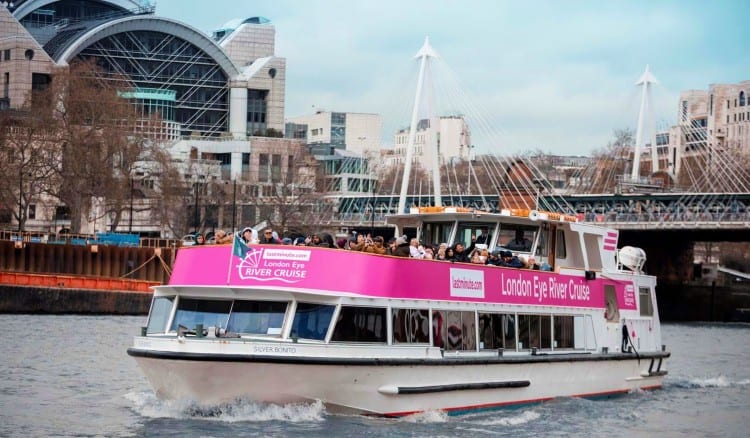 With this ticket, you enjoy a unique award-winning sightseeing cruise on the River Thames and experience London Eye.
At London Eye, you get the Standard Experience.
Ticket prices
Off-peak time
Adult ticket (16+ years): £18
Child ticket (2 to 15 years): £15
Infant ticket (up to 2 years): Free
Peak time
Adult ticket (16+ years): £46
Child ticket (2 to 15 years): £42
Infant ticket (up to 2 years): Free
Five London attractions in one ticket
Merlin's Magical London is a value-for-money combo which, besides the London Eye, also gives you access to Shrek's Adventure, Madame Tussauds, Sealife Aquarium, and London Dungeon.
If you are holidaying in London with kids aged 5-18 we highly recommend this combination ticket.
Once bought, the Merlin's Magical London ticket is valid for 90 days.
Ticket price
Adult ticket (16+ years): £130
Child ticket (5 to 15 years): £117
Infant ticket (up to 5 years): Free entry
Here are some of our other favorite combo tours –
---
---
London Eye hours
In the summer, London Eye opens at 10 am and closes at 8.30 pm, while it begins at 11 am and closes at 6 pm in the winter months.
The London Eye remains closed on 25 December.
London Eye's regular annual maintenance dates are 7 January to 22 January, and no visitors are allowed during this period.
Tip: During the peak season, London Eye gets more than 15,000 visitors every day. This is why, two out of every three visitor opts for the Fast Track London Eye tickets. Even though the Fast Track tickets are £10 costlier than the Standard London Eye tickets, both tourists and locals prefer them because they help save up to an hour of waiting time in the queues.
---
---
Best time to visit the London Eye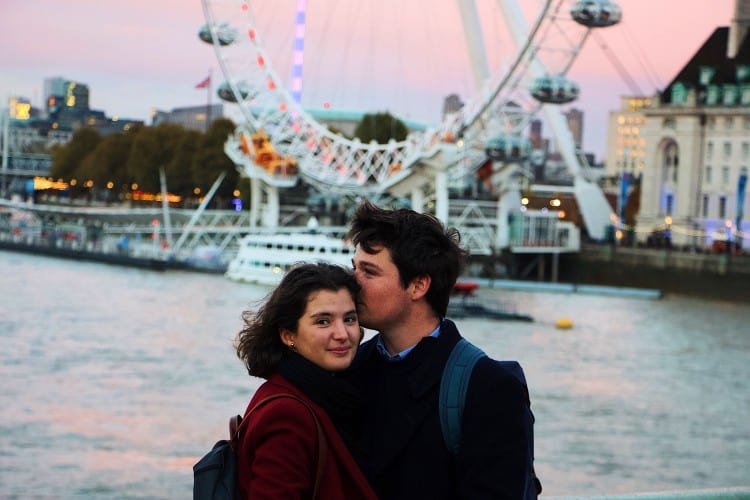 The best time to visit London Eye is as soon as the Ferris Wheel opens for the day.
If you can't make it in the morning but still want to avoid the crowd, the second-best time is 3 pm, just after lunch.
London Eye during sunset
Many tourists feel that the best time to visit the London Eye is during sunset.
Watching the sun go down behind the Big Ben and the Parliament is breathtaking.
This requires a bit of planning as you need to have your ticket ready and reach London Eye half an hour before the sunset time of the day.
During the high season, one of the best ways to avoid the crowd is by opting for a night time visit.
The waiting times are not too long in the evening hours, and if you purchase Fast Track tickets in advance, you can be in your capsule in less than 15 minutes.
When NOT to visit the London Eye
If you can, avoid London Eye on the weekends.
It is also best if you refrain from visiting this London attraction on Bank holidays and the UK School Holidays like Easter Holidays, the Summer and autumn break and the Christmas.
April-May, August, and October are among the peak months, and if you plan to visit during this period, it is better to book Fast Track Tickets, which helps you skip all the lines.
If you are on a budget, at least purchase the Standard Tickets in advance so that you can skip the lines at the ticket counter and save around 20% on the ticket cost.
---
---
Waiting time at London Eye
There are two lines at London Eye where visitors must queue up – one to buy the ticket and another for boarding.
You can avoid standing in the first line if you purchase your Standard Ticket or Fast Track Ticket before your arrival.
There are two boarding lines, one for the Standard London Eye ticket holders and another for Fast Track London Eye ticket holders.
During peak periods, including weekends and school holidays, the wait in the Standard Ticket lines can last more than an hour.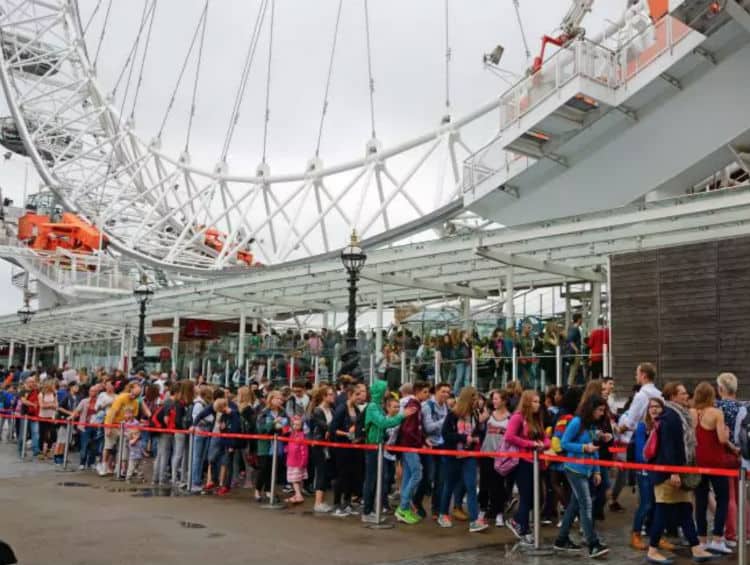 The waiting time in the Fast Track ticket line is much shorter – 10 minutes or so. But then the Fast Track tickets are also 12 Pounds costlier.
Peak season or not, the waiting time at 10 am (when London Eye opens) is never more than 20 minutes.
By 10.30 am, the queues start getting longer and continue to do so till midday.
After 3 pm, the queues are shorter and the waiting times go down to 15-20 minutes.
Surprisingly sunset does not attract much crowd.
Note: Visitors with online tickets are expected to arrive half an hour before the boarding time to get the pre-booked ticket and pass the boarding line.
---
---
How long does the London Eye tour take
Each London Eye capsule makes one full circle in 30 minutes, but the whole London Eye experience takes around 90 minutes for most visitors.
The experience includes 30 minutes of buying tickets, 20-30 minutes of boarding, plus 30 minutes of the actual ride.
If you also see the 4D Cinema Experience, which comes free with every ticket, you will add another 15 minutes to your London Eye tour.
Visitors who purchase their Fast Track or Standard tickets in advance skip the half an hour wait in the ticket counter lines.
---
---
London Eye at night
Many tourists wonder what is better – London Eye at night or London Eye during the day.
With some traveler inputs, we try and help you decide.
London Eye at night or during day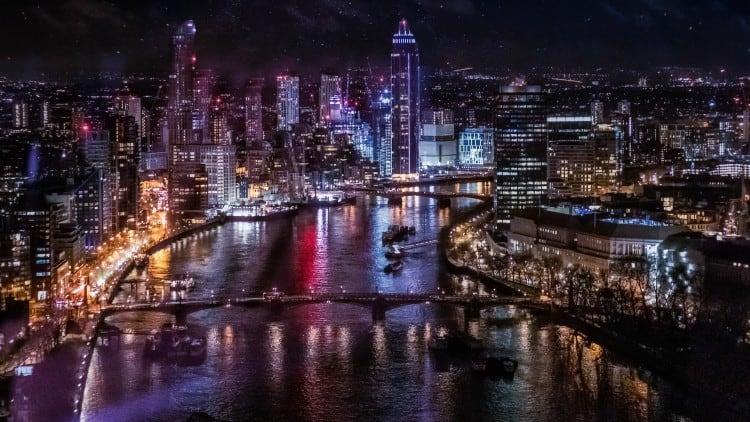 If you are a first-time visitor to London, you should go up on London Eye during the day.
With the London Eye offering beautiful aerial views of the city's skyline from a height of 135 meters (443 feet), it is not something one should miss.
However, if you have already been on London Eye once or The Shard, it makes sense to visit London Eye once again at night.
At night, when the lights come on, London is beautiful in its own mesmerizing way.
Nighttime is also one of the best times if you want to avoid long waiting lines.
Before you make your reservations, do check on the London weather for the day.
You will be in for a disappointing ride up the London Eye if you go up but can't see anything because of bad weather.
London Eye at night tickets
Guests can experience the London Eye at night in two ways.
The first option is the London Eye day and night ticket, allowing two 30-minute rotations in London Eye's passenger capsules.
The first admission is allowed between 10 am and 4 pm, and the second admission from 4 pm to the closing time.
This ticket, however, is seasonal and is not available all through the year.
The second option is booking a standard London Eye ticket at a time slot closer to (or after) sunset.
---
---
How to reach the London Eye
London Eye is situated in the heart of the capital, rotating over the South Bank of the River Thames opposite the Houses of Parliament and Big Ben.
Address: The London Eye, Riverside Building, County Hall, Westminster Bridge Road, London, SE1 7PB. Get Directions
It is best to reach London Eye by public transport.
By London Underground
The London tube is one of the cheapest and fastest ways to get to the London Eye.
Waterloo tube station (Jubilee, Northern, and Bakerloo lines) is half a km (.3 miles) from London Eye, and you can walk the distance in six minutes.
Westminster Station (Jubilee, District, and Circle lines) is also half a km (.3 miles) away.
Embankment and Charing Cross tube stations are close together on the Northern side of the river Thames and ten minutes away from London Eye.
By Bus
If you prefer buses, get on to Bus No. 211, 77, or 381.
If you are booked on a hop-on-hop-off bus tour, rest assured that the Lastminute.com London Eye is on your tour's route.
Consult your route map, and plan accordingly.
Big Bus's Open-Top Sightseeing Tour and The Original London Sightseeing Bus Tour are two of the most popular bus tours in the city.
---
---
London Eye FAQs
Tourists heading towards London Eye have lots of questions about this fine London attraction.
The most common questions are –
Why is it called Lastminute.com London Eye?


From February 2020, Lastminute.com has become London Eye's headline sponsor.

The rotating viewing platform and the adjoining River Cruise have taken on Lastminute.com's branding, and everything has changed to reflect the sponsor.

Before Lastminute.com, the massive Ferris Wheel's sponsor was Coca-Cola, and their association got over in late 2019.


Image: @thelondoneye

When was London Eye built?


The construction of the London Eye began in 1998, and it opened to the public on 31 Dec 1999.

The main components of the London Eye were built off-site and then shipped to the construction site and assembled.

What is London Eye's height?


The London Eye is 135 meters (443 ft) tall, with a wheel having a diameter of 120 meters (394 ft).

London Eye was the world's tallest Ferris wheel till it was surpassed in 2006 by the 160 meters (525 ft) tall Star of Nanchang.

London Eye is still the world's tallest cantilevered observation wheel.
Popular attractions in London