The mystical Stonehenge is one of the most iconic symbols of English history and culture, captivating tourists because of its mysterious beauty and soothing calm.
The curiosity to understand our past makes this site one of the most popular tourist attractions of London.
In this article, we share everything you need to know before booking your Stonehenge tour tickets.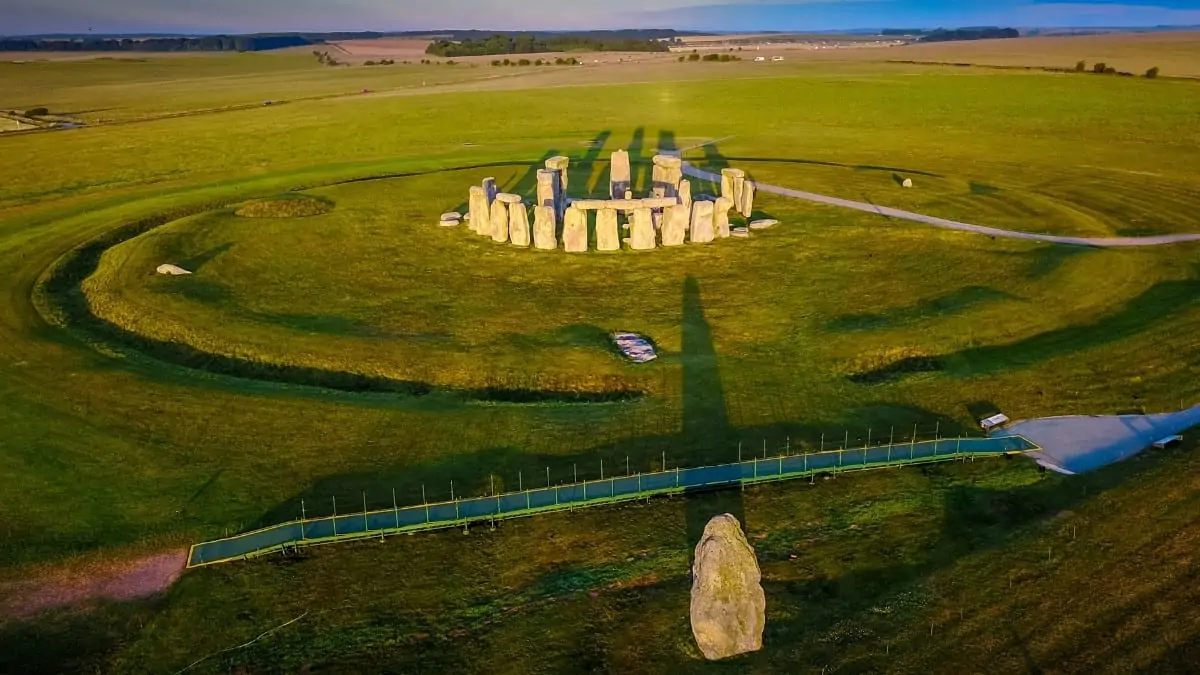 ---
---
What to expect at Stonehenge
Stonehenge, built around 3000 BCE, is not just huge stones standing in circles (as you might think when you see its images).
It is the world's most famous and significant prehistoric monument.
The massive stones, some weighing 25 tons, showcase the remarkable engineering of its time.
Its purpose remains puzzling, with theories ranging from religious ceremonies to astronomical observations.
Stonehenge Exhibition
Some visitors decide to check out the Stonehenge Exhibition first and then go to the stones, while the others do the opposite – first the stones and finally the Exhibition.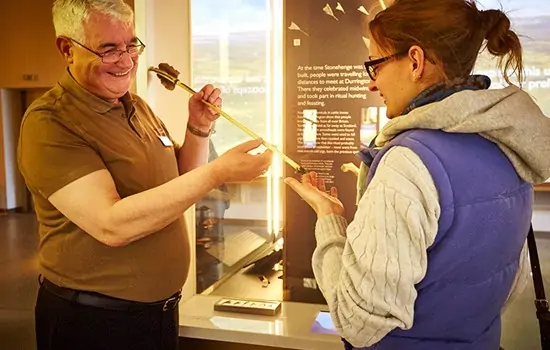 Stonehenge Exhibition uses a powerful combination of cutting-edge audio-visual experiences and incredible ancient objects to tell the monument's story.
Visitors see more than 250 archaeological objects and treasures such as jewelry, pottery, tools, etc., discovered in the landscape.
Image: English-heritage.org.uk
Guests also see the face of a man at Stonehenge 5,500 years ago, a forensic reconstruction based on his bones found near the stones.
Walking to the stones
After learning about the monument and its ancient landscape in the Exhibition, visitors can follow the well-marked route and walk to the stones.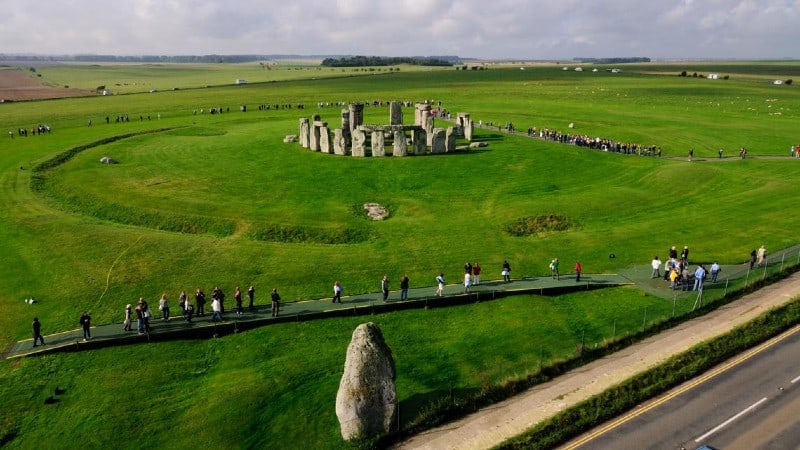 On the way, you will pass Bronze Age burial mounds and also see numerous interpretation panels across the landscape, which explain the various features seen en route.
Depending on your pace, it will take 25 to 40 minutes to reach the stones.
The walk from the Visitor Centre to the stone monument and back is approximately 4 km (2.6 miles).
Since much of it through the fields, it helps to wear sturdy shoes and carry water and sunscreen lotion.
If you are visiting with kids or elders and prefer not to walk, you can board the shuttle bus, starting from the Visitor Center and reaching the stones in ten minutes.
Exploring the stone monument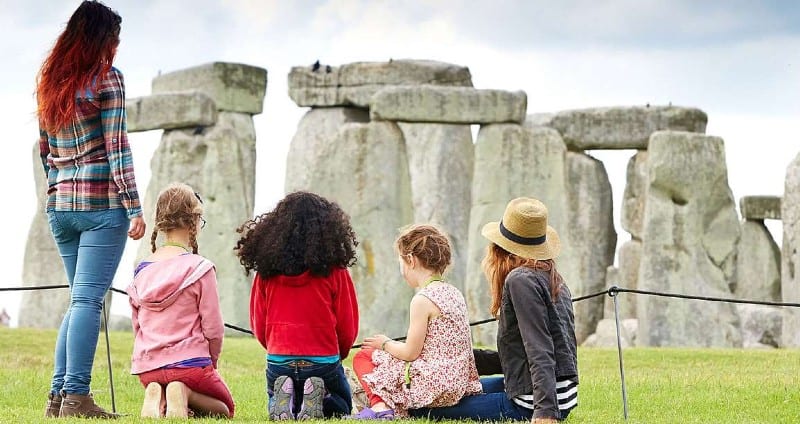 Once at the 5000-year-old stone monument, you can follow the visitor path, which goes all the way around the stone circle.
At some points, you will be as close as 5 meters (16 feet) from the Stones.
There is plenty of space for visitors to stop, take photos, and enjoy the view along this path.
The general public can't go beyond the rope fence and walk in between the stones.
Return to Visitor Center
Most visitors board the next available bus to get back to the visitor center.
Some decide to walk back.
---
---
Where to buy tickets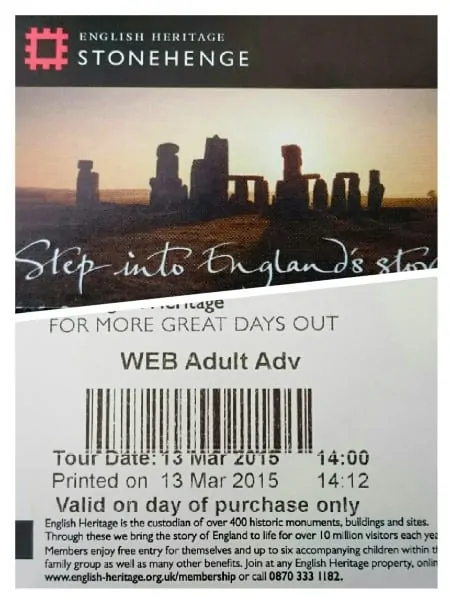 In pic: The front and back of a Stonehenge ticket. Image Source
You can get your Stonehenge entry tickets in person or buy them online, much in advance.
If you plan to get them at the attraction, you must get in the ticketing window queue.
Depending on the time of the day (and month), you may have to wait in the ticket counter line for 10 to 30 minutes to buy your ticket.
It is important to note that only a small number of the day's tickets get sold from the ticket counter at the venue.
So the second and better option is to book tickets to London Zoo online.
Online ticket prices tend to be cheaper because of the exciting discounts.
Booking early also helps avoid last-minute disappointments.
If you can take care of your transport from London to Stonehenge, go ahead and book your Stonehenge ticket.
If you need help with transport from London to Stonehenge, it is better to book a tour – check out Stonehenge tours from London.
How do online tickets work
Go to the Stonehenge ticket booking page.
Select the preferred date, time slot, number of tickets and buy the tickets.
Immediately after purchase, your tickets get emailed to you.
You don't need to take any printouts.
You can show the e-ticket on your smartphone and witness the prehistoric wonder.
Stonehenge ticket prices
Stonehenge entrance tickets cost £21 on weekdays and £24 on weekends for all adults between 18 and 64 years.
While kids younger than five years enter for free, children between five and 17 years pay a discounted rate of £13 on weekdays and £14 on weekends for their admission.
Seniors aged 65+ years and students with valid ID also get a small discount on their ticket – their entrance ticket costs only £18 on weekdays and £21 on weekends.
Stonehenge tickets at the venue come with the ticketing window surcharge, making them almost £2 costlier than online tickets (with donations).
Stonehenge family tickets
If you visit Stonehenge as a family, one of the best ways to save money is by opting for the Stonehenge Family ticket.
Family ticket, which includes 2 adults and 2 to 3 children, costs £54 on weekdays and £62 on weekends.
On the ticket booking page, you can choose the type of ticket you want to purchase.
IMPORTANT: Book these tickets ONLY if you can manage the transport from London to Stonehenge yourself. Else, check out the recommended Stonehenge tours from London.
Visual Story: 13 must-know tips before visiting Stonehenge
---
---
How to get from London to Stonehenge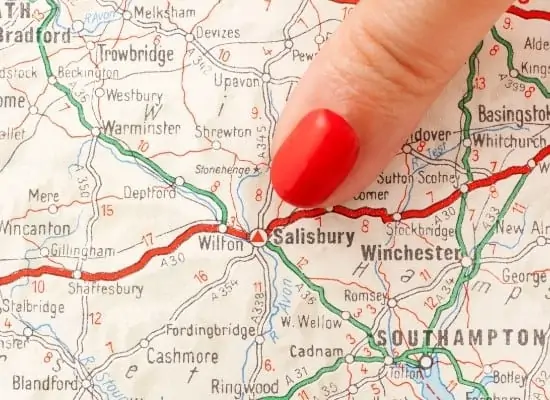 Stonehenge is around 144 km (90 miles) from Central London, in the Salisbury Plains of Wiltshire.
Salisbury, located 15 km (9.5 miles) south of Stonehenge, is the nearest large town and offers direct transport links to London.
Image: ChateauDede / Getty
Tourists often plan a one-day trip to the countryside, including a stop at Stonehenge's mystical stone circle.
Visitors can travel via public transport, book a Stonehenge tour or drive down to the attraction.
By public transport
If you want to travel from London to Stonehenge by public transport, you must go via Salisbury.
South Western Railway trains run from London Waterloo Station to Salisbury every thirty minutes from 6.30 am onwards.
After eight stops and 90 minutes, you will reach Salisbury Station.
Once you get down at the Salisbury Station, you can catch the Stonehenge tour bus, available from just outside the station, to reach the attraction.
The tour bus takes approximately 30 minutes to travel the 14.5 km (9 miles) from the Station to Stonehenge.
Check out South Western Railway for the latest train tickets and timings.
Book a Stonehenge package
Stonehenge tour packages from London are the easiest and the cheapest way to visit this heritage site.
There are different types of tours available from London to Stonehenge.
Some tours take you from London to Stonehenge and back, while others are combo tours, including visits to nearby sites.
If you plan to book a tour from London to Stonehenge and back, you can decide to leave at 8 am or at 1.30 pm.
Some tourists opt for the Stonehenge plus Bath city tour, where after visiting the stone circle, you explore the city of Bath and take a dip in one of the Roman baths.
The most popular combination tours are Stonehenge and Roman City of Bath and Stonehenge, Bath and Windsor Castle.
Drive to the attraction
If you plan to drive, fire up your Google Maps and follow the directions.
There is a lot of parking space available at the site, free of charge for ticket holders.
You will not be permitted to park if you haven't purchased a Stonehenge ticket in advance.
After parking your car, you must walk to the visitor center, from where a 10-minute bus shuttle takes you to the stones.
Stonehenge opening times
Throughout the year, Stonehenge opens for visitors at 9.30 am, but its closing time changes according to the season.
From April to May, it closes at 7 pm, from June to August at 8 pm, from September to mid-October at 7 pm, and during the winter months of mid-October to March, Stonehenge closes at 5 pm.
| Months | Hours |
| --- | --- |
| 30 Mar to 31 May | 9.30 am to 7 pm |
| 1 Jun to 31 Aug | 9 am to 8 pm |
| 1 Sept to 15 Oct | 9.30 am to 7 pm |
| 16 Oct to 29 Mar | 9.30 am to 5 pm |
The last entry is two hours before closing.
The ancient stone circle remains closed on 24, 25, and 26 December.
---
---
Best time to visit Stonehenge
The best time to visit Stonehenge is early in the morning, as soon as the attraction opens for the day or at 3 pm, two hours before they close.
Around 10.30 am, the tour buses start arriving from London, bringing in lots of visitors.
---
---
How long does Stonehenge take?
Most visitors spend two and a half hours exploring the Stonehenge monument and Exhibition.
Tourists who decide to take the 10-minute bus shuttle from the visitor center to the stone monument and back save approximately an hour and finish their tour in just 90 minutes.
Visitors can spend as long as they like at the Stone Circle.
However, the wardens request the tourists to leave 30-45 minutes before the closing time for the day.
---
---
Stonehenge tours from London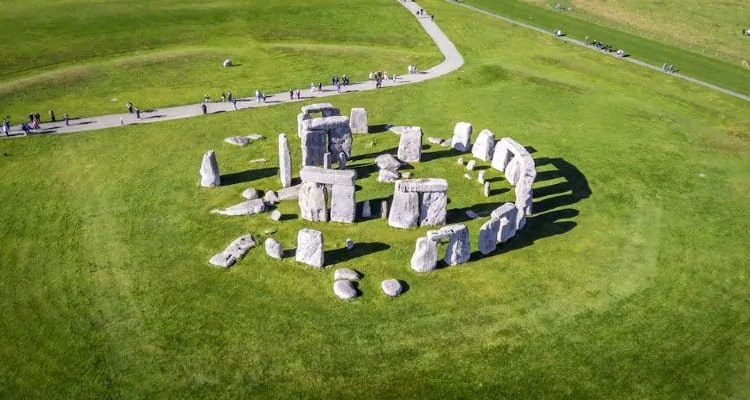 Tourists who don't want the hassle of figuring out the transportation from London to Stonehenge opt for the package tours, including a two-way ride in an air-conditioned coach.
These coaches start twice daily – at 8 am and 10.45 am, and the tour lasts six hours.
These tours don't have a guide – the coaches only transport you to the attraction and get you back.
The travel time between London and Stonehenge is approximately two hours each way so that you can spend around two hours at the attraction.
GetYourGuide and Tiqets offer this half-day tour from London to Stonehenge for around £64 and £68 per person.
Tiqets offers an additional British experience – while booking your Stonehenge tour, you can also order a fish and chips pub meal, which will be waiting for you when you return.
---
---
Stonehenge and Bath tour
Tourists visiting London almost always add two attractions outside the city to their itinerary – Stonehenge and the city of Bath.
Most of them try to visit both the attractions on the same day.
These Stonehenge and Bath tours start at 8.15 am, in an air-conditioned coach, with an audio guide and a tour manager/guide.
Stonehenge is the first stop, where you appreciate 5,000 years of history and mystery on the open Salisbury plains.
Then you head to head for the city of Bath, which is 61 km (38 miles) from Stonehenge and usually takes an hour to reach.
After a nice local lunch in Bath, you see Bath Abbey, Pulteney Bridge overlooking the River Avon, the Jane Austen Centre, the Assembly Rooms built in 1771, etc.
Finally, you explore the 2,000-year-old Roman Baths, the old Roman statues, and the Georgian Pump Room.
By 8 pm, you are back in London.
---
---
Stonehenge tours from Bath
Around 5 million day visitors reach the city of Bath every year, and more than a million stay overnight.
The primary attraction in the city is the Roman Baths.
Many tourists decide to camp at Bath and then explore the area around.
The main attractions nearby are Stonehenge, an hour's drive from Bath, and the city of Avebury, which is 39 km (24 miles) north of the stone attraction.
Due to the proximity of these sites, tourists holidaying in Bath often plan a private trip to Stonehenge or both Stonehenge and then Avebury.
---
---
Stonehenge combo tours
Some of the tourists prefer to combine their visit to Stonehenge with yet another attraction/activity.
There are three reasons for the popularity of combo tours –
Stonehenge takes only two hours to explore
There is so much to see just outside of London
Combo tours are a great way to save money (up to 30%)
Tourists willing to stretch their day can combine their visit to Stonehenge with Bath, West Country, Windsor, Oxford, Lacock, Cotswold, Avebury, Winchester, or Glastonbury.
Here is our list of the best combo tours, which include a visit to Stonehenge.
All these are smartphone tickets. These tickets get emailed to your inbox, and you just show the ticket on your smartphone screen at the attraction.
The London Pass helps you enter more than 60 tourist attractions for free. Save time and money. Buy London Pass
---
---
Visiting Stonehenge for free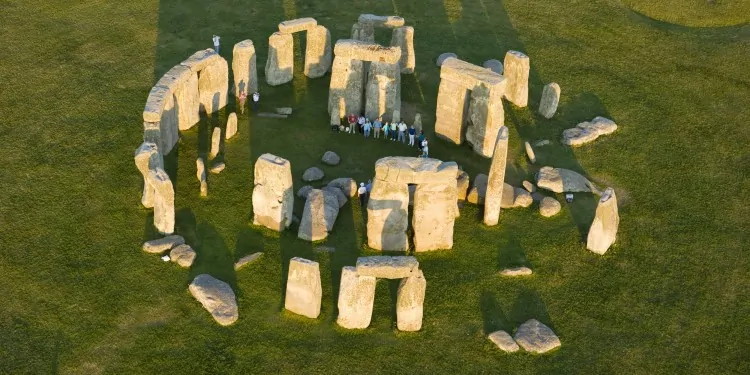 Kids two years and below get into Stonehenge for free.
English Heritage and National Trust members can also visit Stonehenge for free. However, they must book their tickets in advance.
If you don't fall under any of the above categories and still want to visit Stonehenge for free, we have a hack for you.
How to visit Stonehenge for free
While on your way to Stonehenge from London, you will reach a town called Amesbury.
Once there, put in these coordinates on your Google Map – 51°10'33.0″N 1°49'57.5″W. View on Google Map
These coordinates take you to a dirt road which will come on your right-hand side, close to Stonehenge.
Take a right here, find a spot to park your car, and start walking towards the Stonehenge ticket booth.
After crossing the ticketing booth, you must continue walking.
After about 150 meters or so, you will spot a fence that allows you to enter the grasslands on your right.
Enter through this fence and keep walking on the path made on the grass (by many tourists who have walked this path before you), and you will spot Stonehenge to your right. See detailed path
The experience isn't as fantastic as a ticketed entry, but hey, you wanted to see Stonehenge for free.
Popular attractions in London