The London Dungeon is a thrilling walk-through experience that takes you back in history by recreating scenes from London's scary past.
Visitors see, hear, feel, smell (and fear!) the chilling characters, props, and ambiance.
The live actors, thrilling rides, and exciting special effects make the London Dungeon a worthwhile attraction.
In this article, we share everything you must know before buying your London Dungeon tickets.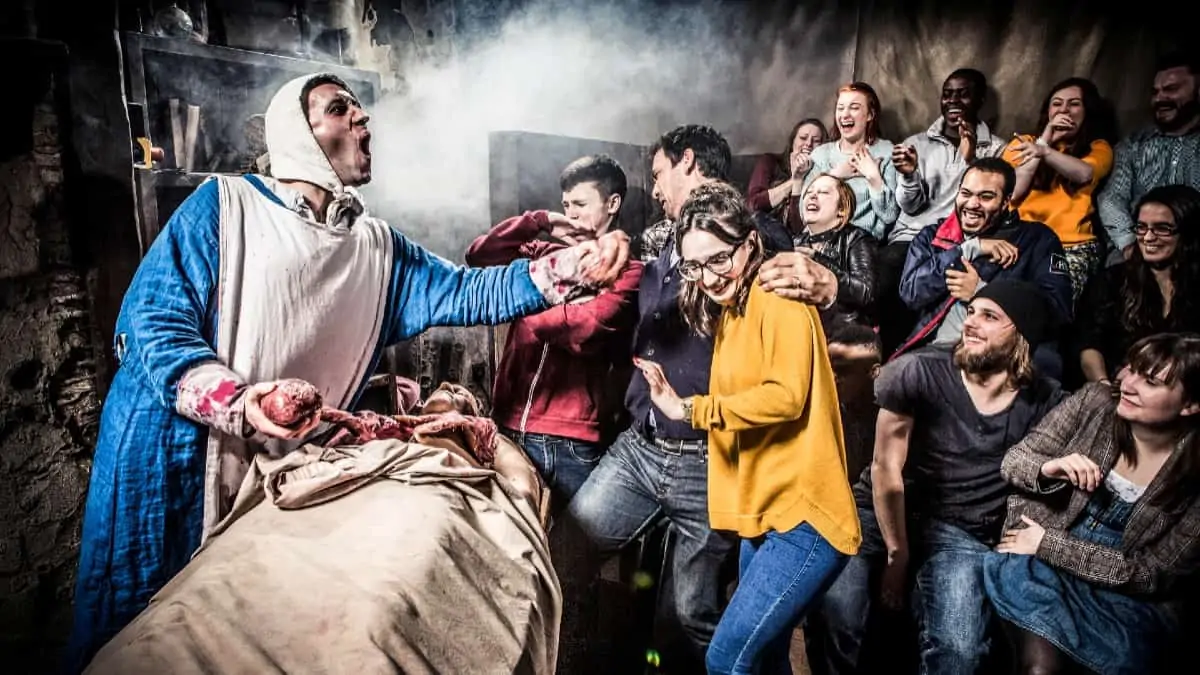 What to expect at London Dungeon
---
---
London Dungeon tickets
There is only one type of ticket at London Dungeon, and it gets you access to all the shows and the Drop Dead drop ride.
Where to buy tickets
You can get your London Dungeon tickets at the venue or buy them online, much in advance.
If you plan to get them at the attraction, you must get in the ticketing window queue.
Depending on the time of the day (and month), you may have to wait in the ticket counter line for 15 minutes or more to buy your ticket.
The second and better option is to secure admission to the London Dungeon online and avoid waiting in the queue.
How online tickets work
While booking your tickets for London Dungeon, you select your preferred time and date of visit.
Immediately after purchase, your tickets get emailed to you. You don't need to take any printouts.
You must reach London's scariest attraction 15 minutes before the selected time, show your ticket on your smartphone and enter.
London Dungeon discounts
When you purchase your tickets at least three days before your visit, visitors get a 10% advance booking discount.
Kids aged 3 to 15 years get a 20% discount on the adult ticket price.
Unfortunately, the London Dungeon doesn't offer price reductions for students, seniors, and disabled visitors.
London Dungeon prices
The cost of London Dungeon tickets depends on when you book them – at least three days before your visit or within three days.
When you book them at least three days before your visit, London Dungeon tickets for all visitors 16 years and above cost £27.
Children aged 3 to 15 years pay a discounted price of £21.50 for their entry. Kids up to two years walk in for free.
If you are booking your tickets at the last minute, you must opt for the 'Standard tickets', which cost £30 for all visitors 16 years and above.
Standard London Dungeon tickets for kids aged 3 to 15 years cost £24.
Since London Eye is close to London Dungeon, many tourists opt for the London Dungeon and London Eye combo and visit both the attractions on the same day.
If you love walking tours, check out this combo ticket that includes the top 30 sights walking tour and London Dungeon.
---
---
London Dungeon with Merlin Pass
If you are a family with kids on a London vacation, we highly recommend the Merlin Pass.
Merlin's Magical London Pass helps you combine your visit to The London Dungeon with other top London attractions and score discounts of up to 50% on entry tickets.
With the Merlin Pass, you can visit London Eye, Madame Tussauds London, SEA LIFE London Aquarium, Shrek's Adventure! and The London Dungeon at a date and time that's convenient for you.
The best part – you skip the lines at all places.
Adult Pass (16+ years): £75
Child Pass (3 to 15 years): £60
---
---
Where is London Dungeon?
The London Dungeon is at County Hall, Riverside Building, Westminster Bridge Rd, London, SE1 7PB. Get Directions
Just follow signs for the South Bank. It is right next to London Eye and SEA LIFE London Aquarium.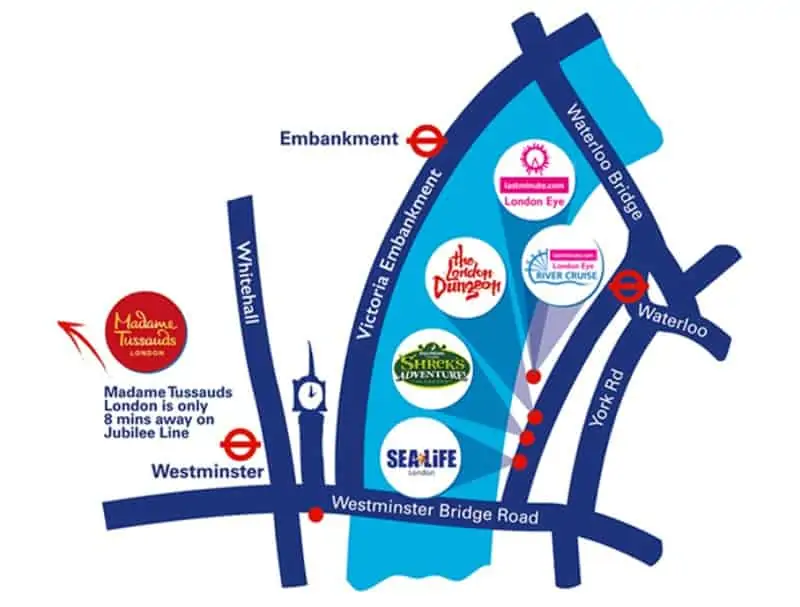 For 40 years, the London Dungeon was under the arches on Tooley Street, but in 2013 they moved to their South Bank address.
By Tube
Waterloo Station, serviced by Bakerloo, Nothern, Waterloo & City, and Jubilee lines, is the closest Tube station to The London Dungeon.
When exiting the station, please follow the signs for the London Eye.
The station is half a km (.3 miles) from the London Dungeon, and you can walk the distance in less than eight minutes.
If you are coming from a distance, the nearest mainline station to the London Dungeon is Waterloo train Station.
By Bus
Transport for London Bus route numbers 211, 77, 381, and RV1 can get you closer to the attraction.
The haunted house attraction also falls on the Big Bus Sightseeing tour's route. Find out more
Car Parking
Unfortunately, the London Dungeon doesn't have parking of its own.
However, you can park at Q-Park Westminster car park located 1 km (.6 miles) from the attraction.
For up to two hours, it will cost you £17 and for up to three hours, £25.
---
---
London Dungeon hours
During the peak tourist months, the London Dungeon is open from 10 am to 5 pm, and during the non-peak months, it opens at 11 am and closes at 4 pm.
The attraction is open seven days a week but remains closed on Christmas.
---
---
Best time to visit London Dungeon
If you want to avoid the crowd, you must be at the London Dungeon around 11 am, as soon as they open for the day.
The next quieter time of the day is around 4 pm, just before they close for the day.
Tip: Purchase tickets in advance to guarantee your entry during peak times such as weekends, bank holidays, summer holidays, and school half-term periods.
---
---
How long does London Dungeon take?
The London Dungeon tours last around 50 minutes, and we recommend allowing 60-75 minutes for your experience.
Depending on the season, queuing times may vary.
To avoid wasting your time waiting, book your tickets in advance, and arrive 10 minutes before your tour begins.
Tip: There is not a specific dress code, but we suggest comfortable shoes for your visit.
---
---
Is London Dungeon suitable for kids?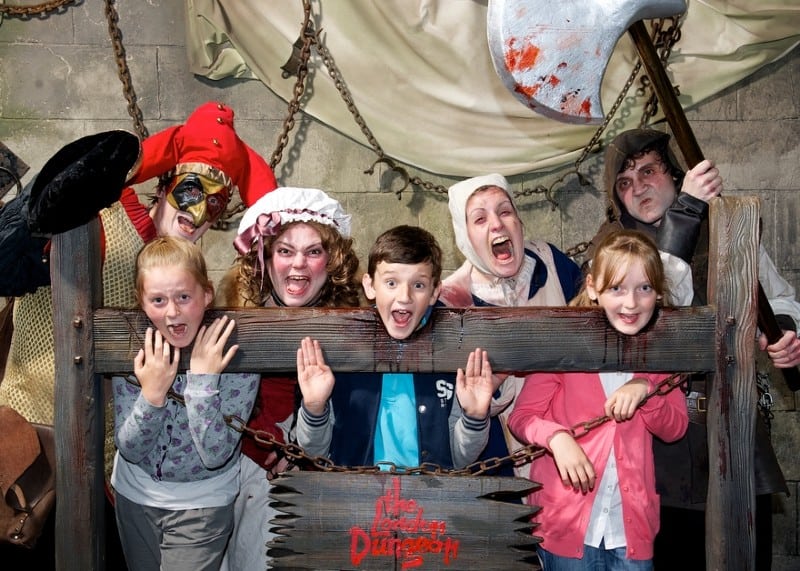 The London Dungeon is dark, noisy, and smelly, and the tour depicts the scary side of London's history.
The London Dungeon tour includes jump-out scares, unexpected frights, and two shows during which the floor shakes.
The attraction's management recommends 12 years as the minimum age for a child to enjoy The London Dungeon tour.
However, much younger kids visit and have a great time every day.
This is why there is no minimum age to join the tour, and it is left to the accompanying adult's discretion.
An adult over 18 years of age must accompany all visitors under 16 years of age.
Important: If you need to leave the attraction at any time, speak to one of the actors in the show, and they will arrange for someone to help you.
---
---
What's inside London Dungeon
The London Dungeon has 16 stops, each better than the other, including the Drop Dead, drop Ride.
The Descent
Visitors join the resident Lift Jester as they descend into the Dungeon via the attraction's medieval lift.
The Jester and sounds of the grinding cogs and chains as the winches strain on your way down prepare you for 1,000 years of London's history.
The Tyrant Boat Ride
The Jester you met in the lift has condemned you to death for conspiring with Anne Boleyn, and you are now on your way to the Traitor's gate.
Also known as the London Dungeon boat ride, on the Tyrant Boat Ride you experience the full force of Henry VIII's wrath.
During this final journey along the Thames to The Tower of London, you experience intense darkness, choppy waters, scurries of rats, and the foul stench of sewage.
Tower Warden
Once in The Tower of London, you meet the Tower Warden and find out what kind of traitor you are.
He will also check the heads of your group and tell you whose head is perfect for chopping and who will be better off boiling in hot water.
Conspirators walk
You may be amongst your fellow conspirators, but there are traitors everywhere. Who can you trust?
In this stage of the London Dungeon tour, you also learn about the contents of Lord Monteagle Letter and King James' dreadful deeds.
Guy Fawkes' Gunpowder Plot
Beyond the city gates, you enter a dark, rat-infested tunnel that takes you beneath the city of London – into the London Dungeon.
You are trying to blow up the King and the Parliament, but your dirty little plot has been thwarted.
The Torturer Chamber
After being caught, you find yourselves in the Tower of London's Torture Chamber.
This is where you meet the ever-enthusiastic Torturer looking for 'volunteers' for a few demonstrations.
In this part of the tour you also learn what pain and punishment looked like in the 1600s.
The Plague Doctor
It's 1665, and the Black Plague is taking people by the dozens.
You stroll down the muddy alley past houses with red crosses, rotting bodies, and black rats.
You learn about the Pest House, symptoms of the Plague, and what it took the Londoners to survive the pandemic.
Escape The Great Fire of London
During this part of the London Dungeon tour, you learn about the events of 2nd September 1666.
Sparks from Thomas Farriner's bakery in Pudding Lane have set the whole city of London on fire.
You are with Thomas Bludworth, Lord Mayor of London, who doesn't believe there is a raging fire.
Soon enough, you will find how smoky a room can get and how sturdy the walls of a 1600s townhouse used to be.
Mrs Lovett's Pie Shop
Margery Lovett makes the best pies in all of London.
However, you don't know that Mrs. Lovett is an accomplice and business partner of Sweeney Todd, a barber and serial killer from Fleet Street.
Any guesses for what meat she uses in her pies?
Sweeney Todd
Sweeney Todd is a barber and a serial killer, and Mrs. Lovett's assistant is always keen to show you in.
Oddly, Mrs. Lovett gets her ovens fired up the moment you are in his shop.
It is going to be a close shave, for sure!
Mitre Square
It is 1888, and there is fear all around the streets of London's Whitechapel because a murderer is on the loose.
You see the latest of Jack the Ripper's victim for yourself, and it isn't a pretty sight.
You learn about the gruesome details of each murder and also find out what 'gift' Jack sent to the press.
Whitechapel Labyrinth
Jack the Ripper strikes again, and this time it is Mary Jane.
Danger lurks around every corner in Whitechapel, and the only way to safety is through the Whitechapel Labyrinth.
It is a confusing maze of narrow streets. Can you make it?
Jack The Ripper
It has been a year since the last Jack the Ripper victim was found on the streets.
Who was the killer? Where did he go? Will he strike again?
And that's when you step into the Ten Bells Pub, where Jack the Ripper's victims once drank.
To add to the mystery, Mrs. Waldren, the landlady, tells you the ultimate ghost story.
The Courtroom
Lord Wendy Farquar is London's most feared judge, and today you will be in his court.
You get to experience the courtroom drama set in 1783 and find out if you are Guilty or Very Guilty.
Escape from Newgate Prison
The NewGate Prison remained in use for over 700 years, and in this part of the show, you catch up with a Newgate prisoner.
During this chilling show, the prisoner doesn't speak…only stares.
The worst part is, you don't want to watch the prisoner, but you cannot turn away.
Drop Dead: Drop Ride
Also known as London Dungeon's ride the Drop Dead, Drop Ride is a unique experience that leaves the visitors asking for more.
'Drop Dead' is an exhilarating vertical free fall drop ride that lasts one minute.
The minimum height restriction for Drop Ride is 1.4 meters (4.6 feet).
All riders must have the ability to sit upright on the ride and brace themselves against the ride forces.
---
---
Tavern at the London Dungeon
The Tavern is London Dungeon's all-new Victorian pub, where all ticket holders can enjoy a drink or two.
The Tavern is a unique storytelling experience where visitors get transported back to a vibrant London pub of 1896.
Even as you enjoy bootleg beer, Gin cocktails, or traditional lemonade, you will see multiple actors on different tables carrying on their acts.
Each table has its act, and you decide which story you want to follow.
You will not get the same experience at two tables since the tales vary – Great Beer Flood, ghost rumors, Ripper murders, gambling, etc.
Sources

# Thedungeons.com
# Wikipedia.org
# Tripadvisor.com
# Visitlondon.com

The travel specialists at TheBetterVacation.com use only high-quality sources while researching & writing their articles. We make every attempt to keep our content current, reliable and trustworthy.
Popular attractions in London