London Zoo was set up in 1828 for wildlife studies and opened to the public in 1847, making it the world's oldest scientific zoo.
Since the Zoological Society of London (ZSL) manages the London Zoo, locals also refer to it as ZSL London Zoo.
This wildlife attraction is home to 755 species of animals and attracts more than 1.1 million tourists every year.
In this article, we share everything you need to know before purchasing your ZSL London Zoo ticket.
What to expect at London Zoo
There are three ways to experience the premier wildlife attraction of London.
You can buy only the London Zoo tickets or opt for the combination tickets, which help you score up to a 10% discount.
If you are in London for a longer period or are a big family, check out the London Pass. It helps you save up to 50% on ticket costs.
---
---
London Zoo opening hours
The London Zoo opens at 10 am every day.
During the peak season of March to August, London Zoo closes at 6 pm, from September to October, it closes at 5.30 pm, and from November to February, the wildlife attraction closes at 4 pm.
It remains closed on Christmas.
The last admission is one hour before the closing time.
---
---
Best time to visit London Zoo
The best time to visit London Zoo is as soon as they open at 10 am.
There are four advantages of starting early – the Zoo's animals are most active early in the morning, the temperatures are still moderate, the crowd is yet to get in, and you have the whole day to spend at the attraction.
Weekdays are better for a peaceful visit because London Zoo gets crowded on weekends and school holidays.
The zoo is most crowded on weekends between 10 am and 2 pm.
If you are on a short holiday in London, starting early also allows you to add another attraction to the day's itinerary.
---
---
How long does London Zoo take
If you visit with children, you will need at least three to four hours to cover most animal exhibits spread over the 14-hectares (35 acres) London Zoo.
Children tend to linger longer around their favorite animal enclosures, attend feeding sessions, keeper talks and try out numerous experiences.
If you stop for lunch at one of the restaurants, you will need an hour more.
If you are a bunch of adults, you can rush through the London Zoo in 90 minutes.
The London Pass helps you enter more than 60 tourist attractions, including the London Zoo, for free. Save time and money. Buy The London Pass
---
---
London Zoo tickets
Entry to London Zoo required a ticket, and we suggest you plan and book them early.
You can cancel these tickets with a full refund, up to 24 hours before your date of visit.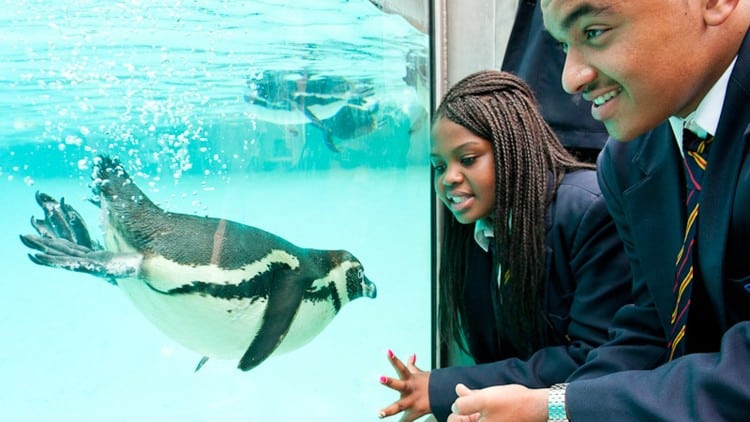 Where to buy tickets
You can get your London Zoo entry tickets at the venue or buy them online, much in advance.
If you plan to get them at the attraction, you must get in the ticketing window queue.
Depending on the time of the day (and month), you may have to wait in the ticket counter line for 10 to 30 minutes to buy your ticket.
The second and better option is to book tickets to London Zoo online.
When you buy them in advance, you save yourself a lot of waiting time by skipping the ticket counter queue.
Online tickets are also cheaper than the rates available at the entrance.
Important: As a safety precaution, ticket counters at London Zoo are temporarily suspended, and visitors can only purchase the tickets online. Only a limited number of visitors are allowed per day, and as a result, tickets are selling very much in advance.
How online tickets work
When you buy ZSL London Zoo tickets, you select your preferred time of visit.
Immediately after purchase, your tickets get emailed to you.
You don't need to take any printouts.
Now all you must do is, reach the wildlife attraction 10 minutes before the time mentioned on your ticket.
Since you have a ticket and are on time, you can show it on your smartphone and walk into the Zoological Park right away.
Timed entry tickets
Earlier, London Zoo used to offer Fast Track tickets, which were available only online.
The Fast Track tickets were a great way to avoid the crowd, especially if you were visiting during crowded weekends.
However, nowadays, the zoo doesn't offer such tickets.
After the pandemic, the London Zoo has started issuing timed tickets to limit the number of visitors inside the zoo.
When guests book their London Zoo tickets, they must select a specific day and entry time slot for their visit.
On the day of their visit, they can enter the zoo any time after the time mentioned on their ticket.
We strongly advise booking your tickets early to avoid disappointment.
London Zoo ticket prices
London Zoo's ticket prices depend on two factors – the day of your visit and the guest's age.
Depending on the crowd expected, every day is labeled as Peak day, Standard day, Off-Peak day, Saver day, or Super-Saver day, and the ticket prices vary accordingly.
| Type of visitor | Peak* | Standard | Off-Peak |
| --- | --- | --- | --- |
| Adult (16 to 64 years) | £36 | £33 | £30.50 |
| Child (3 to 15 years) | £24 | £21.45 | £19.85 |
| Senior (65+ years) | £32 | £29.70 | £27.45 |
| Student (with ID) | £32 | £29.70 | £27.45 |
*The Peak day ticket prices are applicable only during the peak summer months.
On Saver days, London Zoo's ticket costs £28.50 for adults, £18.55 for kids, £25.65 for students with ID cards and seniors.
On Super Saver days, the tickets are priced at £26.50 for adults, £17.25 for kids, £23.85 for students and seniors.
Kids under three years enter for free, but while booking your tickets you must get a free ticket for them.
Same day ticket prices
Same-day tickets cost higher than if you book your tickets much in advance.
In fact, you will pay £4 more per person when you book London Zoo tickets within 48 hours of your visit.
London Zoo discount
Irrespective of the day of your visit, London Zoo offers a 40% discount for all kids aged 3 to 15 years and a 10% discount for seniors aged 65 years and above and students with a valid ID card.
For instance, on a Standard day, an adult ticket (16+ years) costs £33, while kids pay only £21.45. Both seniors and students with IDs also pay a discounted rate of £29.70 per person.
On an Off-Peak day, a kids' ticket costs only £19.85 – a discount of about £10.65 on the £30.50 the adults pay for their tickets. Both seniors and students pay a discounted price of £27.45 per person.
An essential carer for disabled visitors gets free entry.
If you don't get the tickets for your preferred date, buy The London Pass and get a backdoor entry to the zoo.
Or you can visit Sea Life London, yet another wildlife attraction.
---
---
London Zoo with London Pass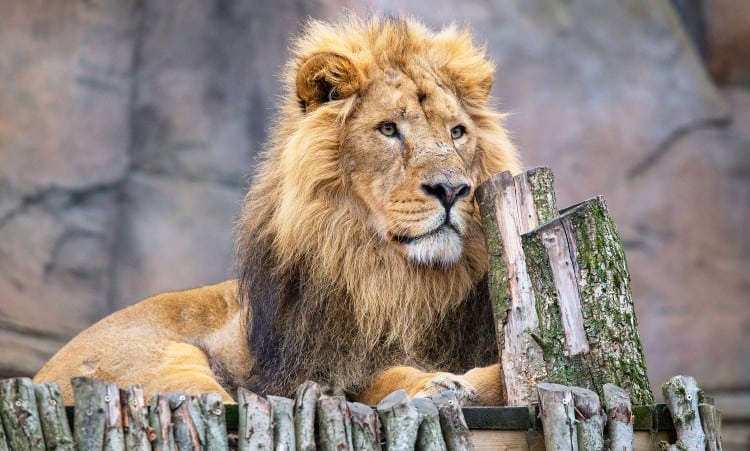 The London Pass provides free entry to over 60 of London's top attractions, including the Tower of London, Westminster Abbey, Thames River Cruise, Shakespeare's Globe Theatre, etc.
This exhaustive list includes ZSL London Zoo as well.
London Pass is an excellent way to visit the zoo at a discount.
You can buy London Pass for 1, 2, 3, 4, 5, 6, or 10 days. Prices change accordingly.
You can show the London Pass at the entrance or the ticket office of any attraction included in the list to activate it.
Cost of London Pass
| Duration of Pass | Adult Pass | Child Pass* |
| --- | --- | --- |
| 1-Day | £82.73 | £52.44 |
| 2-Days | £108.37 | £69.92 |
| 3-Days | £128.18 | £82.73 |
| 4-Days | £145.66 | £93.22 |
| 5-Days | £158.48 | £103.71 |
| 6-Days | £164.30 | £110.70 |
| 7-Days | £168.96 | £115.36 |
| 10-days | £185.28 | £127.01 |
*Adult Pass is applicable for guests who are 16+ years and above while the Child Pass is applicable for kids aged 5 to 15 years.
The London Explorer Pass is much cheaper but doesn't include a visit to the London Zoo.
Which is a better wildlife attraction – London Zoo or Whipsnade Zoo?
---
---
London Zoo's location
The ZSL London Zoo is located at the Northern end of Regent's Park, on the boundary line between the City of Westminster and the borough of Camden.
London Zoo Address
ZSL London Zoo,
Regent's Park,
London,
NW1 4RY
United Kingdom
Contact Number: 020 7722 3333
Location map of London Zoo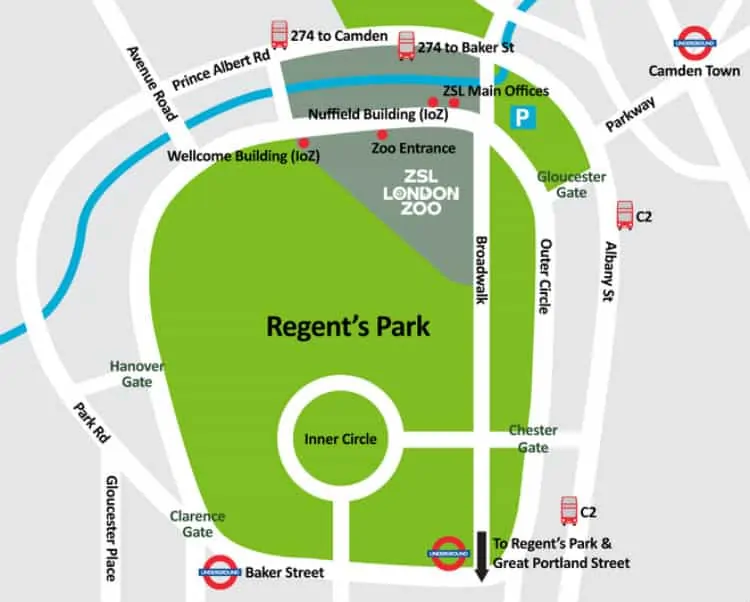 ---
---
How to reach the London Zoo
The city of London prides itself on its transportation system.
True to that, you can reach the London Zoo through various modes of transport.
By Tube (Underground)
ZSL London Zoo is in the center of three underground stations – Camden Town station, Regent's Park station, and Baker Street station.
Camden Town is the nearest tube station to ZSL London Zoo with its Northern Line connection, and you can walk to the attraction in just 15 minutes.
From the Regent's Park station, it is a 20-minute walk to the Zoo.
From the Baker Street station, it is best to catch the 274 bus to Ormonde Terrace.
Once you get down at the bus stop, you must walk 700 meters (half a mile) to reach the London Zoo.
By Bus
If you prefer to travel to the London Zoo by bus, opt for bus numbers 274 and C2.
Bus number 274 runs from Marble Arch and Baker Street to Ormonde Terrace, while C2 runs from Victoria station, Oxford Circus, or Great Portland Street to Gloucester Gate.
Gloucester Gate is also half a mile from the zoo, and you can walk the distance quickly.
By London Overground
Camden Road station is the London Overground station nearest to the London Zoo.
A 20-minutes walk can bring you to the most extensive collection of wild animals in the whole of the UK.
You can also plan to come by car or bike. There is plenty of parking space.
In fact, the London Zoo is outside of the congestion charge zone.
London Zoo parking
London Zoo's car park is on the Outer Circle of Regent's Park at postcode NW1 4SX.
The Zoo's main gate is outside the Congestion Charge Zone, and visitors must pay £14.50 to park their cars or bikes.
The disabled parking bay is in front of the zoo entrance. Disabled visitors can also park on the main road for up to four hours.
---
---
London Zoo map
There is a lot to see and do at the zoo, which is why it makes sense to have the map of the London Zoo handy at the time of your visit.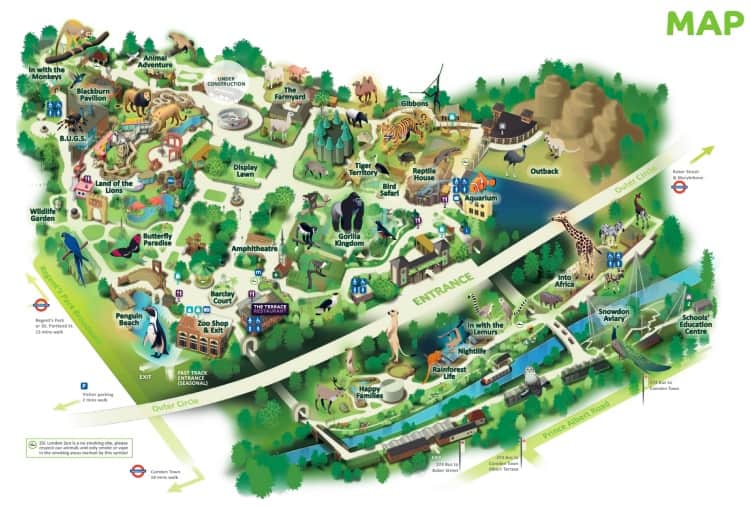 The map helps locate facilities such as restrooms, parking, restaurant, first aid center and navigate the various animal exhibits, enclosures, and activities efficiently.
You can create an itinerary prioritizing your favorite animal enclosures, encounters, attractions, and experiences with access to the zoo map.
Popular attractions in London
# London Eye
# Tower of London
# Kew Gardens
# Madame Tussauds London
# St Paul's Cathedral
# Stonehenge
# Windsor Castle
# Kensington Palace
# The Shard
# Whipsnade Zoo
# Warner Bros Studio Tour
# O2 Roof Climb
# Stamford Bridge tour
# London Dungeon
# London Transport Museum
# Chessington World of Adventures