London Zoo was set up in 1828 for wildlife studies and opened to the public in 1847, making it the world's oldest scientific zoo.
Since the Zoological Society of London (ZSL) manages the London Zoo, locals also refer to it as ZSL London Zoo.
This wildlife attraction is home to over 20,000 animals from around the world, representing more than 750 species of animals.
ZSL London Zoo attracts more than 1.1 million tourists every year.
In addition to its animal exhibits, the zoo offers a variety of educational and conservation programs, as well as daily talks and feeding demonstrations.
Visitors can also participate in various activities, such as the Treetop Adventure, the Animal Adventure Playground, and the Land of the Lions exhibit.
Snapshot
Hours: 10 am to 6 pm
Last Entry: 5 pm
Time needed: 3 to 4 hours
Best time to visit: 10 am
Ticket cost: £21 to £33
Location
The ZSL London Zoo is at the northern edge of Regent's Park, on the boundary line between the City of Westminster and the borough of Camden. Get Directions
London Zoo can get quite busy, especially during peak tourist seasons. Visitors can save time and money by booking tickets online in advance.
In this article, we share everything you need to know before purchasing your ZSL London Zoo tickets.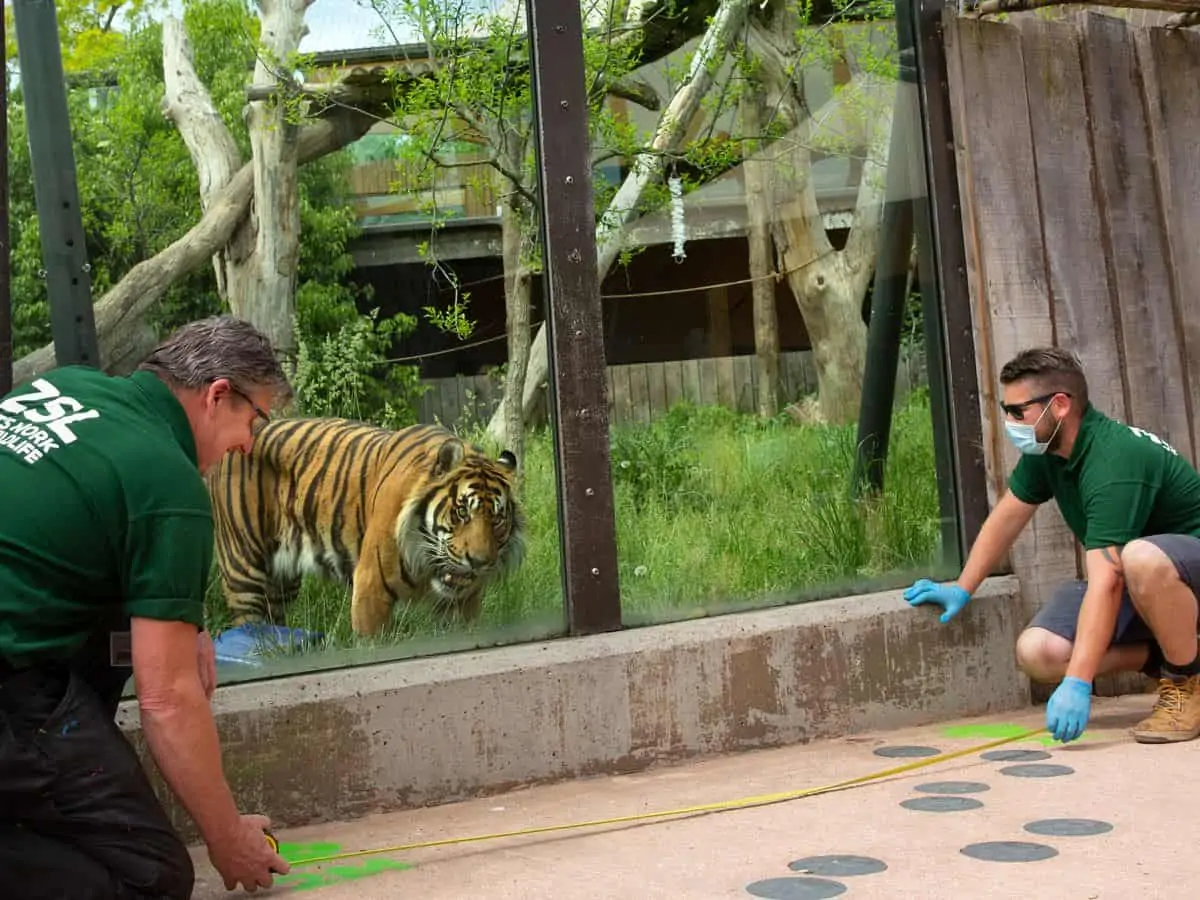 What to expect at London Zoo
Visitors to London Zoo can expect to see animals like lions, tigers, gorillas, penguins, and reptiles.
The zoo is divided into themed zones featuring different animals and habitats.
You can expect to explore areas such as "Into Africa," "Rainforest Life," "Land of the Lions," and "Gorilla Kingdom." Each zone has interactive exhibits and activities to enhance your experience.
There are three ways to experience the premier wildlife attraction of London.
The zoo has a variety of children's activities and play areas, such as the Animal Adventure Playground and the Treetop Adventure. These areas provide a fun and educational experience for kids.
Exhibits at London Zoo
Land of the Lions
Tiger Territory
Into Africa
Bird Safari
Fruit Bat Forest
Butterfly Paradise
Reptile House
Blackburn Pavilion
The Gorilla Kingdom
Rainforest of Life
Meet the Monkeys
Penguin Beach
Tiny Giants
Wildlife Garden
Gibbons
In with the Lemurs
Giants of the Galapagos
Meerkats and Otters
The Farmyard
You can buy only the London Zoo tickets or opt for the combination tickets, which help you score up to a 10% discount.
If you are in London for a longer period or are a big family, check out the London Pass. It helps you save up to 50% on ticket costs.
---
---
London Zoo tickets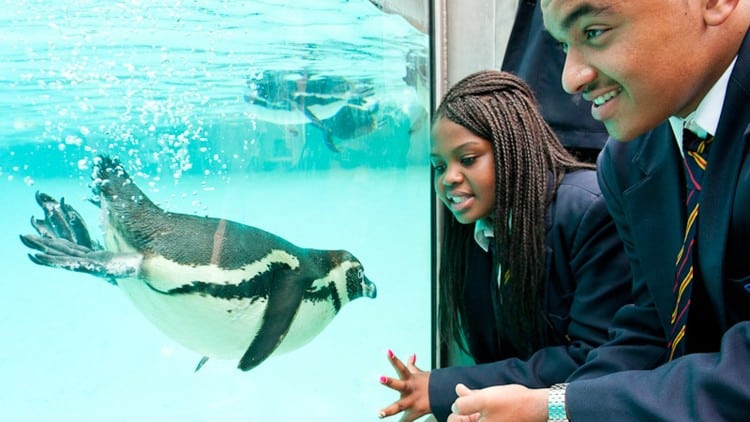 Entry to ZSL London Zoo requires a ticket, and we suggest you plan and book them early.
The wildlife attraction gets around 1.5 Million visitors annually, which is why booking your tickets in advance makes sense.
You can cancel these tickets with a full refund, up to 24 hours before your date of visit.
Where to buy London Zoo tickets
You can get your London Zoo entry tickets at the venue or buy them online, much in advance.
If you plan to get them at the attraction, you must get in the ticketing window queue.
Depending on the time of the day (and month), you may have to wait in the ticket counter line for 10 to 30 minutes to buy your ticket.
The second and better option is to book tickets to London Zoo online.
When you buy them online in advance, you save time and money and also avoid last-minute disappointment.
Online London Zoo tickets are cheaper than what you will pay at the entrance.
Important: As a safety precaution, ticket counters at London Zoo are temporarily suspended, and visitors can only purchase the tickets online. Only a limited number of visitors are allowed per day, and as a result, tickets are selling very much in advance.
How online tickets work
When you buy ZSL London Zoo tickets, you select your preferred time of visit.
Immediately after purchase, your tickets get emailed to you.
You don't need to take any printouts.
Now all you must do is, reach the wildlife attraction 10 minutes before the time mentioned on your ticket.
Since you have a ticket and are on time, you can show it on your smartphone and walk into the Zoological Park right away.
Timed entry tickets
London Zoo issues timed tickets to limit the number of visitors inside the Zoo at any point of time.
This also ensure the safety of all visitors, and helps avoid crowding at the animal encounters.
When you book London Zoo tickets, you must select a specific day and entry time slot for a visit.
You can then visit the Zoo as per the date and time mentioned in your e-ticket.
When you don't book in advance, there are chances of you not getting your preferred time slot and date.
We strongly advise booking your Zoo London tickets early to avoid disappointment.
Update: During the non-peak season, ZSL London Zoo tickets are NOT timed. You can enter the zoo any time before the day's last entry, which is usually one hour before closing time.
London Zoo ticket prices
London Zoo's ticket prices depend on two factors – the day of your visit and the guest's age.
Depending on the crowd expected, every day is labeled as Peak day, Standard day, Off-Peak day, Saver day, or Super-Saver day, and the ticket prices vary accordingly.
| Age of visitor | Peak | Standard | Off-Peak | Saver | Super Saver |
| --- | --- | --- | --- | --- | --- |
| Adult (16 to 64 years) | £35.50 | £33.00 | £30.50 | £28.50 | £26.50 |
| Child (3 to 15 years) | £23.10 | £21.45 | £19.85 | £18.55 | £17.25 |
| Senior (65+ years) | £31.95 | £29.70 | £27.45 | £25.65 | £23.85 |
| Student (with ID) | £31.95 | £29.70 | £27.45 | £25.65 | £23.85 |
| Disabled Adult | £31.95 | £29.70 | £27.45 | £25.65 | £23.85 |
| Disabled Child | £23.10 | £21.45 | £19.85 | £18.55 | £17.25 |
Please note that the ticket prices mentioned above include voluntary donations.
Kids under three years enter for free, but while booking your tickets you must get a free ticket for them.
London Zoo tickets for family
The wildlife attraction DOES NOT offer a separate London Zoo family ticket for visitors. However, when you book the regular tickets, kids under 15 years get 35% off on standard adult prices, and kids under three enter for free.
Same day ticket prices
Same-day tickets cost higher than if you book your tickets much in advance.
In fact, you will pay £4 more per person when you book London Zoo tickets within 48 hours of your visit.
London Zoo discount
Irrespective of the day of your visit, London Zoo offers a 35% discount for all kids aged 3 to 15 years and a 10% discount for seniors aged 65 years and above and students with a valid ID card.
For instance, on a Standard day, an adult ticket (16+ years) costs £33, while kids pay only £21.45. Both seniors and students with IDs also pay a discounted rate of £29.70 per person.
On an Off-Peak day, a kids' ticket costs only £19.85 – a discount of about £10.65 on the £30.50 the adults pay for their tickets. Both seniors and students pay a discounted price of £27.45 per person.
An essential carer for disabled visitors gets free entry.
If you don't get the tickets for your preferred date, buy The London Pass and get a backdoor entry to the zoo. Or you can visit Sea Life London, yet another wildlife attraction.
Visual Story: 13 must-know tips before visiting London Zoo
London Zoo's discount code
Some websites offer discount codes for London Zoo entry, but we don't think they are worth their value.
These discount codes are offered in many forms, which you will gain anyway if you book your tickets in advance and online.
Here are some of the kinds of discount code deals sites offer –
Massive discounts for students (London Zoo already provides a 35% discount for all kids up to 15 years and a 10% discount for students with IDs)
Up to 50% off at the shop at London Zoo (This only matters if you plan to spend a lot of time and money at the souvenir shop)
35% off for child tickets (if you purchase the London Zoo tickets online, you get the same discounts!)
Most of these offers are smartly worded marketing gimmicks.
Recommended Reading: London Zoo Lodges
---
---
London Zoo with London Pass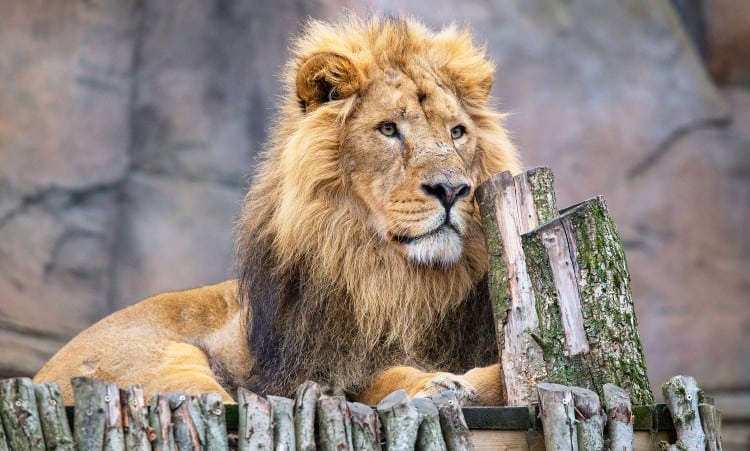 The London Pass is a sightseeing pass for tourists that provides free entry to over 80+ top attractions of London.
The pass lets you explore significant locations like the St. Paul Cathedral, Tower Bridge, Royal Observatory, Thames River Cruise, Shakespeare's Globe Theatre, etc.
This exhaustive list includes ZSL London Zoo as well.
London Pass is an excellent way to visit the zoo at a discount.
You can buy London Pass for 1, 2, 3, 4, 5, 6, or 10 days. Prices change accordingly.
You can show the London Pass at the entrance or the ticket office of any attraction included in the list to activate it.
Cost of London Pass
| Duration of Pass | Adult Pass | Child Pass* |
| --- | --- | --- |
| 1-Day | £92 | £57 |
| 2-Days | £119 | £77 |
| 3-Days | £138 | £93 |
| 4-Days | £161 | £101 |
| 5-Days | £173 | £112 |
| 6-Days | £185 | £119 |
| 7-Days | £191 | £123 |
| 10-days | £204 | £132 |
*Adult Pass is applicable for guests who are 16+ years while the Child Pass is applicable for kids aged 5 to 15 years.
London Pass is an excellent way to visit the Zoo at a discount.
You can show the London Pass at the ticket booth of any attraction included in the list to activate it.
The London Explorer Pass is much cheaper but doesn't include a visit to the London Zoo.
Which is a better wildlife attraction – London Zoo or Whipsnade Zoo?
---
---
London Zoo opening hours
The London Zoo opens at 10 am every day.
During the peak season of March to August, London Zoo closes at 6 pm, from September to October, it closes at 5 pm, and from November to February, the wildlife attraction closes at 4 pm.
| Season | Opening time | Closing time |
| --- | --- | --- |
| Mar to Aug | 10 am | 6 pm |
| Sep to Oct | 10 am | 5.30 pm |
| Nov to Feb | 10 am | 4 pm |
It remains closed on Christmas.
The last admission is one hour before the closing time.
---
---
Best time to visit London Zoo
The best time to visit London Zoo is as soon as they open at 10 am.
There are four advantages of starting early – the Zoo's animals are most active early in the morning, the temperatures are still moderate, the crowd is yet to get in, and you have the whole day to spend at the attraction.
As the day gets hotter, animals prefer staying inside their shelters. As a result, you may get disappointed when you don't see them in the exhibit.
Weekdays are better for a peaceful visit because London Zoo gets crowded on weekends and school holidays.
The zoo is most crowded on weekends between 10 am and 2 pm.
If you are on a short holiday in London, starting early also allows you to add another attraction to the day's itinerary.
---
---
How long does London Zoo take
If you visit London Zoo with children, you will need at least three to four hours to cover most animal exhibits spread over the 14-hectares (35 acres) London Zoo.
Children tend to linger longer around their favorite animal enclosures, attend feeding sessions, keeper talks and try out numerous experiences.
If you stop at The Terrace Kitchen or one of the other London Zoo restaurants, you will need an hour more.
If you are a bunch of adults, you can rush through the London Zoo in 90 minutes.
The London Pass helps you enter more than 60 tourist attractions, including the London Zoo, for free. Save time and money. Buy The London Pass
---
---
London Zoo's location
The ZSL London Zoo is located at the Northern end of Regent's Park, on the boundary line between the City of Westminster and the borough of Camden. Get Directions.
London Zoo Address
ZSL London Zoo,
Regent's Park,
London,
NW1 4RY
United Kingdom
Contact Number: 020 7722 3333
London Zoo Location Map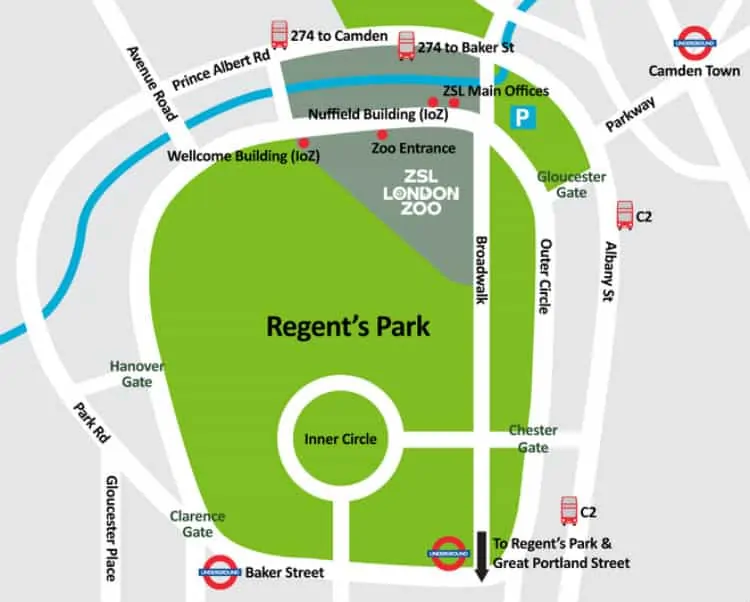 Find out how to reach the London Zoo
---
---
Map of London Zoo
Spread across merely 15 hectares of land, London Zoo is quite big to explore.
Since there are so many exhibits and attractions in the Zoo, it is always better to have a map in hand or on a mobile phone, to make the exploration easy.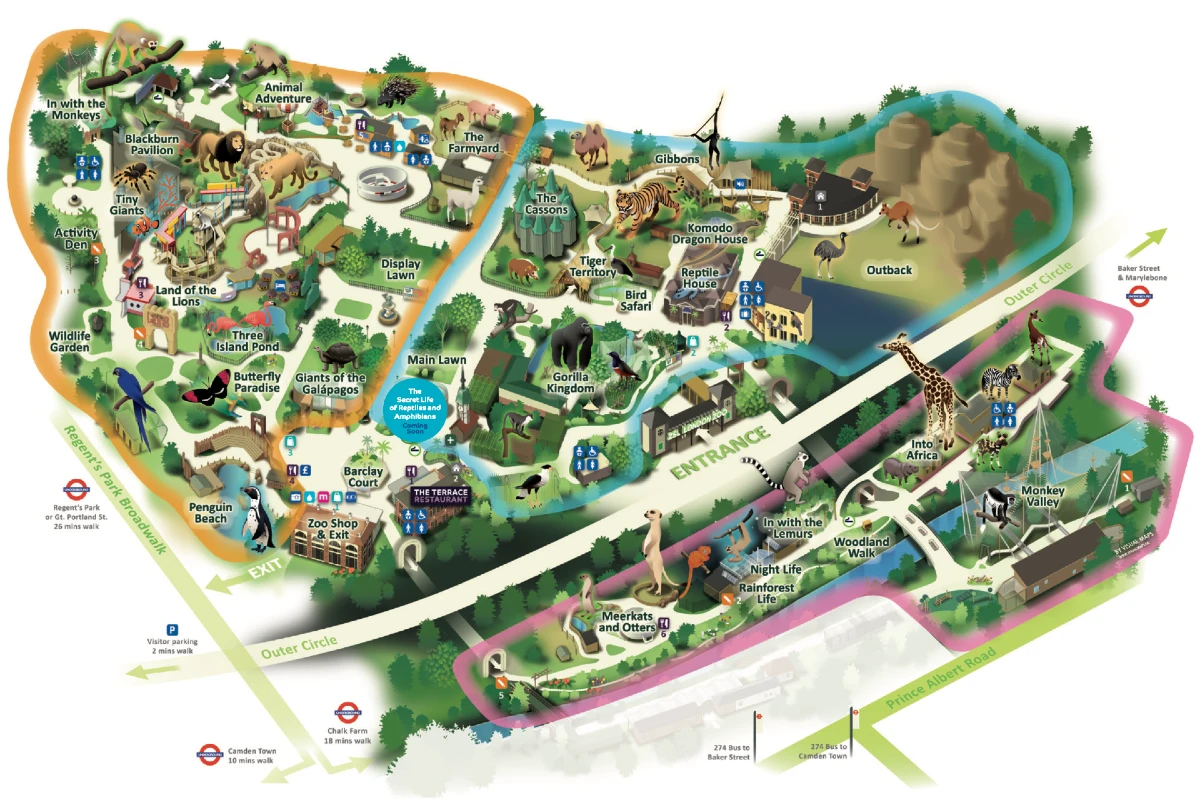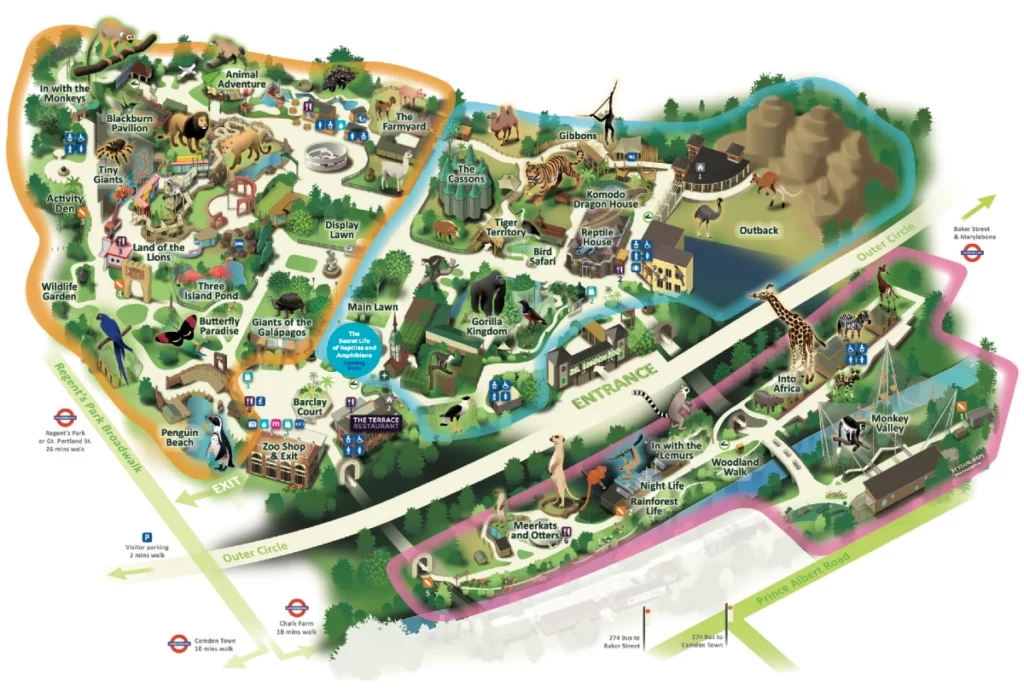 Download London Zoo Map (1.3 Mb, PDF)
When you are aware of the layout of the London Zoo, you can save time and energy.
The map helps locate facilities such as restrooms, parking, restaurant, first aid center and navigate the various animal exhibits, enclosures, and activities efficiently.
You can create an itinerary prioritizing your favorite animal enclosures, encounters, attractions, and experiences with access to the zoo map.
Sources
# London Zoo
# Zoological Society of London
# Britannica.com
# Wikipedia.org
# Londonpass.com
# Tripadvisor.com

The travel specialists at TheBetterVacation.com use only high-quality sources while researching & writing their articles. We make every attempt to keep our content current, reliable and trustworthy.
Popular attractions in London