Sea Life London is home to over 600 species of marine life, including sharks, rays, seahorses, and penguins.
It is housed in the historic County Hall building, which was originally the headquarters of the London County Council.
The aquarium is part of the Sea Life chain of aquariums, which has locations in cities around the world.
It first opened in 1997 under the name London Aquarium.
Sea Life London Aquarium added new exhibits and updated existing ones when it underwent a major refurbishment in 2008.
The aquarium is committed to marine conservation and sustainability and has several initiatives to reduce its environmental impact.
This article shares everything you should know before booking tickets for the Sea Life Centre London Aquarium.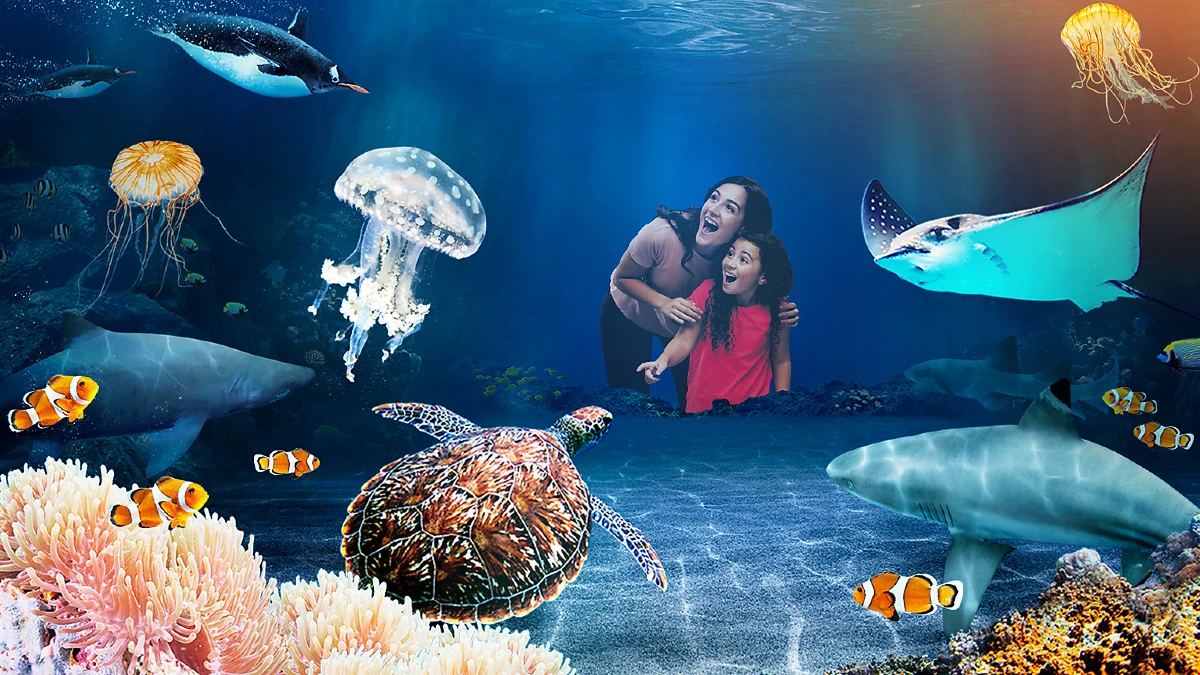 What to expect at SeaLife London
At Sea Life Centre London, you can expect to see a wide variety of marine life from around the world.
Here are some of the key exhibits and animals you can expect to see:
Ocean Tunnel
The Ocean Tunnel exhibit at Sea Life London features a walk-through tunnel that allows you to see marine life up close and personal.
You'll see a variety of species, including sharks, rays, and sea turtles.
Rockpool
The Rockpool is an interactive exhibit that allows visitors to touch and learn about marine creatures like starfish, crabs, and anemones.
Atlantic Coasts
The Atlantic Coast exhibit is a range of marine life found in the coastal waters of the Atlantic Ocean, including seahorses, octopuses, and eels.
Ocean Invaders
The Ocean Invaders exhibit showcases the beauty and diversity of jellyfish, including species like moon jellyfish, upside-down jellyfish, and blue blubber jellyfish.
The exhibit uses lighting effects to create an immersive and otherworldly experience for visitors.
Penguins
At Sea Life London, you can see a colony of gentoo penguins in a specially designed habitat that mimics their natural environment.
Rainforest Adventure
The Rainforest Adventure exhibit features a range of tropical fish and other creatures, including piranhas, poison dart frogs, and a crocodile.
Shark Walk
The Shark Walk exhibit allows visitors to walk over a tank of sharks and other large fish, including sand tiger sharks and blacktip reef sharks.
In addition to these exhibits, Sea Life London Aquarium also offers a variety of interactive experiences.
This includes touch pools, interactive talks and workshops, behind-the-scenes tours, and feeding demonstrations.
---
---
Where to buy Sea Life London Aquarium tickets
You can purchase your SeaLife London Aquarium entry tickets at the attraction or online in advance.
If you land at the venue to buy tickets, you'll have to line up at the ticket counter.
During peak times, these lines can get long, and you will end up wasting your time.
Online tickets for the SeaLife Centre are cheaper than the tickets sold at the venue.
Online tickets also help you avoid last-minute disappointments when tickets get sold out.
How online ticket works
Go to the Sea Life London ticket booking page, select your preferred date, time slot, and number of tickets, and buy them instantly.
After the purchase, you will receive the tickets in your email.
You don't need to take any printouts.
Scan your smartphone ticket at the entrance on the day of your visit and enter the Sea Life Centre London Aquarium right away.
Cost of Sea Life London tickets
The Sea Life Aquarium London entry tickets cost £33 for all visitors aged above 16 years.
Children aged between 3 to 15 years get a discount of £3 and pay £30 for entry.
Infants under 2 can enter the Sea Life Centre London Aquarium for free.
---
---
Tickets for Sea Life London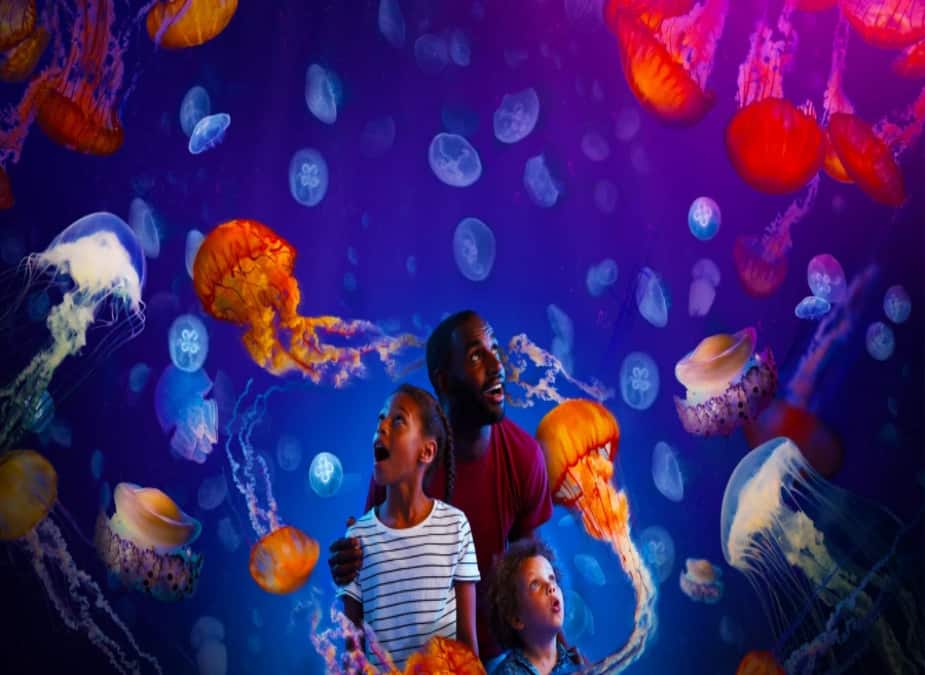 Tickets for Sea Life London include access to the aquarium's exhibits and displays.
This includes the Ocean Tunnel, the Rockpool, the Atlantic Coasts exhibit, the Ocean Invaders exhibit, the Penguins exhibit, the Rainforest Adventure exhibit, and the Shark Walk exhibit.
In addition to access to the exhibits, your ticket also includes access to feeding demonstrations and daily talks.
Ticket Prices
Adult Ticket (16+ years): £33
Child Ticket (3 to 15 years): £30
Infant Ticket (up to 2 years): Free
Combo tickets
Combo tickets are the best way to explore London as they let you explore two attractions, usually located closer.
You can buy SEA LIFE London tickets in combination with Madame Tussauds London and London Zoo.
On these tickets, you get a whopping discount of up to 5%, making this a steal deal!
SEA LIFE London + Madame Tussauds London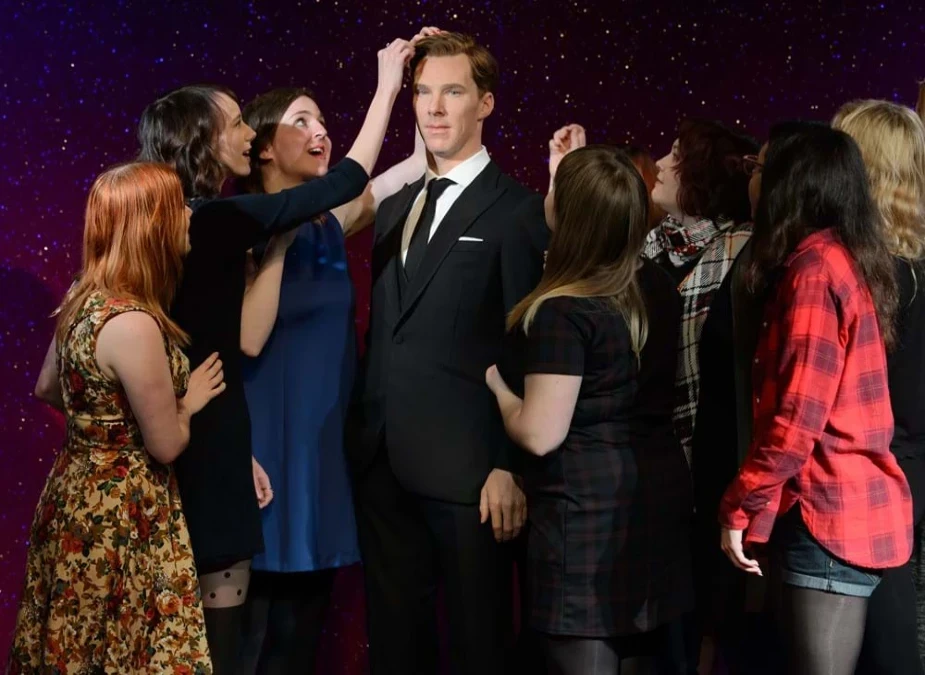 Madame Tussauds London is just 3.5 miles (5.6 km) away from SEA LIFE London Aquarium and can be reached in 18 minutes by car.
So why not book a combo ticket, visit both attractions on the same day, and amplify your tour?
Get up close and personal with lifelike wax figures of famous celebrities, historical figures, and political leaders at Madame Tussauds, then explore marine creatures at the Sea Life Centre.
Ticket Cost: £65
London Zoo + SEA LIFE London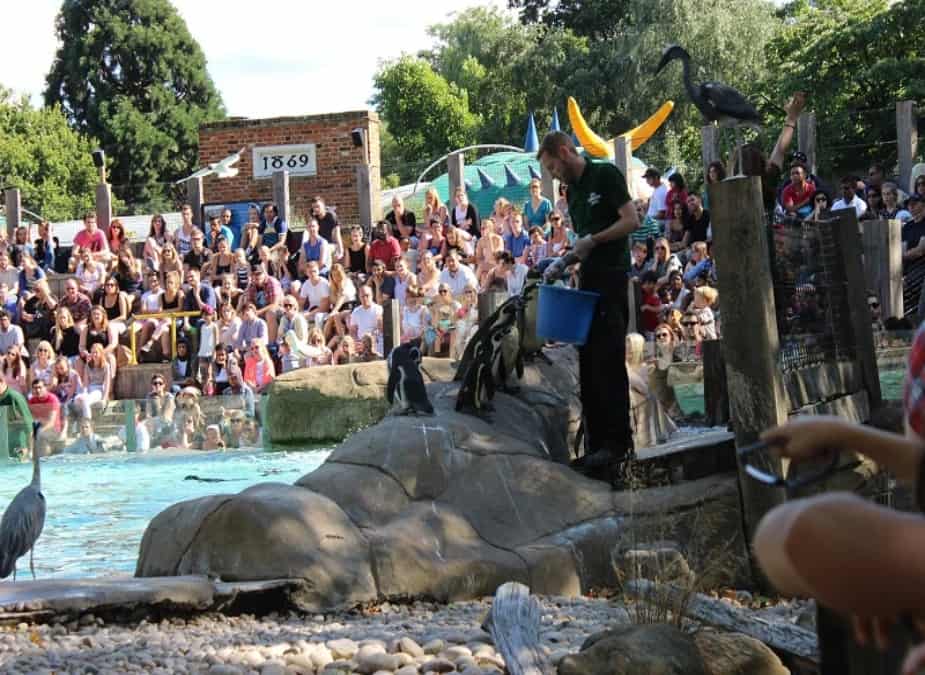 After visiting SEA LIFE Centre London, you can consider exploring the London Zoo, which is nearly 3.7 miles (5.9 km) and can be reached in 20 minutes by car.
London Zoo is one of the world's oldest and most famous zoos, and it is home to over 20,000 animals from more than 750 different species.
Visiting the zoo and Sea Life centre can be a great way to learn about different species, have fun with family and friends, and support conservation efforts to protect endangered species.
Ticket Cost: £59
Save time & money! Buy London Pass and visit over 80+ attractions like ZSL London Zoo and London Bridge. Pick from 1, 2, 3, 4, 5, 6, or 10-day passes and buckle up for a 1-day hop-on-hop-off bus tour.
How to reach Sea Life London Aquarium
Sea Life London is next to the London Eye and is within walking distance of other popular tourist attractions such as the Houses of Parliament, Big Ben, and the Southbank Centre.
Address: Riverside Building, County Hall, Westminster Bridge Rd, London SE1 7PB, United Kingdom. Get Directions!
You can reach the Sea Life Centre London via both public and private transport.
By Bus
You can board bus numbers 12, 148, 159, 211, 453, 734, N53, N109, N155, and N381 to reach the St Thomas' Hospital / County Hall (Stop D) bus station, a 3-minute walk from Sea Life London.
By Subway
You can take the Circle (Yellow), Jubilee (Grey), or District (Green) Subway Line to the Westminster Subway Station, a 5-minute walk from the aquarium.
By Ferry
You can also take an RB1 or RB6 ferry ride from North Greenwich Pier to the London Eye Waterloo Pier Ferry Terminal, a 4-minute walk away.
By Car
The easiest way to reach the Sea Life Centre London Aquarium is by car so turn on Google Maps on your smartphone and get started.
There is no parking available directly at the Sea Life Centre.
However, there are several public parking garages located nearby that you can use.
Click Here to check nearby Car Parking Lots.
---
---
Sea Life London timings
Sea Life Centre London Aquarium opens at 10 am and closes at 5 pm every day.
However, the opening and closing hours may vary depending on the day of the week and the time of year.
You can refer to the official calendar before your visit.
How long does Sea Life London take
The amount of time it takes to explore Sea Life London can vary depending on your interests and group size.
On average, visitors spend around two to three hours at SeaLife London.
However, you could easily spend longer exploring the different exhibits, attending the various talks and shows, and taking your time to appreciate the sea life on display.
It is a good idea to plan for a few hours to enjoy the experience and avoid rushing through the exhibits.
Best time to visit Sea Life London
The best time to visit Sea Life London can depend on several factors, including the crowd levels and your personal preferences.
Sea Life Aquarium London can be busy during weekends, public holidays, and school breaks.
Consider visiting during the week to avoid crowds and long wait times.
If you prefer to visit during quieter periods, try to visit as soon as the Sea Life Centre London opens at 10 am or late in the afternoon.
Is the Sea Life London Aquarium worth a visit
Sea Life London is a popular attraction for both tourists and locals alike.
Its location on the banks of the River Thames makes it easily accessible, and its wide range of exhibits and activities makes it a great destination for a day out with family or friends.
Overall, there's something for everyone at the Sea Life Centre London Aquarium, whether you're a casual visitor or a passionate marine enthusiast.
Popular attractions in London