Inaugurated in 1884, Madame Tussauds Museum in London displays wax statues of celebrities from all over the World.
Over the years, Madame Tussauds wax Museums have come up in many cities, but the Madame Tussaud at London remains the most popular of them all.
The wax figures at Tussauds London include politicians, royals, movie stars, sports stars, and famous criminals.
In short, it is an opportunity to click selfies with 250+ famous life-like wax figures from all walks of life.
In this article we share everything you must know before booking your tickets to Madame Tussauds London.
Top Madame Tussauds London Tickets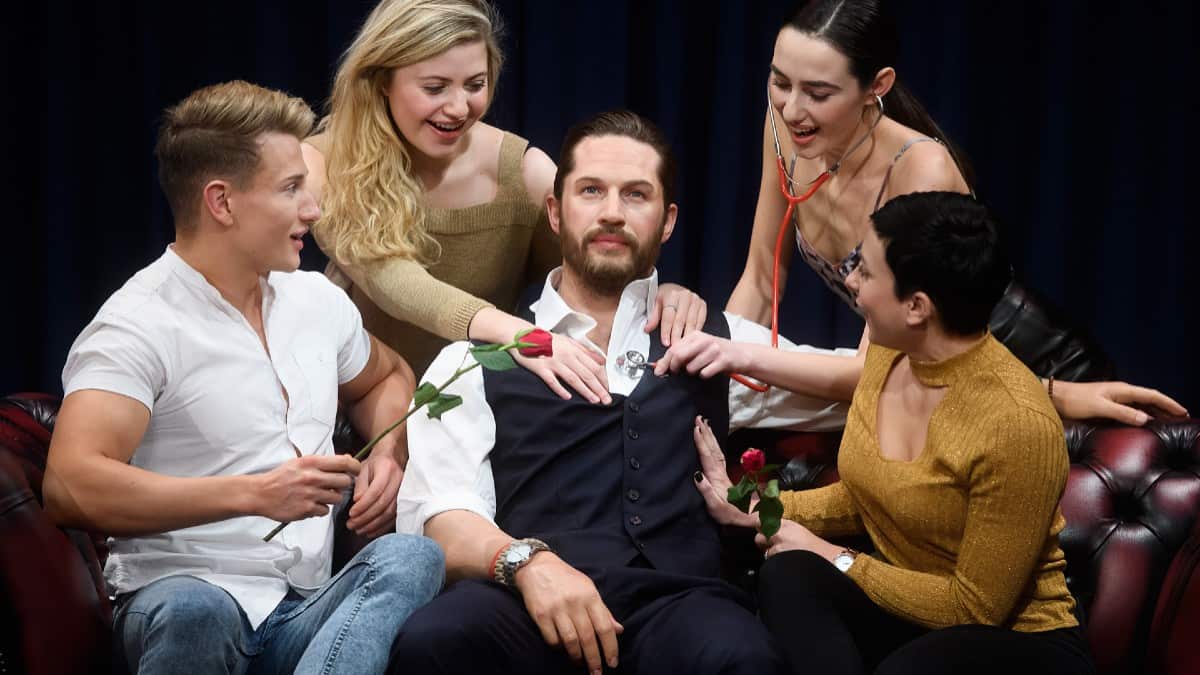 Opening hours
Madame Tussauds in London opens either at 9 am or 10 am and closes either at 4 pm, 5 pm, or 6 pm, depending on the day's schedule.
Opening hours at Madame Tussauds London vary throughout the year.
Without looking at their schedule, you can visit Madame Tussauds between 10 am and 4 pm.
---
---
Madame Tussauds ticket price
Visitors can purchase tickets to Madame Tussauds London online or at the attraction's gate.
While buying online tickets, you can book them in advance or buy same-day tickets.
The price of Madame Tussauds London ticket, if booked in advance, is £30.50 per adult.
When you book Madame Tussauds tickets at least 24 hours before your visit, you save 3.50 pounds per person on the ticket cost.
Purchasing your tickets for Madame Tussauds London online will also save you the hassle of standing in the ticket counter queue.
The average waiting time at Madame Tussauds' ticket counter is one hour, which can even go up to two hours during peak times.
Same-day ticket prices
Madame Tussauds London same day tickets are costlier, even if you purchase them online.
On the day of your visit, the regular Madame Tussauds entry ticket for an adult costs £34 per person – £3.50 more than if you had booked in advance.
Even if you reach Madame Tussauds London, it is still better to purchase the tickets online – at least you can avoid waiting in the ticket counter lines.
Tip: You don't need to print online tickets. You can show them on your mobile and walk in.
---
---
Madame Tussauds London discount
Madame Tussauds in London offers discounted tickets to children up to 15 years of age.
Children aged 3 to 15 get a £3 discount on advance tickets and pay only £27.50 to enter.
They also get a £3 reduction on same-day tickets and pay only £30.50 to explore the wax museum.
Kids two years and below can enter for free.
However, the most significant ticket discount at Madame Tussauds is available on advance online purchases. Buy Advance Tickets
---
---
Madame Tussauds London tickets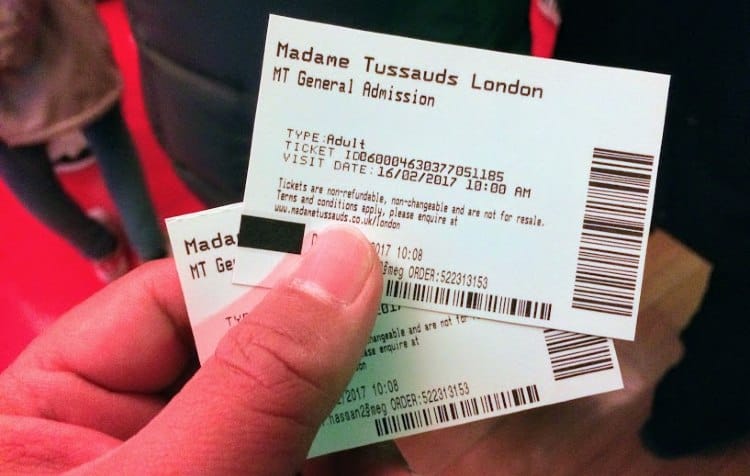 When you buy your Madame Tussauds tickets online, they get delivered to your inbox.
On the day of your visit, you can show the email on your smartphone to gain entry. No need to take printouts!
The cost of Madame Tussauds London tickets depends on when you book it – in advance or on the day of your visit.
All tickets include access to the below given special experiences at the wax museum.
Star Wars Experience
Marvel Super Heroes 4D Cinema
Spirit of London ride
The Skull Island
The Glow Room
Alien Escape
If you are booking your Madame Tussauds London tickets at least 24 hours before the date of your visit, on the booking page, please select 'Standard Admission – advance booking.'
Cost of advance ticket
Adult ticket (16+ years): £30.50
Child ticket (3 to 15 years): £27.50
Infants: Free entry
If you are booking your Madame Tussauds London tickets at the last minute and plan to visit today itself, you must opt for the 'Standard Admission – same day booking.'
Since this is a last-minute booking, the advance booking discount is not applicable here, making the ticket costlier.
Cost of same-day ticket
Adult ticket (16+ years): £34
Child ticket (3 to 15 years): £30.50
Infants: Free entry
---
---
Best time to visit
The best time to visit Madame Tussauds London is as soon as they open at 10 am or in the afternoon, between 2 pm and 3 pm.
Since visitors usually take two hours to explore the London attraction, even if you start at 3 pm, you can finish exploring before the Wax Museum closes.
Tuesday, Wednesday, or Thursday are the best days of the week to visit Madame Tussauds in London.
When NOT to visit Madame Tussauds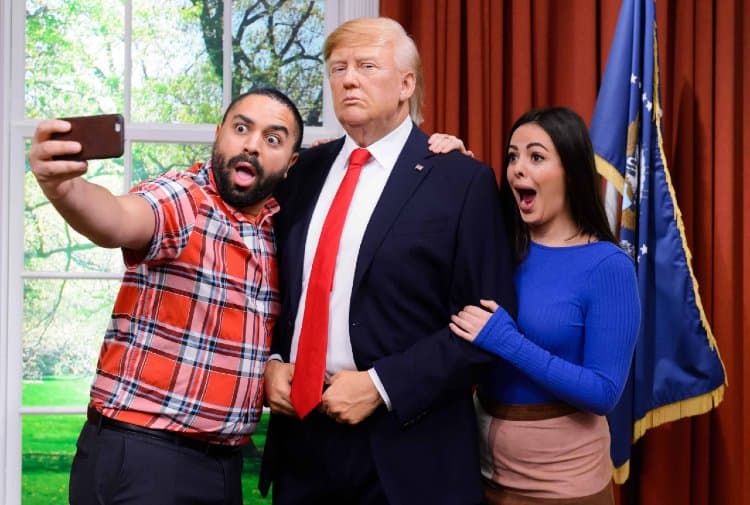 Madame Tussauds London is a highly rated attraction and is almost always crowded.
If you want to avoid the crowd, it is better to visit on a weekday.
During the summer holidays and school half-terms, Madame Tussauds in London gets really crowded.
During peak times, visitors end up waiting up to 2 hours in the ticketing counter lines, and during non-peak times this wait can be up to 20 minutes.
If you buy tickets to Madame Tussauds London online, you can skip these long lines and enter the wax museum right away.
---
---
How long does it take?
According to officials at Madame Tussaud London, you need two hours to explore all the exhibits at the wax Museum, including the Marvel Super Heroes 4D movie and Star Wars experience.
Since the wax museum is an at-your-own-pace walk-through attraction, there is no time limit on your ticket.
Teenagers are known to spend a lot of time taking selfies with their favorite celebs.
The London Pass helps you enter more than 60 tourist attractions for free. Save time and money. Buy The London Pass
---
---
Experiences at Madame Tussauds London
At Madame Tussauds London, you will come face-to-face with some of the world's most famous faces.
For a change, you won't be standing behind the ropes but will be able to touch, hug, kiss and be close to over 250 celebrities.
Besides the wax statues of celebs, there are fantastic experiences as well.
This London attraction has seven unique experiences suitable for the whole family.
Marvel's Super Heroes in 4D
Don't miss the thrilling Marvel Super Heroes in 4D adventure film where the superheroes join forces to save the world from evil.
The Sherlock Holmes Experience
The Sherlock Holmes Experience is a re-creation of the world of detective Sherlock Holmes in Baker Street.
It is a theatrical, walkthrough adventure suitable for the whole family.
Since this is a paid experience, to participate, you must purchase the tickets, which cost 5 Pounds/person.
It is not part of the standard entry ticket.
The Glow Room
The Glow Room is a new addition and is a path-breaking photographic experience, which takes inspiration from Princess of pop Dua Lipa's stage sets.
Visitors can pose with the pop star even as ten cameras fire sequentially to create a free 3D gif for you to share with friends and family.
The Skull Island
The Skull Island at Madame Tussaud's London is a recent addition and is inspired by the 2017 movie called 'Kong: Skull Island'.
This section features a giant animatronic head of King Kong (18 feet / 5.5 meters) high, giving it scary proportions.
The kids love this life-like moving model.
Alien Escape
You needn't have seen any of the Alien movie series to get an adrenalin rush from 'Alien Escape' at Madame Tussauds London.
In this section, you will step onboard the Covenant ship and come face to face with Xenomorph, the Alien.
Spirit of London Ride
Spirit of London Ride is included in all Madame Tussauds London tickets.
During the ride, you will sit in one of London's infamous black cabs, even as the narration takes you through the historical and cultural events that shaped London over the years.
The Spirit of London Ride is approximately 5 minutes long.
Star Wars Experience
Madame Tussaud joined hands with Disney and Lucas Film to create this visual treat which has extraordinarily life-like wax figures of the heroes and villains of Star Wars.
Besides the figures, you will see locations such as Swamps of Dagobah, flight deck of the Millennium Falcon, Jabba's Throne Room, etc.
---
---
What to see at Madame Tussauds London
The wax statues of the celebrities are divided into many Zones.
While there are many Zones, we list out the top ten, which attract the maximum visitors.
Marvel Zone
The original comics and the blockbuster Marvel movies have inspired the Marvel Secret Command Centre.
Spiderman, Ironman, Hulk, Hawkeye, The Invisible Woman, Captain America, Wolverine, Nick Fury, Captain Marvel, etc., are some of the Marvel stars you will meet in this section of Madame Tussauds London.
Don't miss the Comic Store zone filled with Marvel classics and miniature action figures.
The VIP Party
A party in the first hall of the Museum includes all the A-List celebs such as Morgan Freeman, Leonardo DiCaprio, Nicole Kidman, Brad Pitt, Angelina Jolie, Tom Hardy, George Clooney, etc.
The Party Zone also has a Bollywood area, where you get to meet Indian movie stars such as Priyanka Chopra, Deepika Padukone, Hrithik Roshan, etc.
The Royal Family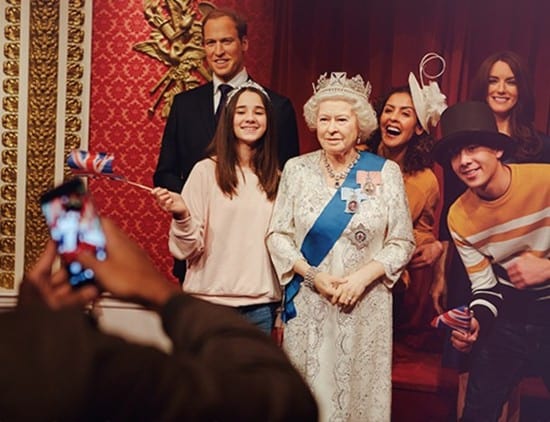 This Museum has the record of creating the most number of Queen Elizabeth II wax statues.
It gives a chance to meet Royals such as the Duke and Duchess of Cambridge, Prince of Wales and Duchess of Cornwall, Queen Elizabeth II, etc.
Image: Madametussauds.com
Recently, Prince Harry and Meghan Markle were removed from the Royal family section.
Fashion Week
One part of the Fashion Week section is a re-creation of the behind-the-scenes of an international fashion event.
Backstage you hang around with Super Model Kendall Jenner and then get on the second part of this exhibit for a short catwalk.
Film Zone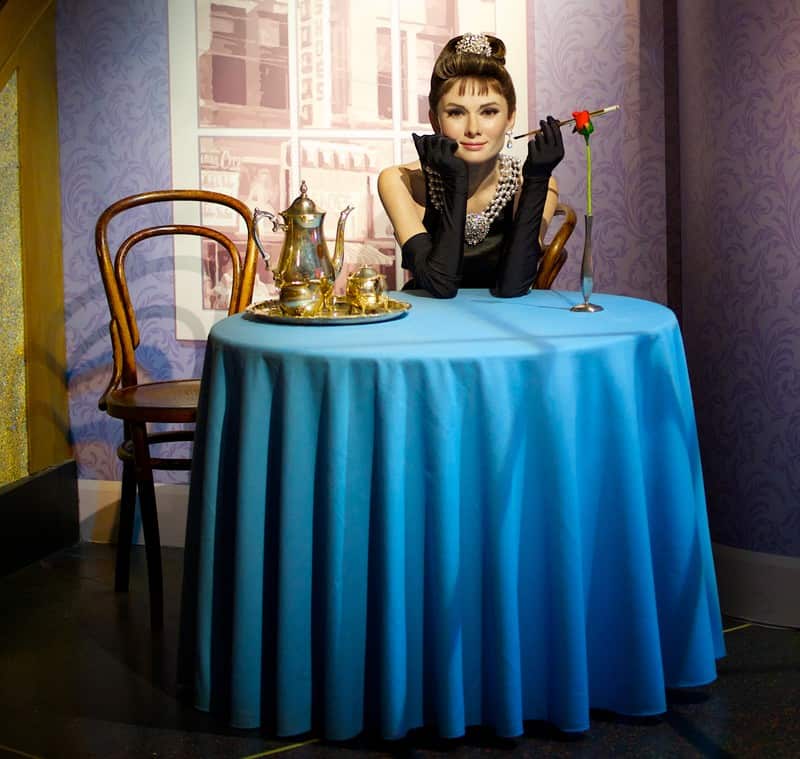 This Zone showcases exciting and memorable characters from blockbuster movies.
Some of the characters you will see here are – E.T, Terminator, Katniss Everdeen (from The Hunger Games), Holly Golightly (Audrey Hepburn from Breakfast At Tiffany's), etc.
The Sport's Area
If you love sports, don't miss this Zone, for it features the most outstanding sports stars in the world like Lionel Messi, Rafael Nadal, Mohammed Ali, Usain Bolt, Mo Farah, Sachin Tendulkar, Jessica Ennis-Hill, etc.
Culture Zone
In here, you will find life-like wax models of the greatest intellectuals, geniuses, writers, and artists of our times.
This area is dedicated to the greatest minds of all time, like William Shakespeare, Albert Einstein, Stephen Hawking, Pablo Picasso, and Charles Darwin.
Music Zone
The Music Zone is a collection of greats from International Music – a nice mix of the past and the present.
One can spot wax statues of stars such as Freddie Mercury, Madonna, Michael Jackson, Adele, Britney Spears, Lady Gaga, Bob Marley, Ed Sheeran, etc.
World Leaders' Zone
In this section, visitors can see the strongest leaders with the greatest minds.
You get to rub shoulders with the likes of Barack Obama, Margaret Thatcher, Winston Churchill, Nicolas Sarkozy, Ronald Reagan, Tony Blair, Martin Luther King, etc.
Behind the Scenes Zone
In this section, you learn about the history of Madame Tussauds Museum.
Visitors also learn about Marie Tussaud (the pioneer of wax figures!), her first creations, and her last work.
The voice-over of Beyoncé takes you through the different stages of wax figure making.
---
---
How to get to Madame Tussauds London
Madame Tussauds London is on Marylebone Rd, Marylebone in London NW1 5LR.
Marylebone Road is an extension of the A40, one of the major routes in and out of London.
By London Underground
Madame Tussauds is just a two-minute walk away from Baker Street tube station.
To get to Baker Street underground station, you can get on any of the following Underground Lines – Bakerloo, Circle, Jubilee, Metropolitan, and Hammersmith & City.
By Train
Marylebone Station is about 10 minutes walking distance from Madame Tussauds.
Euston, St.Pancras, Paddington, Victoria, Waterloo, and Charing Cross mainline stations are all within five stops away from Marylebone Station.
By Bus
If a bus is your preferred mode of transport in London, get onto bus numbers 13, 18, 27, 30, 74, 82, 113, 139, 189, 205, 274, and 453.
All of them pass via Madame Tussauds London.
By Car
The best way to drive to Madam Tussauds is by firing up Google Map and following the directions.
Even though the Wax Museum is situated outside the Congestion Charge Zone, they don't have any parking.
But there are enough parking spots near Madame Tussauds, the closest being Chiltern Street Masterpark and Cramer Street Masterpark.
Sources

# Madametussauds.com
# Wikipedia.org
# Visitlondon.com
# Tripadvisor.com

The travel specialists at TheBetterVacation.com use only high-quality sources while researching & writing their articles. We make every attempt to keep our content current, reliable and trustworthy.
Popular attractions in London