London Transport Museum explores the heritage of London and its transport system over the last 200 years.
The Transport Museum in the heart of Covent Garden has 12 galleries, a few exhibitions and lots of activities which bring out fascinating travel stories of the Londoners in the last two centuries.
Visitors see beautifully restored world's first underground steam engine, electric trains, classic London buses, trams, iconic posters of the transport department, and a lot more.
In this article, we share everything you must know before buying London Transport Museum tickets.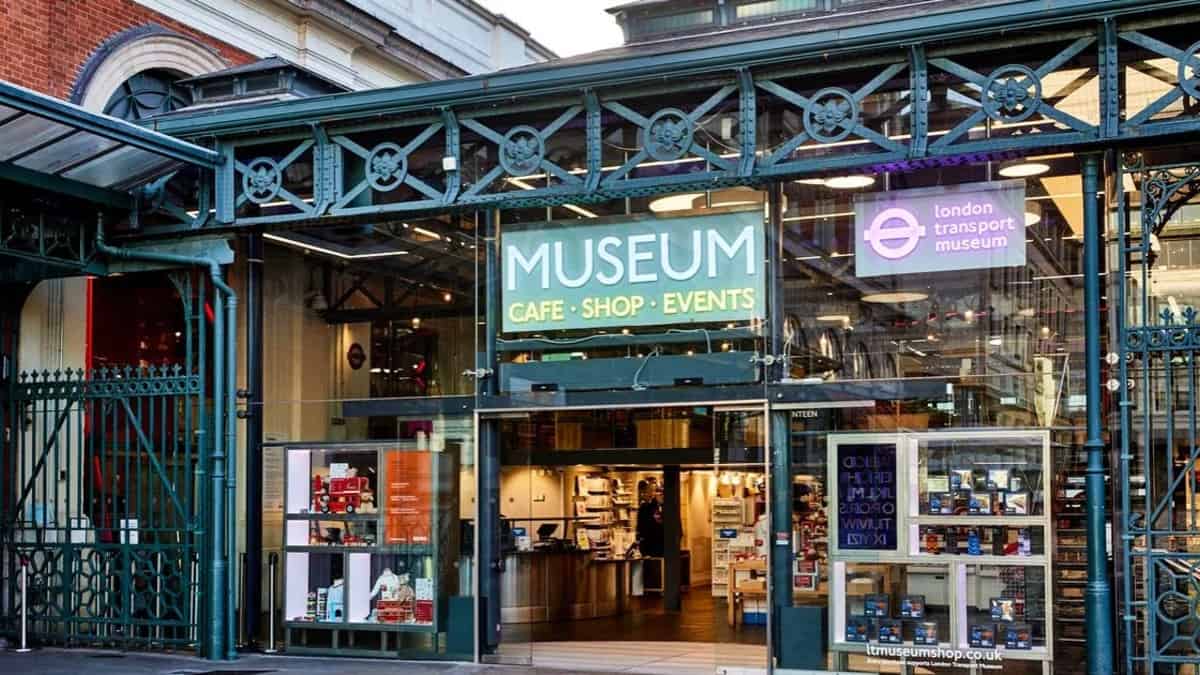 What to expect at Transport Museum in London
---
---
London Transport Museum tickets
This London Transport Museum General ticket gets you access to all the galleries, exhibitions, and activities at the attraction.
Access to All Aboard Play Zone, where younger kids take on the roles of conductors, mechanics, or drivers on interactive vehicles, is also included in this ticket.
Where to buy tickets
You can get your London Transport Museum tickets at the venue or buy them online, much in advance.
If you plan to get them at the attraction, you must get in the ticketing window queue.
Depending on the time of the day (and month), you may have to wait in the ticket counter line for 15 minutes or more to buy your ticket.
The second and better option is to secure admission to the London Transport Museum online and avoid waiting in the queue.
How online tickets work
When you book London Transport Museum tickets, you select your preferred time and date of visit.
Immediately after purchase, your tickets get emailed to you. You don't need to take any printouts.
Once you reach the museum at the time mentioned on your ticket, you can show your ticket on your smartphone and enter.
Ticket prices and discounts
London Transport Museum's ticket costs £18.50 for all visitors 18 years and above.
Senior citizens and students with valid student IDs qualify for a £1.5 reduction on the full ticket price and pay only £17.
Kids up to 17 years can enter the museum for free, but they must purchase a free ticket.
Adult ticket (18+ years): £18.50
Students (with valid IDs): £17
Seniors ticket: £17
Child ticket (up to 17 years): Free entry
Combo Tickets
Visitors looking for deals on family-friendly attractions prefer combo tickets such as Transport Museum + Postal Museum or Transport Museum + River Cruise because of the 10% discount they can score.
---
---
Getting to London Transport Museum
The Transport Museum of London is at Covent Garden Piazza, London, WC2E 7BB. Get Directions
It is better to take public transport to the museum.
Bus routes RV1, 9, 11, 13, 15, 23, 139 can get you closer to the museum.
You can get off at bus stops Strand or Aldwych.
The Transport Museum has five Underground stations nearby – Covent Garden (4 mins walk), Leicester Square (7 mins walk), Holborn (11 mins walk), Charing Cross (5 mins walk), and Embankment (9 mins walk).
The closest rail stations to the Museum are Charing Cross, a 7-minute walk from the museum, and Waterloo station, which is 16 minutes away.
Car Parking
Only a limited number of parking spaces are available near the Transport Museum.
At £4.90 per hour, with a maximum stay of around 4 hours, they tend to be costly as well.
For information on real-time parking space, check out Ringgo.
---
---
London Transport Museum hours
London Transport Museum is open every day from 10 am to 6 pm.
The last entry is at 5 pm.
The Lower Deck Cafe, the museum's restaurant, is open from 10 am to 6 pm.
The Canteen, which is open to the public and Museum visitors, operates from 11 am to 4 pm.
---
---
Best time to visit London Transport Museum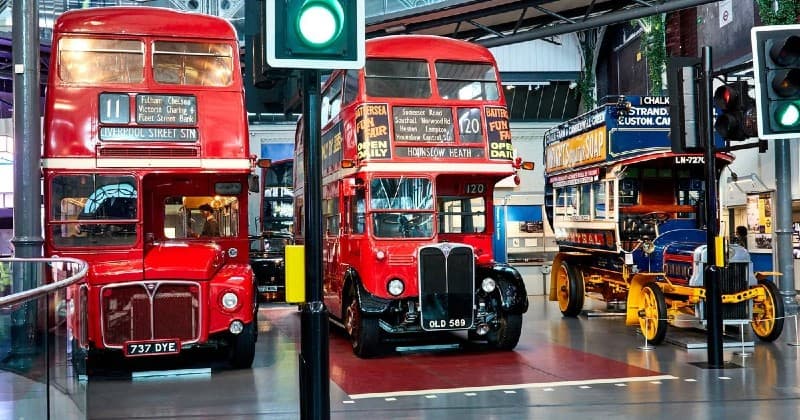 The best time to visit London Transport Museum is as soon as they open at 10 am.
If you can't make it in the morning, the next best time is 3 pm.
You get to avoid the crowd and still have three hours to explore the museum before it closes at 6 pm.
How long does it take
Most visitors spend two and a half hours exploring the London Transport Museum.
If you stop at one of the two cafes for re-energizing, you will need half an hour more.
---
---
What to see at Transport Museum of London
London Transport Museum showcases the heritage of London and its transport system through many galleries and exhibitions.
We list them out so that you know what to expect during your visit.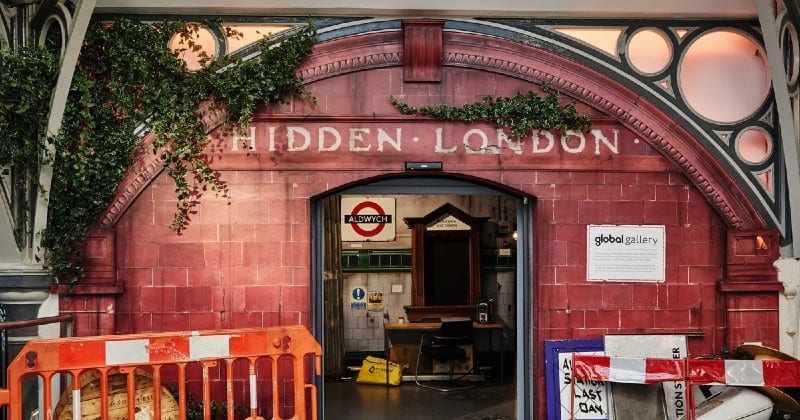 In this exhibition, you visit an 'abandoned' Tube station underworld and discover its secrets.
These old and forgotten parts of the Tube network have incredible stories which you are sure to love – especially the one about the Plessey aircraft underground factory.
Around 2,000 members, primarily women, worked in the two 4 km (2.5 miles) long tunnels (the underground factory!) during World War II.
Permanent Galleries
The Transport Museum has 12 permanent galleries, listed below –
19th Century London and Victorian Transport
World's first Underground
The growth of London
Digging Deeper
Formation of London Transport
On the Surface 1900-1945
London by Design
London's transport at war
Future Engineers
On the Surface 1945 to today
Untangling the Tracks
Poster Parade
All these galleries take the visitor through the transformation of London's transportation system.
Must-see exhibits
A sedan chair from 1780, London's first licensed public transport
Shillibeer's original vehicle – a horse-drawn omnibus from 1881
The original tube map designed by Harry Beck
A wooden Metropolitan Railway's Bogie Stock Coach from 1900
The first underground steam-powered engine
London transport posters designed by artists such as Graham Sutherland, Abram Games, Ivon Hitchens, etc.
AEC Routemaster, the iconic red double-decker bus that plied in London from 1954 till 2005.
Early Underground Bullseye
B-Type, the first successful mass-produced motor bus
---
---
All Aboard Play Zone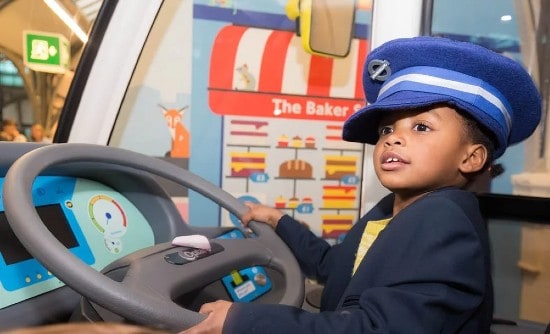 All Aboard on the ground floor and level 1 of the Museum is a play zone for kids up to seven years of age.
At the All Aboard family play zone, kids can enjoy playing on an interactive fleet of mini vehicles.
They can become bus drivers, drive real buses, or dress up as mechanics, riverboat captains, station announcers, drivers, etc.
The museum also has a Baby DLR area dedicated to babies.
---
---
Map of London Transport Museum
London Transport Museum at Covent Garden is a massive place, which is why it is better to look at the layout of the museum before your visit.
Carrying the map of the Transport Museum is even more necessary if you are traveling with kids.
When you know where the must-see exhibits are displayed, you and your kids won't get exhausted while looking for them.
Besides the highlights, the London Transport Museum's map will also help you find visitor services such as cafes, washrooms, Family Play Zone, etc.
You can download the floor plan or get them from the museum's entrance.
---
---
Food and drinks at Transport Museum
The Transport Museum at Covent Garden has three places to eat and drink – the Canteen, the Lower Deck Cafe, and the picnic area.
Canteen
The Canteen is open to the public as well as museum visitors.
Canteen is the cafe bar offering hot and cold drinks, sandwiches, soups, homemade cakes, etc.
The cafe also has family-friendly facilities such as high chairs and baby changing units.
Hours: 11 am to 4 pm
Lower Deck Cafe
Lower Deck Cafe is on the ground floor of the Museum and is open only to London Transport Museum ticket holders.
It is the ideal place to relax for a bit in between your tour of the museum galleries.
The Lower Deck Cafe offers English homemade gelato, frozen yogurt, milkshakes, sandwiches, snacks, and hot and cold drinks.
Hours: 10 am to 6 pm
Picnic Area
The Transport Museum's picnic area is on the ground floor near the Lower Deck Cafe.
Visitors can eat their packed lunches in this small indoor picnic area.
Sources

# Ltmuseum.co.uk
# Wikipedia.org
# Visitlondon.com
# Coventgarden.london

The travel specialists at TheBetterVacation.com use only high-quality sources while researching & writing their articles. We make every attempt to keep our content current, reliable and trustworthy.
Popular attractions in London