The Cutty Sark is a popular tourist attraction in London and is open to the public as a museum.
The Cutty Sark ship was built in 1869 and was designed to be one of the fastest tea clippers of its time, capable of sailing from China to London in just 90 days.
The ship is named after the short nightgown worn by the witch Nannie Dee in Robert Burns' 1791 poem "Tam O'Shanter."
The Cutty Sark was in active service for almost 30 years, completing eight voyages to China and carrying a variety of goods such as tea, spices, and wool.
After the steamship replaced sailing ships for long-distance trade, the Cutty Sark was used for various purposes, including as a training ship for cadets and cargo transporter.
In 1922, the ship was sold to a Portuguese company.
It was used as a windjammer (sailboat) before being brought back to the UK in 1954.
This article shares everything you should know before booking tickets for The Cutty Sark in London.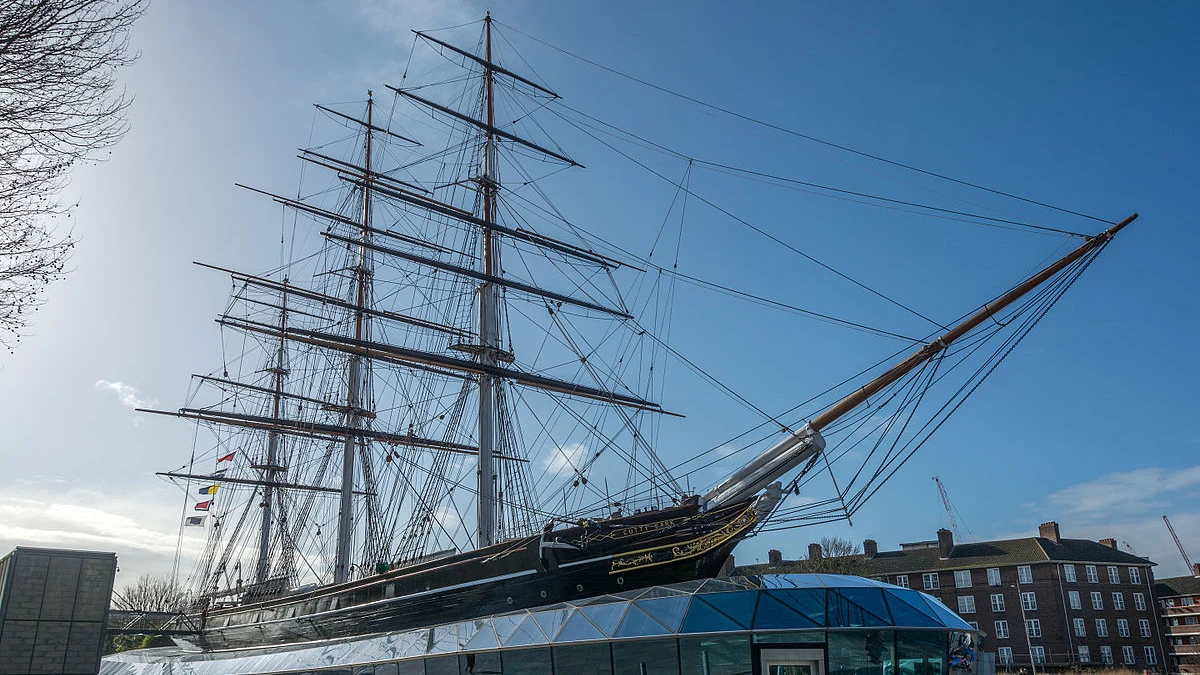 What to expect at Cutty Sark London
At The Cutty Sark in London, you can expect to see a variety of exhibits and displays that showcase the ship's history and importance as a British clipper ship.
Here's what you can expect to see at The Cutty Sark Museum in London:
The ship itself
You can explore the Cutty Sark ship's three decks and learn about its history.
This includes the lower hold where the cargo was stored, the main deck where the sailors lived and worked, and the upper deck where the ship's officers had their quarters.
Exhibits on the ship's history
There are numerous exhibits throughout the ship that provide information on Cutty Sark's construction, its voyages, and the lives of the sailors who worked aboard the ship.
Interactive displays
The Cutty Sark Ships Museum features a number of interactive displays that allow you to experience what life was like aboard the ship.
You will also get a chance to steer the ship and hoist the sails.
Figurehead
One of the most iconic features of the Cutty Sark is its figurehead, which depicts Nannie Dee, the witch from the poem "Tam O'Shanter."
You can see the figurehead up close and learn about its significance.
Glass canopy
The Cutty Sark has a unique glass canopy that surrounds the ship, providing protection from the elements while allowing visitors to see the ship from different angles.
Overall, the Cutty Sark is a significant piece of maritime history and an iconic symbol of London.
Its sleek lines and impressive speed make it a testament to the skill and ingenuity of the shipbuilders of the 19th century.
And its enduring legacy as a museum and events venue ensures that it will continue to be a beloved destination for years to come.
---
---
Where to buy The Cutty Sark tickets
You can purchase your Cutty Sark London entry tickets at the attraction or online in advance.
If you land at the venue to buy tickets, you'll have to line up at the ticket counter.
During peak times, these lines can get long, and you will end up wasting your time.
Online tickets for The Cutty Sark are cheaper than the tickets sold at the venue.
Online tickets also help you avoid last-minute disappointments when tickets get sold out.
How online ticket works
Go to The Cutty Sark ticket booking page, select your preferred date, time slot, and number of tickets, and buy the tickets instantly.
After the purchase, you will receive the tickets in your email.
You don't need to take any printouts.
Show your smartphone ticket at the admission desk on the day of your visit and enter the Cutty Sark Greenwich right away.
Cost of Cutty Sark London tickets
The Cutty Sark entry tickets cost £16 for all visitors aged above 25 years.
Youth and Students aged between 16 to 24 get a discount of £6 and pay only £10 for entry.
Children aged between 4 to 15 years get a 50% discount and pay £8 for entry.
Kids under four and carers for disabled visitors can enter the Cutty Sark Greenwich for free.
---
---
Tickets for Cutty Sark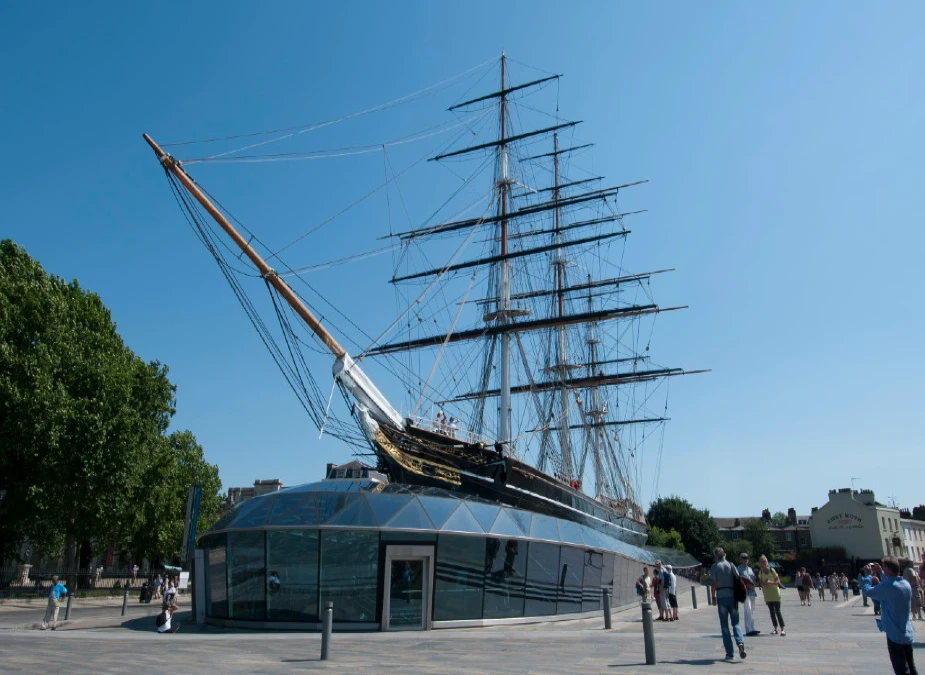 Tickets for the Cutty Sark typically include access to the ship and its exhibitions.
The exhibits offer a glimpse into the ship's fascinating history and the world of 19th-century seafaring.
You will get downloadable interactive audio guides in English, French, German, Italian, and Spanish.
After finishing with the exhibits, you can take a break at the Cutty Sark cafe, where you can purchase food and drinks.
Ticket Prices
Adult Ticket (25+ years): £16
Youth Ticket (16 to 24 years): £10
Child Ticket (4 to 15 years): £8
Infant Ticket (up to 3 years): Free
Combo tickets
Combo tickets are the best way to explore London as they let you explore two attractions, usually located closer.
You can buy The Cutty Sark tickets in combination with Hop-on Hop-off City Cruise London and Afternoon Tea at ORNC.
On these tickets, you get a whopping discount of up to 10%, making this a steal deal!
Cutty Sark + Hop-on-Hop-off City Cruise London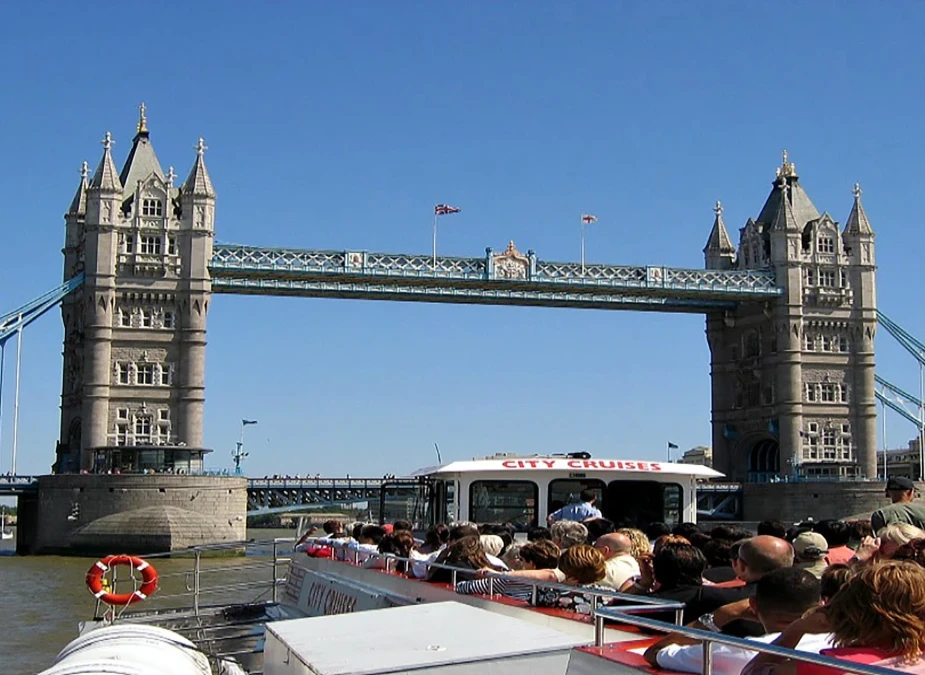 The Hop-on-Hop-off City Cruise London is just 6 miles (9.7 km) away from The Cutty Sark and can be reached within 32 minutes by car.
So why not book a combo ticket, visit both attractions on the same day, and amplify your tour?
Take a break from the hustle and bustle of the city and relax with Hop-on-Hop-off City Cruise London.
It is a fun and convenient way to see the sights of London and can be a great addition to your trip if you want to experience the city from a different perspective.
Ticket Cost: £35
Cutty Sark + Afternoon Tea at ORNC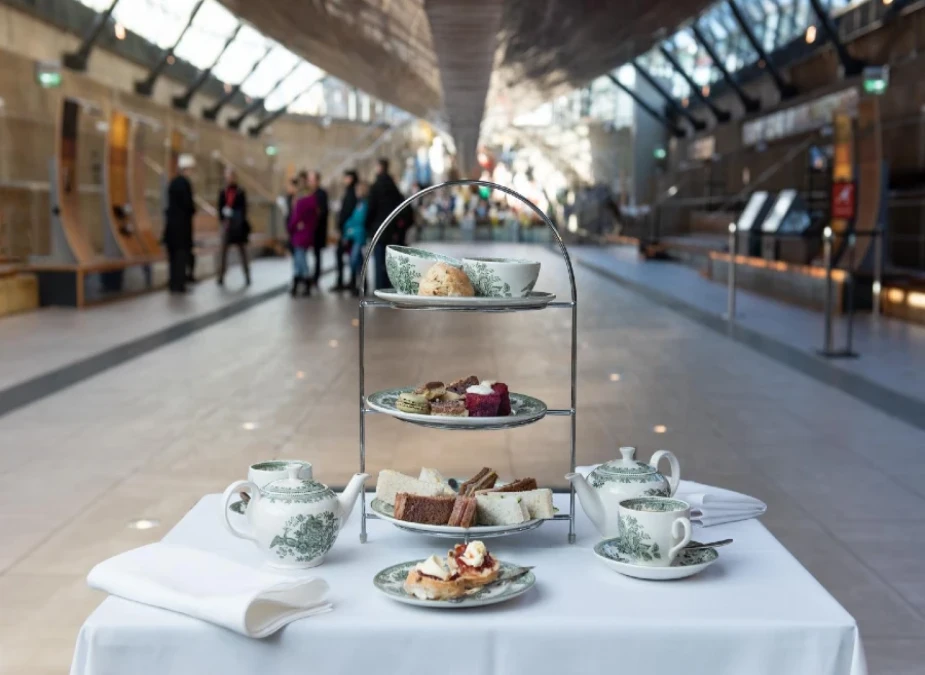 After visiting Cutty Sark London, you can consider enjoying afternoon tea inside Greenwich's Old Royal Naval College, which is just 5 minutes away by walking.
The ORNC offers a traditional English afternoon tea with a selection of teas, finger sandwiches, freshly baked scones with jam and clotted cream, cakes, and pastries.
Having afternoon tea in an elegant atmosphere at ORNC can be a unique and memorable experience.
Ticket Cost: £35
Save time & money! Buy London Pass and visit over 80+ attractions like ZSL London Zoo and London Bridge. Pick from 1, 2, 3, 4, 5, 6, or 10-day passes and buckle up for a 1-day hop-on-hop-off bus tour.
How to reach The Cutty Sark in London
The Cutty Sark is a British clipper ship located just two minute's walk from Greenwich Market.
Address: King William Walk, London SE10 9HT, United Kingdom. Get Directions!
You can reach The Cutty Sark via both public and private transport.
However, we recommend using public transport to reach the attraction as the stations are located within walking distance making commuting feasible.
By Bus
You can board bus numbers 188, 199, N1, and N199 to the Cutty Sark for Maritime Greenwich Bus Station (Stop A), a 3-minute walk from the attraction.
By Light Rail
You can take the Dockland Light Railway Line to the Cutty Sark Light Rail Station, a 3-minute walk from the Cutty Sark London.
By Train
You can also take the Thameslink and Southeastern Train routes and drop off at the Greenwich Train Station, a 10-minute walk from The Cutty Sark.
By Ferry
You can take RB1, RB2, RB6, City Cruises, and Thames River Sightseeing Ferry Lines to reach the Greenwich Pier Ferry Terminal, a 3-minute walk from the attraction.
By Car
The easiest way to reach Cutty Sark Greenwich is by car, so turn on Google Maps on your smartphone and get started.
There is no parking available directly at The Cutty Sark.
However, there are several public parking garages located nearby that you can use.
Click here to check nearby car parking lots.
---
---
Cutty Sark London timings
The Cutty Sark opens at 10 am and closes at 5 pm daily.
The museum remains open even on public holidays.
The last admission to Cutty Sark London is at 4.15 pm.
How long does The Cutty Sark take
A tour of the Cutty Sark typically takes around one to two hours.
It usually depends on how much time you want to spend exploring the ship and its exhibits.
However, it's recommended to allocate at least a couple of hours to explore the Cutty Sark and its exhibits in detail.
Best time to visit the Cutty Sark
The best time to visit the Cutty Sark London is as soon as it opens at 10 am.
This can give you more space to explore and make for a more relaxed experience.
The Cutty Sark can get very busy during peak times, such as weekends and school holidays.
Try visiting during weekdays or outside peak hours to avoid long queues and crowds.
Is The Cutty Sark Tour worth it
A visit to the Cutty Sark in London offers a fascinating glimpse into the world of sailing ships and the history of British trade.
The ship's exhibits and displays provide a wealth of information about the ship and the people who worked aboard it.
This makes it a must-see destination for anyone interested in maritime history.
Popular attractions in London