ZSL Whipsnade Zoo is one of Europe's largest wildlife conservation parks.
Set on 600 acres of the beautiful Chiltern Hills, it is home to more than 3,600 animals and was earlier known as the Whipsnade Wild Animal Park.
Whipsnade Zoo is known for its large open enclosures that provide a natural habitat for various animals worldwide.
The zoo is home to mammals, birds, reptiles, and insects, representing over 200 species. Some popular animals at Whipsnade Zoo include elephants, rhinoceroses, lions, tigers, bears, giraffes, penguins, chimpanzees, and cheetahs.
Whipsnade Zoo is a popular destination for animal lovers, conservation enthusiasts, and families seeking an educational and enjoyable day out.
Besides the London Zoo, the Zoological Society of London also manages Whipsnade Zoo.
This article explains everything you must know before buying Whipsnade Zoo tickets.
What to expect at Whipsnade Zoo
Whipsnade Zoo is home to thousands of animals and hundreds of species, and you know it already.
The Zoo has different habitats, such as:
African Lions
Amur Tiger
Cheetah
The Aquarium
The Butterfly House
Center for Elephant Care
Giraffe heights
Hullabazoo farm
In with the Lemurs
Passage through Asia
Penguins
Rhinos of Nepal
It is not only about seeing these animals. You will also learn much about their habitats, the conservative methods, interesting facts, and more on the tour.
Besides being entertaining, it will also be an educational tour about the creatures that share life with us on Earth.
Little kids show their best interest when anything related to animals comes up, and a trip to the Zoo is the best to satisfy them.
The Whipsnade Zoo also has play areas for little ones: Hullabazoo Adventure Play and Hullabazoo Indoor Play.
You will also have some beautiful views at the Whipsnade Zoo, as it is located on the hillside.
---
---
Whipsnade Zoo tickets
Entry to Whipsnade Zoo requires a ticket, and we suggest you plan and book them early.
You can cancel these tickets with a full refund up to 24 hours before your visit date.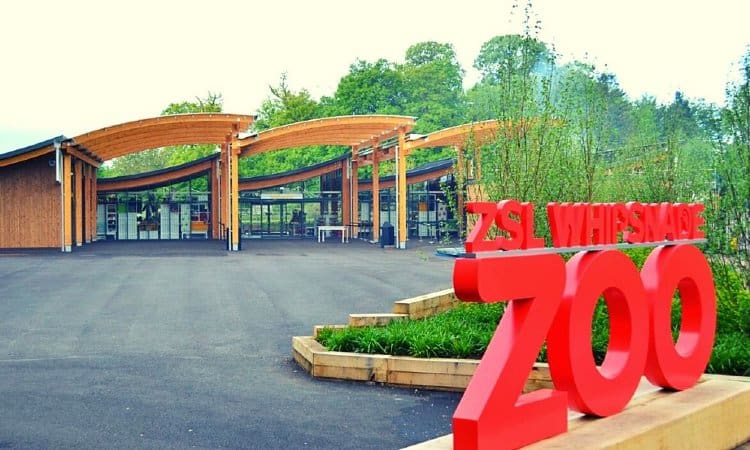 Where to buy tickets
You can get your Whipsnade Zoo entry tickets at the venue or buy them online much in advance.
If you plan to get them at the attraction, you must get in the ticketing window queue.
Depending on the time of the day (and month), you may have to wait in the ticket counter line for 10 to 20 minutes to buy your ticket.
The second and better option is to book tickets to Whipsnade Zoo online.
Buying them in advance saves you a lot of waiting time by skipping the ticket counter queue.
Booking online also helps avoid last-minute disappointment and delays.
How online tickets work
Go to the ZSL Whipsnade Zoo ticket booking page.
Select the preferred date, number of tickets, and buy your tickets.
Immediately after purchase, your tickets get emailed to you.
You don't need to take any printouts.
Now all you must do is, reach the wildlife attraction 10 to 15 minutes before the time mentioned on your ticket.
Since you have a ticket and are on time, you can show it on your smartphone and walk into the Zoological Park right away.
Whipsnade Zoo ticket prices
Whipsnade Zoo's tickets are cheaper on weekdays.
On weekdays, it is priced at £27 for visitors 16 to 64 years and £19 for kids between three to 15 years.
On weekends, the adults pay £29 while the children pay £20 to enter the wildlife attraction.
Tickets for senior visitors aged 65 plus and students with valid IDs are priced at £24 on weekdays and £26 on weekends.
Whipsnade Zoo tickets & discount
This tickets give you access to the Zoo, talks, feeding sessions and shows.
You do not get access to the train ride with this ticket.
The best Whipsnade Zoo offer is online tickets – when you buy your tickets online, you get a 10% reduction on all tickets.
Whipsnade Zoo tickets for the weekday are £1 to £2 cheaper than the weekend tickets.
Besides the £8 reduction in ticket prices for kids aged three to 15 years, Whipsnade Zoo also offers discounts to seniors and students.
Seniors 65 years and above, students with an educational ID, and visitors with a valid disability get a £3 reduction in ticket prices.
An essential carer for disabled visitors gets free entry.
Weekday prices
Adult tickets (16 to 64 years): £27
Child ticket (3 to 15 years): £18
Seniors ticket (65+ years): £24
Student ticket (16+ years, with valid ID): £24
Weekend prices
Adult tickets (16 to 64 years): £29
Child ticket (3 to 15 years): £20
Seniors ticket (65+ years): £26
Student ticket (16+ years, with valid ID): £26
Note: Under-16 visitors must be accompanied by an adult.
Visual Story: 13 must-know tips before visiting Whipsnade Zoo
---
---
How to reach Whipsnade Zoo
ZSL Whipsnade Zoo is in Dunstable, Bedfordshire, 58 Km (36 Miles) North of London.
Address: Whipsnade, Dunstable LU6 2LF, The United Kingdom. Get Directions
Public transport is the best way to reach the Whipsnade Zoo at Dunstable if you are a tourist.
By Train
Luton and Hemel Hempstead are the two train stations closest to ZSL Whipsnade Zoo.
Thameslink train service can get you from St. Pancras to Luton station, and London NorthWestern Railways can get you from London Easton to Hemel Hempstead.
Both train journeys will take you around 30 minutes.
Since Luton and Hemel Hempstead are approximately 16 Km (10 Miles) from Whipsnade Zoo, you must take a Taxi once you get down at the train station.
A Taxi will take 20 minutes to drop you at the Zoo's entrance.
By Bus
We recommend the Centrebus route 40 if you want connectivity from Dunstable to ZSL Whipsnade Zoo.
You can board Bus No 40 at The Quadrant (Stop N3), and after 15 minutes and nine stops, get down at the Whipsnade Wild Animal Park.
Dunstable is 6 Km (3.7 Miles) from Whipsnade Zoo.
Be aware that on Sundays, this bus doesn't ply.
By Car
If you live in London, you should take out your car and drive down to the Zoo.
The drive from M25 (junction 21) to the ZSL Whipsnade Zoo will take 20 minutes.
You can find your way to the Whipsnade Zoo, Dunstable, by following the signs available on M1 (Junction 9 and Junction 12).
Whipsnade Zoo Parking
Even though ZSL Whipsnade Zoo is not a safari park, it is spread over a vast area.
That's why some visitors don't mind paying a nominal fee to take their car inside the Zoo.
Parking costs depend on the time of the year –
Mid-Feb to Oct (summer): £25 per car
Early Nov to Feb (winter): £12 per car
If you don't want to pay the parking fee, use the free external parking and explore the Zoo by walking.
Click here to learn about the nearby parking lots.
---
---
Whipsnade Zoo hours
Whipsnade Zoo opens at 10 am every day of the year.
From April to August, the Zoo in Dunstable closes at 6 pm; in September and October, it closes at 5 pm; from November to January, it closes at 4 pm; and in February and March, the Zoo closes at 5 pm.
The last entry is always one hour before closure.
The Zoo remains closed on Christmas Day.
Best time to visit Whipsnade Zoo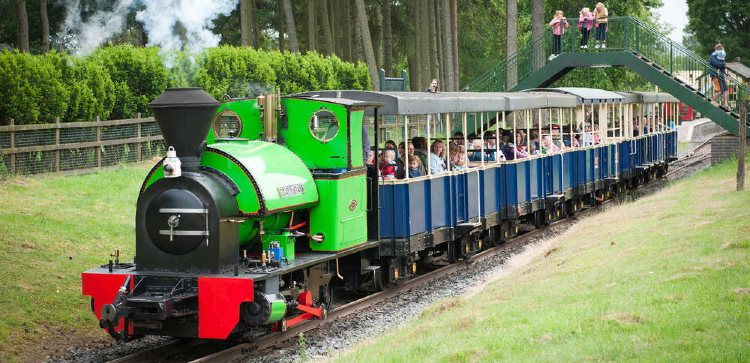 If the weather is good, the best time to visit Whipsnade Zoo is as soon as they open at 10 am.
The animals are in their most active state early in the morning, and the crowd is yet to come in.
The weather is also pleasant in the morning compared to late afternoons.
If your child is interested in a particular animal(s), check out the keeper talk/ feeding sessions schedule before planning your visit.
---
---
How long does Whipsnade Zoo take
You will need five to six hours if you visit with kids and want to see all the animal enclosures, attend a few keeper talks, and participate in wildlife activities.
If you are in a hurry and want to quickly run through everything at Whipsnade Zoo, you will need at least three hours.
If you're going to finish your tour quickly, we recommend the following –
1. Buy Whipsnade Zoo tickets in advance so that you don't waste time standing in a ticketing queue
2. Pay a nominal fee at the entrance and bring your car. With a car at your disposal, you can drive to the various animal enclosures, thus saving yourself a lot of time
Not sure if you must visit Whipsnade Zoo or London Zoo? Follow the link to find which is a better wildlife attraction.
---
---
Keeper talks and Events
Get the most out of your Whipsnade Zoo experience by participating in the numerous talks and activities organized by the Zoo.
These Whipsnade Zoo events are designed to bring you closer to nature and its animals.
Lemur Chat
Swing into Madagascar with the charismatic troop of ring-tailed lemurs at 12 pm.
Lemurs are down to around just 2000 remaining individuals in the wild.
Chimp Chat
At 10.30 am, you can reach Chimp Island and learn about the life of these apes.
Bird show
The Zoo has a variety of exciting birds, and kids love these free-flying bird demonstrations.
There are three bird shows daily – at 11.15 am and 3.30 pm.
Penguin Talk
At 11.30 am and 4 pm, say hello to the Penguins, who have traveled from Africa.
Bear versus Wolverine
Play a game of trumps and see who is the real predator – Bear or Wolverine?
The face-off starts at noon.
Sea Lion Talk
At noon, you can learn about the lifestyle of the clever Sea Lions and feed them.
The second session with the sea lions starts at 2.30 pm.
Elephant Talk
At 1.30 pm, step into the shoes of an elephant caretaker and see how gigantic and yet graceful these animals are.
Talk on African Hunting Dogs
Get a sneak-peek into the life of these animals and learn about their teamwork at 3.45 pm.
These talks are subject to change; please check the 'What's On' boards when you arrive for accurate timings and additional pop-up talks throughout the day.
---
---
Whipsnade Zoo's safari bus
Inside Whipsnade Zoo, you can walk, drive in your car, or take the Safari Bus.
Keep an eye out for a bright-green colored bus and hop on.
The Safari Bus passes through numerous enclosures, helping you explore the Zoo for free.
Safari bus timetable
Whipsnade Zoo's first Safari bus starts from the Main Gate at 10.15 am.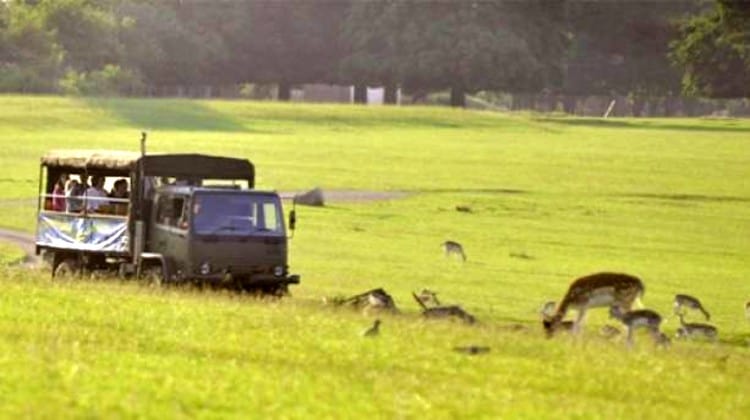 After a journey time of six minutes, the bus reaches the first enclosure, where the White Rhino lives.
White Rhinos: At 10.21 am (after journey time of 6 mins)
Hippos: At 10.26 am (after 5 mins)
Tigers: At 10.29 am (after 3 mins)
Elephants: At 10.36 am (after 7 mins)
Hullabazoo: At 10.39 am (after 3 mins)
Safari Bus trip from the boarding point (Main Gate) to the last enclosure (Hullabazoo) takes 24 minutes.
A Whipsnade Zoo Safari bus starts from the Main Gate every half hour, following the same schedule.
That is, the second bus of the day leaves the Main Gate at 10.45 am, and so forth.
The timing of the last Safari bus of the day from the Main Gate depends on the Zoo's closing time.
4 pm closing: Last bus leaves at 3.15 pm
4.30 pm closing: 3.45 pm
5 pm closing: 4.15 pm
5.30 pm closing: 4.45 pm
6 pm closing: 5.15 pm
---
---
The Great Whipsnade Railway
Whipsnade Zoo has two old but impressive steam engines, Excelsior and Superior, which take visitors through the animal enclosures.
These trains are from the Great Whipsnade Railway and are a visitor favorite.
During the train safari adventure, you hear exciting commentary and spot animals such as elephants, rhinos, camels, deer, etc.
Visitors must pay to access the train—£ 4 for adults over 16 and £2 for children between 3 to 15 years.
Note: The Great Whipsnade Railway is closed until february 2024.
---
---
Whipsnade Zoo map
At 600 acres (2.4 km2), ZSL Whipsnade Zoo is massive and hosts many animals.
We recommend you carry a copy of Whipsnade Zoo's map during your visit.
A map will ensure you don't get lost and find the animal enclosures easily.
Whipsnade Zoo's map will also help you determine visitor services such as restrooms, restaurants, picnic spots, smoking areas, Safari bus stops, etc.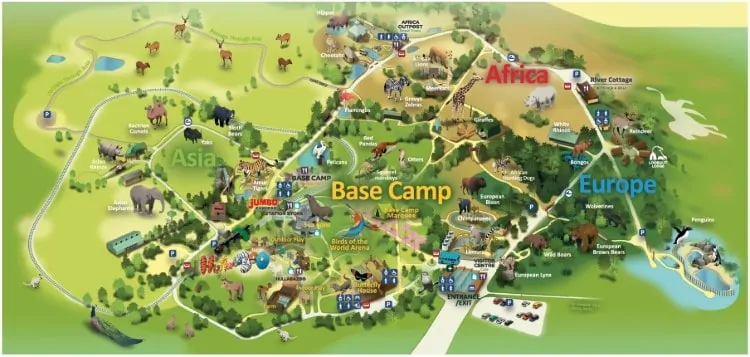 ---
---
Food at Whipsnade Zoo
Families planning on saving money usually bring along a picnic.
If you have brought your food to the Zoo, you can use the indoor picnic area near the Butterfly House.
You have the option of choosing from the six different restaurants –
Base Camp Restaurant
This family-friendly restaurant offers delicious food with fresh and local ingredients.
Don't keep this visit for the end because this fantastic eating joint closes at 3 pm.
River Cottage Kitchen and Deli
This entry overlooking the white rhinos offers delicious food in two sizes – for adults and kids.
The River Cottage kitchen closes at 3.30 pm.
Visitor center café
Visitor Center Café is the first food joint you will see once you enter the Zoo.
You can grab some deli sandwiches, snacks, and drinks here before you start exploring.
This café closes at 6 pm.
Hullabazoo Kids Café
Hullabazoo Kids Café is the place to dine if you are visiting with kids.
Don't miss their Kids' Bites offer, where one gets five items for 5 Pounds.
This café opens at 10 am and closes at 5 pm.
Station Store Picnic shop
The Station Store eatery is next to the Great Whipsnade Railway and is open daily from 10 am.
The store closes at 3.30 pm.
Africa Outpost
Africa Outpost is a sweet lover's paradise with delicious waffles, ice creams, and treats on sale.
The restaurant opens at 10 am and closes at 3.30 pm daily.
---
---
Whipsnade Zoo reviews
London's Whipsnade Zoo is a highly-rated tourist attraction.
Check out two Whipsnade Zoo reviews we have picked from Tripadvisor, which give you an idea of what to expect at this Zoo.
Amazing for dates, families, anyone!
I would highly recommend Whipsnade zoo. The enclosures are amazing, and it is wonderful hearing about the work ZSL is doing for these animals – one of the most ethical zoos around. Despite the huge enclosures, we still got to see almost every animal there as they were obviously very happy to wander around and bask in the sun.
It is well worth the ticket price and worth multiple visits. – Lizabread, Leeds, UK
Amazing day out
Never have I visited a facility with so many enthusiastic, helpful keepers. Almost every exhibit had someone nearby only too happy to chat about the animals. We learned their names, habits, and after sticking around for feeding time, we also could reel off truly memorable photos at most enclosures. This trip was well worth making, and I hope to be a 'keeper for a day' soon. – CAmzn, England
---
---
Lookout Lodge at Whipsnade Zoo
Fancy spending a night at Whipsnade Zoo amongst the animals?
The Lookout Lodge overlooks the beautiful Chiltern Downs; you will have white rhinos and reindeer as neighbors.

This night's stay costs steep – it ranges between £298 to £418 depending on the season.
However, the experience of staying at the Lookout Lodge is like no other.
As part of the stay package, you also get the following:
– One tour of the Whipsnade Zoo at sunset
– One after-dark tour of the Whipsnade Zoo
– One early morning guided tour of the Whipsnade Zoo
– A delicious two-course dinner
– Full English breakfast
– Free entry into ZSL Whipsnade Zoo and ZSL London Zoo for two days
FAQs about the Whipsnade Zoo
Here are some of the frequently asked question about the Whipsnade Zoo.
Is Whipsnade Zoo included in the London Pass/Go City Explorer Pass?
No, the London Pass/Go City Explorer Pass only covers admission to the London Zoo. If you're eager to explore Whipsnade Zoo, separate admission will be required.
Can I use my Blue Peter badge for free entry, and what's required?
If you have a child between 5 and 15 with a valid Blue Peter badge card, they can enjoy free entry when accompanied by a full-paying adult.
Is there a luggage storage facility available at Whipsnade Zoo?
Unfortunately, Whipsnade Zoo does not provide a luggage storage facility.
Can I bring a picnic to the Whipsnade Zoo?
Yes, picnics are welcome inside the Zoo. It has convenient picnic tables onsite for you to enjoy your meal.
Where can I park my car?
Whipsnade has a spacious and free car park located just outside the Zoo.
Can I feed the animals at the Whipsnade Zoo?
The Zoo doesn't allow visitors to bring food for the animals.
Is Whipsnade Zoo wheelchair accessible?
Yes, the Zoo is committed to providing accessibility for all visitors. There are wheelchair-friendly paths, accessible facilities, and staff ready to assist.
Sources

# Zsl.org
# Wikipedia.org
# Tripadvisor.com

The travel specialists at TheBetterVacation.com use only high-quality sources while researching & writing their articles. We make every attempt to keep our content current, reliable and trustworthy.
Popular attractions in London