There are five major zoos in and around London – the ZSL London Zoo, Whipsnade Zoo, Marwell Zoo, Howletts Wild Animal Park, and Battersea Park Children's Zoo.
While the London Zoo and Battersea Park Children's Zoo are within the city, the others require a bit of a drive.
Whipsnade Zoo is 56 km (35 miles), Howletts Wild Animal Park is 104 km (65 miles), Marwell Zoo is 120 km (74 miles) from Central London.
London Zoo is the most popular, with 1.1 million visitors annually, while Whipsnade Zoo gets around 700,000 footfalls every year.
Since Whipsnade Zoo is only an hour's drive from the city, locals and tourists end up comparing it to London Zoo.
Which one should they visit – Whipsnade Zoo or London Zoo? They wonder.
In this article, we compare them on eleven parameters and help you decide.
Whipsnade Zoo and London Zoo

Whipsnade Zoo is outside of London and is an experience that's different from an inner-city zoo.
For instance, the Whipsnade Zoo has a bright-green colored safari bus which offers an experience that London Zoo doesn't offer.
If you are a local, we suggest you visit both the zoos and maybe add a few weeks between the visits.
---
---
London Zoo vs Whipsnade Zoo
In this section, we compare Whipsnade Zoo to London Zoo on eleven different parameters.
Ownership
Whipsnade Zoo in Dunstable and London Zoo are managed by the Zoological Society of London (ZSL), an international conservation charity.
That is why they are often referred to as ZSL Whipsnade Zoo and ZSL London Zoo.
However, both the Zoos offer a unique experience.
Location of the zoos
ZSL London Zoo is at the Northern edge of Regent's Park, because of which many locals also call it the Regent Zoo.
It is right in the middle of three underground stations – Camden Town station, Regent's Park station, and Baker Street station, which makes it very convenient to reach.
ZSL Whipsnade Zoo is in Dunstable, Bedfordshire, 56 km (35 miles) north of London.
Luton and Hemel Hempstead are the two train stations closest to ZSL Whipsnade Zoo.
Thameslink train service can get you from St. Pancras to Luton station, and London NorthWestern railways can get you from London Easton to Hemel Hempstead.
Size of the zoos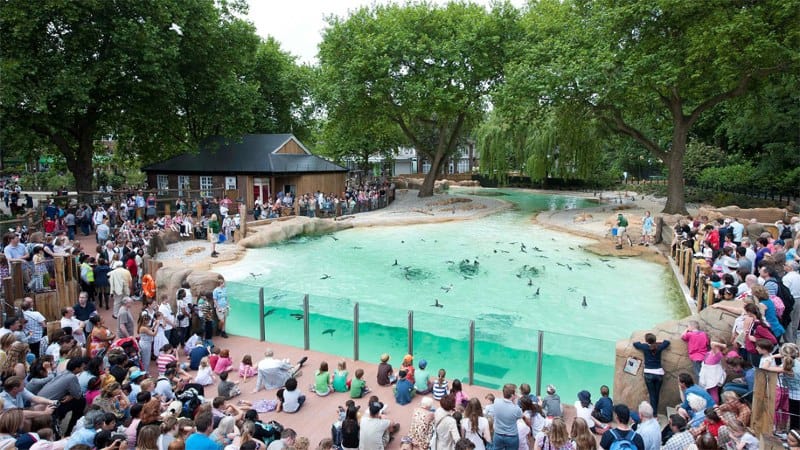 Whipsnade is more of a Wildlife Park, while the wildlife attraction in the middle of London is a Zoo in the traditional sense.
London Zoo is 14 ha (36 acres) big, while the much bigger Whipsnade Zoo is spread over 243 ha (600 acres).
Whipsnade Zoo, Dunstable is almost 17 times bigger than the London Zoo – making it the biggest zoo in the UK.
In fact, visitors can take along their cars inside the ZSL Whipsnade Zoo for an additional cost.
Tripadvisor rating
Both London Zoo and Whipsnade Zoo are rated 4/5 on Tripadvisor.
London Zoo has twice the number of reviews as the zoo in Dunstable because it gets double the number of visitors annually.
In 2020, Whipsnade Zoo won Tripadvisor's Certificate of Excellence.
Animals & their enclosures
When it comes to the number of animals, London Zoo wins hands down.
London Zoo hosts a total of 19,000+ animals belonging to more than 650 species.
Meanwhile, Whipsnade Zoo at Dunstable, England, only houses 3,600+ animals from 200+ species.
However, the animals at Whipsnade Zoo are kept in big enclosures and paddocks, while the London Zoo animals are confined in smaller pens.
Bus safari experience
Whipsnade Zoo at Dunstable offers a safari-like experience, while the London Zoo doesn't.
The first Safari bus of the day starts from the Whipsnade Zoo's main gate at 10.15 am and continues every half hour till the day's closure.
Safari Bus trip from the boarding point to the last enclosure (Hullabazoo) takes 24 minutes and helps you explore the attraction for free.
Train safari
Whipsnade Zoo has two old but impressive steam engines, Excelsior and Superior, which take visitors through the animal enclosures.
These trains from the Great Whipsnade Railway and are a visitor favorite.
During the train safari adventure, you hear exciting commentary and spot animals such as elephants, rhinos, camels, deer, etc.
For £30 per person, visitors 18 years or older can ride the train on the footplate while steaming past exotic animals such as Asian elephants, camels, one-horned rhinos, etc.
Cost of tickets
Tickets at London Zoo tend to be costlier than Whipsnade Zoo tickets.
The cost of London Zoo tickets depend on two factors – the day of your visit and the guest's age.
Depending on the crowd expected, every day is labeled as Peak day, Standard day, Off-Peak day, Saver day, or Super-Saver day, and the ticket prices vary accordingly.
| Type of visitor | Peak | Standard | Off-Peak |
| --- | --- | --- | --- |
| Adult (16 to 64 years) | £32.27 | £30.00 | £27.73 |
| Child (3 to 15 years) | £21.00 | £19.50 | £18.04 |
| Senior (65+ years) | £29.04 | £27.00 | £24.95 |
| Student (with ID) | £29.04 | £27.00 | £24.95 |
On Saver days, London Zoo's ticket costs £26 for adults, £17 for kids, £23.50 for students with ID cards.
On Super Saver days, the tickets are priced at £24 for adults, £16 for kids, £22 for students.
For Whipsnade Zoo tickets, visitors 16 years and above pay £24 while children between 3 to 15 years pay £16.
Seniors and students get a discounted rate of £22 for admission.
Food options
Visitors who have been to both the Zoos found the food at London Zoo to be better.
However, the pricing at both places is high.
That's why we recommend you take along a blanket and food and have your picnic.
Both the Zoos provide picnic tables, including covered indoor space should the weather go bad.
Time needed to explore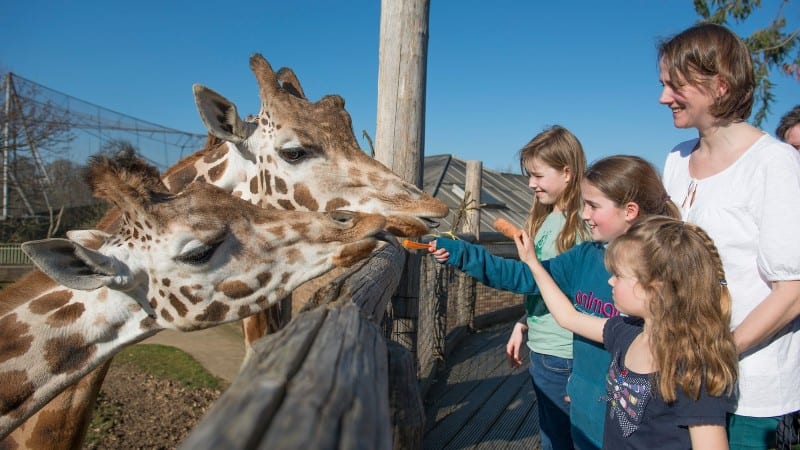 If you visit with kids and family, you will need two to three hours to explore London Zoo.
However, if you want to explore Whipsnade Zoo to your satisfaction, you will need at least five to six hours.
Better zoo in bad weather
On a bad weather day, especially if it is raining, London Zoo is a better option because there are plenty of indoor exhibits and sheltered spaces.
Indoor exhibits such as the Aquarium, Rainforest Life, Blackburn Pavilion (the walk-through bird exhibit), Butterfly Paradise, BUGS (the biodiversity and conservation exhibit), Reptile House, etc., come to the rescue even during winter.
At the London Zoo, even unsheltered animal enclosures have covered spaces for the visitors to stand and watch.
As far as Whipsnade Zoo is concerned, only their fantastic new Butterfly House is indoors.
So what will it be? Whipsnade Zoo or London Zoo?
Popular attractions in London
# London Zoo
# Whipsnade Zoo
# London Eye
# Tower of London
# Stonehenge
# Kew Gardens
# Madame Tussauds London
# St Paul's Cathedral
# Windsor Castle
# Kensington Palace
# The Shard
# Harry Potter Studio Tour
# O2 Arena Climb
# Chelsea Stadium Tour
# London Dungeon
# London Transport Museum
# Chessington World of Adventures