Chessington World of Adventures is a theme park with ten themed lands, 40 thrilling rides, 1000+ animals in the zoo, and a Sea Life center.
Some of the park's most popular rides include Vampire, a suspended coaster; Dragon's Fury, a spinning coaster; and Rameses Revenge, a ride that spins and tilts riders upside down.
This attraction also offers fantastic Live Shows and Events and is an ideal full-day outing for adults and kids.
Almost two million tourists and locals visit Chessington World of Adventures in Chessington, Surrey, every year.
This article shares everything you must know before buying tickets for Chessington World of Adventures.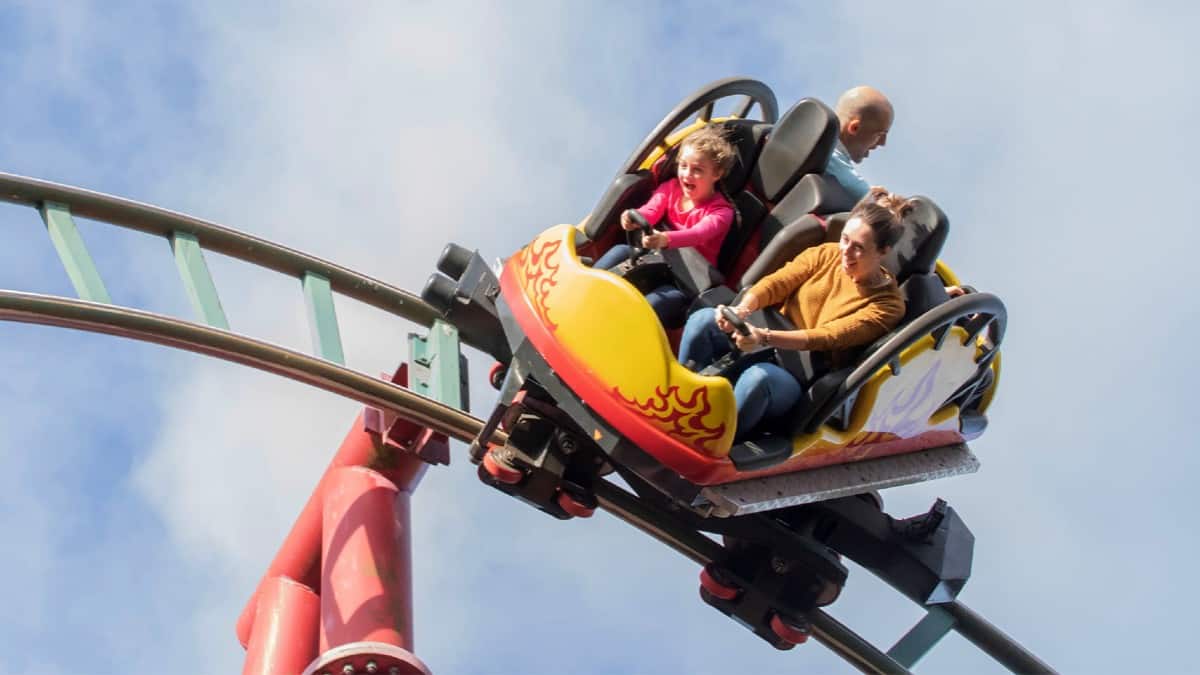 Opening times
Chessington World of Adventures theme park is open throughout the year, and its peak season is from March to October.
The theme park opens at 10 am and closes at 5 or 7 pm, depending on the season.
The attraction remains closed on some midweek days in November and December, so we recommend you book your tickets online.
When you book Chessington World of Adventures tickets online, the days it is closed are blocked out, so you don't end up at the attraction when it is closed.
Ride timings
During the peak season of March to October, all rides start at 10 am, and some may begin a bit later during the lean season.
The entrances to ride queues also close when the park closes for the day. However, the rides will keep running until the line gets cleared.
To keep an eye on the length of the lines at the rides, download the Chessington World of Adventures mobile app for Android or iPhone.
---
---
Chessington World of Adventures tickets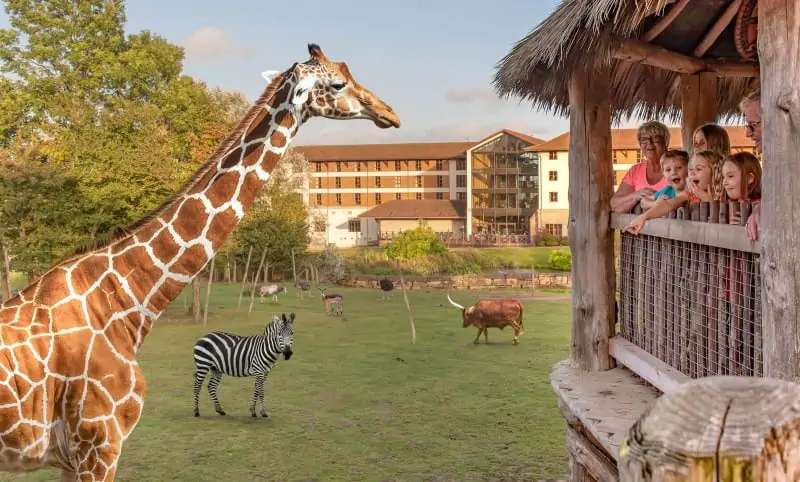 This ticket to Chessington World of Adventures includes access to the rides in the theme park, Chessington Zoo, SEA LIFE center, and all the live shows and events.
It comes with the Rainy Day Guarantee, which means if it rains for more than an hour on the day of your visit, you get free tickets for an extra day.
This ticket is the best value for money ticket, and everybody – adults, children, seniors, students – pays the same price to enter.
Ticket discount
When you purchase the tickets at the attraction's ticket counters on your visit, the tickets cost £60.
When you purchase Chessington World of Adventure tickets online and in advance, you get a 40% discount and pay only £34 per person.
Online tickets help you save £26 per person, and you also get to avoid the queue at the ticket counters.
*Chessington World doesn't offer a family ticket
**Children under three years can enter for free
Combo Tickets
Visitors looking for family-friendly attractions tend to prefer combo tickets such as Chessington World + LegoLand or Chessington World + Thorpe Park because of the 10% discount they can score.
---
---
Best time to visit Chessington World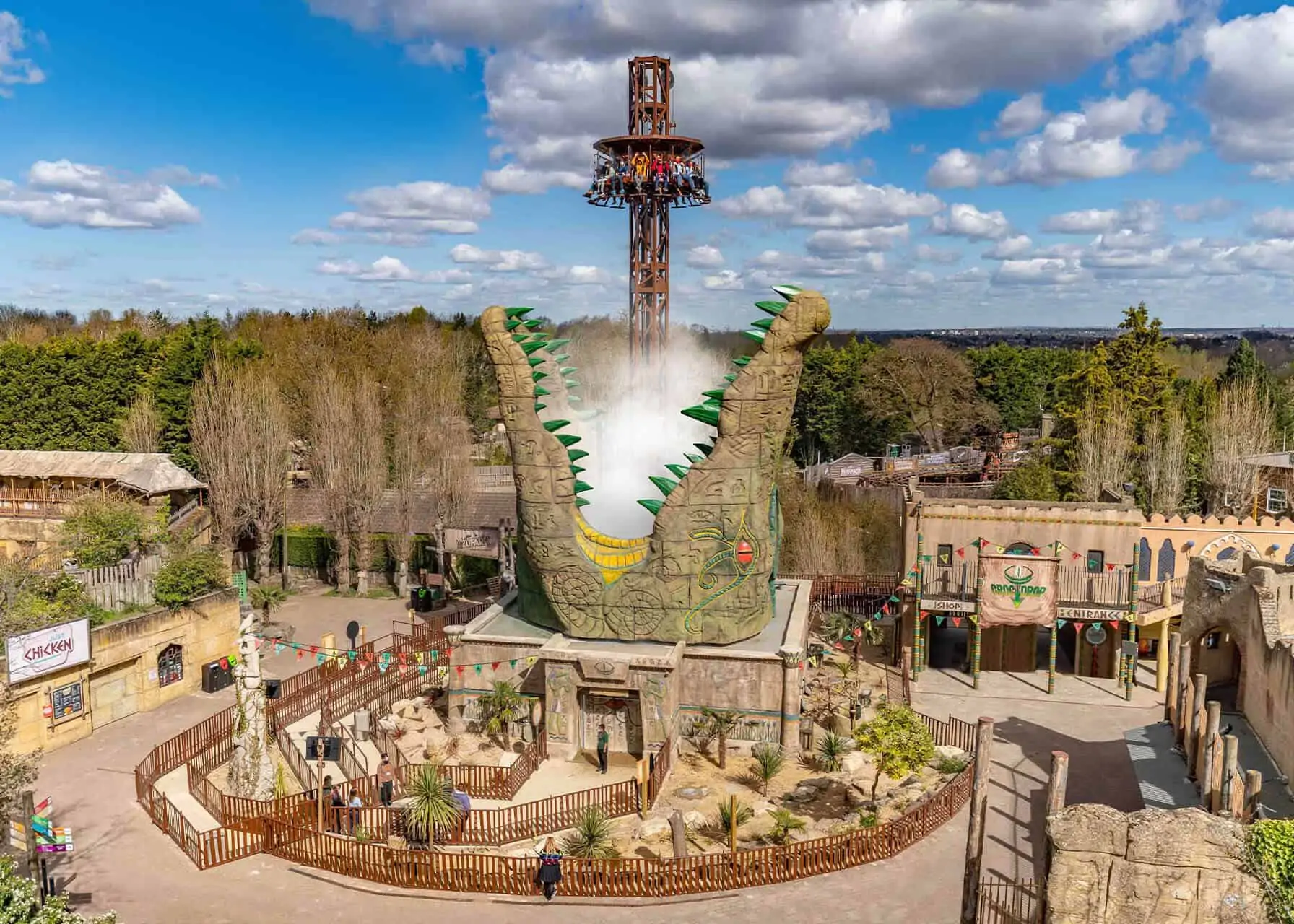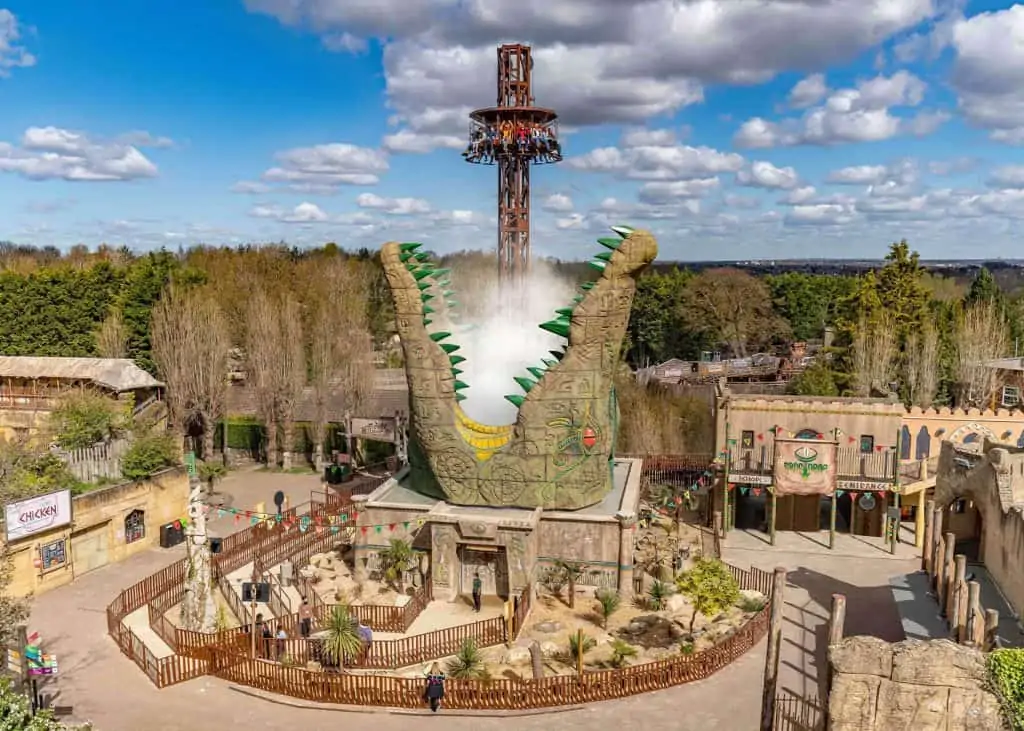 It is best to visit Chessington World of Adventures Resort at 10 am, as soon as they open for the day.
If you buy entry tickets in advance, you can skip the ticket counter queues at the entrance and head for the rides immediately.
If you can't get to the popular rides in the first hour the park is open, visit them during lunchtime.
The queues for the popular rides also tend to be the shortest in the last hour that the park is open.
To avoid the rush, some visitors start at the back of the park and work their way to the rides in the front.
The theme park in Chessington is most crowded on weekends and school holidays.
---
---
How long does the theme park take?
Most visitors spend six to seven hours exploring the numerous rides and attractions, including the Zoo and SEA LIFE Centre at Chessington World of Adventures Resort.
With so much to do, starting your day at the theme park as soon as they open is better.
Chessington tickets allow same-day re-entry as long as visitors get their hands stamped before exiting the park.
---
---
Rides at Chessington World of adventures
Chessington World of Adventures has 40 rides, divided into three types – those suitable for smaller kids, and rides families can enjoy together, and thrill rides.
These rides are scattered all through the ten themes of the park.
Each activity has height and other restrictions displayed where visitors queue up.
The theme park's latest ride is called The Blue Barnacle, replacing a famous ride called Black Buccaneer.
You can download the Chessington app for Android or iPhone to know the ride status and queue times.
Rides such as The Gruffalo River Ride Adventure, Tiger Rock, Dragon's Fury, Rattlesnake, Scorpion Express, Tomb Blaster, and Vampire have cameras to photograph all the action.
Ride photos are a nice souvenir to carry back home, so don't forget to smile and ask for the photos once you get off.
It is better to board the wet rides when the sun is high so your clothes dry out soon.
---
---
Map of Chessington World of Adventures
Chessington World is a massive place, so it is better to look at the theme park's layout before your visit.
Carrying the map of Chessington World of Adventures is even more necessary if you are traveling with kids.
You won't waste time looking for numerous rides, shows, and activities and get exhausted.
Besides the attractions, the theme park's map will also help you find visitor services such as restaurants, washrooms, ATMs, Picnic Areas, Photo Collection Points, etc.
Download Chessington World's map (jpeg, 490 Kb)
---
---
Weather at Chessington World of Adventures
Chessington World of Adventure Resort has an equal mix of indoor and outdoor attractions, so the weather doesn't play much of a spoilsport.
When it rains, visitors can join Mouse on a magical journey on The Gruffalo River Ride Adventure or, armed with a laser gun, ride through the Ancient Egyptian labyrinth on Tomb Blaster.
Dragon's Playhouse, aimed at younger kids, is also an indoor attraction. The best part is that parents can sip some coffee even as their kids play.
Sea Life Center, Room on the Broom, Trail of the Kings, etc., are other popular indoor adventures at the theme park.
For the hour-wise weather update on Chessington World of Adventures, check out MetOffice.
Rainy Day Guarantee
If it rains continually for an hour or more during your visit, Chessington theme park gives you a free day ticket for a return visit later in the year.
You can choose your date for the next visit and not pay anything extra.
One of the advantages of visiting when the weather isn't so good is that you don't find any queues.
Rainy Day Guarantee only applies to tickets purchased online.
---
---
Dress Code for visitors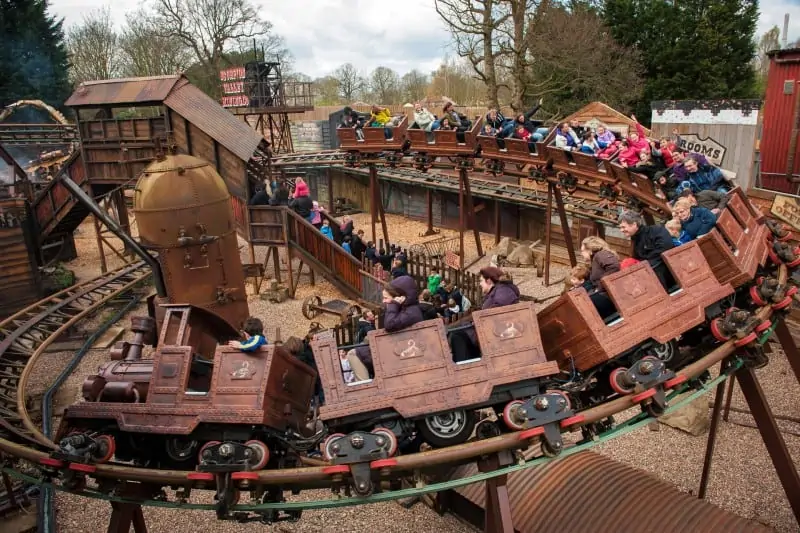 It is essential to dress up according to the weather because more than half of the attractions and activities at Chessington World of Adventures are outdoors.
Dress up so you won't be too hot, cold, or wet.
For rainy days, ponchos are available to help you stay dry.
Visitors must wear shirts and shoes on all rides according to the park rules.
It is better to wear comfortable shoes for two reasons – there will be a lot of walking, and you don't want your loose footwear to fall off some of the faster rides.
---
---
How to reach Chessington World of Adventures
Chessington World of Adventures Resort is at Leatherhead Road, Chessington, Surrey, KT9 2NE. Get Directions
Chessington is in Surrey, on the A243, just 3.2 km (2 miles) from the A3 and M25 (junction 9 or 10).
By Train
Chessington is a 35 minutes journey from central London.
Visitors can board the South Western Railways train from Waterloo, Clapham Junction, or Wimbledon and get down at the Chessington South Station.
The theme park is approximately a 10-minute walk from the station.
Chessington South Station is within Zone 6 of the London Travel Zones and accepts Oyster cards.
Check the official site for train times and prices.
By Bus
If a bus is your preferred mode of transport, you can board the 465 bus traveling from Kingston towards Dorking.
The other option is to take the 467 bus from Epsom.
Car Parking
If driving from London, take the A3 to Hook – Chessington is signposted on the A243.
From the South, take M25 Junction 9; from the North, take M25 Junction 10.
Chessington World of Adventures offers Standard Parking and Express Parking facilities.
Standard parking costs £4 per car, but you may have to walk 5-10 minutes to enter from the Explorer gate entrance.
At £10 per car, Express parking is costlier than Standard parking, but visitors get a much easier entry and exit.
The Express Car Park is next to the Lodge Gate theme park entrance.
Sources

# Chessington.com
# Wikipedia.org
# Chessingtonholidays.co.uk
# Tripadvisor.com

The travel specialists at TheBetterVacation.com use only high-quality sources while researching & writing their articles. We make every attempt to keep our content current, reliable and trustworthy.
Popular attractions in London