The ArcelorMittal Orbit is a unique attraction located in the Queen Elizabeth Olympic Park in London.
It was designed by Sir Anish Kapoor and Cecil Balmond and was built for the 2012 London Olympics.
It stands 114.5 meters tall and is the tallest sculpture in the United Kingdom. It is made of 2000 tons of steel and is the largest structure of its kind in the world.
It has become a popular tourist destination, with visitors coming from all over the world to see it.
In this article, we provide information about what you can expect when visiting the ArcelorMittal Orbit, where to buy tickets, the cost of tickets, how to reach the attraction, timings, and many more.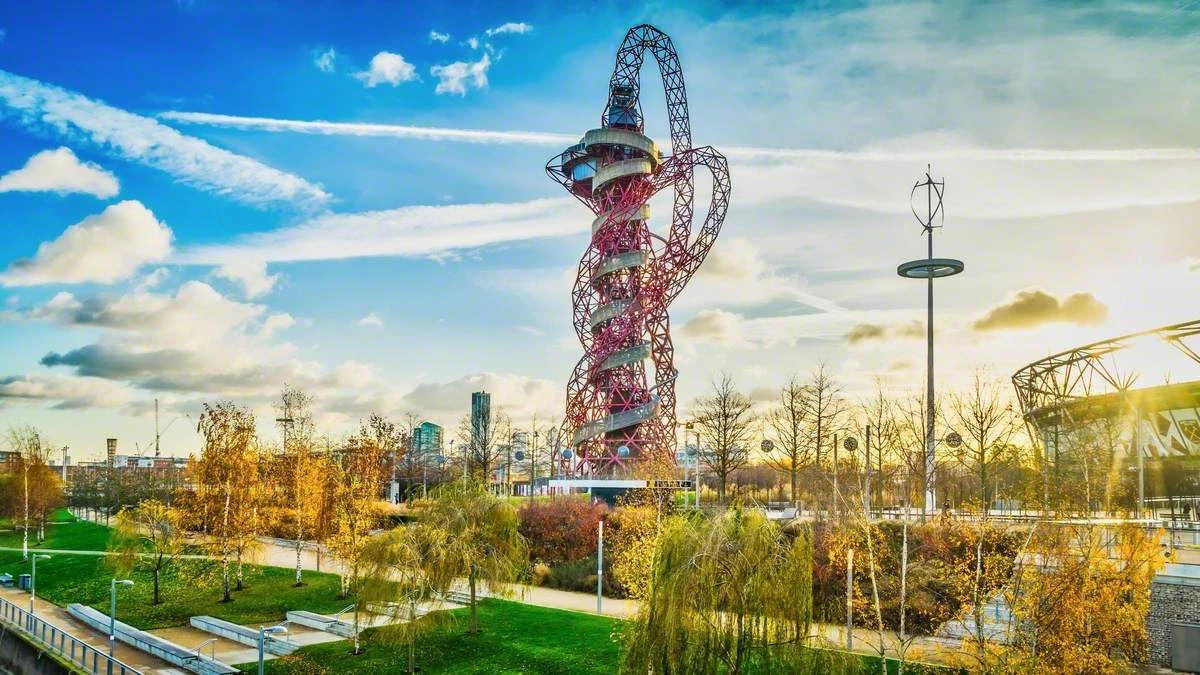 What to expect on ArcelorMittal Orbit
The ArcelorMittal Orbit is a unique attraction that offers breathtaking views of London.
It has two observation platforms, one at 76 meters (249 feet) and the other at 80 meters (262 feet).
The observation platforms provide panoramic views of the city, and visitors can see up to 20 miles away on a clear day.
The structure also has a slide that visitors can ride on, which is the longest and tallest slide in the world.
The slide is 178 meters (584 feet) long, and visitors can reach speeds of up to 15 miles per hour.
It is a thrilling experience that is not for the faint-hearted.
Apart from the observation platforms and the slide, the ArcelorMittal Orbit also has a cafe and gift shop.
The cafe serves a variety of food and drinks, including coffee, sandwiches, cakes, and other snacks.
The gift shop sells souvenirs, including T-shirts, postcards, and other items visitors can take home to remind them of their visit.
---
---
Where to buy ArcelorMittal Orbit tickets
There are different ways to buy tickets for the ArcelorMittal Orbit.
Visitors can buy tickets online, on-site, or through a third-party website.
Buying tickets online is the most convenient way to purchase tickets, as visitors can do so from the comfort of their homes or hotel rooms.
They can also avoid long queues at the attraction, which can be time-consuming, especially during peak hours.
How online ticket works
To buy tickets online, visitors need to visit the ticket booking page of ArcelorMittal Orbit.
They can then select the date and time of their visit and the number of tickets they need.
Once they have paid for their tickets, they will receive an email confirmation, which they can use to gain entry to the attraction.
Visitors should note that they need to bring a printed copy of their confirmation email or show it on their smartphone to gain entry to the attraction.
Cost of ArcelorMittal Orbit tickets
The cost of ArcelorMittal Orbit tickets varies based on the type of ticket and age group.
Adult tickets cost £12, senior and student tickets cost £9, children's tickets are discounted and cost £6, and infants (under 3) can enter for free.
---
---
ArcelorMittal Orbit tickets
The ArcelorMittal Orbit ticket includes a ride up to the top of the tower, where you can enjoy stunning panoramic views of London's skyline.
You can also experience the thrill of riding down the tower on the world's tallest and longest tunnel slide.
However, it's worth noting that the ride down the slide is not included in the standard ticket price and requires an additional fee.
Visitors can also enjoy a free digital photo of their ride down the slide, which can be downloaded from the attraction's website.
It's important to note that the ArcelorMittal Orbit ticket does not include access to any other attractions or exhibitions in the Queen Elizabeth Olympic Park.
If you plan on visiting other attractions in the park, such as the Aquatics Centre or the Olympic Stadium, you'll need to purchase separate tickets for those experiences.
Additionally, the ArcelorMittal Orbit has some restrictions in place for visitors, such as a minimum height requirement for the slide and a maximum weight limit for riders.
Visitors should review all terms and conditions before purchasing tickets to ensure they meet the requirements of the attraction.
Ticket Prices
Adult Ticket (18+ years): £12
Young Adult Ticket (16 to 24 years): £11
Child Ticket (3 to 15 years): £9
Kids Ticket (up to 3 years): Free
The London Abseil: ArcelorMittal Orbit tickets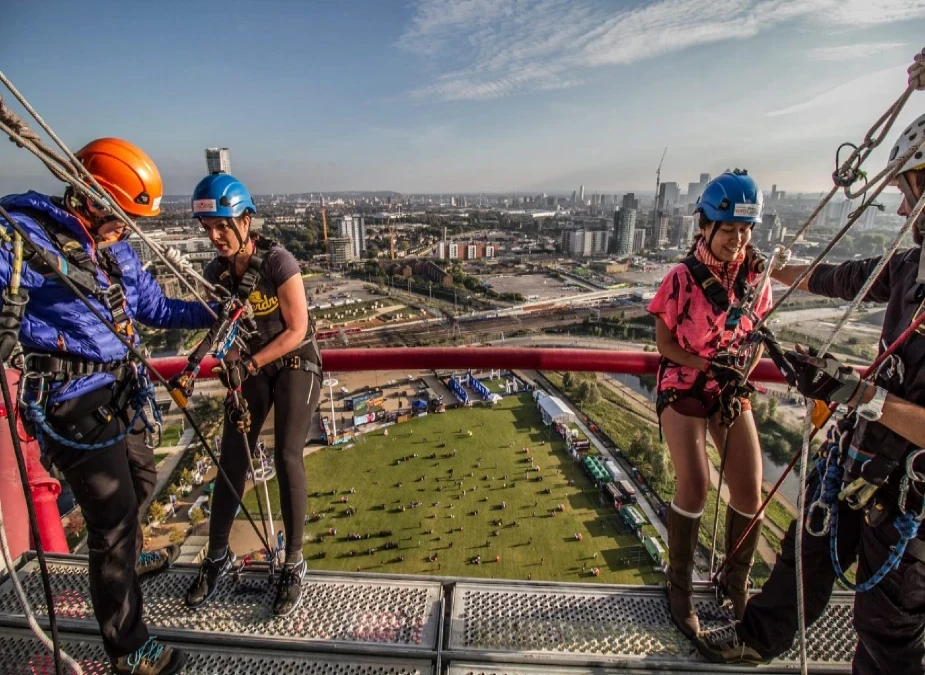 Visitors who want to experience an adrenaline rush can purchase The London Abseil package.
The package offers a thrilling 80-meter (262 feet) descent from the top of the Orbit.
Ticket Cost: £65
Save time & money! Buy London Pass and visit over 80+ attractions like ZSL London Zoo and London Bridge. Pick from 1, 2, 3, 4, 5, 6, or 10-day passes and buckle up for a 1-day hop-on-hop-off bus tour.
How to reach ArcelorMittal Orbit
ArcelorMittal Orbit is located in the Queen Elizabeth Olympic Park, which is in the East London district of Stratford.
Address: ArcelorMittal Orbit, 3 Thornton Street, Queen Elizabeth Olympic Park, Stratford, London, E20 2AD. Get Directions
There are several transportation options available to reach the attraction.
By Tube
The nearest tube station to ArcelorMittal Orbit is Stratford Station, which is served by the Jubilee and Central lines. From the station, it is a short walk to the attraction.
By Train
Stratford Station is also a major rail hub, with connections to several destinations in London and beyond.
By Bus
Several bus routes serve the Queen Elizabeth Olympic Park, including 388, 308, and 339.
By Car
Get in your car, turn your maps on to ArcelorMittal Orbit, and drive away!
There is a car park located at Westfield Stratford City, which is a short walk from ArcelorMittal Orbit.
---
---
ArcelorMittal Orbit timings
ArcelorMittal Orbit is open seven days a week, and the timings are as follows:
Monday to Friday: 11 am to 5 pm
Saturday and Sunday: 10 am to 6 pm
Please note that the last entry is one hour before closing time.
How long does ArcelorMittal Orbit take
The average time visitors spend at ArcelorMittal Orbit is around one to two hours, which includes exploring the viewing platforms and experiencing the slide attraction.
However, your time here depends on your interests and the crowds.
Best time to visit ArcelorMittal Orbit
As for the best time to visit, avoiding weekends and public holidays is generally recommended when it's most crowded.
Visiting on a weekday during off-peak hours (usually before 11 am and after 4 pm) can offer a quieter and more enjoyable experience.
However, if you want to see the city lights at night, it's best to visit after sunset.
Popular attractions in London