Up At The O2 is an adrenaline-pumping climb over the O2 Arena's roof via a fabric walkway.
O2 Arena is a large dome-shaped building, which hosts live music, sport, comedy, and entertainment events. It is also known as the Millennium Dome.
The walkway on the roof is 380 meters (1250 feet) long and at its highest point is 52 meters (170 feet) above ground level.
At the end of the climb, the participants can spend time on the observation deck and take in spectacular views of London.
In this article, we share everything you must know before buying Up at The O2 Climb tickets.
Top O2 Arena roof climb Tickets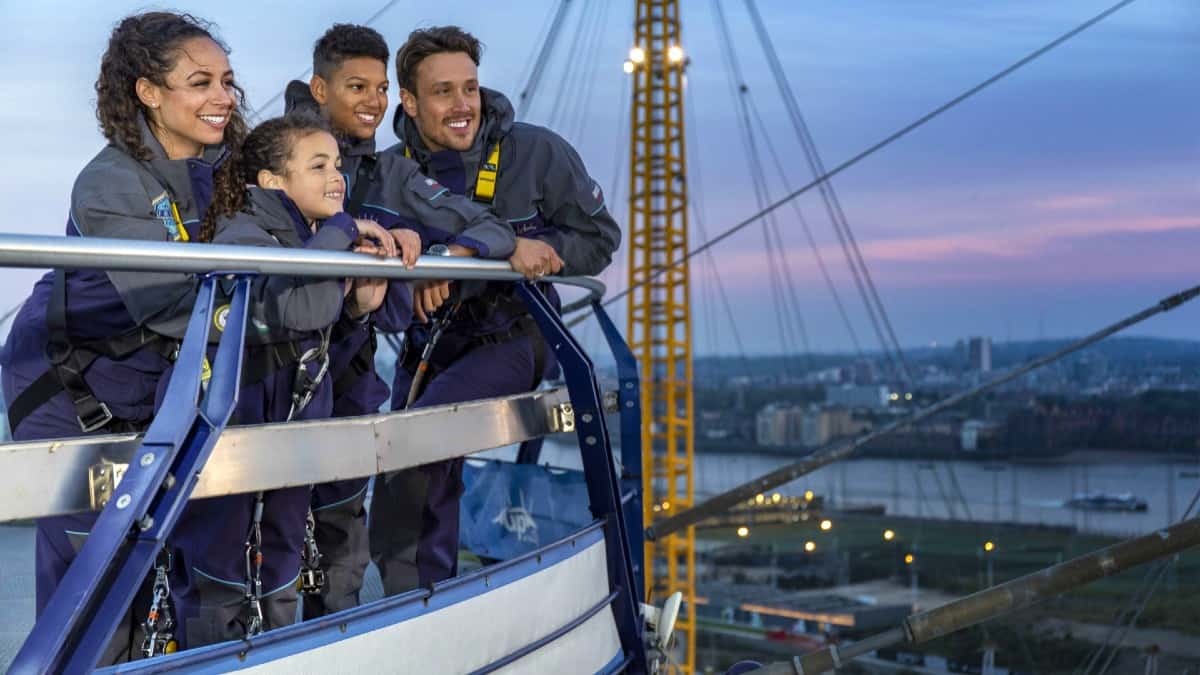 What to expect during O2 Arena climb
Check out the O2 Arena climb video –
One guide leads a group of up to 18 participants during the expedition on O2 Arena's roof.
During peak times, two guides take up to 30 guests on their climb.
Preparation for the climb
As part of your preparation for Up at The O2 Climb, you first list emergency contact details and sign some documents.
Next, you watch a video about O2 Arena and the safety protocols all climbers must follow.
Then the instructors take over and walk you through the safety equipment.
Once you are in your suit and wear your special shoes, your guide ushers you to the top.
Note: If you think you may feel cold at the top, request a climb jacket or Gillet.
The Climb
Most visitors with normal health can go up on this expedition, which is why the minimum age for this activity is eight years.
At the steepest point, the walkway on which you climb has an incline of 28 degrees.
Even though you will be working your legs a bit, you don't need to be in peak physical condition to go through this climb.
The participants walk on a walkway suspended 2 meters above the surface of The O2 roof.
Tourists and locals who have done the climb say it feels a bit like walking on a trampoline because the surface feels soft and bouncy.
All through the walk, you will be securely tethered to the safety rail with an automatic locking mechanism in place.
View from the deck
At the end of the 380 meters (1250 feet) long walkway, you will reach its highest point – 52 meters (170 feet) from the ground.
The viewing platform is at the highest point of the dome of O2 Arena, and it can hold 40 people at a time.
There is enough space to walk around and take in 360-degree views of London. On a clear day, you can see landmarks up to 25 km (15 miles) away.
Some of the highlights are the beautiful Thames River, Olympic Park, Tower Bridge, The Shard, Excel, Big Ben, White towers, 'Walkie Talkie', and the Canary Wharf.
The climb down
While climbing down, you encounter a steeper decline of 30 degrees, which makes it even more exciting.
Don't worry, for the soothing breeze in your hair will help you stay calm.
Once you are on the ground, you remove your suit and safety gear and walk out, proud of having conquered the Millenium Dome.
Please visit the washroom before the climb because it takes approximately 90 minutes, and there are no restrooms at the top. You may also want to eat light.
---
---
O2 Arena Roof Climb tickets
There are four kinds of Up at the O2 experience – Daytime Climb, Sunset Climb, Twilight Climb, and the Celebration Climb.
Where to buy the tickets
You can get your O2 Roof Climb tickets at the venue or buy them online, much in advance.
We suggest you buy them in advance for two reasons –
Since only a limited number of O2 Arena Climb tickets are issued every day, they sell out a few days in advance
When you book in advance, you can get your preferred time slot
How online tickets work
As soon as you book your tickets for climbing O2 Arena's roof, they get emailed to you.
You don't need to take any printouts.
You must reach the tourist attraction 15 minutes before the time mentioned on your ticket.
Since you have a ticket and are on time, you can show it on your smartphone and walk into the Up At The O2 Arena basecamp right away.
Latecomers will not be admitted, exchanged, or refunded.
Types of O2 roof climbs
Depending on the time you select for climbing O2 Arena's dome, you will have a different experience.
For clear views in all directions, visitors opt for the daytime climb.
If you want to add a dose of romance to the experience, select an evening time when the sun is likely to be setting on the horizon.
For the Twilight Climb, opt for the time slot when the sun has gone down, and you can see London against the backdrop of an auburn sky.
All these different experiences cost the same.
Up at the O2 ticket prices
On weekdays Up At The O2 Arena climb tickets cost £32 for all climbers, and on weekends, they cost £39.
Even though the cost of the tickets for 18+ visitors and kids aged 8 to 17 years is the same, you must select different tickets on the booking page.
Seniors, students, and disabled visitors don't get any discounts on their tickets.
Weekday prices
Adult ticket (18+ years): £32
Child ticket (8 to 17 years): £32
Weekend prices
Adult ticket (18+ years): £39
Child ticket (8 to 17 years): £39
---
---
O2 Arena climb timings
O2 Arena's roof climbs start either at 10 am or 11 am, depending on the season.
They end earliest by 6 pm and latest by 8.30 pm, depending on the day of the week and season.
That's why it is better to buy climb tickets online because you can only book the available time slots.
---
---
Restrictions to climb O2's roof
Certain restrictions are in place to ensure the safety of all guests climbing O2 Arena's roof.
Please go through them carefully before booking your tickets.
The minimum age for climbers is eight years
Climbers must be at least 1.2 meters (3.9 feet) tall
The guests shouldn't weigh more than 130 kg (286 pounds)
The maximum waist measurement must be 125 cm (49 inches) and the maximum upper thigh measurement must be 74 cm (29 inches)
Pregnant guests are not allowed on the O2 Climb primarily because the harness is pretty snug, and the climb is physically demanding.
Visitors under the influence of alcohol or legal or illegal substances won't be allowed to participate
Under 18 visitors must be with an adult in the ratios as below: 8-11 years (1:2 ratio), 12-13 years (1:4 ratio), and 14-17 years (1:5 ratio).
Fear of Heights
People with a fear of heights must think twice before booking their Up at the O2 tickets. O2's roof is 52 meters (170 feet) high and involves an ascent and descent of up to 30 degrees.
---
---
How long does O2 Arena climb take
The complete roof climbing experience at O2 Arena takes 90 minutes, out of which the first half-hour is the preparation, and the climb lasts an hour.
Before starting the guided expedition over the roof of The O2 via a fabric walkway, all visitors get a security briefing and wear their climbing gear.
The second part of the adrenalin-pumping experience lasts 60 minutes and includes the ascent, ten minutes at the top enjoying the views of London city, and finally the descent.
---
---
What to wear for Up at the O2 climb
For the O2 roof climb, it is better to wear comfortable clothing suitable for the weather.
Since the Millennium Dome's roof is 52 meters (170 feet) at its highest point, hats and gloves are a must for colder days.
All visitors get a pair of shoes, which are ideal for gripping the walkway.
Even though the tourist attraction offers climb shoes of all sizes, visitors must bring their socks.
The Up at the O2 Basecamp supplies all safety equipment and a climb jacket or Gillet if requested.
Eating or drinking is not allowed while climbing O2 Arena's roof. However, there are many restaurants and bars at O2 Arena, which you can explore after your climb.
---
---
How to reach O2 Arena
The O2 Arena is at Peninsula Square, London SE10 0DX.
Up At The O2 Arena basecamp is located next to the box office at the entrance.
By Tube
North Greenwich, serviced by Jubilee Line in Zones 2 and 3, is the closest subway station. Once you exit the station, it is a five-minute walk to O2 Arena's entrance.
From Central London station the journey time is 20 minutes and from Stratford only 10 minutes.
By Bus
Bus routes 108, 129, 132, 161, 188, 422, 472, and 486 stop at North Greenwich station.
Visitors can get the 188 bus (24 hours) direct to/from central London via Waterloo.
Car parking
O2 Arena has more than 2,100 parking spaces, so finding a slot isn't an issue.
Visitors with Up at The O2 tickets should park in Car Parks 2, 3, or 4, where hourly rates apply.
O2 Arena is inside the M25 and outside the Congestion Zone.
You can drive through Blackwall Tunnel or A102 lane to enter Millenium Way Car Park.
Better still, fire up your Google map and follow the directions.
Sources

# Theo2.co.uk
# Tripadvisor.com
# Upo2tickets.co.uk

The travel specialists at TheBetterVacation.com use only high-quality sources while researching & writing their articles. We make every attempt to keep our content current, reliable and trustworthy.
Popular attractions in London