The Stamford Bridge stadium has been Chelsea Football Club's home for more than a century.
Visitors can book a Stamford Bridge tour and a Chelsea Museum visit and learn more about their favorite team in Blue.
During the Chelsea Football Club's stadium tour, a guide takes you through the Dressing Room, Press Room, Player's Tunnel, etc., after which you visit the museum and take in the club's history.
In this article, we share everything you must know before buying Chelsea Stadium tour tickets.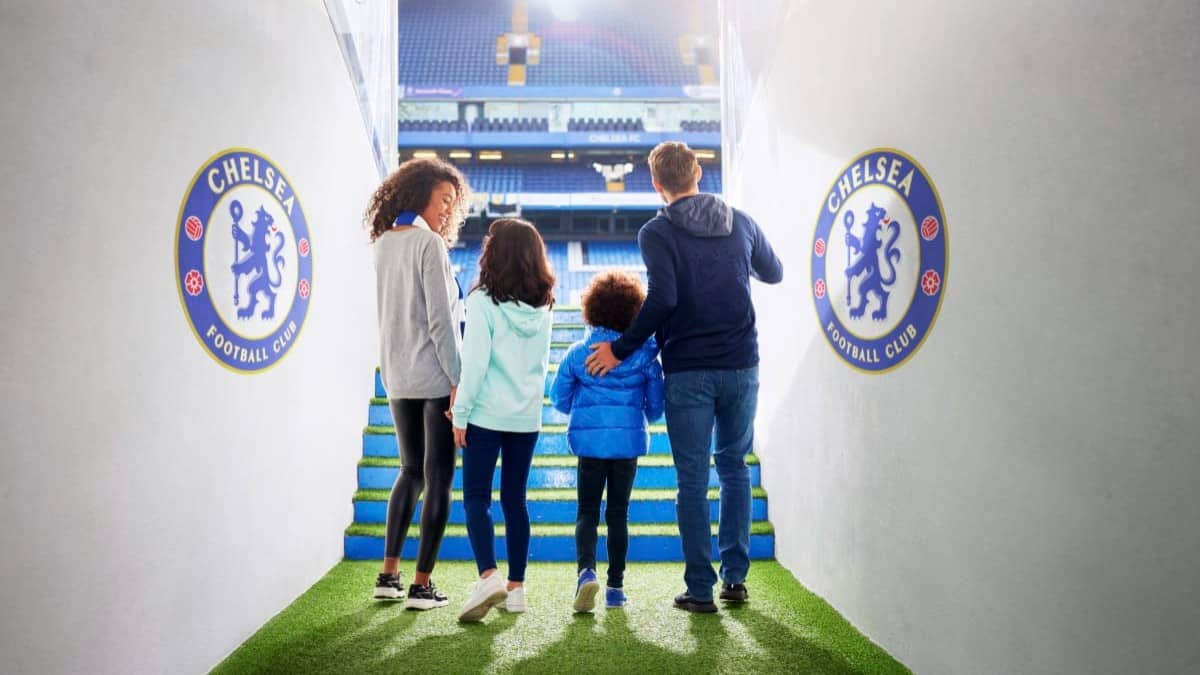 What to expect on a tour of Stamford Bridge
Every hour a guide starts a new tour of the Chelsea Football Club and takes the visitors through Home Dressing Rooms, the Press Room, the Players' Tunnel, Pitchside, Dug-outs, etc.
They also show the various views from the Matthew Harding Stand, the East Stand, and The Shed End.
After the approximately one-hour-long tour, the guide leaves you at the Chelsea FC Megastore.
All Chelsea Stadium tour tickets also include access to the Chelsea FC Museum, which you can visit before and/or after the tour.
At the biggest football Museum in England, you will see the collection of shirts, medals, boots, artifacts, trophies, etc., and learn the club's history from 1905 to the present day.
---
---
Chelsea Stadium tour tickets
Stamford Bridge experience has two parts – the Chelsea FC Stadium Tour and the Museum visit.
The Chelsea stadium tour tickets also get you access to the museum, which you can visit either before the tour or after.
Where to buy tickets
You can book your Stamford Bridge tour at the venue or buy the tickets online, much in advance.
There are four distinct advantages of securing admission to the Chelsea stadium experience online –
You can skip the lines at the ticket counter
Tickets at the stadium entrance cost £3 more than the online price
When you book online, you get your preferred time slot
The stadium tour gets canceled on home match days and one day before European matches. When you book online, these days get blocked out, so you don't end up at the attraction
How online tickets work
While booking your guided tour of Stamford Bridge, home of Chelsea FC, you must select a preferred time and date of visit.
Immediately after purchase, your tickets get emailed to you. You don't need to take any printouts.
On the day of your visit, you can show your ticket on your smartphone and enter.
Where to join the tour
The Stadium Tours and Museum Centre is located behind the Matthew Harding Stand. Get Directions
Show your ticket at the desk inside and ask when the next guided tour starts.
During peak season, guided tours of Stamford Bridge depart every 20 minutes, and
During the lean season (Nov to Jun), guided tours of Stamford Bridge start every hour, and during the peak season (Jul to Oct), there are two tours every hour.
It is better to reach the stadium at least 15 minutes before the time selected while booking your tickets.
Ticket prices and discounts
Chelsea FC Stadium tour ticket costs £24 for all visitors 16 years and above.
Senior citizens, students with valid IDs, and disabled visitors qualify for an £8 reduction on the full ticket price and pay only £16.
Kids five to 15 years get a £9 discount and pay £15 for the complete Blues experience.
Kids four years and below can enter the museum for free, but they must purchase a free ticket.
Adult ticket (16+ years): £24
Students (with valid IDs): £16
Seniors ticket (65+ years): £16
Child ticket (5 to 15 years): £15
Infant ticket (up to 4 years): Free entry
Visual Story: 12 must-know tips before visiting Chelsea FC Stadium Tour
---
---
How to reach Stamford Bridge
The Chelsea Football Club stadium, also known as the Stamford Bridge, is at Fulham Road, London, SW6 1HS. Get Directions
Stamford Bridge is the most central of the London grounds and is easily accessible by public transport.
By Tube
Fulham Broadway tube station on the District Line is only half a kilometer (.3 miles) from the Chelsea stadium.
You can walk the distance in about five minutes.
West Brompton and Imperial Wharf are the two Overground stations near Stamford Bridge and both are within a 15-minute walk from the stadium.
By Bus
If a bus is your preferred mode of transport, board route numbers 14, 211, or 414.
There are two bus stops outside Stamford Bridge on Fulham Road.
Parking
Fans are advised NOT to drive to Stamford Bridge due to resident parking restrictions around the stadium, especially on matchdays.
Even though limited, chargeable parking is available for visitors booked for the Stamford Bridge stadium tour.
The satellite navigation address is SW6 1HS.
---
---
Chelsea Stadium tour hours
From November to June, the Chelsea Stadium tour departs hourly from 10 am to 3 pm – at 10 am, 11 am, 12 noon, 1 pm, 2 pm, and 3 pm.
During the peak season of July to October, additional tours get added twenty minutes after every hour. For instance, at 10.20 am, 11.20 am, 12.20 pm, etc.
Tour of Stamford Bridge stadium and Museum gets canceled on home matches, the day before European matches, Christmas Eve, Christmas Day, and Boxing Day.
Chelsea Museum timings
The Chelsea Football Club Museum, also known as the Centenary Museum, opens at 9.30 am and closes at 5 pm.
The last entry into the fascinating collection of Chelsea exhibits is at 4.30 pm.
---
---
How long does the Chelsea stadium tour take?
The fully guided tour of Chelsea Football Club's home ground Stamford Bridge takes approximately an hour.
After going behind the scenes of one of the world's greatest football teams, you get to explore the Chelsea Museum, which is also included in the ticket.
Visitors usually spend around half an hour exploring the football club's 100+ years of history, so allow yourself 90 minutes to two hours for the whole Stamford Bridge experience.
You can visit the museum before and/or after the tour.
---
---
What to see at Chelsea Museum
The Chelsea Football Club's Museum at Stamford Bridge stadium got inaugurated in June 2011.
At the 670 square meters (7,212 square feet) museum, visitors can see years of Chelsea FC history, get up close and personal with memorabilia, and participate in interactive games.
With numerous exhibits from the club's 107-year history, the Stamford Bridge museum is the largest football museum in London.
All Chelsea Stadium tour tickets include entry to the Chelsea Museum. If you only want to visit the museum, you can buy tickets at the venue. They cost £13 for an adult and £11 for a child.
1905 founders' document
The founders of Chelsea Club signed this document in a pub opposite Stamford Bridge, agreeing to create a new football club.
Six months later, the Chelsea Football Club was playing its first match.
It has been 115 years since, and everything that you see in the museum is because of this one piece of paper.
Peter Osgood's 1970 FA Cup final shirt
In the 1970s, Peter Osgood was the star for Chelsea FC both on and off the pitch.
The English footballer's most historic moment was a diving header in the 1970 FA Cup final replay that helped the club win that trophy for the first time.
In the museum, visitors can see the shirt he wore in the first game of that historic final against Leeds United at Wembley.
UEFA Champions League trophy
On 19 May 2012, Chelsea FC defeated Bayern Munich to lift the UEFA Champions League trophy.
Stamford Bridge Museum is the only place in London where you can see a Champions League trophy.
Kerry Dixon's Golden Boots
Only two other strikers have scored more than Kerry Dixon's 193 for Chelsea, and he remains the all-time top scorer in the League Cup.
He is credited with propelling Chelsea to the top division from the bottom of Division Two and is the only person to have top-scored in three different English divisions in consecutive seasons.
All three of the Golden Boot awards are on display in the museum.
Gianfranco Zola's boot
Gianfranco Zola was probably the most famous footballer at Stamford Bridge.
He was an excellent footballer, was a lovely human being, and spent a lot of time with the fans.
He wore size five boots, and one he played with in his 300th game for Chelsea is on display at the museum.
John Terry's armbands
Chelsea won the Premier League for the first time in 2004/05, and the team's legendary captain John Terry played a massive role in that historic victory.
Recently, Terry auctioned a lot of his memorabilia to raise funds for the NHS and Make-a-Wish Foundation, and the Chelsea Museum bought more than 30 of them.
Frank Lampard's boots from Bolton
During the 2004/05 Premier League campaign Frank Lampard scored twice at Bolton Wanderers to give Chelsea a 2-0 win.
This ensured no one could catch the team at the top of the Premier League table with three games remaining.
These were two of the most important goals in Chelsea history, which is why the boots he was wearing in the match are on display.
Dennis Wise's vest with a message
Dennis Wise used his combination of passion and cheeky humor to bring out the best in his team, which made him one of Chelsea's greatest captains.
In 1997 striker Gianluca Vialli was spending a lot of time on the substitutes' bench and wasn't happy about it.
That's when after winning the 1997 FA Cup semi-final against Wimbledon, Dennis Wise removed his T-shirt to unveil the message on his vest: "Cheer up Luca we love you."
1955 league title medal
The first big win for Chelsea was when they got crowned champions of England in 1955, on their 50th founding anniversary.
The family of winger Eric Parsons has loaned his winner's medal, which is now available in the museum.
George Hilsdon's England cap
George Hilsdon was a Chelsea and English footballer whose bullet-like shots and prolific scoring earned him the nickname 'Gatling Gun.'
He was the first striker to get 100 goals for the Blues, and he went on to play eight times for England with 14 goals.
His England cap takes the place of pride in the museum.
---
---
Food and drinks at Stamford Bridge
Frankie's Bar and Grill is the only restaurant at the Stamford Bridge Stadium, and they are open daily from 12 noon to 11 pm.
The restaurant offers a two-course meal deal to all visitors with Chelsea Stadium tour and Museum tickets.
This meal costs £14.50 for adults and £9 for kids.
Match days get crowded, so it is better to reserve your table.
Sources

# Chelseafc.com
# Visitlondon.com
# Tripadvisor.com

The travel specialists at TheBetterVacation.com use only high-quality sources while researching & writing their articles. We make every attempt to keep our content current, reliable and trustworthy.
Popular attractions in London