Opened in 1826, the Zoological Society of London, or ZSL London Zoo, is one of the oldest scientific zoos in the world.
The concept of the London Zoo was proposed by Sir Stamford Raffles, a nature and wildlife enthusiast who later turned his imagination into reality by laying the cornerstone of ZSL.
Initially, the Zoo granted access to only researchers in scientific studies.
It was only in 1826 (almost after 20 years) that the gates of the Zoo got opened to the general public.
There are over 750 different animal species at ZSL London Zoo – and more than 20000 endangered and exotic animals.
It is better to know about the animals in the London Zoo and the zones in which you can find them to make navigation of routes easier.
Before you visit the wildlife attraction, read up everything about London Zoo tickets.
Animals and Exhibits at London Zoo
London Zoo is laid out with the most modern thinking in Zoo design.
Animal enclosures are all planned with the idea of giving more space to the animals.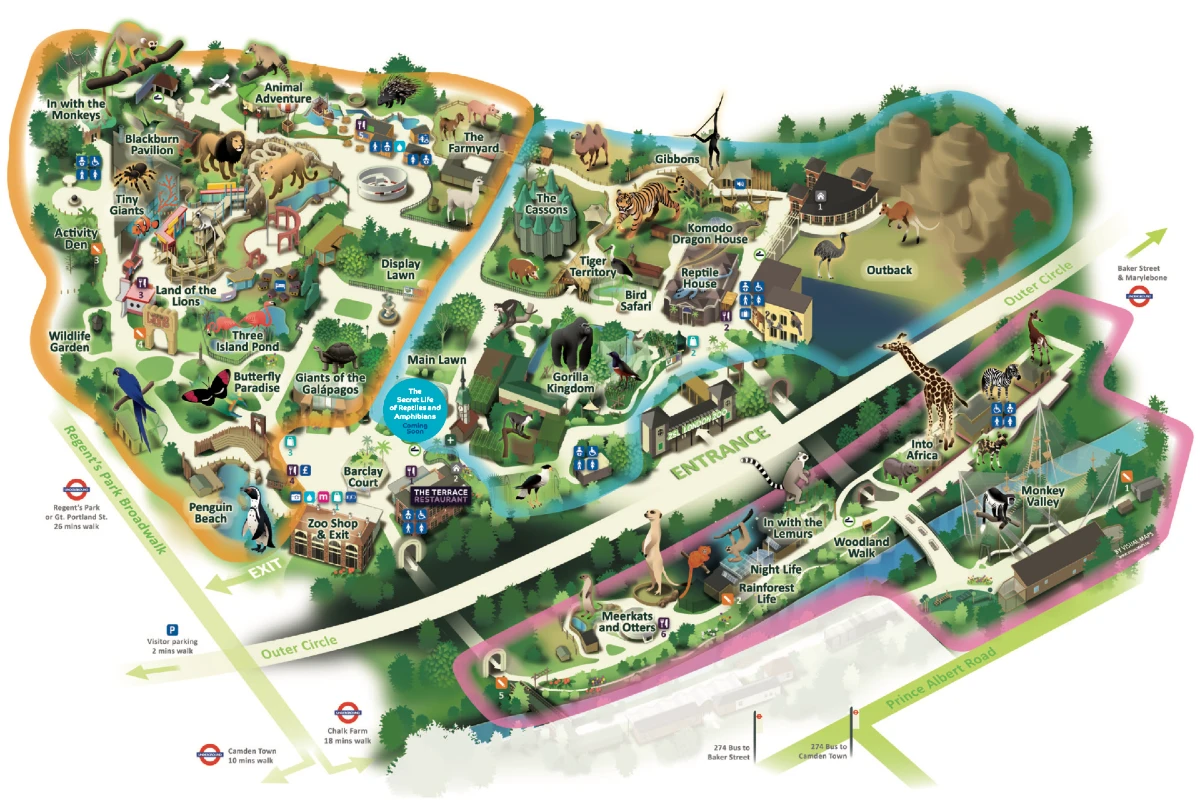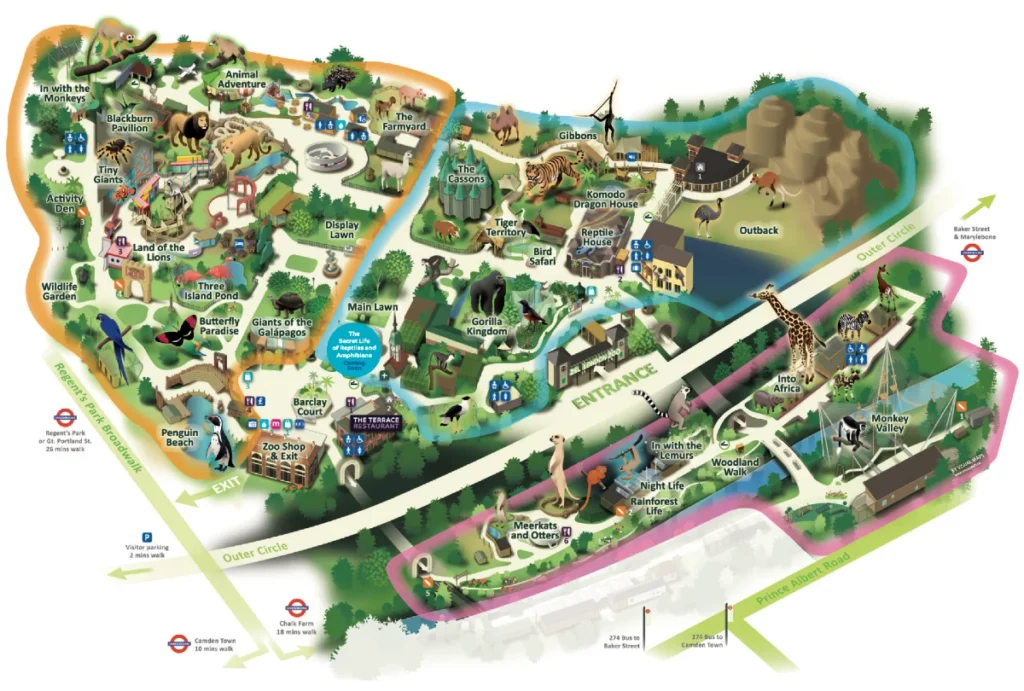 London Zoo exhibits are divided into Blue Zone, Orange Zone, and Pink Zone.
London Zoo's Blue Zone
The Blue Zone of the London Zoo is home to Tigers, Gorillas, Camels, Komodo Dragon, Red River Hogs and many reptiles.
Tiger Territory
Tigers have charm and personality- they walk fearlessly, and their roar can be heard from miles away.
You'll get face-to-face with Sumatran Tigers at Tiger Territory through glass enclosures.
Here, you can observe their climbing, predatory, and feeding habits and understand how these keystone species maintain the ecosystem.
The Gorilla Kingdom
The Gorilla Kingdom is unique and resonates with the African rainforest.
When you enter this exhibit, you'll first encounter the African aviary and then the gorilla kingdom, which looks very real with an artificial island and indoor gymnasium facility.
This exhibit offers beautiful vantage points as it is spread over a vast area.
Don't forget to meet Alika and Gernot, children of Mjukuu or 'Jookie.' Watch them playing and rooting vegetables.
Camels (Domestic Bactrian Camels)
Three species of camels exist – Bactrian Camels, Arabian Camels, and Wild Bacterian Camels.
Of these, the ZSL London Zoo hosts Bactrian Camels.
Genghis and Noemie are the two Bactrian Camels you can spot at the Camels exhibit.
Bactrian Camels are distinguished from the other species because their dumble humped back and withstand incredible temperatures ranging from 40C to -30C.
Komodo Dragon
The Komodo dragon, also known as the Komodo monitor, is endemic to the Indonesian islands of Komodo, Rinca, Flores, and Gili Motang.
The London Zoo has built the Komodo Dragon exhibit keeping in mind their original habitat– the dry river bed with lush green vegetation and sounds of Indonesian birds.
At this exhibit, you can learn the threats to the life of these dragons and why conserving their dwindling population has become the need of the hour.
Reptile House
Come to the Reptile House and meet the different reptiles and amphibians, like snakes, frogs, lizards, and crocodiles.
This exhibit holds a great surprise for you all!
Red River Hogs
The red river hogs exhibit is the most unique of all the animals showcased in the blue zone because it looks so amazingly different- their orange to reddish brown fur, black legs, and tufted white stripes on their spine.
The red river hogs or bushpigs are wild members of the pig family found in Africa who prefer living in areas near rivers or swamps.
Come fast as Ava, Cameron, Pedro, Penny, Phoebe, Shane, and Tommy wait to see you in their enclosures.
Recommended Reading
– How to reach London Zoo
– Family tickets at London Zoo
– Food & drinks at ZSL London Zoo
– London Zoo or Whipsnade Zoo
– London Zoo Lodges
London Zoo's Pink Zone
The Pink Zone of England's best zoo is home to Giraffes, Zebra, Pygmy Hippos, Okapi, Lemurs, Otters, Meerkats, Warthog, African Wild Dog, etc.
It also has two of the most popular exhibits – Rainforest Life and Monkey Valley exhibit.
Giraffes
Giraffes are everyone's favorite– their long necks and legs and striking brown, yellow coat patterns make them all the more beautiful.
The Giraffe exhibit at ZSL London Zoo is the most special exhibit of all, as kids love spending their time watching giraffes eating grass and socializing with other giraffes.
Zebra (Chapman's)
Meet the Champan's Zebra at the ZSL London Zoo and learn interesting facts about them.
Chapman's Zebras, named after its describer James Chapman, is a subspecies of the plains zebra.
Pygmy Hippos
Come face to face with Thug and Nicky, the two Pygmy Hippos at ZSL London Zoo.
Since Pygymy hippos love soaking in warm water, their enclosures are equipped with solar panels to maintain the pond's temperature.
Okapi
Okapis are relatives of the giraffe family and are thus often called forest giraffes, Congolese giraffes, or zebra giraffes.
They've reddish brown stripes with thick fur coats and look very beautiful.
The ZSL London Zoo has been protecting Okapis which are endemic to the Demorgractoc Republic of Congo in Central Africa.
Lemurs
If you're at the ZSL London Zoo, don't forget to see Lemurs, which are often associated with the families of monkeys and apes but belong to a different primate group.
The most interesting thing about Lemurs is that they are found in Madagascar only.
Lemurs come in all shapes and sizes, but at London Zoo, you will find Ring-tailed Lemurs.
Otters
Say hello to Oriental small-clawed otters, the smallest species of otter.
Meerkats
Meerkats are small mongooses that can be found at the London Zoo.
They have light grey to yellowish-brown coats and can thermoregulate themselves.
Warthog
Get closer to Warthogs in England's capital and learn more about their appearances and feeding habits.
Warthogs are wild pigs with four tusks (two uppers and two lower), and both males and females have 'warts' (protective bumps on their faces giving them their name).
African Wild Dog
Who doesn't love dogs? But at ZSL London Zoo, you will find a different breed of dogs that are wild and native to Sub-Saharan Africa – African Wild Dogs.
African Wild dogs are also known as Painted Dogs (because of the unique black and white patches on their body) and Cape Hunting Dogs (because of their strategic hunting abilities).
They're listed as Endangered in the IUCN Red List, so a visit to their enclosure is a must.
Rainforest Life
Get eye-to-eye with monkeys, sloths, and tamanduas, the residents of the Rainforest Life.
After paying a visit to them, head into the 'Night Life' area, where you'll catch sight of the nocturnal wonders of the rainforest.
Monkey Valley exhibit
The monkey Valley exhibit is the recent addition to the ZSL London Zoo, which was opened to the general public on 15th August 2022.
Watch white and black fluffy Colobus Monkeys hanging, lounging, and swinging on trees, as they wait to see you!
London Zoo's Orange Zone
ZSL London Zoo's Orange Zone houses the Galápagos tortoises, Lions, Yellow Mongoose, Greater Flamingo, Alpacas, Llama, Hyacinth Macaw, Brown-nosed Coati, etc.
It also has three exhibits popular with both kids and adults – Butterfly Paradise, Tiny Giants, and Penguin Beach.
Galápagos tortoises
Meet the largest tortoise in the world with a life expectancy of over 150 years– Galápagos tortoises at ZSL London Zoo.
Galápagos tortoises are extraordinary, and you can learn amazing survival stories from zoo guides.
Dolly, Polly, and Priscilla are the female Galápagos tortoises you can watch bathing in the pond and rolling in mud.
Land of the Lions
Step into the Land of the Lions, the land of famous Asiatic lions.
Meet the new member of the land, lioness Arya and hear her stories about the move to ZSL London Zoo.
Three walkways cover the exhibit, spread over 2,500sqm of land.
The exhibit is Indian-themed and has areas like a train station, crumbling temple clearing, high street, and guard hut to explore.
Yellow Mongoose
In this part of the zoo, you will meet the world's best diggers of burrows, Yellow Mongoose
These mongooses are called Yellow Mongoose because of their yellow coat color.
Greater Flamingo
Discover the most beautiful birds at Zoo London – Greater Flamingo.
Flamingos are known for their bright pink feathers, stilt-like legs, S-shaped neck, and ability to run on water.
Penguin Beach
Watch Humboldt penguins fly underwater and show other moves at Penguin Beach.
The beach recreates the south American beach landscape, a treat to the eyes.
This is one exhibit where you will see flocks of visitors outside the exhibit waiting to capture the movements of Humboldt penguins.
Alpacas
Get close to Alpacas, species of South American camelid mammal.
During the third Lockdown in 2021, three cute furry male trios joined the Zoo: Alpacaccino, Cuenca, and Cookie.
Llama
Llamas are south American Camelids that have very long necks.
They are famous for their wool, and you shouldn't miss out on seeing them at ZSL London Zoo.
Tiny Giants
Experience the world of the planet's smallest creatures, from underwater corals and aquatic wildlife to ants, spiders, and beetles.
Get a bug's eye view of the world of tiny giants, where you can spot spiders and ants hiding behind leaves and grasses.
In With The Spiders is UK's first-ever spider walkthrough exhibit.
Come closer to the reef aquarium and catch sight of underwater creatures who clean oceans, seas, and rivers.
Visit the Zoo's Partula Lab, where Critically Endangered tree snails are being reared as part of a breeding and reintroduction program to save the species from extinction.
Butterfly Paradise
Butterfly Paradise is heaven in London Zoo, showcasing an array of butterflies from several major regions, including Africa, Southeast Asia, and Central and South America.
During your visit to this exhibit, you can learn about butterfly lifecycles, their environment, how they help the ecosystem, and what threats they face in the present world.
Major highlights of the Butterfly Paradise are tiny butterfly eggs, giant caterpillars, and butterfly feeding stations.
Hyacinth Macaw
Come closer to the Hyacinth Macaw exhibit and watch these stunning birds perching on branches and flying in the air.
Hyacinth Macaws are the largest parrot in the world and are so attractive that you can't get your eyes off them.
Coati (Brown-nosed)
Visit the Coati (Brown-nosed) exhibit and look at these majestic raccoon family members.
Coatis have brown, grey, or rust-red coats with long tails that help them climb trees.
At ZSL London Zoo, you don't just get a chance to see animals living peacefully in their exhibits. Still, you get to know more about their appearance, behavior, and history which can bring you closer to nature.
When you're at the Zoo, we expect you to devote ample time to each exhibit and try to learn as many things as possible.
Sources
# London Zoo
# Zoological Society of London
# Tripadvisor.com

The travel specialists at TheBetterVacation.com use only high-quality sources while researching & writing their articles. We make every attempt to keep our content current, reliable and trustworthy.
Popular attractions in London