If you are unable to choose between Windsor Castle and Buckingham Palace, you aren't alone.
Many tourists, especially those on a budget holiday or those with only a few days in London, face this dilemma.
Both Windsor Castle and Buckingham Palace are equally fantastic and if you are in London, missing one for the other isn't advisable.
They both offer a totally different experience to the visitor.
In this article, we first compare the two attractions on numerous parameters and then provide our recommendation.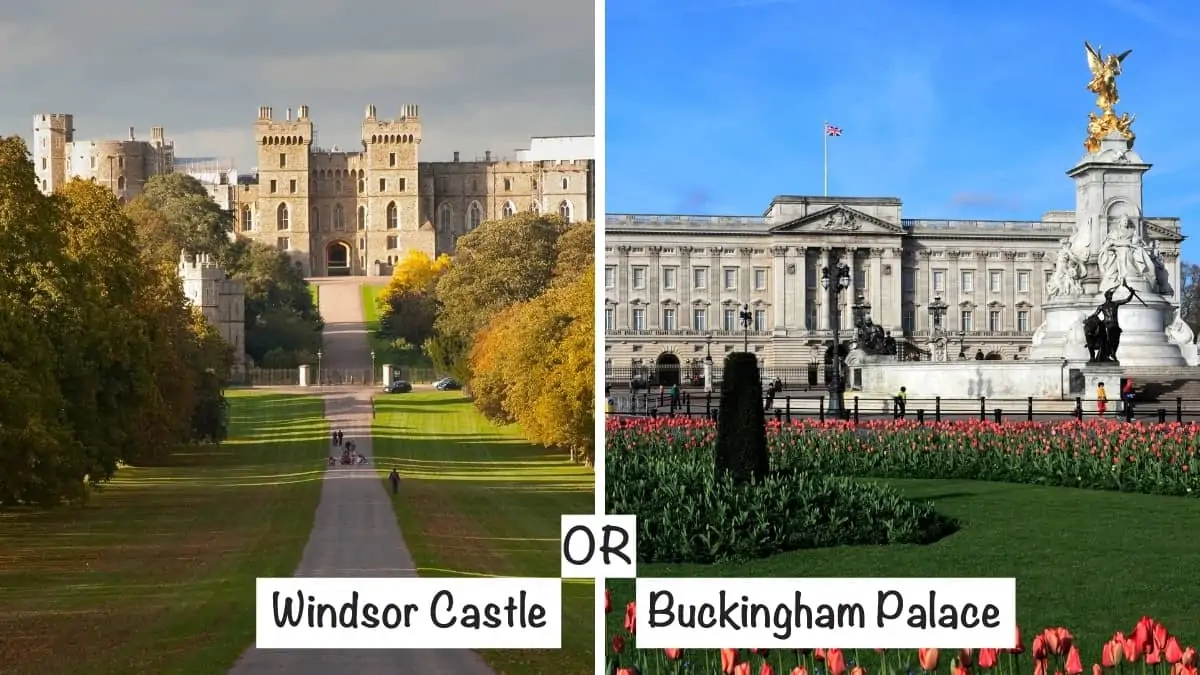 Till some time back there was no one tour which could help you explore both the attractions in one day.
However, now you can book the Buckingham Palace and Windsor Castle combo tour and see both the landmarks on the same day.
We explain the tour below.
Windsor Castle and Buckingham Palace
This 7.5 hours tour starts at 7.45 am, and visitors get to see both official residences of the Queen of England.
First you visit Windsor Castle, marvel at the splendor of St. George's Chapel, and see the great State Apartments.
The next stop is Windsor Town, where you explore around a bit and stop for lunch.
The group then heads to Buckingham Palace, the official London residence of the Queen.
Once the insides of the Palace is explored, you walk along the south side of the Royal Garden and take in the picturesque 19th-century lake.
The tour operator handles transportation.
Tour price
Adult Ticket (17 to 59 years): £127
Child Ticket (3 to 16 years): £117
Senior Ticket (60+ years): £124
Infant Ticket (up to 2 years): Free
If you prefer a slightly longer tour, check this out.
---
---
Windsor Castle vs Buckingham Palace
In this section, we compare both the official residences of the Queen of England on a few parameters.
Location of the attractions
Buckingham Palace is in London while Windsor Castle is outside the city.
Buckingham Palace is the London residence and administrative HQ of the monarch of the United Kingdom.
It is in Westminster, close to other tourist attractions such as Trafalgar Square, Westminster Abbey, Big Ben, etc. Get Directions
Windsor Castle is the royal residence in the English county of Berkshire.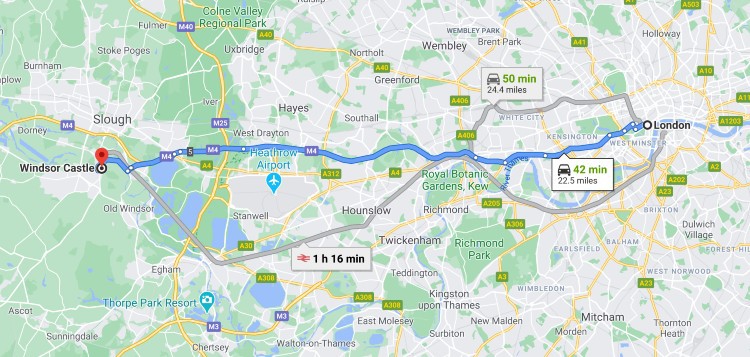 Windsor Castle is 35 km (22 miles) from London, and the distance gets covered in 40 to 45 minutes.
That is why Windsor Castle tours including transport, are popular.
Age of the attractions
Both Windsor Castle and Buckingham Palace are royal residences, with lots of State Apartments to explore and exhibits to see.
However, Windsor Castle is much more historical. It was built in the 11th century, making it a 1000-year-old structure.
The principal facade of Buckingham Palace (what you now see) was completed in 1850, making it a 170-year-old building.
Both the attractions also have beautiful gardens and parks.
When they are open for visitors
Tourists can visit Windsor Castle all through the year, while Buckingham Palace allows visitors into the State Rooms only from July to October – when the Queen is not in residence. 
However, the Queen's Gallery and The Royal Mews at Buckingham Palace are open throughout the year.
Tripadvisor ratings
Both Buckingham Palace and Windsor Castle have a 4.5/5 rating on Tripadvisor.
Both of them are Tripadvisor's Travelers Choice winners for 2020.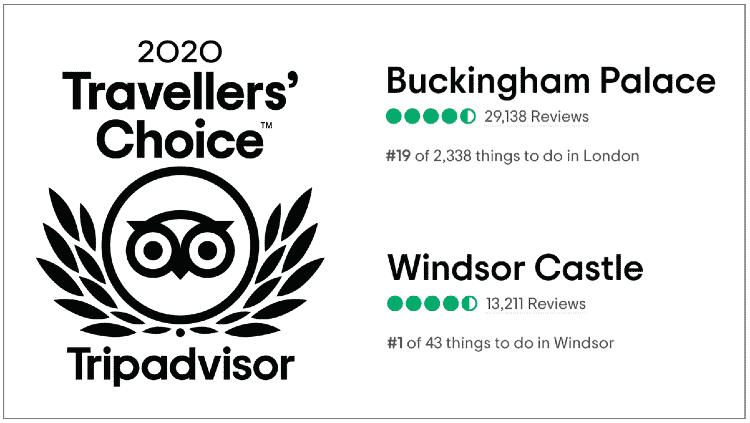 Buckingham Palace is way ahead with 29 thousand traveler reviews on Tripadvisor, while Windsor Castle has about 13 thousand reviews. 
However, these numbers don't do justice because Buckingham Palace is within the city and is accessible to every tourist in London, whereas Windsor Castle needs an additional effort.
Type of visitors
According to Tripadvisor, both Buckingham Palace and Windsor Castle have a similar visitor break up. Well, almost.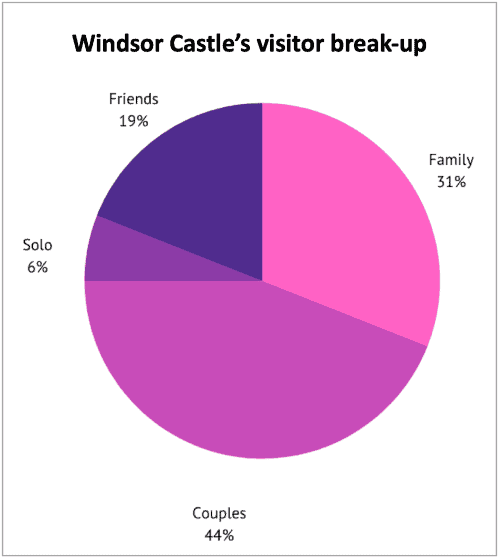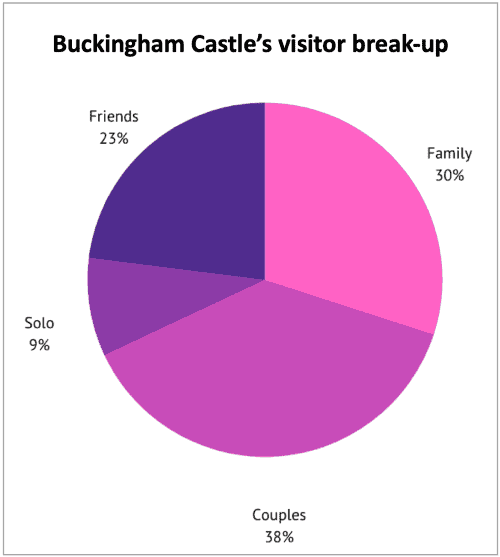 Around 44% of the visitors to Windsor and 38% of visitors to Buckingham are couples.
Around 30% of all visitors to both the attractions are families.
Free with London Pass
Entry to Windsor Castle is free with London Pass.
You can show your London Pass at the entrance and walk in to explore the oldest and largest occupied castle in the world.
Unfortunately, free access to Buckingham Palace is not part of the London Pass.
---
---
Our recommendation
If you are in London for an extended holiday, and the budget isn't a problem, it is better to book a combo tour of both attractions.
If you are limited by time or budget, we suggest you book a Windsor Castle tour, which includes transport from London.
You can always squeeze in Buckingham Palace's Change of Guard ceremony free of cost.
Find a spot on the steps of Victoria Memorial (outside Buckingham Palace) by 10.30 am and watch the show from an elevated level. The ceremony starts at 10.45 am.
---
---
Tours to Windsor Castle
In this section, we share the different ways you can experience Windsor Castle.
If you are a seasoned traveler and can manage your transport from London to Windsor, we suggest you purchase the Windsor Castle admission ticket.
If you don't want the hassle of arranging your transport from London to Windsor, you can book the half-day Windsor Castle tour from London.
Tourists who want to stretch themselves a bit opt for the Windsor Castle and Stonehenge tour. Stonehenge is 110 km (70 miles) from the castle.
Since they are anyway stepping out of London, most visitors make it a full day trip. Some of the popular full-day trips out of London are –
---
---
Tours to Buckingham Palace
Some of the Buckingham Palace tours, such as the Royal Mews Entrance and the Queen's Gallery Entrance, are available all through the year.
If you are visiting London during the summer months of July to October, you can choose from the State Rooms Entrance Tickets or the Changing of Guard & Buckingham Palace Tour.
If you don't have much time, opt for the Changing of the Guard experience.
Follow the link if you want to do one better and walk alongside the Queen's guards.
Popular attractions in London
Sources

# Tripadvisor.in
# Quora.com
# Outlookindia.com
# Audleytravel.com

The travel specialists at TheBetterVacation.com use only high-quality sources while researching & writing their articles. We make every attempt to keep our content current, reliable and trustworthy.