The Seine is one of the famous rivers of France that flows directly past Paris.
Since all the major tourist attractions are located close to the shore of the Seine, numerous travel agencies offer riverboat services to tourists looking for a unique experience.
They all come with different activities and facilities; you only have to book the most convenient option and have a wonderful time.
With so many companies offering Seine River Cruises, selecting one requires the assistance of an expert.
That's what we'll try to accomplish in this article—assist you in choosing a Seine River Cruise in Paris.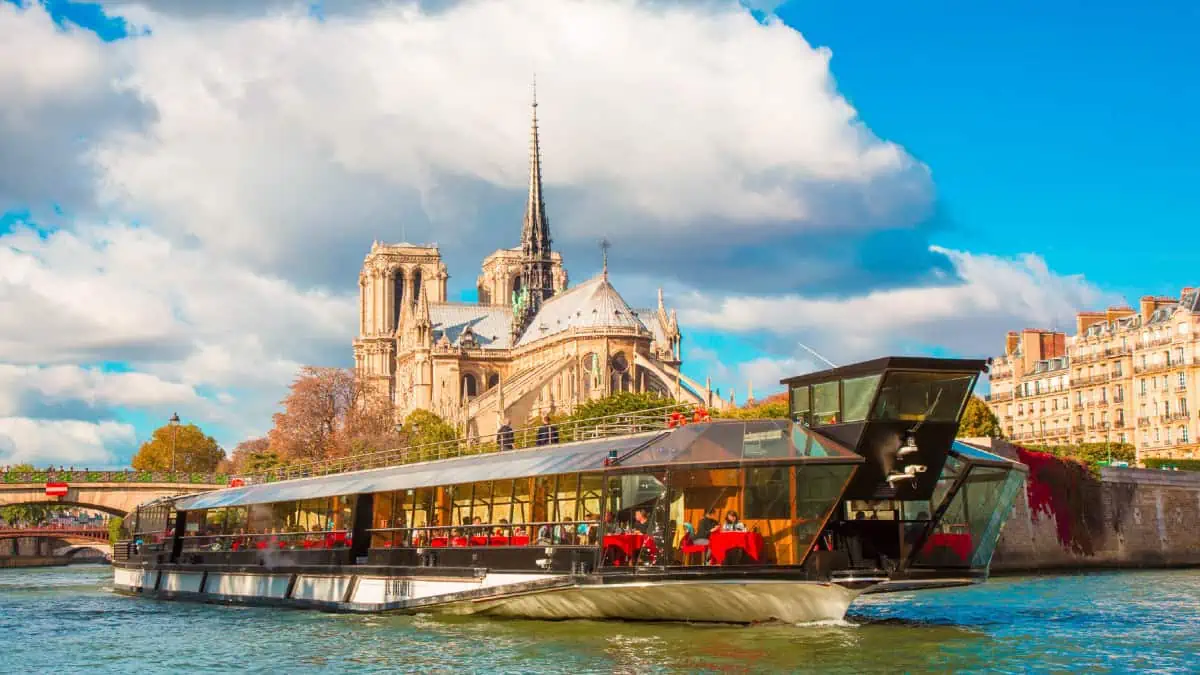 Top 5 Seine River Cruises
There are so many Seine River Cruises available; each one is unique from one another.
Some are for lunch, some for dinner, and some for sightseeing.
You have to choose the right one based on your preferences.
The top five are mentioned below based on their rating and customer reviews.
The Tickets are available online and offline, but considering their increasing popularity, booking your tickets online in advance would be better so that you can experience everything.
With tickets for a Seine River Hop on Hop off Cruise, you can double the enjoyment during your trip to Paris.
What to Expect from the Seine River Cruises
While traveling to Paris, you can take a River Seine boat to experience Paris from a fresh angle.
Set sail on a roundtrip River Seine tour that departs from the base of the Eiffel Tower.
Listen to commentary about Paris in multiple languages and the sights you pass by as you cruise beneath the bridges of Paris and take in the sequence of stunning monuments that line the waterway.
The Eiffel Tower, Notre Dame, Hotel de Ville, The Louvre, and more are among the sights you can see while on your voyage.
Enjoy a ride on the River Seine during the day or at night to see breathtaking views of Paris lit up against the sky and try delicious Parisian food for lunch or dinner.
---
---
Cruising Under the Bridges of Paris
Cruising Under the Bridges of Paris on the Seine River, especially at night, is a unique experience.
Some of them are mentioned below in detail.
Night River Cruise On The Seine With Waffle Tasting
See the City Of Lights's monuments lit up at night.
Float down the Seine, one of France's most well-known rivers.
See the Orsay Museum, Notre Dame Cathedral, and the Louvre.
As you go on and off your tour boat, look up at the Eiffel Tower as it sparkles.
Before or after your trip, treat yourself to a delicious waffle right in front of the boat.
Ticket Price
Adult ticket (12+ years): €24
Child ticket (4 to 11 years): €18
Infant ticket (up to 3 years): €5
Seine River Panoramic Dinner Cruise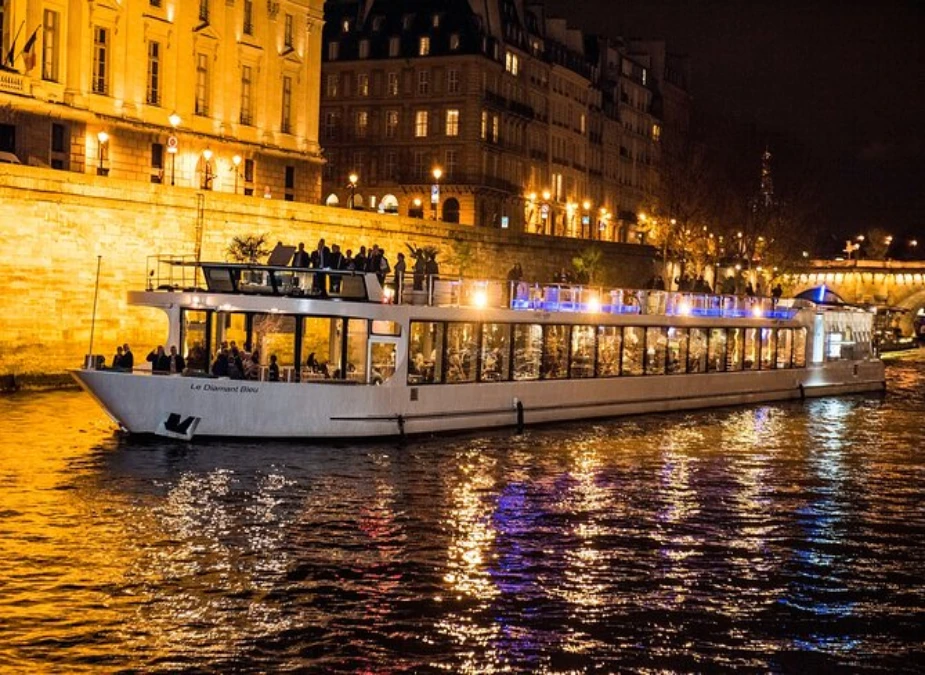 On board, savor freshly prepared meals.
Enjoy the scenery from the upper deck's panoramic terrace.
Unwind in the salon's regulated temperature.
Ticket Price
Adult ticket (13+ years): €59
Child ticket (Up to 12 years): €35
Seine Cruise & Crepe Tasting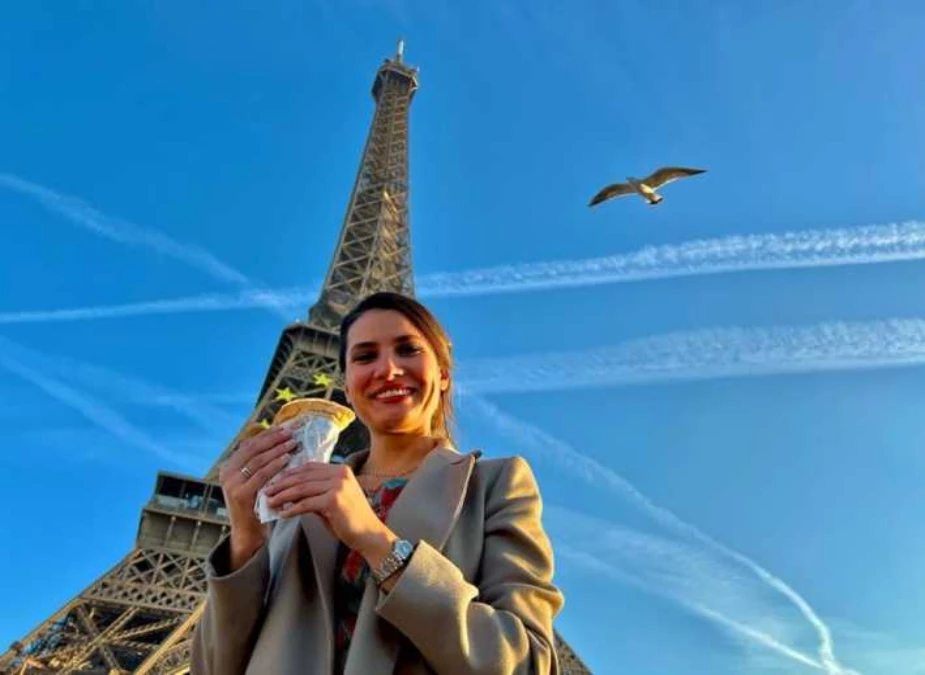 Relax while seeing landmarks like the Louvre Museum and Notre Dame.
Enjoy hourly departures all day long.
At the base of the Eiffel Tower, indulge in a mouthwatering French pancake.
Choose from crepes with jam, whipped cream, chocolate, sugar, or lemon.
Ticket Price
Adult ticket (12+ years): €24
Child ticket (4 to 11 years): €17
Infant ticket (up to 3 years): €5
The Louvre Museum and Seine River Cruise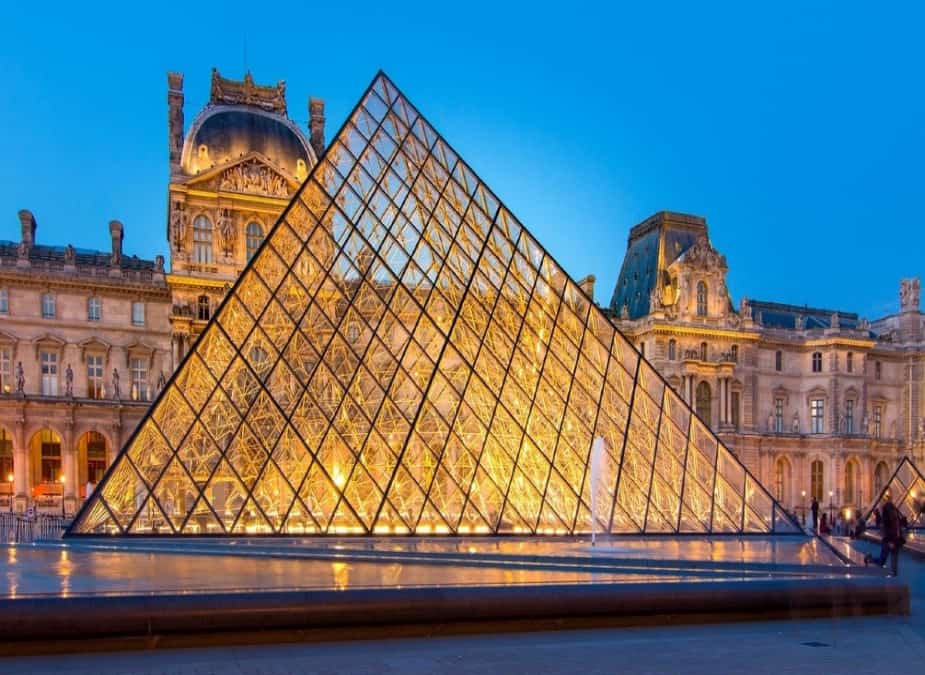 See the valuable items housed within the Louvre, the largest museum in the world.
See iconic works of art, including the Mona Lisa and the Venus de Milo.
See famous structures like the Eiffel Tower and Notre Dame from the ocean.
Cruise along the Seine while listening to your audio guide's knowledgeable remarks.
Be astounded by the enormous art collections spread across the Louvre's three wings.
Ticket Price
Ticket price (4+ years): €40
Infants aged three and younger are not permitted.
Evening Cruise with Dinner on River Seine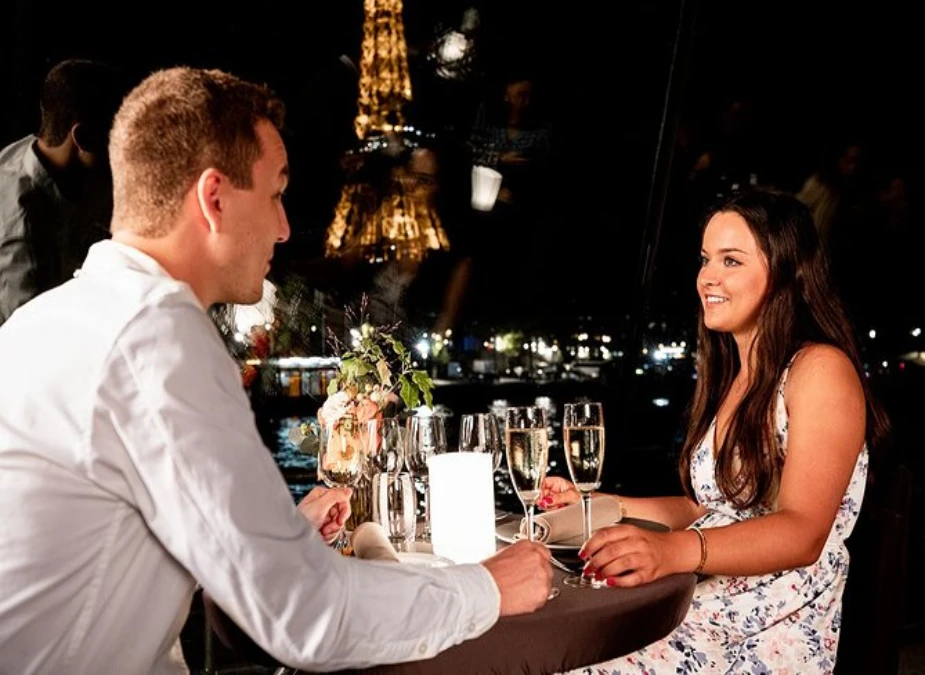 Take advantage of an all-inclusive supper from the menu.
On a boat made entirely of glass, take in the panoramic views of Paris as it is lit up at night.
See renowned landmarks like the Eiffel Tower and Louvre Museum as you cruise by
See a few of the River Seine's historic quays.
Enter a welcoming setting with live entertainment.
Ticket Price
Adult ticket (12+ years): €109
Child ticket (Up to 11 years): €34
Different types of Cruises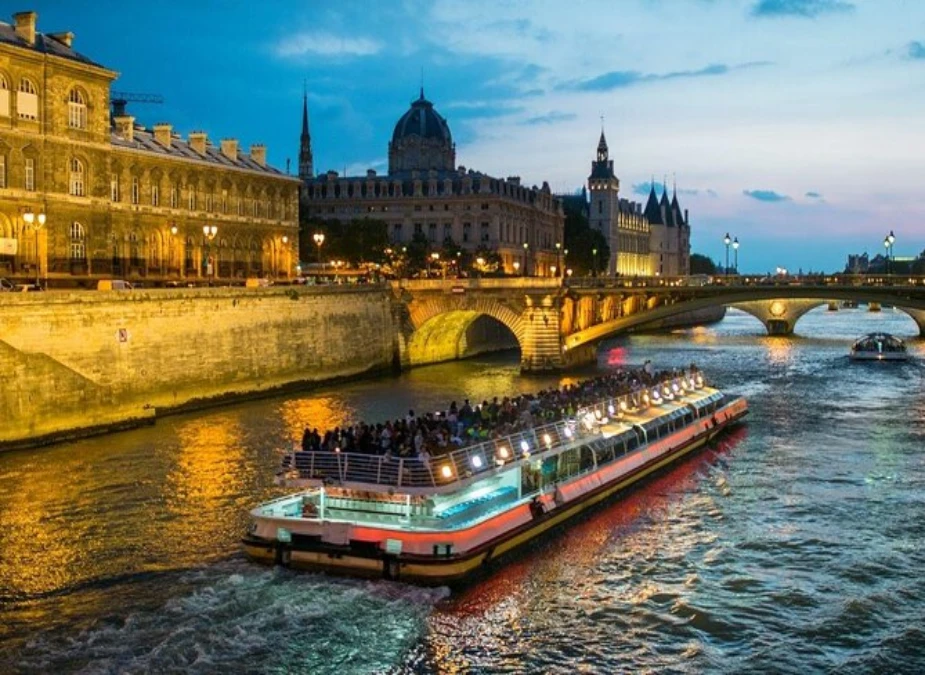 Many cruises are available on the Seine River; you can choose whatever package you want, depending on your itinerary.
The most popular ones are as follows.
Lunch Cruise
You may enjoy French food while taking a tour of the Seine River with the help of the Seine River Lunch Cruise.
While you dine elegantly on the Restaurant cruise, live music is played in the background to elevate your mood.
The dress code is informal, and tables are available for groups of two to 10 individuals.
At the boarding point, which is at the base of the Eiffel Tower, everyone must be seated by 12.30 pm.
Around 12.45 pm, the two-hour lunch cruise departs.
The Etoile Service, Privilege Service, or Premier Service are your only options.
You can order any starter, main dish, and dessert with the Etoile Service.
The Privilege Service includes an appetizer, a main course, a dessert, a cheese plate, and vintage wine.
Premium Service also receives a table at the front of the boat, a complimentary glass of Champagne, and everything else listed above.
You can book your tickets for the Seine Lunch Cruise.
Dinner Cruise
Two and a half hours are spent on the magnificent Seine River Dinner Cruise.
Shorts are not permitted, but the dress code for this superb dining and gourmet cruise is casual.
A live vocalist and band play modern French favorites as you indulge in your French meal and wine.
You will sail down the south bank of the River Seine on this voyage before turning around Notre Dame and returning along the north bank.
Due to its extensive meal, this is known as the Gourmet Dinner Cruise.
Add a 3-course meal to your trip with optional extras like Champagne, other aperitifs, and priority seating.
With your mouth full of delectable food and beverages and your eyes full of awe, dock back at your starting place.
You can also choose any service among the four services available to you.
Tickets are available on Evening Cruise with Dinner on River Seine.
Recommended Reading:
# Seine River Cruise at Night
# Bateaux Parisiens Seine river Gourmet dinner
Premier Service
Exclusive seats in the boat's front.
Dessert, a glass of Champagne as an aperitif patience + an appetizer, a main dinner, cheese, a dessert of your choosing + a bottle of each red and white wine for four people, and patience.
Privileged Services
Preferential placement by the windows.
A bottle of red wine + a bottle of white wine, and a glass of champagne for an aperitif, a starter + a main dish, cheese, and a dessert of your choice, all included for four people.
Decouvert service
Sweeping panorama.
A bottle of red or white wine for four people + a glass of champagne as an aperitif, an appetizer, a main dish, + a dessert of your choice.
Etoile service
Seating in the middle of the boat + a starter, a main dish, a dessert of your choice, + a glass of Kir white wine as an aperitif.
Four people need one bottle of red or white wine, and vegetarian options are available for those who are vegan or don't eat non-vegetarian food.
Children's Menu
A separate menu is available only for children.
They serve Salmon mille-feuille with leek compote as a starter, Chicken supreme with mashed potatoes for the main course, and Chocolate finger cake for dessert.
Sightseeing Cruise
Visitors can have one hour on a cruise boat with this sightseeing cruise on the Seine ticket.
Many people think this Seine sightseeing cruise is the best option available and is one of the best ways to take in the city's landmarks.
It is a practical choice because the departure site is right underneath the Eiffel Tower.
You can go on the trip at any time of the day with this ticket because the boats depart once every half hour.
Twelve different languages are included in the audio tour, and there is also an attendant/guide on board in case you have any queries.
You can book your tickets for the Sightseeing Cruise on the Seine.
Find out everything about the Eiffel Tower and Seine River Cruise.
---
---
List of the Different Kinds of Cruises
Take a unique boat to tour Paris's central area with your friends and family with Private Seine River Cruisea.
Things to Remember
Before boarding the cruise, you need to remember a few things.
– Please be aware that no matter what type of cruise you book, the dress code will always be smart casual.
– To ensure your safety and security, you may be asked to open your bags and suitcases before boarding the boat, so pack appropriately.
– Please note that vegetarian menu items are offered by request, and the sample menu may change after a few days.
– Over 15 guests must pre-order the main meal at least one week before the event; email your tour partner all pertinent details.
– Please remember to get to the boarding gate 30 minutes before the cruise activity starts.
Best Seine River Cruise Review
Seine River Cruise is a well-liked tourist destination on Tripadvisor with a score of 4.5.
Check out the two reviews we chose for the Best Seine River Cruise to understand what to expect.
Highlight of our trip to Paris!
This was a 10/10 experience. Our party of 4 all agreed that this was the highlight of our trip to Paris. The food, ambiance and service was outstanding. The singer was absolutely amazing and set the mood for the entire evening. High recommend this tour! Kelly R
Beautiful experience!
Review of: Bateaux Parisiens Seine River Gourmet Dinner & Sightseeing Cruise
Excellent experience! We went for my daughter 20th birthday , it was a blast. Nice music live, good food, excellent service ! wasdaniela, London.