The Seine River in northern France spans 777 kilometers (483 miles).
The River Seine crosses 37 bridges in Paris, the two most well-known of which are the Pont Alexandre III and Pont Neuf.
The River travels via Paris before entering the English Channel in Le Havre (and Honfleur on the left bank) in northeastern France.
The Eiffel Tower, Notre Dame Cathedral, and the Louvre Museum may all be seen from the Seine River, which flows through the city's center.
Because of this, a Seine River Lunch Cruise is the best way to discover Paris.
These Seine River lunch cruises let you enjoy the city's lit monuments while dining on French cuisine and listening to live music.
Due to the abundance of companies offering different cruise types with a wide range of amenities and advantages, selecting the finest lunch cruise might take a lot of work.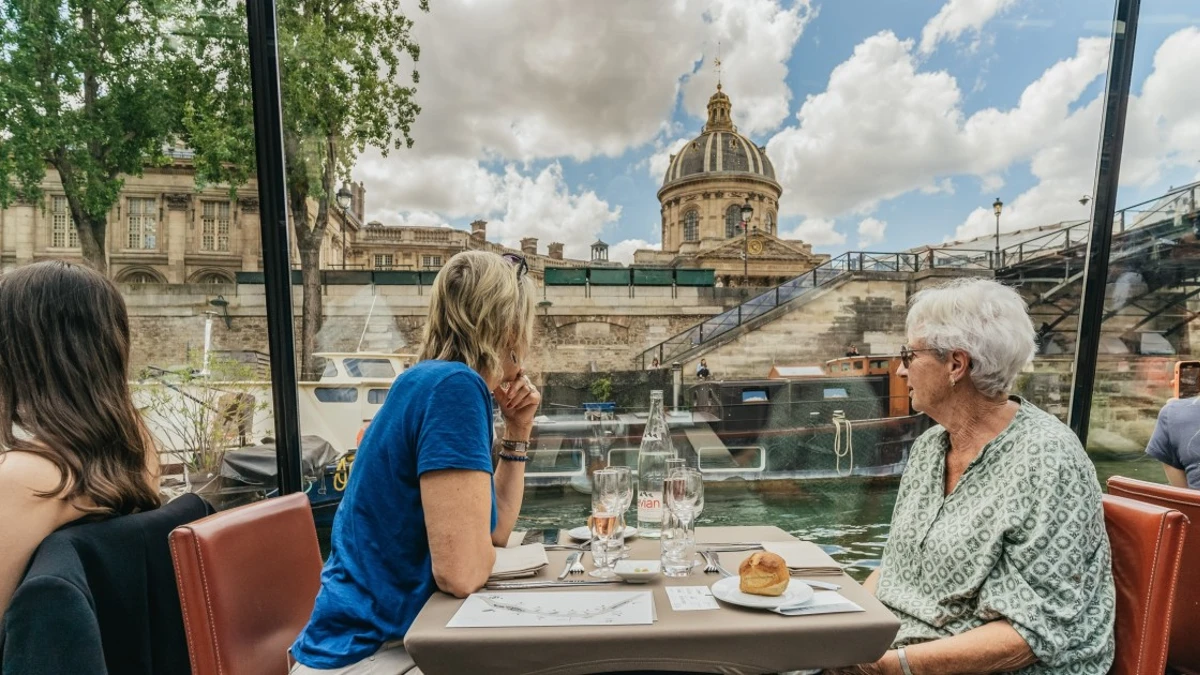 What to Expect on the Seine River Lunch Cruise
A special and intimate way to see the lovely city of Paris is on a Seine River lunch cruise.
To give customers a special experience, travel agencies put a lot of effort into setting up various forms of entertainment.
The two main cruises are restaurant and sightseeing, and guests can select whichever one they like most.
The restaurant boats are where the Seine River night cruise passes, so you can eat real Parisian food and enjoy the scenery.
However, if you select a sightseeing cruise, you can take your loved ones, friends, or significant others to all the neighboring places.
Best Seine River Lunch Cruises
You have various choices regarding The Seine River Lunch Cruise packages, some of which are shown below.
Many tourists to the city consider the Seine River Cruise a must-do activity since it offers a terrific opportunity to view Paris's top attractions from a distinctive vantage point.
Book your tickets in advance to be a part of this experience.
Recommended Reading:
# Best Seine River Cruise
# Private Seine River Cruisea

Take a unique boat tour to Paris's central area with your friends and family with Seine River Cruise with dinner and Eiffel Tower and Seine River Cruise.
---
---
Types of Seine River Lunch Cruises
Many lunch cruises are available on the Seine River; some are mentioned below.
Lunch Cruise on the Seine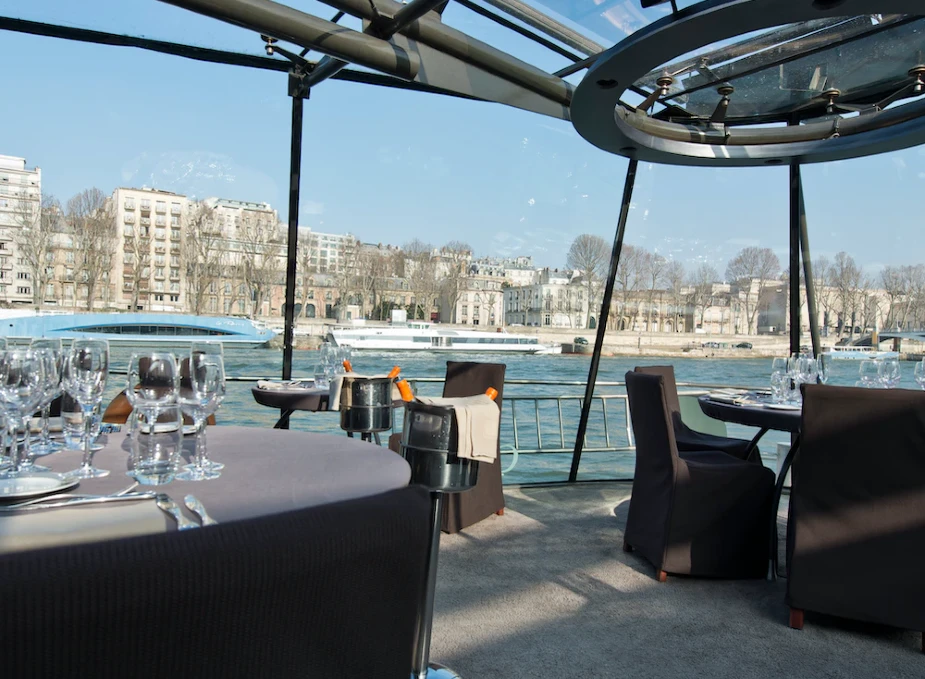 Take a new approach to lunch in Paris and cruise the Seine to take in the sights.
Select from three delectable lunch selections, all presented with fantastic live music.
Discover the Sainte-Chapelle, Notre Dame Cathedral, and more!
This delightful boat is a wonderful opportunity to take lunch a little differently while viewing lovely Paris from the Seine.
Pick one of three lunch choices. Live music, the finest in French hospitality, and of course, those breathtaking city views are all included with each meal.
On your cruise, you can select from three cuisines.
Etoile Service
If you select the Etoile Service, you will receive a kir as an aperitif, a starter, a main dish, a dessert, and one bottle of wine for four people.
Privilege Service
If you select the Privilege Service, you will receive two bottles of table wine in addition to the most exceptional views from a window seat, a cheese selection, and great wines to pair with your appetizer, entrée, and dessert.
Premier Service
Choose the Premier Service and get a more private table at the front of the boat, a welcome glass of champagne, your choice of starter, a main, a cheese, and a dessert, plus a selection of wines with your courses and two bottles of table wine.
Ticket prices
Adult ticket (12+ years): €69
Child ticket (Up to 11 years): €34
Eiffel 2nd Floor Access & Lunch at Madame Brasserie & Cruise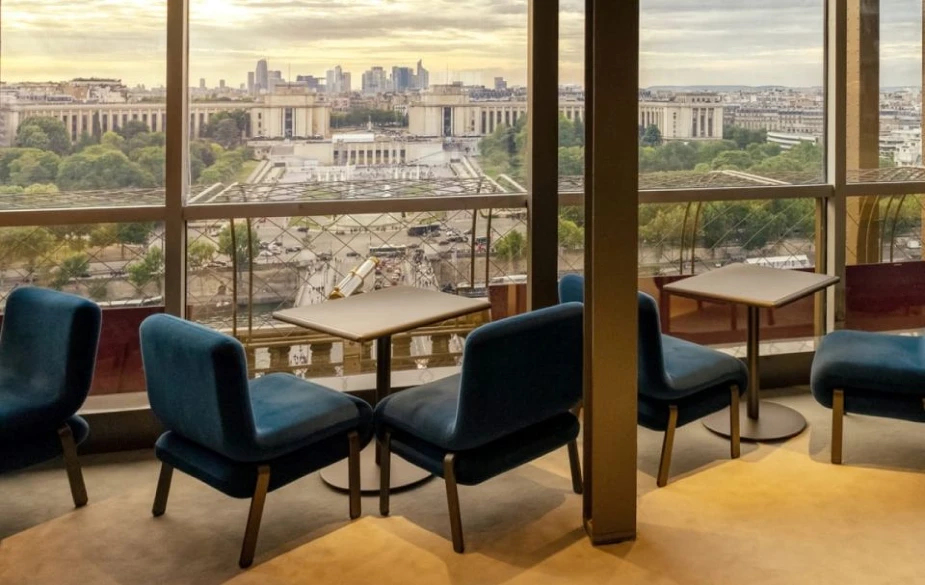 Take advantage of special access to the Eiffel Tower's second floor.
Enjoy lunch at Madame Brasserie while admiring the stunning views of Paris. Sail along the Seine and take in the city's famous monuments.
With a priority-access ticket, start your visit to the Eiffel Tower from the second floor and finish with a delectable 3-course supper at Madame Brasserie with breathtaking views.
Take a 1-hour Seine River cruise to round out your journey.
You will be met at the meeting location and escorted to the ticket kiosk by your guide.
Your tour guide will provide information about the Eiffel Tower as you wait to get your tickets.
Following your visit to the Eiffel Tower, you will embark on a 1-hour Seine River Cruise.
Up until the expiration date listed on the cruise ticket, you may take this cruise whenever you like during your stay. A daylight or nighttime expedition is available.
Witness the splendor of the riverbanks on the Unesco World Heritage List and famous Parisian sites like Notre-Dame de Paris, the Eiffel Tower, Les Invalides, the Louvre, and other imposing bridges.
Onboard, fascinating audio comments are being delivered in various languages.
Ticket Prices
Adult ticket (13+ years): €157
Child ticket (4 to 12 years): €142
3-Course Lunch Cruise on the River Seine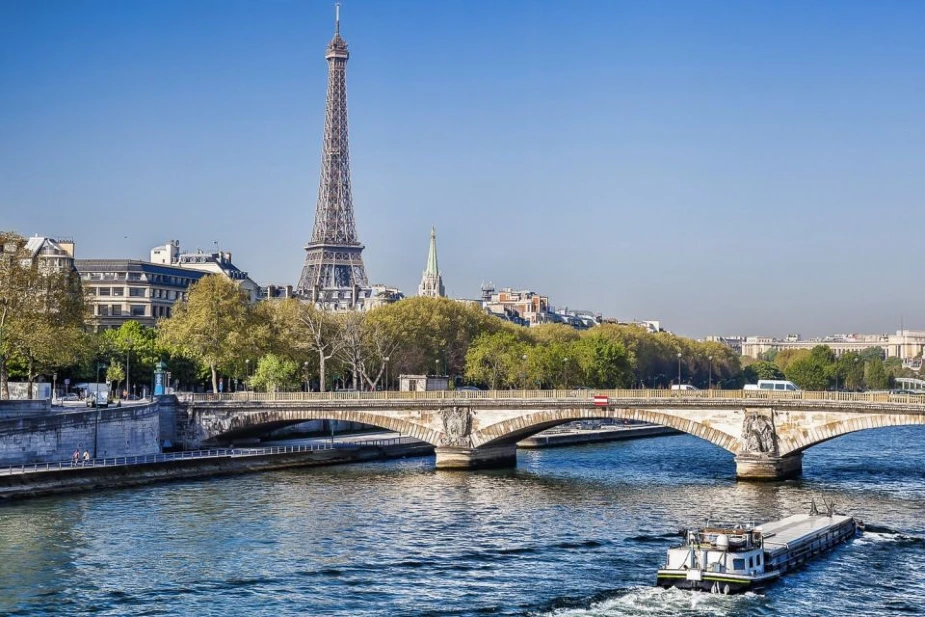 While the sun is out, float down the River Seine.
Enjoy traditional cuisine with a choice of starters and a main dish.
View famous structures, including the Eiffel Tower, the Louvre, and Notre Dame.
Enjoy a variety of fine pastries with your coffee.
Sail past the Gothic Notre Dame church and beneath the Pont Neuf.
At lunchtime, take a glass-enclosed boat down the River Seine and take in the expansive sights of Paris.
As you board the vessel at Port Solferino on the Quai Anatole France, you'll be treated to a delectable three-course lunch as you sail past some of the city's most iconic sights, like the elaborate façade of the Musée d'Orsay in the old Gare d'Orsay, a Beaux-Arts train station.
View the Gothic façade of Notre Dame as you pass the iron-lattice Eiffel Tower.
Pass the majestic Louvre Museum building, awe at the ornate French National Assembly structure, and travel beneath the spectacular Pont Neuf.
A range of starters, your pick of a main dish, a selection of gourmet desserts, and coffee will all be served to you along the route. To continue your independent exploration of Paris, go back to Port Solferino.
Starter of choice:
Green gazpacho, cucumber, zucchini, spinach, vegetable meli melo, or Duck Foie Gras, return from the harvest, red fruit chutney, tonka bean tuile, or Smoked salmon, lime powder, tomato tartar, artichokes, sour beets.
The Main course of choice:
Yellow poultry supreme, zucchini gratin, colored carrots, lemon basil sauce or Fillet of sea bream, creamy spelled with peas, shellfish sauce with tarragon, vegetables from our orchards or Piece of Beef, zucchini gratin, small spleens, Southern condiment (+ 7€) Artichoke tartar, split pea velouté, eggplant chips
Dessert
Crispy fresh lemon fingers dipped in raspberry chou, lychee, rose, chocolate puck, wild berry coulis, or all-chocolate rock with hazelnut chips.
Ticket Prices
Adult ticket (12+ years): €85
Child ticket (2 to 11 years): €40
Infant ticket (Up to 1 year): Free Entry
Recommended Reading: Bateaux Parisiens Seine river Gourmet dinner
---
---
River Seine Lunch Cruise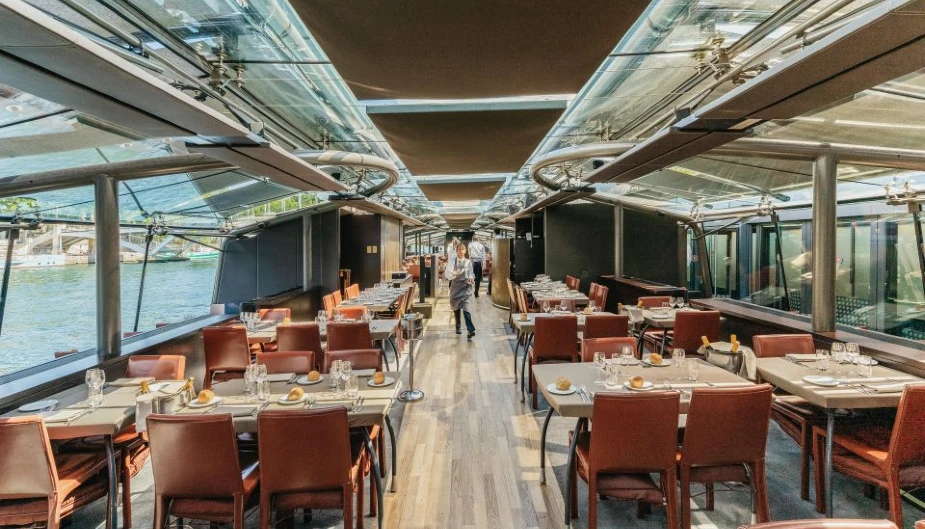 Enjoy a three-course, all-inclusive à-la-carte lunch.
Enjoy sweeping views of Paris while sailing on a glass-enclosed boat.
Pass iconic sites like the Notre Dame and the Eiffel Tower as you cruise by
View some of the River Seine's famous quays.
Meet your host at the Port de la Bourdonnais in Paris to board the Cruise.
As you float along the river in style, take a seat, kick back, unwind, and enjoy the trip and listen to the crew members' commentary as you do so.
As the cooks prepare your lunch, inhale the enticing aroma from the kitchen.
Depending on your book option, you will be given the premier, privilege, or etoile service package.
If you feel full, you can relax, sip some tea or coffee, and take in the scenery; discover a new side of Paris while marveling at the Musée d'Orsay's former Beaux-Arts train station.
From the glass boat, take in the expansive vistas, and take pictures of the opulent French Parliament buildings, the golden dome of Les Invalides, and the National Library of France.
Ticket Prices
Adult ticket (12+ years): €69
Child ticket (up to 11 years): €34
Seine River Lunch Cruise with 3-Course Gourmet Meal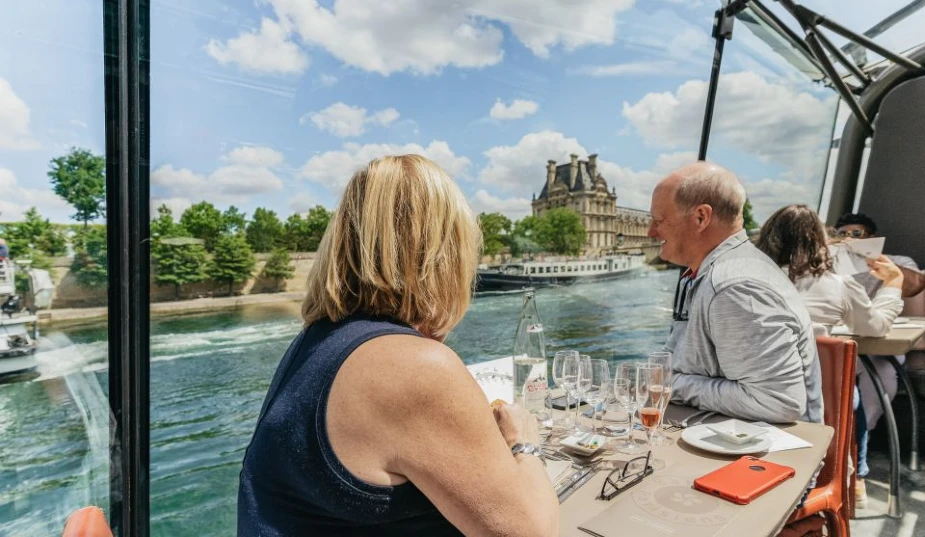 While traveling by Paris's well-known landmarks, have lunch.
Enjoy a French dinner as famous landmarks like the Eiffel Tower and Notre Dame Cathedral pass by your window.
Choose the Romantic package to enjoy a meal and a drink of champagne while sailing the Seine.
Enjoy stunning views, fantastic service, and delectable food while traveling along the Paris Seine boat La Marina.
There is no better way to view the iconic buildings that line the banks of the Seine than from the water.
You may take in the classic views of Paris while dining on a lavish three-course meal during this lunch cruise.
Ticket Prices
Adult ticket (12+ years): €66
Child ticket (3 to 11 years): €40
Lunch Cruise by Bateaux Mouches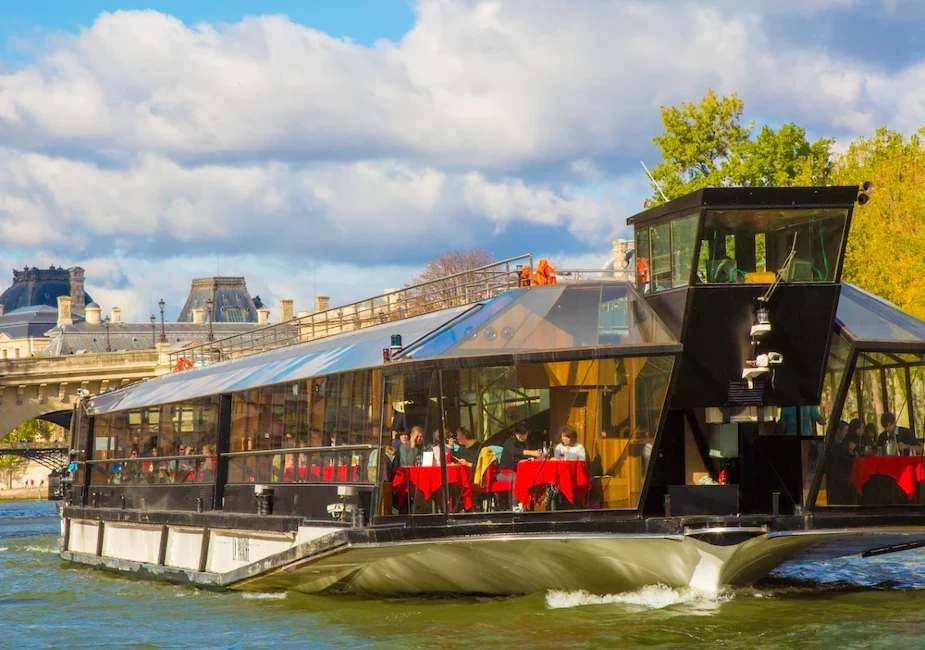 Enjoy a wonderful supper while cruising around Paris's ancient center.
Onboard, savor a freshly prepared meal with premium French ingredients.
Daytime river cruises allow you to see Paris from the storied Seine River.
Avoid Paris's crowds and busy streets and observe its iconic sites from the water.
Join Bateaux Mouches and set off on the magnificent Seine with tickets for a day river cruise around Paris, which includes a delectable lunch served onboard.
You will join one of the restaurant boats and cruise around the center of old Paris while dressed to the nines.
You can enjoy the exquisite French cuisine on the lunch menu while watching Paris pass by.
Both native Parisians and tourists find a river boat down the Seine to be alluring since it offers an entirely different perspective of the stunning city.
Ticket Prices
Adult ticket (13+ years): €80
Child ticket (4 to 12 years): €39
Seine River Hop on Hop off Cruise gives you a different viewpoint on the city's breathtaking 360-degree panoramas of the monuments for fantastic photo ops and enjoying many stops at all the iconic Parisian sites.
---
---
Things to Remember
Before booking the Seine River Lunch Cruise, people must remember the following things.
– A passport or ID card is required.
– Pets (assistance dogs permitted), heavy bags or luggage, and smoking are prohibited.
– You might have to wait in a queue for security and the lifts even if you have priority access.
– This is not a tour that is led; you are just accompanied by the guide to the tower's entrance; during operational hours, you can board any boat with your river cruise ticket.
– There are vegetarian options available.
– A sample of the type of food offered is shown on the menu.
– For groups larger than 15, a main course pre-order must be placed at least one week before the lunch reservation; send your tour partner an email with all pertinent details.
– The cruise has a casual dress; sports shoes, sportswear, and shorts are prohibited; as long as they are dark, sports shoes are ok.
–The meeting place must be reached at least 20 minutes before departure, and latecomers won't be held waiting.
Popular attractions in Paris