If you can afford it, a private tour of Louvre Museum is the best way to explore the world's best art collection.
Private tours of the Louvre Museum can offer a more personalized and intimate experience for visitors who want to delve deeper into the museum's collection and history.
These tours are typically led by an expert guide who can provide insights and context for the works on display, answer questions and provide additional information.
But before we explain the private guided tours of the art gallery any further, let's first look at all the different ways you can experience Louvre Museum in Paris.
You can opt for a self-guided tour, a guided tour, or a private guided tour.
Most people book a self-guided tour because of three reasons:
It is the cheapest way to experience the Louvre Museum
They prefer to explore the museum at their own pace
They want to see whatever fancies them and not be stuck to a group
Those that appreciate art better book a guided tour, usually because:
They want a local expert to guide them through the museum
They don't want to miss out on any of the masterpieces
They want to hear historical and artistic commentary about the exhibits from an art expert
For art museums such as The Louvre, we always recommend a guided tour.
Even better if you can book a private guided tour and have the art guide to yourself.
In this article, we share everything you must know before booking your private guided tour of the Louvre Museum.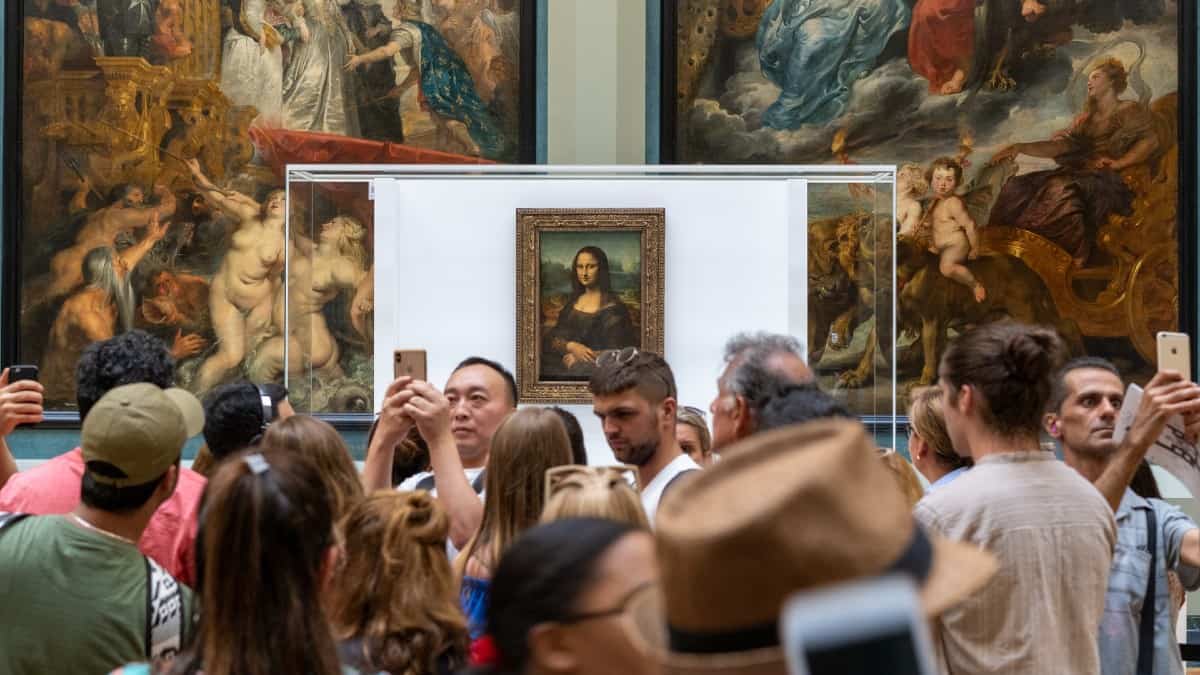 Types of guided tours
Once you have decided to book a guided tour of the Louvre, you have three options.
We have listed them in the order of their cost – the cheapest first.
Regular guided tour
One guide leads a group of about 20-25 people. Everybody in the group gets a headset so that they can hear the guide's commentary.
The cost of regular guided tour for visitors 18 years and above is €75 and visitors aged 10 to years 17 pay a discounted price of €55.
Semi-private guided tour
This tour is also known as a Small Group guided tour and usually has 6 to 10 people. Since the group is small, they can huddle close to the guide and hear his or her every word.
The cost of semi-private guided tour for visitors 18 years above is €69.
The kids aged 11 to 17 years get a discount of €19 and pay on €50.
Children aged 4 to 10 years also get a discount and pay only €35.
Private guided tour
A private guided tour has five or fewer people, all from your family or group. The guide can thus customize the experience. A private guided tour is the best way to experience the Louvre Museum.
The cost of the private guided tour is €450 per group of five members.
---
---
Why book a private tour of Louvre?
Here are the reasons why hiring a private guide is the best way to explore The Louvre.
Skip the line feature of private tours helps you skip the long entry lines and time and energy

With someone who knows their way around the museum taking the lead, you dodge the crowds inside the galleries as well

You hear commentary from an art expert and better understand the historical and artistic significance of the masterpieces

Get your questions answered to your satisfaction by the art expert

Thanks to a local art historian guiding, you have a more structured experience at the massive art museum

Private guides take the age of the group members (and their preferences) and customize the tour accordingly

A private guided tour means you have ultimate control over your Louvre experience. You decide what to see, where to pause, when to stop etc.
Important: When you visit the Louvre Museum for your private tour, please bring your Passport or ID card. Since you will be walking a lot, it makes sense to wear comfortable shoes. Pets and large bags (items exceeding 55x35x20 cm) are not allowed inside the museum.
---
---
Cost of private Louvre Museum tours
Private guided tours to the Louvre Museum are usually priced for groups of five or six visitors.
If you prefer to book a private guided tour, which includes both the Louvre entry tickets and the art guide's two-hour time, you must shell out approximately €369 Euros for a group of six.
Private tours at night are priced at €145 per person for a maximum of six guests.
If you are a family of four or more, private guided tours to the Louvre make a lot of sense.
But if you are three or less, we recommend a semi-private Louvre tour, which costs €69 for visitors 18 years and above, €50 for kids aged 11 to 17 years and for children aged 4 to 10 years €35.
Visual Story: 16 must-know tips before visiting Louvre Museum
---
---
Best Louvre private tours for adults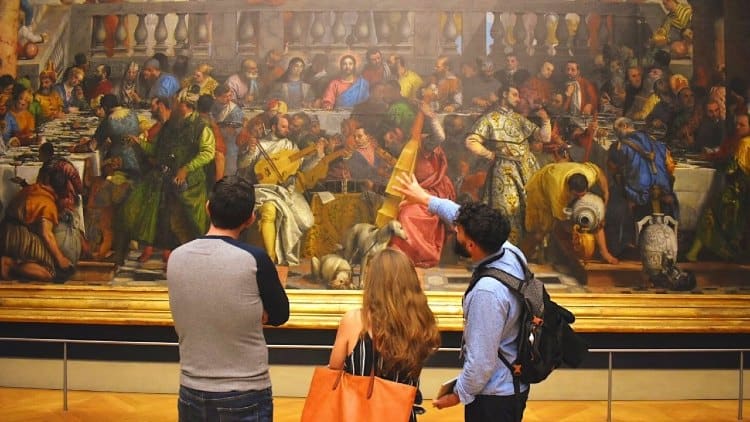 Private guided tours of the Louvre Museum come in many shapes and sizes.
In this section, we share some of the most popular tours –
Daytime private guided tour
Up to six visitors, including kids, can be part of the group during this 90-minute private tour of the Louvre.
They need to be your friends and family.
You see highlights from the vast collection of 35,000 pieces of art displayed in the former royal palace on this tour.
When you book this tour, you only book the art guide's time for yourself. You must still purchase the Louvre admission ticket for your group.
The Louvre entrance fee is €20 per adult. Visitors under 18 years can walk in free but they must obtain a free ticket. Book Louvre entry ticket
This private tour can be canceled 24 hours in advance to receive a full refund.
Tour price: 200 Euros for up to six guests
If you don't want the hassle of booking the Louvre entry tickets and the expert art guide separately, you can either book this two-hour tour or this three-hour extended tour. Both of them include Louvre entry tickets.
Private tour of Louvre at night
This private tour is an excellent opportunity to see the Louvre Museum when it's less frequented and enjoy fantastic evening lighting in the Pyramid and the Galleries.
Visitors can book this night tour only on Fridays because on these days the art museum is open till 9.45 pm.
This VIP Experience at Louvre starts at 6 pm and lasts four hours.
Tour price: €870 for six adults (€145 per person)
Recommended: Follow the link to find out everything about visiting Louvre Museum at night.
Private Louvre scandals tour
This is a private guided tour of the Louvre, but with a twist – the guide takes you on the trail of hidden scandals and controversies behind the world's most famous works of art.
During this tour, the guide takes you through more than a dozen of the world's most well-known works of art, all of which hold secrets and gossip.
This tour starts at noon and, after 90 minutes, ends at Louvre's most controversial piece of art – Mona Lisa.
Tour price
The cost of this private tour depends on the number of members in the group.
Two guests: €500 (€250 per person)
Three guests: €525 (€175 per person)
Four guests: €600 (€150 per person)
Five guests: €625 (€125 per person)
Six guests: €660 (€110 per person
Recommended: Mona Lisa at Louvre Museum is the most popular and controversial painting in the world.
---
---
Private tours for families with kids
Some of the families tend to opt for private tours of the Louvre customized for children.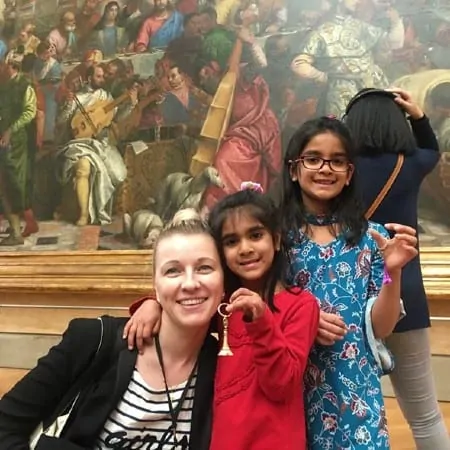 Family-friendly tours are a great way to get your kids interested in art.

The guides hosting such tours are experts in handling both adults and kids and create an informative and playful itinerary.

Image: Paristourswithkids.com
These tours are best suited for kids six years and above.
Kids five years and below can join these tours for free, but it may be challenging to keep them engaged.
Private tour of Louvre for family
A special children's guide with lots of experience hosting families takes you around Louvre.
These guides know precisely how to catch the kids' wavelength and keep them engaged.
This 2-hour long tour starts from Mona Lisa, and then you cover the other highlights of the art Museum.
Tour price: €450 for up to 5 members
Private tour designed for 'detective' kids
This is a two-hour private tour of the Louvre where besides exploring the masterpieces, your expert guide makes your kids play fun games as well.
On this tour exclusively curated for kids, the family members must use their deduction and creativity to answer questions on the museum's exhibits.
The idea is to keep the little detectives in the family captivated while the adults learn about the masterpieces.
Tour price: €400 for up to 6 members (2 above 18 years and 4 below 17 years)
If your family is interested in a treasure hunt within the Louvre, check out this tour.
---
---
Louvre and Musée d'Orsay private tour
During this 5.5 hours private tour, an art expert takes you around two of the most celebrated museums in Paris – the Louvre Museum and Musée d'Orsay.
You discover 3000 years of history just by crossing the bridge between Musée d'Orsay and the Louvre museum.
We recommend comfortable shoes because there is a lot of walking.
Tour price: €900 for up to six guests (€150 per person)
If you want something cheaper, check out this semi-private tour of both the Museums.
If you aren't sure which Parisian art gallery you want to visit, check out our analysis of the Louvre or Musee d'Orsay.
---
---
Semi-private tours of Louvre
If you want the benefits of a private tour, but money is a constraint, a semi-private tour of the Louvre Museum is your next best option.
These tours are also known as small group tours.
Semi-private guided Louvre highlights tour
This is a 90-minutes private guided tour of the Louvre's highlights, after which you are free to explore the rest of the museum at your own pace.
During the tour, the expert local guide will regale you with the art and artists' stories.
Tour price
Adult ticket (18+ years): €69
Kids ticket (11 to 17 years): €50
Child ticket (4 to 10 years): €35
If you want something longer, check out this 3-hour semi-private tour of the Louvre.
Small group Louvre tour + French breakfast
You start this tour of the world's largest art museum with a traditional French breakfast on a café terrace in the Cour Napoleon of the Louvre.
Then you skip the line and enter the museum for your 90 minutes of a fully guided tour.
After the semi-private guide takes his leave, you can hang around for as long as you want.
Tour price
Adult ticket (18+ years): 89.90 Euros
Youth ticket (11 to 17 years): 77.90 Euros
Child ticket (4 to 10 years): 47.90 Euros
Infant ticket (up to 3 years): Free entry
The 'absolute' private tour of Louvre

Family Twist, a Paris-based travel company, specializing in luxury trips to Europe, offers what one can call the 'absolute' private tour of the Louvre.

If you are willing to pay €30,000 (about $34,000), up to four people (your family or friends) can experience the Louvre all alone.

Your group will be the only tourists in the whole museum for about 90 minutes. Find out more
---
---
Free guided tours at Louvre Museum
If the private and semi-private guided tours shared above seem too costly, you can book a regular guided tour of the Louvre.
Standard guided tours are cheaper because the art expert guide manages larger groups.
If a regular guided tour is also out of the question, you can check out the Louvre's free guided tours.
These free tours are offered during the peak summer months – from the first week of July to the third week of September.
Since these tours last 20 minutes, they are also known as the 'Summer mini tours.'
There are eight tours on offer, each hosted by the museum's official guide, who is also happy to answer all your questions.
The eight tours offered are:
Beginnings of the Louvre
Ancient Egypt
Italian masters
Large-scale French paintings
The palace courtyards
The Napoleons
Treasures of the Louvre
Introduction to Islamic art
Free tour timings
Morning: 10 am, 10.30 am, 11 am, 11.30 am
Afternoon: 2 pm, 2.30 pm, 3 pm, 3.30 pm
To join these free tours, you don't need to register in advance. Instead, buy the Louvre entry tickets and be at the museum when the tours start.
Our recommendation
Identify the four theme-based tours you would be interested in, and then reach the museum half an hour in advance.
You can then attend them back to back, starting with the first one at 10 am (or 2 pm).
After one tour is over, you will have 10 minutes to reach the next tour's venue – so keep the museum's layout in mind while planning.
Some tourists visit Eiffel Tower and Louvre Museum on the same day. If you also plan to do the same, follow the links for directions:
– From Eiffel Tower to the Louvre Museum
– From Louvre Museum to Eiffel Tower
Recommended Reading
1. Louvre Museum facts
2. Louvre Glass Pyramid
3. Louvre statues talk funny
Popular attractions in Paris
# Louvre Museum
# Eiffel Tower
# Arc de Triomphe
# Palace of Versailles
# Disneyland Paris
# Musee d'Orsay
# Centre Pompidou
# Notre Dame
# Pantheon
# Sainte Chapelle
# Paris Catacombs
# Opera Garnier
# Montparnasse Tower
# Picasso Museum
# Vincennes Zoo
# Seine River Cruise
# Seine Dinner Cruise