Every day more than 30,000 tourists visit the Louvre Museum in Paris, adding up to 10 million visitors annually.
Of these visitors, at least twenty-five thousand spend more than five minutes in front of Leonardo Da Vinci's Mona Lisa daily.
It is the most famous painting in the Parisian art museum.
This article shares everything you must know about Mona Lisa painting in Louvre Museum before your visit.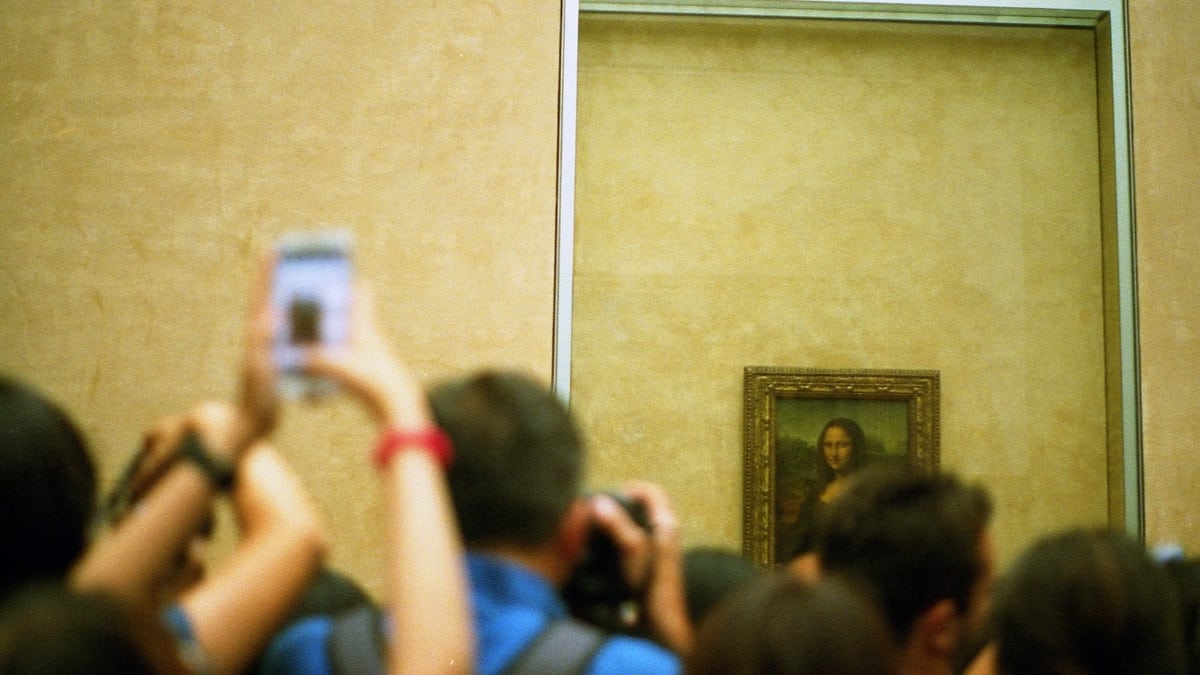 Mona Lisa: What to expect?
Many visitors expect the Mona Lisa painting in Louvre Museum to be a massive painting, but it is a tiny masterpiece.
Its dimensions are 77 cm × 53 cm (30 in × 21 in).
The Louvre Museum has taken great care to preserve and protect the painting; visitors can view it in a specially designed, climate-controlled room.
The painting is behind a thick layer of bulletproof glass, and security measures are in place to ensure its safety.
The glass cover has been a safety precaution since the early 1950s when a visitor poured acid on it.
In 2019, the Louvre Museum placed the portrait behind a transparent bulletproof glass made with the latest technology, making the painting appear closer.
Some visitors get disappointed
Some visitors feel let down when they see Mona Lisa for the first time.
They have seen and heard a lot about the masterpiece (after all, it the most recognizable painting in the world) and are excited about finally seeing Mona Lisa.
But when they enter Room 711 and notice that it is a small painting, kept far away, and because of the security and the crowd, they can't get closer and enjoy the art's nuances they feel disappointed.
However, everyone agrees that Mona Lisa's enigmatic expression is worth seeing in person at least once in their lifetime.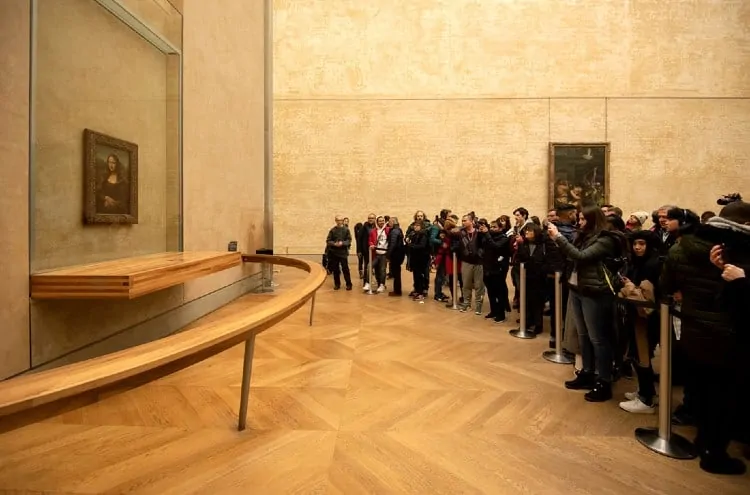 The painting's small size, mysterious smile, and enigmatic subject of the portrait have contributed to its enduring popularity and fame.
We recommend you read this article thoroughly and know everything about Leonardo's masterpiece so that you can appreciate it when it is in front of you.
Visual Story: 16 must-know tips before visiting Louvre Museum
---
---
Louvre Museum Mona Lisa tickets
Many visitors to the Louvre Museum wonder if they need to buy a separate Mona Lisa ticket to see the masterpiece.
Well, no.
The regular Louvre Museum ticket allows you to see all the exhibits on display in the art museum.
If your primary aim of visiting the Louvre Museum is to spend time with Da Vinci's Mona Lisa, it is best to book the Louvre entry ticket, which comes with guidance on Mona Lisa.
If you are an art lover, we recommend the guided tour of the Louvre Museum because of three reasons:
– You don't waste your time trying to find the exhibits
– You don't miss out on any of the masterpieces at The Louvre Museum
– Expert guides share in-depth knowledge, exciting stories, anecdotes, etc. about the artwork
Tourists who want to control every aspect of their visit (such as start time, what to see, when to pause etc) book a private guided tour of Louvre Museum.
If you are visiting with your young ones, we recommend this guided tour customized for children.
---
---
Where is Mona Lisa located
Mona Lisa is in the 'Paintings' section, in the Denon wing of the Louvre.
To see Mona Lisa, you must head to Room 711, 1st floor, Denon Wing.
See the map below to find out where's the Mona Lisa (its exact location) –
Since Denon Wing has some of the most famous Louvre Museum exhibits, it attracts most tourists.
Besides Mona Lisa, you will find two other brilliant paintings, Jacques-Louis David's 'The Coronation of Napoleon' and Delacroix's 'Liberty Leading the People' on the first floor, Denon Wing.
On the same floor, you must not miss three sculptures – Antonio Canova's 'Psyche Revived by the Kiss of Love,' Michelangelo's 'Dying Slave', and the Winged Victory of Samothrace.
Download Louvre Museum's floor plan
---
---
Best time to see Mona Lisa painting
The best time to see Mona Lisa painting is as soon as the Louvre Museum opens at 9 am.
As soon as you are in the museum, rush to Room 711, 1st floor, Denon Wing, and see Mona Lisa from all angles before the crowd comes in.
If you can't make it in the morning, the next best time to see Mona Lisa is after 4 pm because large tourist groups such as school kids, coach tour groups, etc., have left.
You can be at the Louvre Museum after lunch and start by exploring the rest of the exhibits and time your visit to Room 711 after 4 pm.
If you buy Louvre Museum tickets online and do not waste time at the long ticket counter queues, you can be one of the early entrants.
It can get very crowded in front of Leonardo's masterpiece during peak times. Check out the pics below –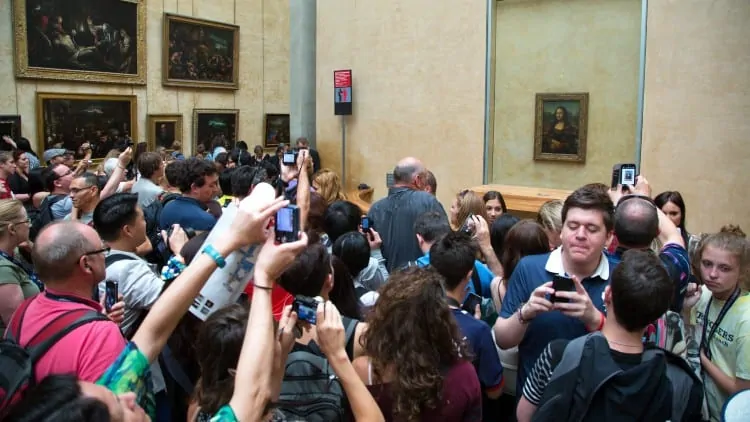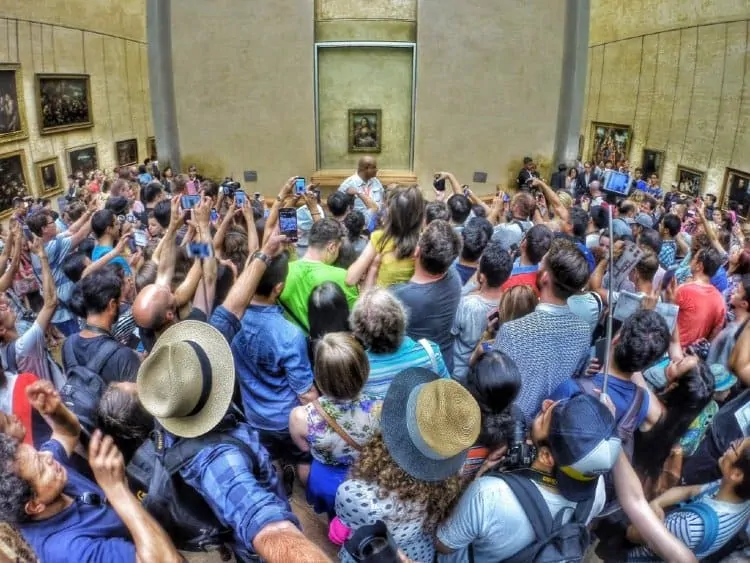 On Wednesdays and Fridays, the Louvre closes late – at 9.45 pm – and that's also a great time to see Mona Lisa because the crowd is thin.
If you plan to visit after dark, follow the link to learn everything about visiting Louvre Museum at night.
Yet another attraction of a night visit to the art museum is the Louvre Pyramid, which gets all lit up.
Find out everything about Louvre Museum tickets.
---
---
History of Mona Lisa
Leonardo Da Vinci started painting this portrait in Florence, Italy, around 1503.
Experts believe that the portrait is of Lisa Gherardini, wife of a Florentine cloth merchant named Francesco del Giocondo, which is why the Mona Lisa painting is also called La Gioconda.
The merchant had commissioned the painting because he wanted to thank his wife for giving him two children.
After Leonardo finished the portrait, he didn't give it to the cloth merchant or his wife. Instead, he brought it to France.
Leonardo held the painting close to him for more than 15 years, and only at his death in 1519 did he part with it, leaving it to his friend and patron, French King Francois I.
The King hung Leonardo's painting in the Appartement des Bains in the Palace at Fontainebleau.
After the French Revolution, the painting has primarily stayed in the Louvre Museum.
Mona Lisa spent time on Napolean Bonaparte's bedroom wall in the Tuileries Palace for a brief period.
In 1911, Mona Lisa was stolen by a patriotic Italian, who believed that since Leonardo was an Italian, his masterpiece must also be in Italy and not France.
Leonardo Da Vinci's Mona Lisa is one of the significant differences between Musee d'Orsay and The Louvre. If you aren't sure which art gallery to visit, check out our comparison of the two Parisian landmarks.
---
---
FAQs about Mona Lisa
Here are some questions which tourists planning to see Mona Lisa usually ask.
Who painted the Mona Lisa?


Perhaps one of the greatest geniuses of our times, Leonardo da Vinci, painted Mona Lisa from 1503 to 1506.

Besides being a painter, he was also an architect, an engineer, and a theatrical producer.

What is Mona Lisa's original size?


Mona Lisa's original size is 77 cm × 53 cm (30 in × 21 in).

In the Louvre Museum, the painting has a frame around it, which makes it seem a bit bigger.

How long did Mona Lisa take to paint?


According to Leonardo da Vinci's biographer, Giorgio Vasari, the painter started Mona Lisa in 1503 and took four years to complete the masterpiece.

Is Mona Lisa a real person?


Mona Lisa, from Leonardo da Vinci's painting, was a real person.

She was a real Florentine woman, born and raised in Florence under the name of Lisa Gherardini. She died in 1542 at the age of 63.

Is Mona Lisa a man?


Some art experts believe that Mona Lisa could have been Gian Giacomo Caprotti, Leonardo's apprentice and probable gay lover. 

Gian, who was also known as Salai, may have modeled for the painting. 



When one compares Mona Lisa's painting to Salai's available portraits, one can spot several striking similarities. Especially Mona Lisa's nose, her forehead, and her smile.

Interestingly, one can rearrange the letters which form 'Mona Lisa' to 'Mon Salai.' And 'Mon' in French means 'My,' suggesting Leonardo wanted to say 'My Salai.'

Is Mona Lisa smiling?


Yes, Mona Lisa is smiling in the painting, and the mysteriousness of her smile has captivated people for generations.

When Dutch researchers from the University of Amsterdam ran Mona Lisa through an 'emotion recognition' software, they found that Mona Lisa's famous smile was 83% happy, 9% disgusted, 6% fearful, 2% angry, less than 1% neutral, and 0% surprised.

Why does Mona Lisa have no eyebrows?


Art experts believe that Leonardo Da Vinci painted eyebrows on Mona Lisa.

However, they got wiped out by restoration efforts done before technologies got better.

Parisian engineer Pascal Cotte used 240-megapixel scans to find traces of a left eyebrow long obscured from the naked eye by the restorers' efforts.

Is the real Mona Lisa in the Louvre?


Yes, the original Mona Lisa, painted by Leonardo da Vinci has been part of the Louvre Museum's collection for more than two centuries.

It was first installed in the Grand Gallery of the Louvre in 1804.

Why is Mona Lisa in the Louvre?


When ace painter Leonardo da Vinci died in 1519, he passed on Mona Lisa to his friend and art patron King Francois I of France.

The King hung Mona Lisa in his Palace, but after the French revolution from 1789 to 1799, most of the art owned by the Royals made it to public institutions.

Mona Lisa came to the Louvre Museum in 1804.

Why is Mona Lisa a masterpiece?


Art connoisseurs consider Mona Lisa a masterpiece because of the techniques that Leonardo da Vinci used while painting it.

The almost forgotten painting technique called Sfumato (Italian for smoke) is a slow process in which the paint is applied in thin layers.

Leonardo da Vinci painted one layer, let it dry, and then painted on top of it again. He repeated this procedure several times until the masterpiece was complete. 

Experts believe it was because of this slow process that Leonardo took four years to complete Mona Lisa. 

What is the message of Mona Lisa?


Through his painting, Leonardo Da Vinci has tried to convey the idea of happiness.

It is no coincidence that the second name of the merchant who commissioned the painting was 'Gioconda,' meaning 'joyous' in Italian.

That's why there is so much emphasis on Mona Lisa's smile.

At the same level as the sitter's chest are a winding road and a bridge in warm colors.

This winding road represents the path between the 'happy' space where the sitter is currently and the far distance represented by an uninhabited area of rocks and water, which stretches to the horizon.

How much is Mona Lisa worth?


Museums generally own masterpieces such as the Mona Lisa for viewing by art lovers. And since they rarely sell them, they are considered priceless. 

However, in 1962 Mona Lisa was assessed at US$100 million for insurance purposes. Considering inflation, that would mean US$850 million in 2019.

Guinness World Records lists Mona Lisa as having the highest ever insurance value for a painting. 

When was Mona Lisa first displayed to the public?


Mona Lisa was first displayed to the public in the 1530s by Francois I, the French King.

He put it up in a semi-public art gallery at Fontainebleau, his favorite chateau.

Which is the best copy of Mona Lisa?


Mona Lisa's best copy could be the one in Madrid's Museo del Prado. 

Art experts believe that it was painted simultaneously as the original and possibly by Leonardo Da Vinci's gay lover Gian Giacomo Caprotti.



Using the latest technologies, which allows one to see the different layers of paint, conservators say that Leonardo and the Mona Lisa replica painter made precisely the same changes simultaneously.

They believe that the two paintings were painted side by side in the same studio, maybe a few feet from each other. 
Some tourists visit Eiffel Tower and Louvre Museum on the same day. If you also plan to do the same, follow the links for directions:
– From Eiffel Tower to the Louvre Museum
– From Louvre Museum to Eiffel Tower
Recommended Reading:
1. Interesting Louvre Museum facts
2. Fun read: When Louvre statues talk back
Popular attractions in Paris
# Louvre Museum
# Eiffel Tower
# Arc de Triomphe
# Palace of Versailles
# Disneyland Paris
# Musee d'Orsay
# Centre Pompidou
# Notre Dame
# Paris Zoo
# Pantheon
# Sainte Chapelle
# Paris Catacombs
# Opera Garnier
# Montparnasse Tower
# Picasso Museum
# Seine River Cruise
# Seine Dinner Cruise