It isn't easy, and it definitely isn't fair to pick the must-see highlights of Musee d'Orsay in Paris.
If you opt for a guided tour of Musee d'Orsay, a local art expert will take you around the French art museum for around two hours.
After the guide has shown you all the masterpieces, you can stay back and explore other exhibits for as long as you want.
However, if you opt for the dedicated entrance ticket, which is the cheapest and the most popular way to get into Musee d'Orsay, you will find this article handy.
This article list out the highlights of Musee d'Orsay Museum and explains what you must see.
One can divide the exhibits at Musee d'Orsay Museum into paintings and other artifacts.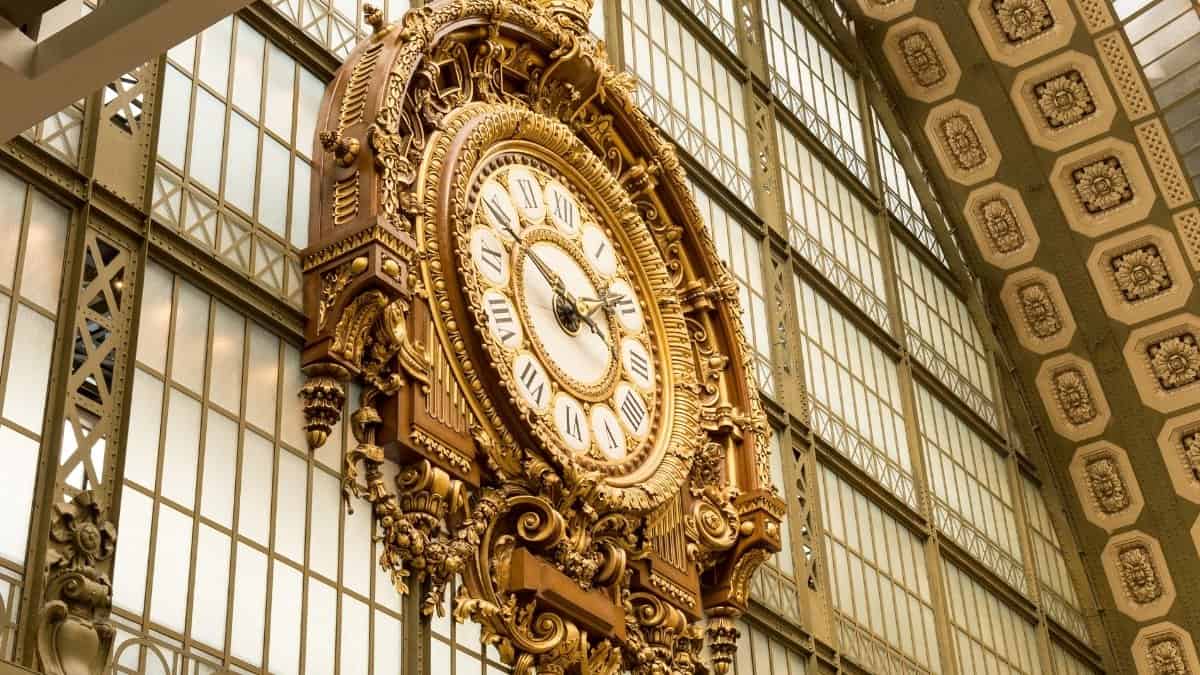 Musee d' Orsay paintings
Musee d' Orsay in Paris has the world's best collection of Impressionist and Post-Impressionist art.
Masterpieces by Vincent Van Gogh, Édouard Manet, Pierre-August Renoir, Claude Monet, Paul Cézanne, Edgar Degas, Paul Gauguin, and other famous artists adorn the French art museum's walls.
Of all those, we recommend the below given seven masterpieces.
Starry Night by Van Gogh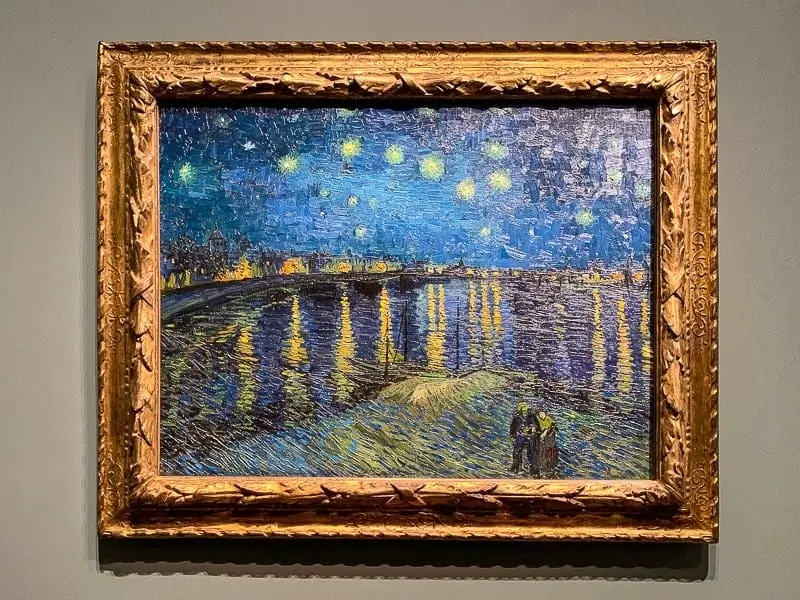 Van Gogh was known for painting the same scene again and again.
When he was recuperating in an asylum, he painted 21 times what he saw from his east-facing window. A few of these paintings were 'Starry Nights'.
The most famous Van Gogh's 'Starry Night' painting hangs in the Museum of Modern Art, New York. But this is no less.
Tip: Don't miss out on Van Gogh's stunning self-portrait where he painted himself dressed in a suit against a swirling backdrop. Experts believe he was trying to communicate his internal turmoil.
Olympia by Edouard Manet
Till Manet painted 'Olympia,' women in art were always shy, smiling or blushing.
The painting 'Olympia' depicts a nude prostitute, staring back at the viewer and not trying to hide her nakedness.
This was a controversial painting for its time, and initiated conversation about the way women were depicted in art.
Bal du Moulin de la Galette by Auguste Renoir
This painting depicts a regular Sunday afternoon of the Parisians meeting to eat, drink and make merry.
It is one of Impressionism's most celebrated masterpieces.
Poppy Field by Claude Monet
This dreamy painting is Monet's most famous works.
Using multiple colours, he depicts a beautiful sunny day.
The red poppies, the blue skies, the humans in black and blue make it a great painting to stare at.
Tip: It is next to impossible to limit Monet's paintings. That's why we also recommend two more from Musee d'Orsay's collection 'Blue Water Lilies' and 'La rue Montorgueil.'
Many tourists are not sure if they must visit Louvre or d'Orsay. If you are also confused, check out our comparison of the Louvre Museum and Musee d'Orsay.
Luncheon on the Grass by Edouard Manet
The painting is significant because in 1863 it was rejected by the French Academy.
Hence, Manet had to get it displayed at Salon des Refusés, a refuge for artists whose works were refused.
Interestingly his painting wasn't rejected because it had nudes, but because the women were in a modern setting suggesting that they weren't Goddesses but possibly prostitutes.
The Circus by Georges Seurat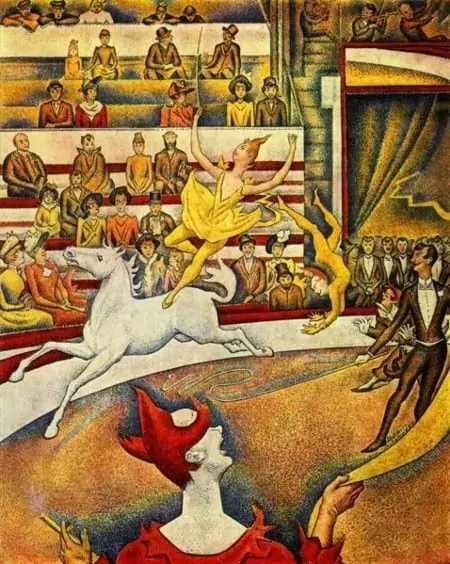 This painting is part of many Art History 101 class. And not without reason.
It juxtaposes two worlds in one painting – that of an ongoing circus act which is in motion, and that of the audience, which is still.
It was Georges Seurat's last painting, and remained unfinished at his death in March 1891.
Origins of the World by Gustave Courbet
This painting borders on pornography, but Musée d'Orsay staff maintain that it doesn't.
This painting was commissioned by Turkish-Egyptian diplomat Khalil-Bey, a colourful individual who had a dazzling art collection celebrating the female body.
Visual Story: 14 must-know tips before visiting Musee d'Orsay
Other masterpieces at Musee d'Orsay
Three other highlights of Musee d'Orsay are –
Small Dancer Aged 14 by Edgar Degas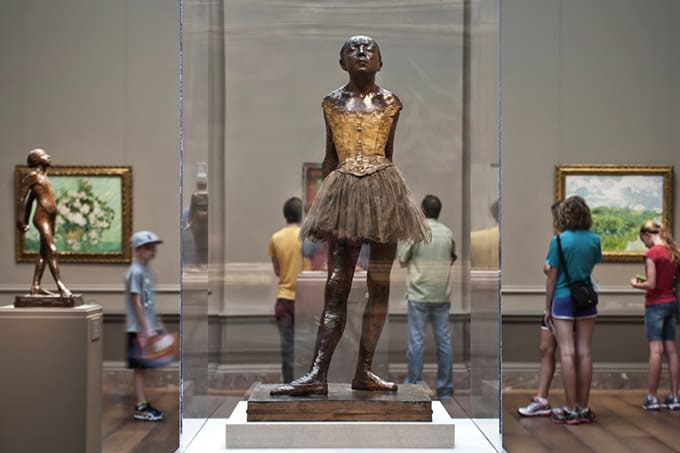 This is a bronze statue of Marie, a ballet student at Paris's Opera.
The original, which was made of skin coloured wax and dressed in real fabrics, was exhibited at the Impressionist Exhibition of 1881.
In every must-see list of Musee d'Orsay, this Edgar masterpiece is a top-three item.
Tip: Also check out Edgar's 'Dinner at the Ball', which he painted in 1879.
Polar Bear by Francois Pompon
Francois Pompon spent a lot of time working with master sculptors such as Auguste Rodin and his lover Camille Claudel.
In the latter part of his life he got recognised for his work, the 'Polar Bear'.
When you are watching it, it will seem as if the marble sculpture is about to spring to life.
Banquette de Fumoir by Hector Guimard
Guimard spent a lot of time on architecture and furniture.
Banquette de Fumoir is an asymmetrical yet pretty smoker's bench, designed using plant forms.
Did you know that before it because a museum, d'Orsay was a train station? Find out more such facts about Musee d'Orsay.
Sources
# Thetourguy.com
# Thegeographicalcure.com
# Parispass.com
# Parisinsidersguide.com

The travel specialists at TheBetterVacation.com use only high-quality sources while researching & writing their articles. We make every attempt to keep our content current, reliable and trustworthy.
Popular attractions in Paris
# Musee d'Orsay
# Eiffel Tower
# Louvre Museum
# Disneyland Paris
# Palace of Versailles
# Arc de Triomphe
# Centre Pompidou
# Notre Dame
# Paris Zoo
# Pantheon
# Sainte Chapelle
# Montparnasse Tower
# Picasso Museum
# Paris Catacombs
# Opera Garnier
# Seine River Cruise
# Seine Dinner Cruise