If you have visited the Louvre Museum, you must have seen a beautiful building right across the river.
This massive building with a huge clock on it is called Musée d'Orsay. It is also known as the Orsay Museum.
Whether you're an art aficionado or not, Musee d Orsay is well worth including in your itinerary.
This Museum houses French art dating from 1848 to 1914, including paintings, sculptures, furniture, and photography.
Musee d Orsay is the 5th most visited site in France. The other attractions in Paris, in order of their popularity, are – Louvre Museum, Palace of Versailles, the Eiffel Tower and Disneyland Paris.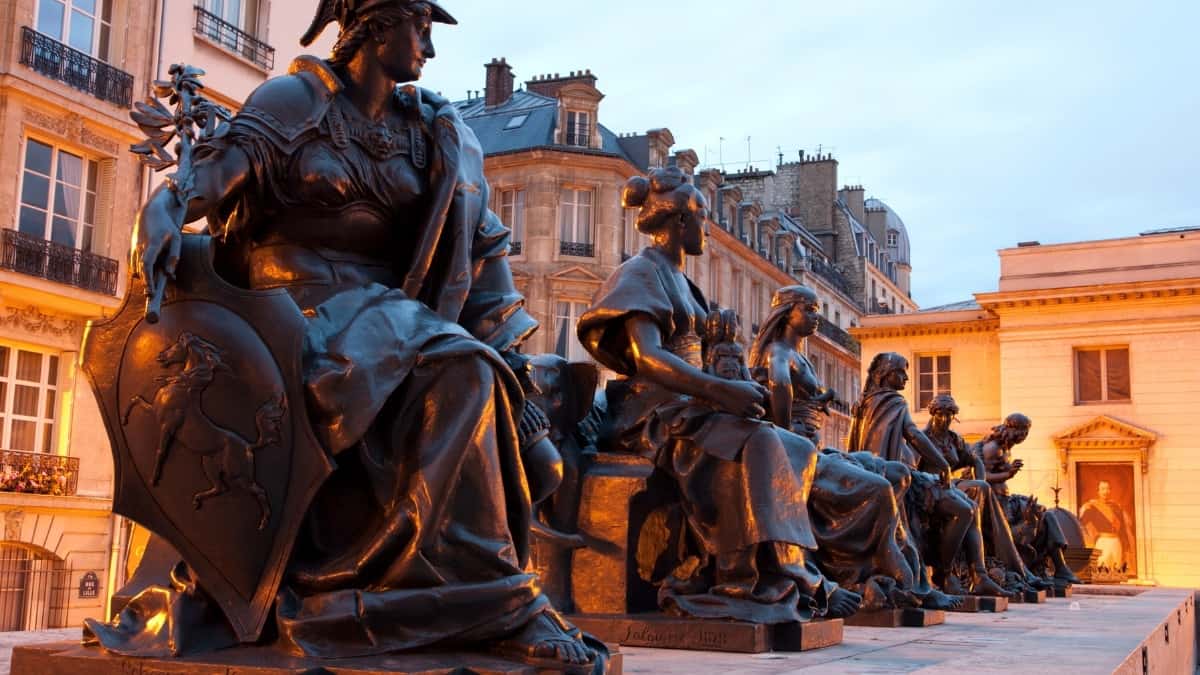 Interesting Musée d'Orsay facts
Over the years' lots of interesting facts about Musée d' Orsay have emerged.
Some are documented Orsay Museum facts and some may be just legends or myths. Some are academic and some are just Musee d Orsay fun facts.
For example – Did you know the fact that before it because a museum, Musée d'Orsay was a train station?
Continue reading for some of the best Musée d'Orsay facts –
1. Musée d'Orsay was once a train station
In 1900, Paris hosted the Universal Exhibition. The objective of this exhibition was to showcase the achievements of the last 100 years.
More than 50 Million visitors visited Paris during the exhibition, which was held from 14 April to 12 November 1900.
Since the French Government had foreseen such a huge crowd, they decided to build a train station. This station was to help the visitors travel to the Universal Exhibition.
Gare d'Orsay was the first electrified urban rail terminal in the world.
More than 75 years later, this train station would end up becoming Musée d'Orsay.
2. Gare d'Orsay was built by three architects
Three architects Lucien Magne, Émile Bénard and Victor Laloux built the railway station, which would eventually become the Musée d'Orsay.
The team was led by Victor Laloux.
It is an unbelievable but true fact that Gare d'Orsay was constructed in just 2 years.
It was inaugurated on 28 May 1900, in time for the Universal Exhibition in Paris.
3. Even Usain Bolt will take 14 seconds to run across Musée d'Orsay
Musée d'Orsay is a huge building with gigantic dimensions.
Orsay Museum is 175 meters (574 feet) long and 75 meters (246 wide).
The Central hall itself is 140 meters (459 feet) long, 40 meters (131 feet) wide and 32 meters (105 feet) high.
140 meters is quite a distance. Even ace sprinter Usain Bolt will take approximately 14 seconds to run across the hall.
>> Priority Musee d'Orsay tickets
4. Musée d'Orsay has more metal than the Eiffel Tower
12,000 tons of metal was used in the construction of the railway station, which would eventually become Museum of Orsay.
This is more than the metal used to build the Eiffel Tower.
5. The building boasts of 35,000 square meters of glass
The Orsay Museum has 35,000 square meters of glass. One of the main reasons for using so much glass was to brighten the atmosphere inside.
To help you digest this fact better, check out some comparisons below –
– A football field is 7,140 square meters. The glass used on Orsay Museum is equivalent to five football fields
– The area of the glass used is twice the size of Kennedy Center Opera House
– The area covered by the glass at Orsay Museum is half the total floor space of Buckingham Palace, the official residence of the British monarch.
With such massive dimensions, it would have been a nightmare to fully light it up the building with electricity. So, it does seem like a wise decision on multiple fronts.
Because of its huge glass vaulted ceiling and windows, Musée d'Orsay is worth a visit any day of the year.
6. Gare d'Orsay station also had a hotel
The railway station was all metal and hence wasn't that pretty looking.
That's why architect Victor Laloux decided to mask the metallic structures of the railway station with the facade of a hotel.
On the western and southern sides of Gare d'Orsay, he built a 370-room hotel.
The hotel was popular with both tourists visiting Paris, and local associations and political parties.
As its charm faded off, the hotel closed in 1973.
7. Gare d'Orsay was a hub of activity during World War
During the second World War, Gare d'Orsay station was used as a mailing center for packages to prisoners of war.
Once the war was over, and the French prisoners of war returned home, this railway station became a reception center for them.
A plaque on the side of the existing Musée d'Orsay building (facing river Seine) commemorates its use as a reception center.
8. Gare d'Orsay fell victim to advancing Railway technology
Back then the railways were making rapid technological advances.
In a few decades, the platforms became too short for the now much longer trains.
Less than 40 years after inauguration, Gare d'Orsay was no longer a train station.
Since it was remaining idle, the city tried to use it for various purposes – as a parking lot, as a shooting stand, as a theatre etc.
Must Read: What you must know before buying Musee d'Orsay tickets
Visual Story: 14 must-know tips before visiting Musee d'Orsay
9. Building that houses the Orsay Museum was almost demolished
This is a scary Orsay Museum fact.
In 1970, permission was granted to demolish the railway station which now houses the Musée d'Orsay.
Plans were afoot to demolish it and build a massive hotel instead.
However, Jacques Duhamel, the French Minister for Cultural Affairs, stepped in and ruled against it.
He ensured the historic railway was put on the supplementary list of Historic Monuments.
10. Three museums played a major role in the birth of Musée d'Orsay
Just when the French were looking for a new role for Gare d'Orsay railway station, three museums were struggling with overflowing collections.
National Museum of Modern Art had moved from Palais de Tokyo building to the new Pompidou Centre and had lots of artwork to dispose of.
Jeu de Paume museum, which displays France's Impressionist art collection since 1947 was also overflowing.
Louvre Museum was also struggling with display space, and keeping more than 75% of its artifacts in storage.
In the backdrop of this situation, it was decided that France needed a new museum to represent the arts from the second half of the 19th century.
And the Orsay Museum was born!
Many tourists are confused if they must visit Louvre or d'Orsay. To decide, read our analysis of Musee d'Orsay vs. Louvre Museum.
11. Musée d'Orsay was converted into a Museum by 3 young architects
In 1978, a competition was organized to design the new Orsay Museum.
Six proposals were received out of which the one sent by a company called ACT Architecture was accepted.
It was a company run by three young architects – Pierre Colboc, Renaud Bardon and Jean-Paul Philippon.
In 1979, they started work on the project, which involved creating 20,000 square meters (220,000 sq ft) of new floor space on four floors.
12. Musée d'Orsay's interior design was embroiled in controversy
In 1981, Italian architect Gae Aulenti was chosen to give the Orsay railway station a makeover.
She was entrusted with the task of designing the interiors including the internal arrangement, decoration, furniture and fittings of the museum.
However, her interior design of Musée d'Orsay sparked controversy.
Some of the art enthusiasts felt that Orsay Museum's interior features were "Mussolinian" in terms of style.
Libération, a French newspaper said the museum had been "likened to a funeral hall, to a tomb, to a mausoleum, to an Egyptian burial monument, to a necropolis."
13. It took 6 months to just display the exhibits at Orsay Museum
In 1986, Musée d'Orsay was ready to receive its exhibits.
However, it took the Museum authorities six months to install the 2000 or so paintings, 500+ sculptures and other artifacts.
François Mitterrand, the then French President inaugurated Musée d'Orsay on December 1st, 1986. It opened to the public on December 9th.
The very first day, more than twenty thousand people lined up to get in.
14. A French Painter may have predicted the train station's transformation
This is an unbelievable Musée d'Orsay fact. But true.
The Gare d'Orsay train station had opened in Paris in 1900 to much fanfare.
With so much being spoken about the new landmark, French painter Edouard Détaille decided to visit the station.
He went on record saying the train station was so beautiful that it would be more appropriate as a museum.
Eighty-six years later, the French Government had done just that.
15. Musée d'Orsay has the largest collection of impressionist masterpieces
With time, Orsay Museum's collection has expanded significantly. Most of it has been due to acquisitions and gifts from other Museums.
As of today, it has around 500 Impressionist paintings and nearly 1,100 post-Impressionist masterpieces.
Some of the popular impressionists whose work are on display at Orsay Museum are Claude Monet, Pierre-Auguste Renoir, Vincent Van Gogh, Paul Gauguin, Gustave Courbet, Paul Cezanne, Camille Pissarro, Edouard Manet etc.
Therefore, this Paris attraction is also known as the 'Impressionism museum'.
Note: Impressionism was a movement led by painters such as Pissarro, Renoir, and Monet. They decided to stop painting historical and mythological themes and focus on scenes from everyday life.
16. Orsay Museum's clocks date back to the original train station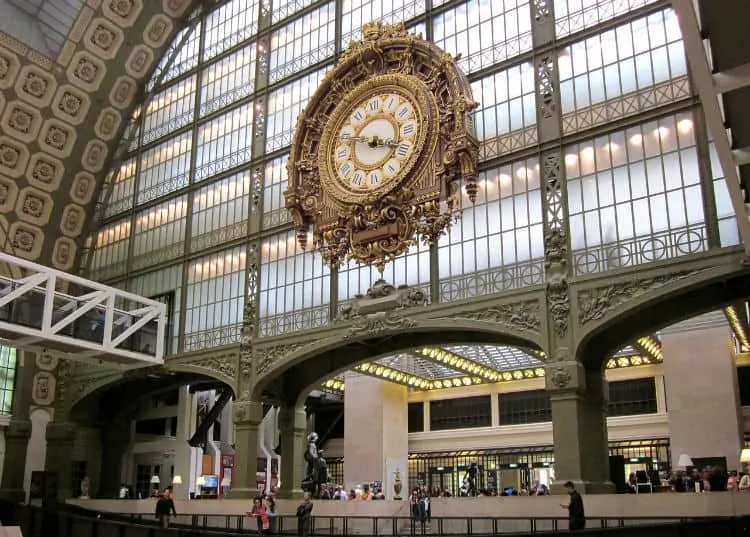 Back in the 1900s, not many people could afford personal watches, and that's why large clocks in high places were in vogue.
In keeping with the tradition of the time, Musée d'Orsay was also built with large clocks. Three to be specific.
Two of the clocks are built into the North side of the D'Orsay Museum — one facing the Seine and another directly opposite the Tuileries Garden.
Looking through these clocks can give you stunning views of Paris.
The third large clock is inside the Orsay museum.
17. Statues of six continents were part of an exchange deal
This is a stunning Musée d'Orsay fact.
During your visit to the Orsay Museum, just outside you will see six bronze allegorical sculptures of the six continents.
All the continents – South America, Asia, Europe, Africa, North America and Oceania are represented by a statue each.
These were created for the Trocadero Palace, during the Universal Exhibition in Paris held in the year 1878.
However, with time they were forgotten and sent to the Nantes public dump in 1963.
When Musee d'Orsay came to know of it, they decided to acquire the six statues.
Musee des Beaux-Arts de Nantes was contacted and it was agreed that in exchange for the six statues, Musee d'Orsay will give them an Alfred Sisley painting.
18. Musée d'Orsay – first Museum in France to host a photography exhibition
Interestingly, the Orsay Museum was the first to house a photography exhibition in France.
Over the years, it has built for itself one of the most impressive photography collection in the world.
The Museum displays around 45,000 photographs, the earliest of which are from the year 1839.
19. Photography is now allowed in Musee De Orsay, thanks to a Minister
This is a trivia which makes for a funny story every time it is narrated.
If it weren't for the 'persuasion tricks' of Fleur Pellerin, the French Culture Minister, photographs would still be banned in Musée d'Orsay.
In 2014, the Ministry of Culture and Communication in France had passed a non-binding charter that photography is allowed at all French Museums and monuments.
Most Paris attractions, including the Louvre Museum, followed the Ministry's suggestions but Musee De Orsay didn't budge.
In 2015, during a visit to the Orsay Museum, the Culture Minister decided to get naughty. She snapped a picture of a popular painting and posted it on her Instagram.
Since photography was banned for normal visitors, there was a public uproar that special privileges were being given to powerful visitors.
With a chorus of complaints coming in, Musee De Orsay had no option but to lift the ban on photography.
>> Priority Musee d'Orsay tickets
These Skip The Line tickets will get delivered to your email. Show your smartphone at the entrance and walk in.
>> Musée d'Orsay & Musee de l'Orangerie tickets
Some tourists prefer this combo ticket, because they get two museums for almost the price of one.
Sources
# Tickets-paris.fr
# Discoverwalks.com
# Britannica.com
# Cometoparis.com

The travel specialists at TheBetterVacation.com use only high-quality sources while researching & writing their articles. We make every attempt to keep our content current, reliable and trustworthy.
Popular attractions in Paris
# Palace of Versailles
# Eiffel Tower
# Louvre Museum
# Arc de Triomphe
# Disneyland Paris
# Musee d'Orsay
# Centre Pompidou
# Notre Dame
# Vincennes Zoo
# Pantheon
# Sainte Chapelle
# Montparnasse Tower
# Picasso Museum
# Catacombs of Paris
# Opera Garnier
# Seine River Cruise
# Seine Dinner Cruise