The ruined city of Pompeii at the foot of Mount Vesuvius is like a Shakespearean tragedy.
It is sad yet beautiful.
In AD 79, Mount Vesuvius erupted and covered the city of Pompeii under six meters of ash and pumice-stone, preserving it for eternity.
The ruined city remained hidden until a surveying engineer found it in 1748.
Over several centuries, archeologists have evacuated the ruins and shown the world how the 20,000 residents of Pompeii lived.
More than 2.5 million tourists visit Pompeii annually, making it one of the most popular attractions in Italy.
Pompeii excavations are spread over 60+ hectares (170 acres), and to explore it all, you need at least two days.
This is why most visitors try to focus on the highlights of Pompeii and finish the tour in three to four hours.
We share our list of the star attractions that every visitor to Pompeii must explore during their visit.
Villa of the Mysteries
Also known as Villa dei Misteri, this is a Roman villa from the 2nd century BCE. It is richly decorated with frescoes, whose meaning archaeologists are still trying to figure out.
House of the Faun
Also known as Casa del Fauno, this is the ruin of a luxury Roman 2nd-century dwelling. It has a replica bronze faun statue welcoming the tourists, and hence the name.
This was the most extensive and most expensive residence in ancient Pompeii.
Amphitheatre of Pompeii
This is an ancient Roman arena for gladiator fights. It has a seating capacity of 20,000. This is the oldest stadium built with stone, still in existence – much older than the Colosseum in Rome.
Visual Story: 13 must-know tips before visiting Pompeii
Lupanar
Lupanar is Latin for 'brothel.' Needless to say, this was the grandest of all brothels in Pompeii, and the city was known to have more than 50 of them.
This brothel interests the tourists more because of the erotic paintings on its walls.
If you are planning to visit the best preserved ruins in the world, read up everything about the different types of Pompeii tickets.
Pompeii Thermal Baths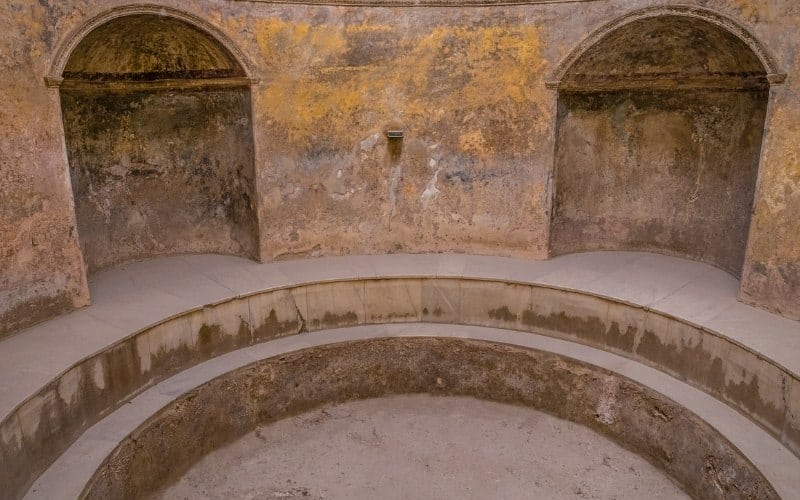 Pompeii ruins have five public thermal baths. Each of the thermal bath building is divided into two sections – for women and for men.
Tourists love to see the ingenious way these baths rooms were heated; by running heated water through the cavities in the wall.
Garden of the Fugitives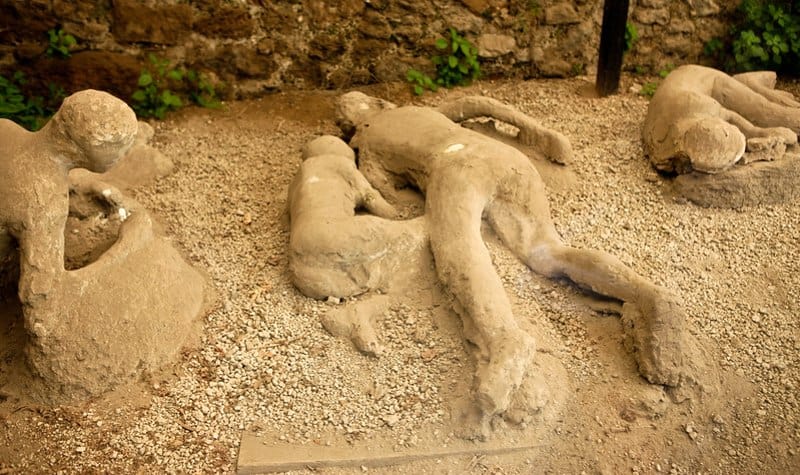 The largest number of victims of Vesuvius' eruption were found at this site.
This spot was once an ancient orchard. Now 13 bodies of Pompeii residents who couldn't flee the deadly volcanic dust and rocks remain there as a stark reminder of nature's fury.
Garden of the Fugitives is a frozen glimpse of Pompeii's appalling last hours.
House of Vetti
The House of the Vettii is one of the many Domus in Pompeii. A Domus is a massive house occupied by the Roman upper classes.
During your Pompeii tour, you must definitely visit this attraction for its richly coloured frescos.
Tip: Herculaneum is known to have better frescos than Pompeii, which is why some tourists visit both Herculaneum and Pompeii on the same day.
House of the Tragic Poet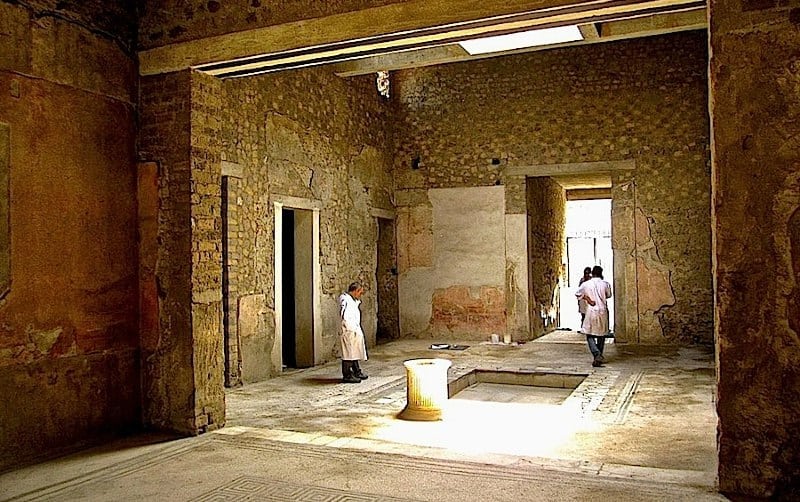 The House of Tragic Poet is a Pompeiian home dating back to the 2nd century BC. It features sufficient ornamental detail, depicting scenes from Greek mythology.
The interior decoration in this house is of the best quality in the whole of Pompeii.
Recommended Reading
# Funniest Pompeii graffiti
# Masturbating man of Pomepii
# Facts about Pompeii ruins
House of the surgeon
This house in the Pompeii ruins belonged to a surgeon.
It has ancient surgical instruments displayed inside and is quite popular with tourists on Pompeii visit.
Temple of Apollo
Temple of Apollo is 6th century BC temple dedicated to the Greek and Roman God Apollo.
Temple of Jupiter
Temple of Jupiter was built around 2nd century BC.
This ancient stone temple has columns in ruins and a statue of Jupiter God for all to see.
House of Sallust
The House of Sallust is the second Domus you must visit. The oldest parts of this house have been dated to the 4th century BC.
This house gets its name from the election notice which was also excavated with the house. The election notice recommended a gentleman called Gaius Sallustius for office.
Sources
# Thetourguy.com
# Planetware.com
# Tripadvisor.com
# Nomadicmatt.com

The travel specialists at TheBetterVacation.com use only high-quality sources while researching & writing their articles. We make every attempt to keep our content current, reliable and trustworthy.
Tourist attractions in Rome