The silent city of Pompeii is a time capsule of Roman life, frozen in the ashes of volcanic destruction.
The tourist's journey through Pompeii begins at one of its three entrances – Porta Marina, Piazza Anfiteatro, and Piazza Esedra.
Each of these gateways possesses a unique character and heritage, encapsulating the history, culture, and soul of this once-vibrant city.
In this article, you will learn about these three entrances of Pompeii ruins.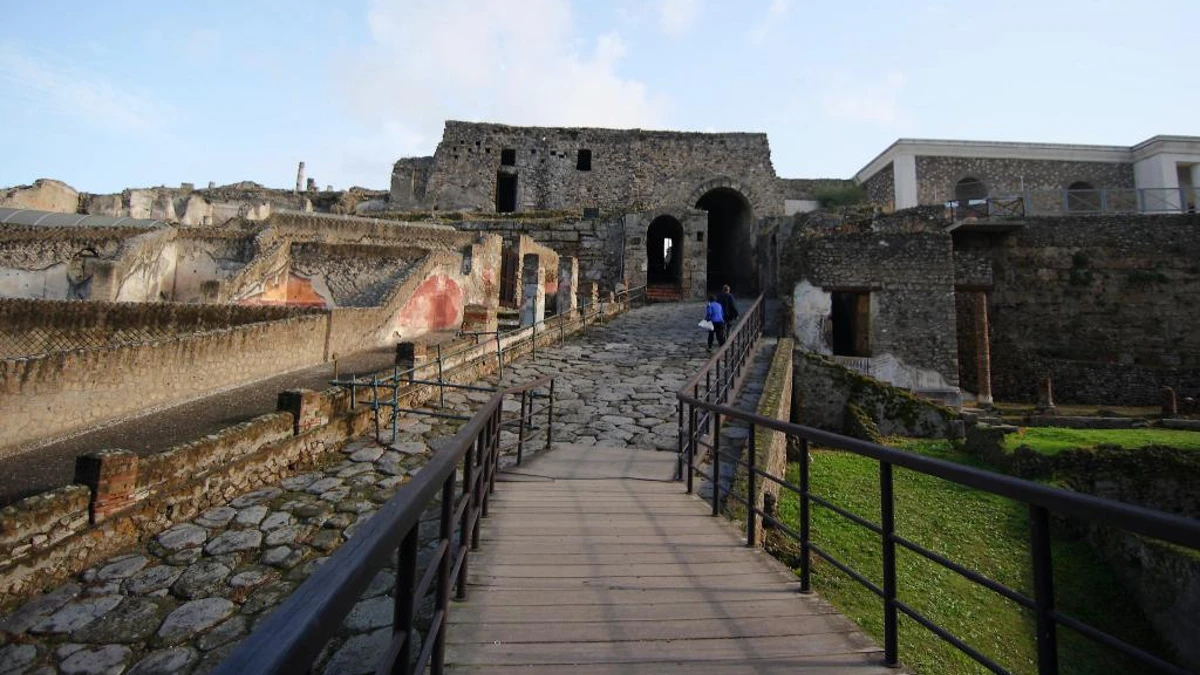 Table of contents
Piazza Porta Marina Entrance
Porta Marina is the most famous entrance among visitors to Pompeii.
It is located on the opposite side of Pompeii Scavi Station and provides many amenities like information kiosks, stores that sell souvenirs, etc.
Even people who are not physically fit can enter through the Porta Marina Gate and see Pompeii's destruction through a path specially made for them.
The best way to reach Porta Marina is by train, close to Pompei Scavi – Villa Dei Misteri train station. Even trains from Sorrento stop here.
You can also take Sita and D-E buses to reach the entrance.
The time to visit Pompeii is between 8.30 am to 7 pm, and the last entrance time is 5.30 pm.
You should anticipate a wait time of 1-2 hours, depending on the time and day of your visit. When you buy your tickets for Pompeii ruins online, you save on some waiting time.
Learn everything about Pompeii tickets, guided tours and what to see at Pompeii before planning your trip to the ancient ruins.
---
---
Piazza Anfiteatro gate
To cover all the important sites of Pompeii, visitors must enter through Piazza Anfiteatro.
It is the entrance to contemporary Pompeii, which is 15 minutes walk from Porta Marina, the main entrance.
You can also find many facilities at the gate, like toilets, bookshops, and ATMs.
The final stop on a bus headed to Mount Vesuvius is Piazza Anfiteatro.
Entering through this gate is between 8.30 am to 5.30 pm.
Depending on the time and day of your visit, the wait at Piazza Anfiteatro Gate may last between one and two hours.
Most of the tourists reach Pompeii from three nearby cities – Rome, Naples and Sorrento.
Piazza Esedra entrance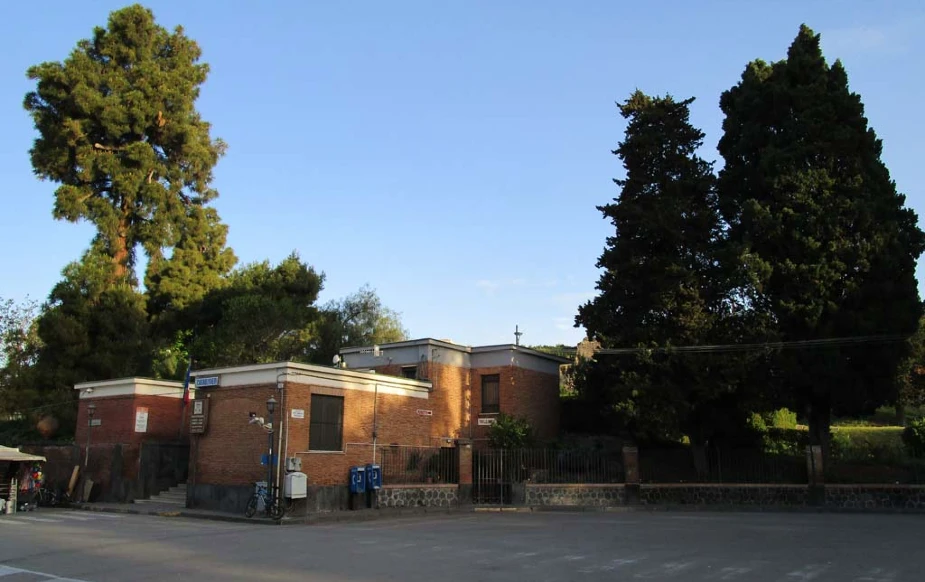 Piazza Esedra entrance is reserved only for the people who book group tours.
It is less congested despite being near the Porta Marina entrance.
One of the primary reasons why visitors avoid visiting Pompeii through Piazza Esedra is the need for amenities at the entrance.
Still, it also implies that you can enter through the gate immediately.
The Porta Marina gate is adjacent to Piazza Esedra.
Bus numbers 60, 105, 170, 590, 910, 150F, and H pass by the entrance to Piazza Esedra nearby.
You can disembark at Pompeii Scavi train station and walk to Piazza Esedra if riding on the FL5 or R train.
From 8.30 am and 5.30 pm, Piazza Esedra serves as the entrance to Pompeii.
Piazza Esendra takes the least time among the three gates to wait as it is mainly reserved for guided tours; if you decide to go during peak hours, holidays, or busy seasons, there can be crowds.
Recommended Reading
# Pompeii and Herculaneum
# Pompeii day trips from Rome
# Train from Naples to Pompeii
Which entrance to Choose
Visitors should choose the entrance based on their mode of transportation.
If you want to travel to Pompeii by train, choose Porta Marina Gate, the closest to Pompeii Scavi Station.
If you wish to see Pompeii's modern town while also having easy access to the forum and amphitheater, two of the most important ancient Roman sites, or if you are thinking of using various facilities or travel to Mount Vesuvius then come through Piazza Anfiteatro as it is the last stop before Mount Vesuvius.
If you are traveling by bus and considering booking a private tour, you can enter through Piazza Anfiteatro, as most of the buses pass through this gate and are only used for group tours.
Must read: Facts about Pompeii and Graffiti you can expect to see on the walls
---
---
Tours available at Pompeii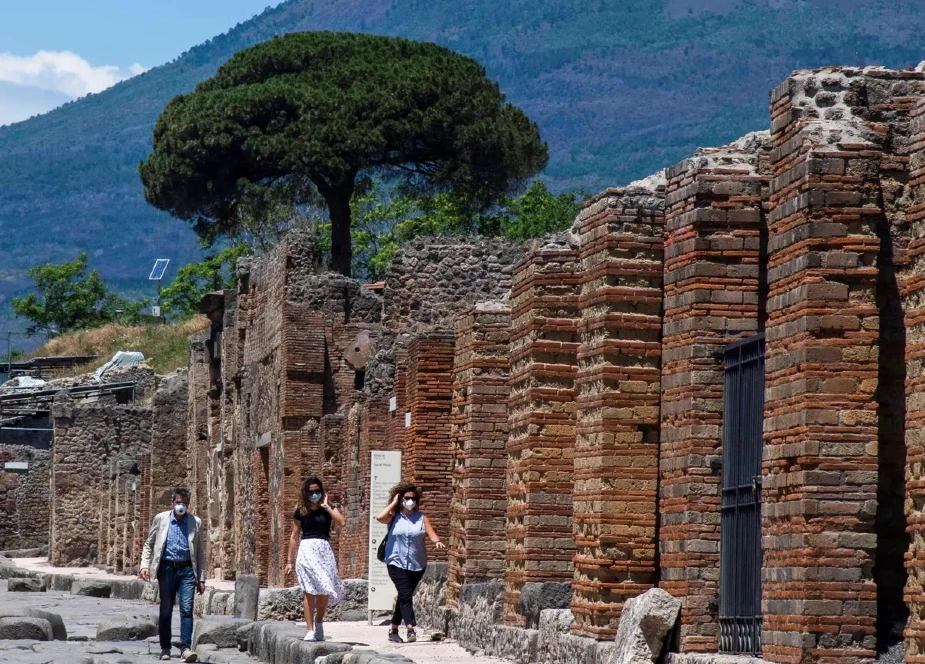 Many tours are available at Pompeii, such as guided, self-guided, and private.
Guided ones include an archaeological guide who will tell you all the history of Pompeii and its ruins in your chosen language and show you all the historical sites nearby in 2 hours.
The ticket prices for Pompeii vary according to age; an adult ticket for visitors above 18 years costs €23, whereas a child ticket up to 17 years costs €3, and EU citizens aged 18 to 24 years with valid ID pay €6 free entry.
Private tours are expensive, but they come with full privacy as they are only reserved for the person and their family or friends.
If you are looking for a guided tour, you can check out the options below:
Best time to visit Pompeii
The best time to visit Pompeii is when they open for the day at 10 am.
Visit Pompeii during the daytime on weekdays as the crowd increases during the afternoon and on weekends; also, try to avoid holidays as the rush is maximum during holidays.
Pompeii's opening and closing timings vary from season to season.
The winter season runs from November to April, and winter hours are from Thursday to Sunday, 10 to 1 pm and 3.30 pm to 6.30 pm.
From May to October, summer hours will be from 10 am to 1 pm and 4 pm to 8 pm daily (excluding Tuesdays).
Tourist attractions in Rome