You ever heard of the story of a friend of a friend who had his mother walk in on them during a session of self-love?
We have…and our heart goes out to such people.
Now imagine being walked in on by thousands every day, year after year.
This article is about the 'masturbating man of Pompeii,' who has found fame on the Internet more than 2000 years after he died.
Many travelers who see this man's plaster cast while visiting Pompeii ruins also assume so and let out a chuckle as they walk past him.
Before we move ahead, here is a brief description of what happened at Pompeii.
The ruins at Pompeii are a result of the eruption of Mount Vesuvius in 79 A.D., which left more than ten thousand people of Pompeii and its neighborhood dead.
Since the devastation was instant, the entire city is preserved under volcanic ash, offering a unique snapshot of Roman life, frozen at the moment it got buried.
More than a 1000 bodies have been evacuated and converted into plaster molds depicting whatever they were doing when the scorching volcanic material took their lives.
And one of these bodies on display is the 'masturbating man of Pompeii.'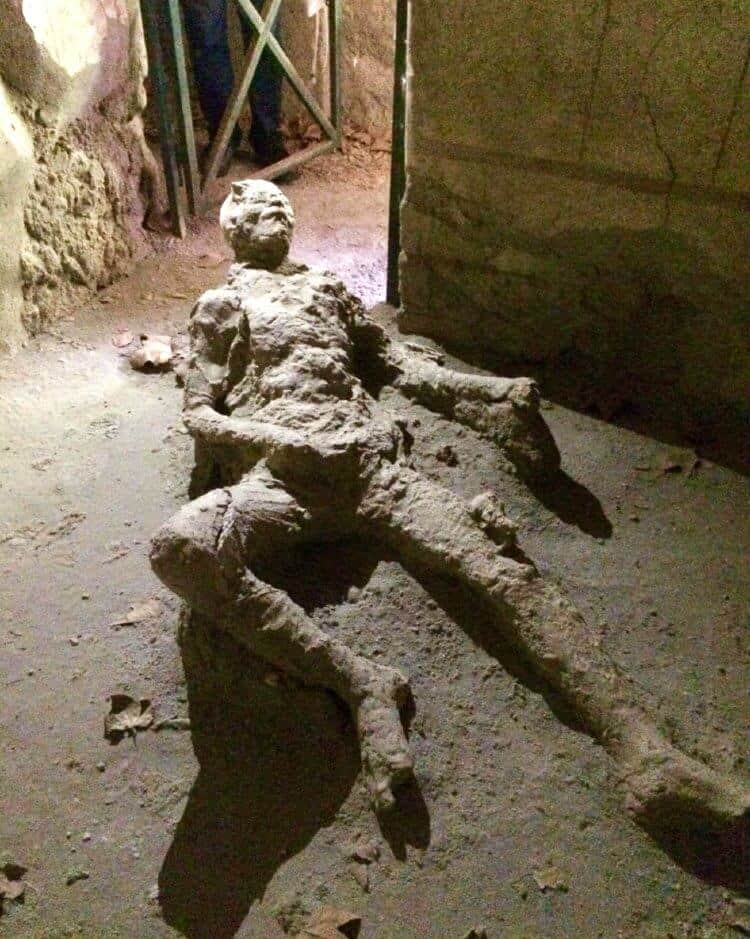 Have you ever wondered what you would do if you knew that you had only minutes to live?
Well, this inhabitant of Pompeii appears to have thought it through.
Or at least, that's what we all thought when Archaeological Park of Pompeii shared the 'masturbating man's pic on Twitter and Instagram.
Most netizens believed that as the Mount Vesuvius was erupting, this determined man was planning a little eruption of his own.
Here are some of the reactions:








Recommended: Interesting Pompeii facts
And then, the scientists mess it up
People of Science always come up with explanations and mess it up for the ordinary folks like us.
And that's precisely what they did with our understanding of the masturbating man of Pompeii's last moments as well.
Of the 1,150 bodies recovered and restored by archaeologists at Pompeii, 394 got killed by falling objects such as pumice and parts of the buildings.
And the other 756 were killed by the pyroclastic surge – a column of superheated gas and ash released from Mt Vesuvius.
Since this release travels hundreds of miles per hour, people are caught unaware and trapped in whatever they are doing at the moment.
Scientists believe that gas and ash may have caused asphyxiation or killed the people with a thermal shock that rapidly cooked their bodies.
The heat resulted in instant muscle stiffening, which also explains the grasping pose seen in most of Pompeii's victims.
This instant muscle stiffening is also known as cadaveric shock.
If the people of Science are to be believed, the gentleman in question never saw it coming.
It is highly unlikely that he wanted to spend his last few moments with the one he loved the most – himself.
Are you planning a visit to the ruins? Check out our recommendation on what to see at Pompeii.
Crazy but true: 25 Pompeii graffiti that are both raunchy and hilarious