Pompeii is roughly 240 kilometers (149 miles) from Rome, making it a favorite day-trip destination.
Since the journey to the ruins can take up to three hours, it's important to plan your trip wisely to fully enjoy it.
You have many ways to travel from Rome to Pompeii, including buses, trains, and tours, all operating several times daily.
You can choose based on cost, schedule, and the kind of experience you want, whether it's a casual solo trip or a more comprehensive and comfortable guided tour.
Here's a list of the top ways to reach Pompeii from Rome, whatever your preferred mode of transport may be.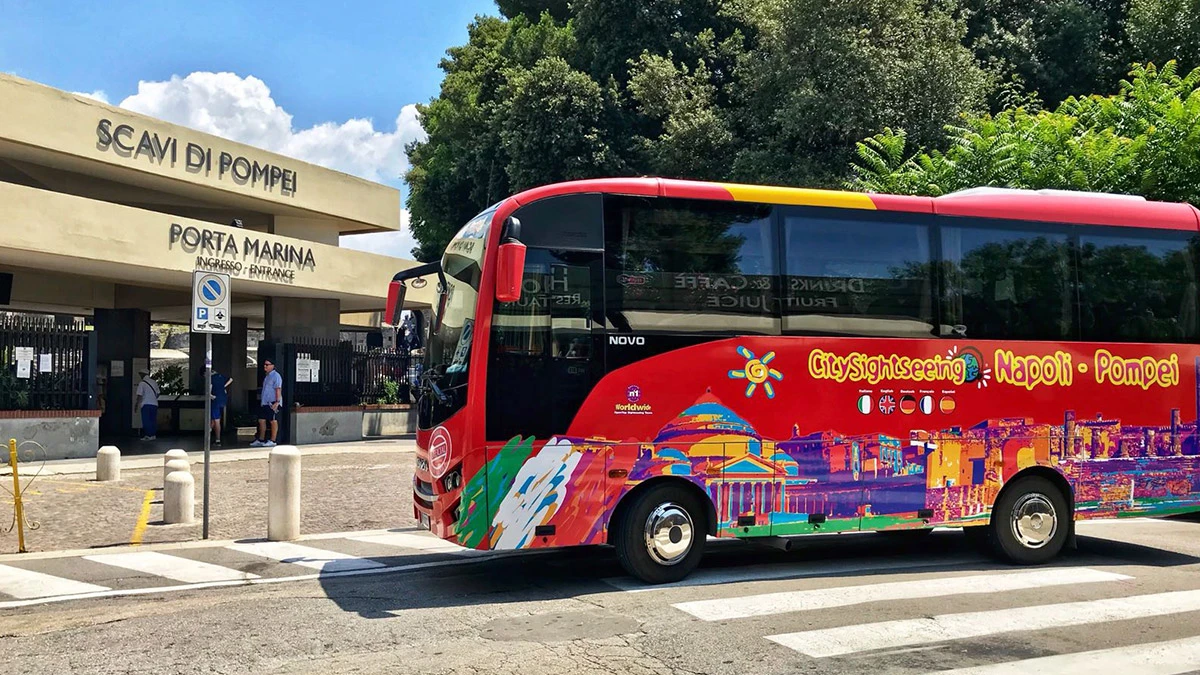 Why a tour from Rome to Pompeii is best option
Booking a tour from Rome to Pompeii is the best way to travel to the ancient ruins.
When you opt for a tour, you get massive benefits –
Transportation: The distance between Rome and Pompeii is about 240 kilometers (149 miles), which is quite a long journey (around three hours). Tours often provide transportation to and from the destination, which can be a lot more convenient than trying to navigate Italian public transportation or driving in a foreign country.
Guided Tours: Once you're in Pompeii, having a guide can greatly enhance your experience. Guides can provide historical context, point out important landmarks, and answer any questions you might have. Many tours include a guide as part of the package. Learn everything about guided tours of Pompeii
Efficiency: A tour can help you make the most of your time. Pompeii is a large site and it can be overwhelming to try to see everything on your own. A tour can help ensure you see the most important sights and don't miss anything.
Reduced Stress: Organizing a trip can be stressful, particularly when you're dealing with unfamiliar locations and languages. By booking a tour, a lot of the planning and logistics are taken care of for you, allowing you to relax and enjoy your vacation.
Cost: While a tour might initially seem more expensive, once you factor in the costs of transportation, tickets, and time, it might end up being more cost-effective.
Learn everything about Pompeii tickets, and what to see at Pompeii before planning your trip to the ancient ruins. Some tourists prefer to visit both Pompeii and Herculaneum together.
Best tours to Pompeii from Rome
More than 2 million tourists travel from Rome to Pompeii every year to see the ruins left by the volcanic eruption, and most of them opt for a coach tour.
As a result, thousands of bus tours start from Rome every day.
Some go only to Pompeii, while others also include a visit to Naples or the Amalfi Coast.
We share below three of the best tours you can opt for if you are holidaying in Rome and want to visit Pompeii ruins.
Pompeii tour with Naples or Positano option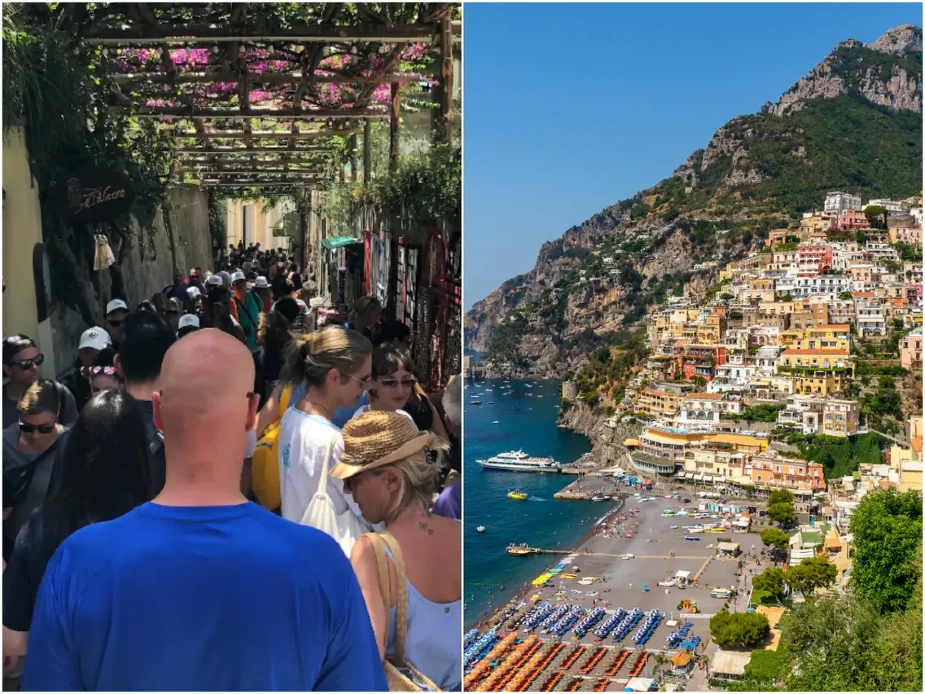 If you book this tour to Pompeii from the Roman capital, you can roam around the streets of Pompeii with an expert guide and climb Mount Vesuvius.
You also get to witness the magnificent view of the Amalfi Coast and the bay of Naples during summer.
During the tour enjoy a skip-the-line access to the UNESCO World Heritage Site of Pompeii.
The guide will also take you to the famous Castle Nuovo, Umberto I Gallery, and Plebiscito Square by a fully air-conditioned bus.
Tourists can also explore Pompeii National Park and see Sorrento and Capri panoramic views.
Ticket Prices
Adult ticket (18+ years): €139
Child ticket (2 to 17 years): €129
Infant ticket (up to 1 year): Free Entry
(Select Naples, Vesuvius, or Positano while booking your tour)
Pompeii tour with Amalfi Coast or Positano option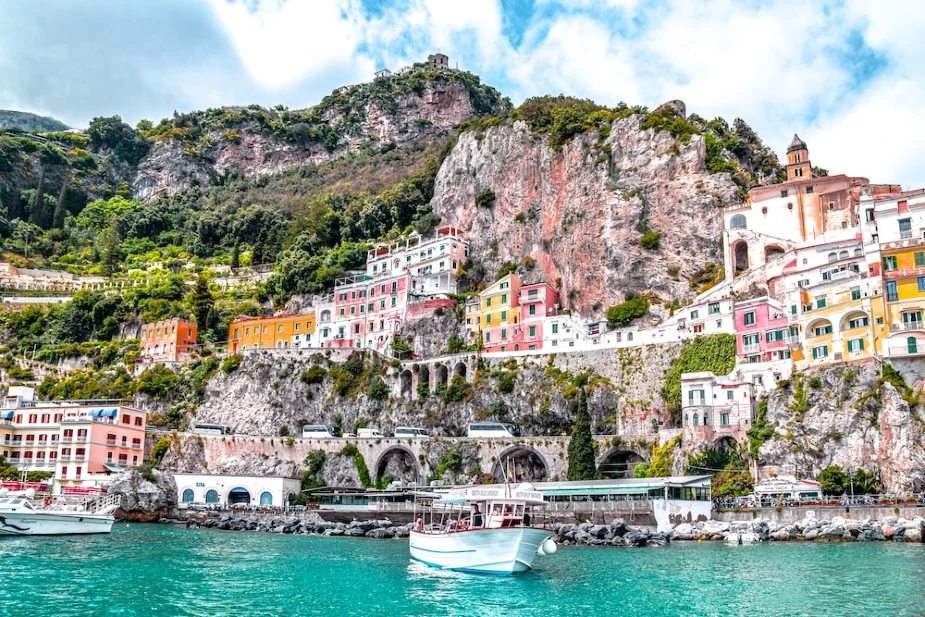 By booking this package, tourists can go on the journey from Rome to Pompeii by air-conditioned coach and visit the beautiful resorts of Amalfi Coast and Positano with a local guide fluent in English.
You can also see the UNESCO World Heritage Site and the Church of Santa Maria Assunta, go to the hillside of Positano and explore the small mountain villages, discover picturesque boutiques, or go to Amalfi Coastline.
Experience the unique history, unrivaled scenery and picturesque towns in a private air-conditioned coach.
Ticket Prices
Adult ticket (18+ years): €139
Child ticket (2 to 17 years): €129
Infant ticket (up to 1 year): Free Entry
Round trip to Pompeii and its ruins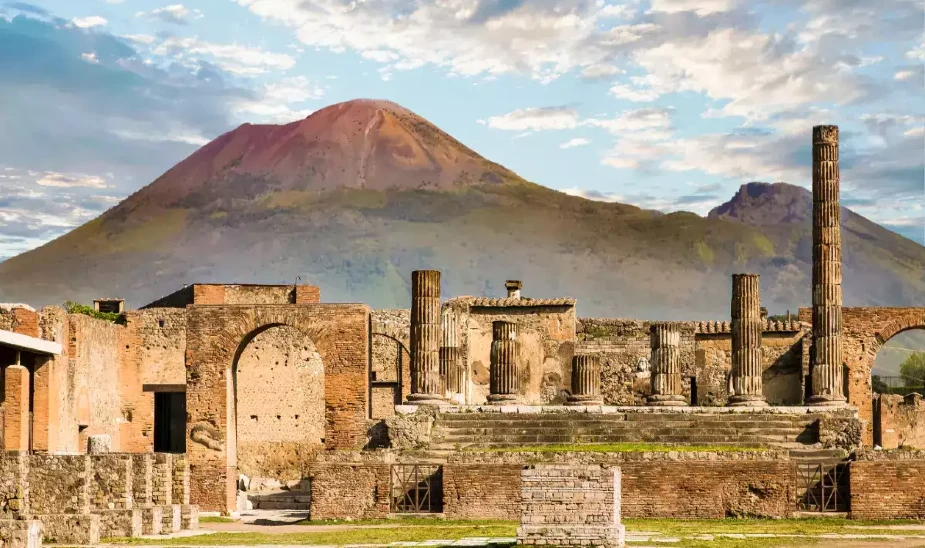 On this day trip to Pompeii from Rome tourists can also stop in Naples to enjoy a quick tour from an air-conditioned bus.
You will also visit the Pompeii archaeological sites and Mount Vesuvius and learn the painful history of that fateful night when the volcano erupted and destroyed the whole city in 79 A.D.
Tourists can see Vomero Hills, enjoy the amazing view of Sorrento Peninsula from the top, and experience this ancient city's rich culture, history, and art.
Take the tour with an English tour leader.
Ticket Prices
Adult ticket (8+ years): €77
Child ticket (3 to 7 years): €62
Infant ticket (up to 2 years): Free Entry
Recommended Reading
# Sorrento to Pompeii
# Naples to Pompeii
Train from Rome to Pompeii
Visiting Pompeii by train is a two step process –
Step 1: From Rome to Naples on high-speed train
You can board high-speed trains starting Rome Termini and go to Naples Centrale. The trains start every half hour and take 70 minutes to reach their destination. From Florence SMN, trains are available every hour to Naples Centrale but take almost three hours.
Rome to Naples starts at around €20 each way if you book in advance. The price is double when you buy on the day of your travel.
It is best to reserve, but many last-minute seats are also available since there are so many trains.
Tourists can purchase their train tickets from www.italiarail.com
Most trains are high-speed Frecciarossas.
Step 2: From Naples to Pompeii on Circumvesuviana Railway
Once you get down at Naples Centrale, follow the signs to the Circumvesuviana station underneath the mainline station. The Circumvesuviana station is called Napoli Piazza Garibaldi.
From Naples Piazza Garibaldi station, you can take the Circumvesuviana electric trains to Pompeii Scavi – Villa Dei Misteri (Pompeii's railway station)
These trains run every 30 minutes and take around 35 minutes to reach
The train fare is €3.20 each way
No advance booking is needed for Circumvesuviana electric trains. You can buy the tickets from the ticket office on the day of your travel.
The last train back to Rome departs at 8.50 pm. Tourists who miss the last train have no option but to spend the night in Pompeii. Find out more about taking a train to Pompeii from Naples
Recommended Reading
# Facts about Pompeii ruins
# Pompeii has lots of graffiti
---
---
Bus from Rome to Pompeii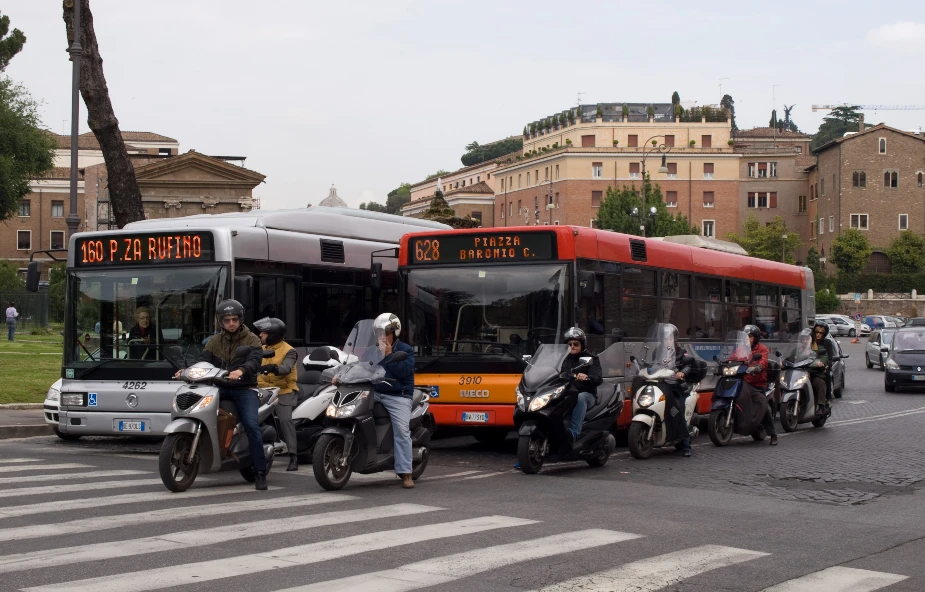 Tourists can also head from Rome to Pompeii on long-distance bus services such as Flixbus and Marozzi VT.
Operating from Rome's Tiburtina Bus Station, these services make daily trips between these Italian cities.
Booking your seats online beforehand is highly recommended for the best experience (guaranteed seats and low prices), especially if you visit Pompeii during the summer.
If you opt for a direct route, you're looking at a travel time of roughly three hours.
Tourists who have used these bus services didn't find the journey tiresome because the vehicles are designed for comfort and have amenities like complimentary Wi-Fi and hot beverages.
The first bus to Pompeii from Rome sets off at the break of dawn, 4.15 am, and the last one departs at 6.30 pm.
The last direct bus departing from Pompeii to Rome leaves at 6 pm. If you miss this, you could board a train or find accommodation for the night.
Rome to Pompeii by car
If you plan a road trip from Rome to Pompeii by car, consider a night's stay in Pompeii or somewhere nearby.
The journey spans a distance of 241 kilometers and easily demands two and a half to three hours of driving.
The E45 autostrada (toll motorway) provides a straight route between the two cities, and even first-time visitors don't have trouble with directions.
But most tourists driving to Pompeii tend to explore the quaint villages and stunning landscapes along the way.
As a result, they end up taking longer than usual.
That's why returning the same day may be quite a stretch.
The country's toll system operates on a pay-as-you-go model, with fees calculated based on the distance covered.
You can either cash (Euros) or use a debit/credit card to settle the tolls at each gate along your journey.
Some car rental service providers are Avis, Economy Bookings, and Europcar.
Private tour from Rome to Pompeii
Apart from the self-guided and guided tour, private day tours are available from Rome to Pompeii.
Only those who book the tour and their family will be eligible for this luxurious experience.
All you need to do is buy a ticket online and show the ticket at the bus stop, and then you will be escorted till the entrance of Pompeii.
You will stop for lunch in a restaurant in a local winery on the volcano's slopes and taste some wine varieties developed from grapes grown in volcanic soil.
An expert guide will be appointed just for you who will take you through the journey of the culturally rich city of Pompeii and Mount Vesuvius Volcano.
The tour costs €1250 for adults, €150 for young people, and free entry for infants.
Tourist attractions in Rome