A guided tour of Pompeii can enhance your experience by providing a mix of historical context, practical assistance, and interesting anecdotes.
A self-guided tour of Pompeii also has its advantages.
This article lists the best guided tours of Pompeii, and also helps you decide if you need to book the costlier guided tour or buy cheaper self-guided Pompeii ticket.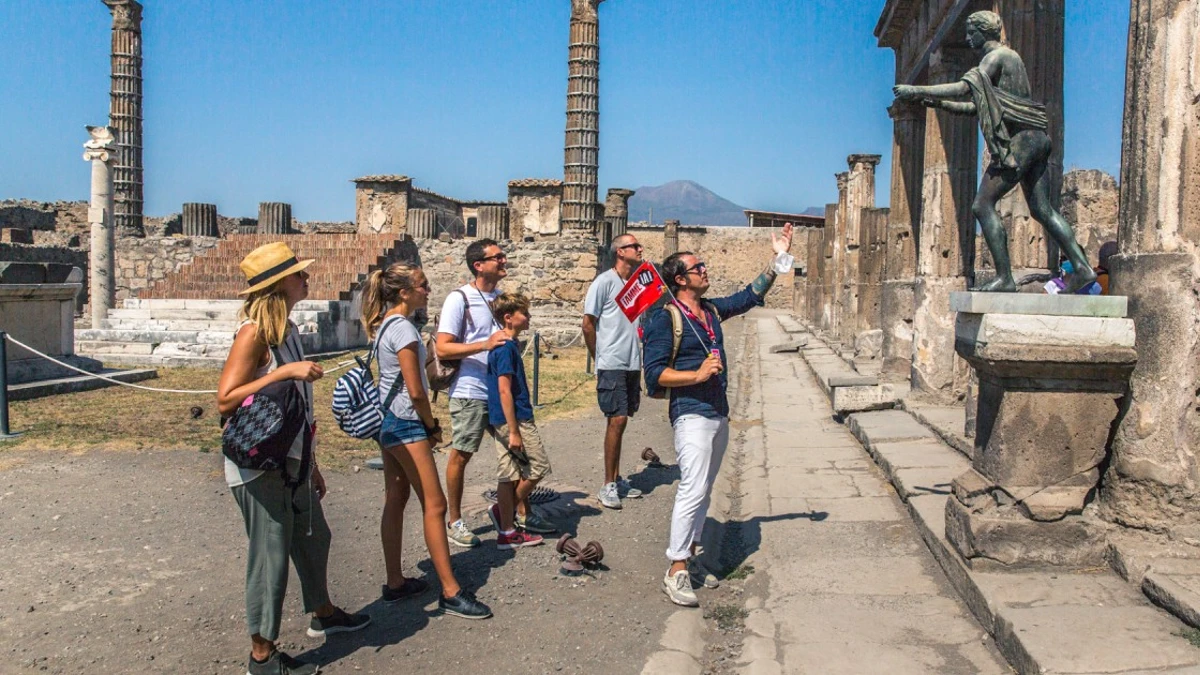 Top guided tours of Pompeii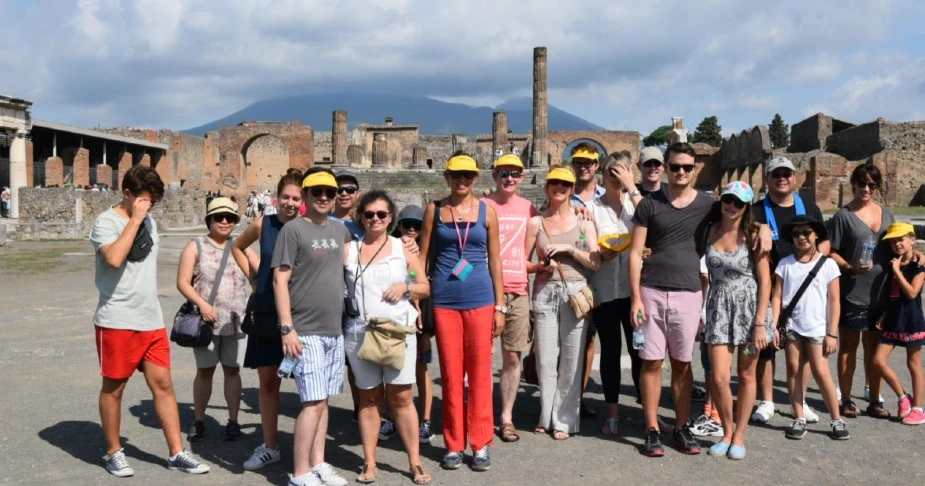 Several guided tours are available for Pompeii and each comes with a set of advantages and benefits.
Some of the private and shared guided tours are mentioned below.
Without waiting in line or at the entrance gate, these guided tours include various services, such as a multilingual archaeologist, a tour of the entire city, and many more extras.
In most guided tours, the tourists will be escorted in small groups from their respective hotels, picked up in an air-conditioned bus, and dropped off at Pompeii's main entrance – Porta Marina Gate.
From there, an expert local guide will guide them through the entire day of exploring the streets of Pompeii and visiting various attractions like Pompeii Archaeological Park, Amphitheater, Forum, Fountains, Statues, Brothel, Bathhouses, etc.
Also, witness the artwork, frescos, and plaster casts of the citizens of Pompeii, climb Mount Vesuvius, learn about the still active volcano, and see the whole view of the Gulf of Naples within a few hours.
All you have to do is book your Pompeii tickets online and choose the tour at your convenience.
Though tickets are also available offline, they cost more and sell out quickly due to their huge demand, whereas online tickets come in at a cheaper rate with many advantages.
Recommended Reading
# Visiting both Pompeii and Herculaneum
# Pompeii day trips from Rome
# Train from Naples to Pompeii
---
---
Benefits of Pompeii guided tours
Expert Guidance
Guides, especially those with a background in archaeology or history, can provide valuable insights into the history and significance of the ruins, helping you to appreciate the site much more than you might on your own.
They can point out details that you might miss, explain the significance of different areas and artifacts, and answer any questions you might have. Find out interesting facts about Pompeii
Time Management
Pompeii is a large site that can be overwhelming to navigate on your own.
A guided tour can help you make the most of your time by focusing on the most significant areas.
Tours often have a predetermined route that covers the main highlights of Pompeii, ensuring you don't miss out on any key sights.
Skip-the-Line Access
Some guided tours offer skip-the-line access to the ruins, allowing you to bypass long queues, particularly during peak travel seasons.
This can save you a significant amount of time.
Context and Stories
A good tour guide can bring the ruins to life with stories about what life was like in Pompeii before the eruption of Mount Vesuvius in AD 79.
This can make your visit more engaging and memorable. Check out Pompeii Graffiti
Logistical Support
Guided tours often include transportation and can also assist with tickets, reducing the number of logistical details you need to manage.
In general, a guided tour can enhance your experience by providing a mix of historical context, practical assistance, and interesting anecdotes.
Recommended Reading
# Rome to Pompeii
# Naples to Pompeii
# Sorrento to Pompeii
Self-guided or guided tour – what is better?
Whether a self-guided or guided tour of Pompeii is better for you depends on your personal preferences, interests, and the kind of experience you want to have.
When you opt for a guided tour, the guides provide expert knowledge and can offer insights that you wouldn't get from a guidebook or information plaque.
Guided tours are generally designed to maximize your time and ensure you see the most important sites.
Some guided tours offer skip-the-line access, which can be a huge time saver, especially during peak tourist season.
However, self-guided tours have their own advantages.
Pace: A self-guided tour allows you to set your own pace. You can spend as much time as you like at each site and move on when you're ready.
Freedom: You can decide what you want to see and in what order. If you're particularly interested in a specific aspect of Pompeii, you can focus on that.
Cost: A self-guided tour is usually less expensive than a guided tour, though you may have to pay for an audio guide or guidebook.
Solitude: If you prefer to be alone with your thoughts or you don't like group tours, a self-guided tour might be a better fit.
Tips for a successful guided tour of Pompeii
While going on a guided tour, visitors need to keep certain things in mind:
– Always carry water and snacks, especially when traveling with kids or older people
– Wear a comfortable clothes and shoes because there is a lot of walking
– If you're traveling in the morning, remember to bring an umbrella, hat, sunscreen, and sunglasses to protect yourself from the sun and rain
– Listen carefully to everything the guide says and stay close to them. It is easy to get lost
Tourist attractions in Rome