Pompeii is an ancient city close to Naples in the Campania region of Italy and is an ideal day trip from Rome.
When Mount Vesuvius erupted in 79 AD, it buried Pompeii, Herculaneum, and other villas under 4 to 6 meters (13 to 20 feet) of volcanic ash and pumice.
Though the city is now just a pile of ashes, it has immense historical significance, and that's why many millions visit Pompeii every year.
If you're considering a day trip from Rome to the ancient ruins, it is best to opt for a guided tour of Pompeii since it takes little planning.
Many people plan a day trip from Rome to Pompeii and Herculaneum together as they are only 16 km (10 miles) apart.
This article shares everything you must know before booking your day trip from to Pompeii, from Rome.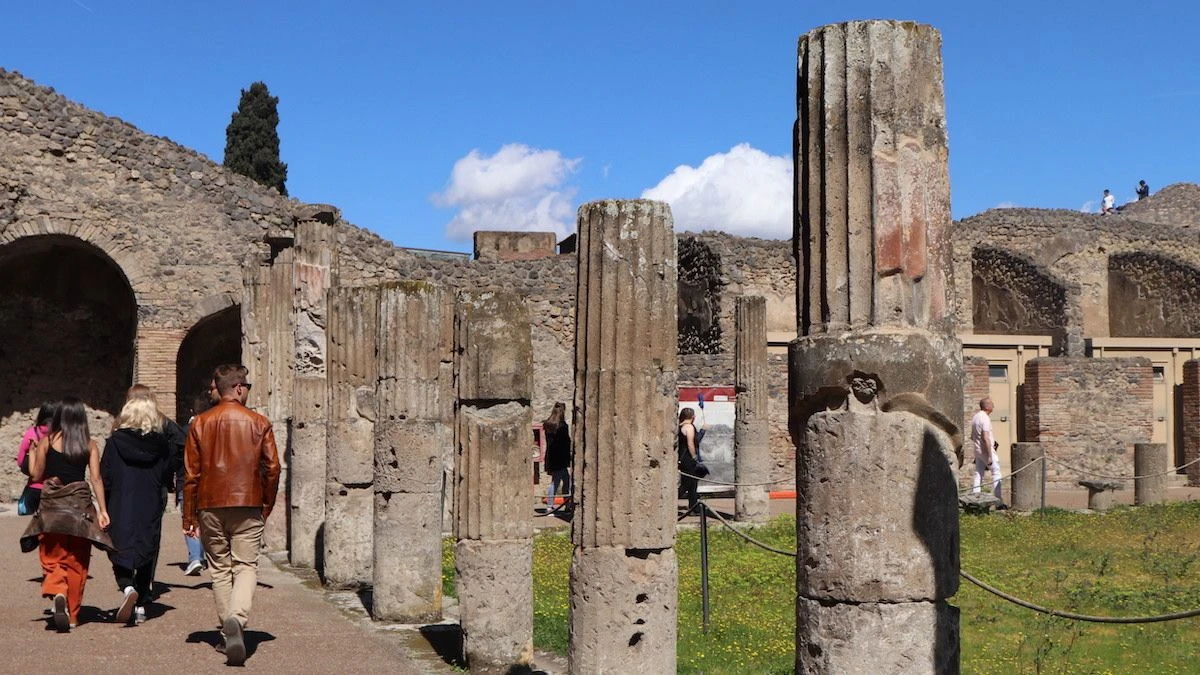 What to expect on a day trip from Rome
Pompeii is full of historical attractions, and visitors can learn much about its history.
First, you have to enter through the Porta Marina Gate, and then you can roam around Pompeii's streets and see Pompeii's ruins. Find out everything about Pompeii entrances.
The UNESCO-recognised heritage site offers many things like temples, bakeries, homes, a cathedral, a bathhouse, a forum, a brothel, and many more.
The archaeological park, amphitheater, artwork, frescos, and plaster casts of the people of Pompeii are must-see sites to understand that era's history properly.
Apart from that, you can also go to the top of Mount Vesuvius and see the volcano and the full view of the Gulf of Naples.
Even the roads leading to Pompeii offer magnificent views – Vomero Hills, Mergellina, and Sorrento Peninsula are famous for their scenic beauty.
Some of the tourists travel from Naples to Pompeii, while a few others plan their Pompeii visit from Sorrento.
Best day trips from Rome to Pompeii
Several day trip options are available from Rome to Pompeii. We list some of them below –
It is better to book these tours in advance, and online because they tend to sell out quickly. You can also get lots of discounts and other benefits.
Find out what to see in Pompeii and make your trip a memorable experience.
---
---
Distance and travelling time
Pompeii is around 240 km (149 miles) from Rome, but since many tourists take the journey from the capital city to the ancient ruins, journeying from Rome to Pompeii has been made easy.
It takes an average of two and a half hours to travel from Roma Termini to Pompei by train.
More than 50 trains travel from Roma Termini to Pompei, and tickets, when booked in advance, cost around 2.75 Euros.
By road, it takes a little over two hours.
Getting to Pompeii from Rome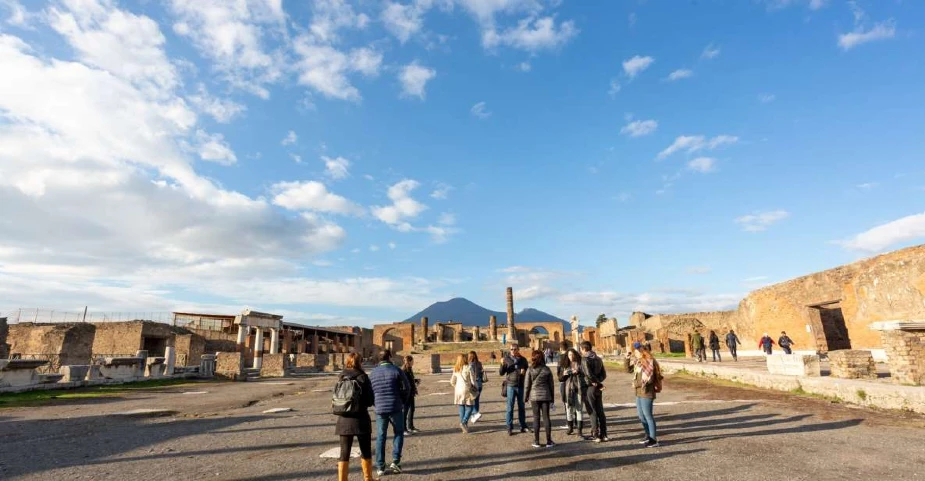 There are several ways to get from Rome to Pompeii, each with its own advantages and considerations.
By Train
This is the most popular method.
From Rome's Termini station, you can take a high-speed train to Naples, which takes around 1-2 hours.
From Naples, you switch to the local Circumvesuviana train, which takes you directly to Pompeii.
The Circumvesuviana train ride takes about 30-40 minutes.
It's an affordable option, but the trains can be crowded, and you need to navigate the transfer in Naples.
Recommended Reading: Train from Naples to Pompeii
By Bus
Some companies offer direct bus service from Rome to Pompeii.
This is a more comfortable and convenient option, but it's also more expensive than the train and can take longer due to traffic.
Travelling by car
If you're comfortable driving in Italy, you can rent a car and drive from Rome to Pompeii.
The journey takes around 2-3 hours, depending on traffic.
Keep in mind that Italian driving can be challenging for those not used to it, and you'll need to arrange parking when you arrive in Pompeii.
Book a guided tour
Many companies offer day tours from Rome to Pompeii.
These typically include transportation, tickets to the archaeological site, and often a guide.
This is the most convenient option, but also the most expensive.
We have shared our favorite day trips from Rome to Pompeii earlier in this article.
Do not forget to check out some of the funniest Pompeii graffiti, including jokes, comments on girlfriends, sex life, etc.
Tips for a good day trip to Pompeii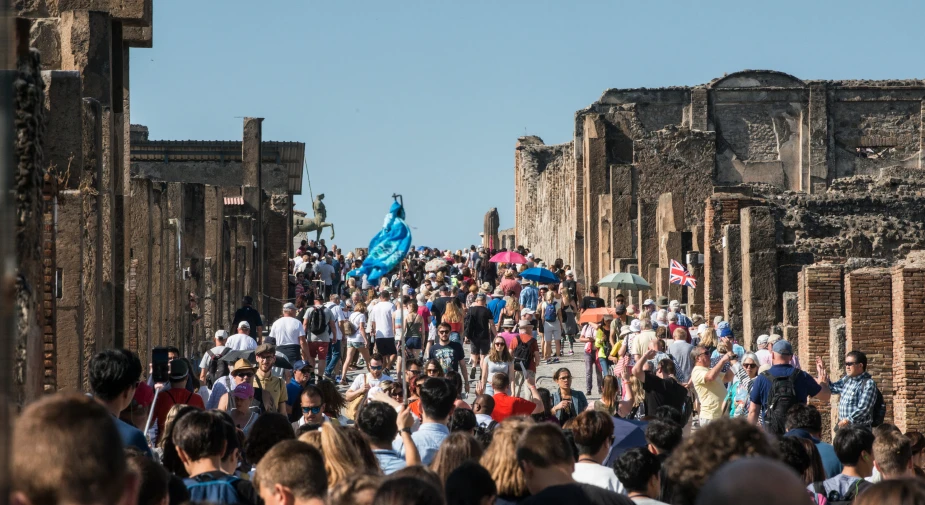 Here are some tips for a successful day trip to Pompeii –
Start Early: The trip from Rome to Pompeii can take two to three hours each way, so plan to start early to maximize your time at the site.
Wear Comfortable Shoes: Pompeii is a large site with uneven cobblestone streets and a lot of walking. Comfortable shoes are a must.
Bring Water and Snacks: There are few facilities in the ruins themselves, so bring enough water, especially on hot days. Some snacks can also be handy if you want to maximize your time exploring.
Sun Protection: Much of Pompeii is exposed, so remember to bring sun protection like a hat, sunglasses, and sunscreen.
Plan Your Route: Pompeii is large and can be overwhelming. Decide in advance what you want to see, or consider a guided tour to help you navigate and understand the site.
Guidebook or App: A guidebook or an app about Pompeii can provide valuable information and context about what you're seeing. Some apps also offer GPS-guided tours of the site.
Check Weather: The weather can change quickly, and much of Pompeii is exposed with little shelter. Check the forecast and plan accordingly.
Time for the Museum: Consider making time for the Archaeological Museum in Naples, where many of the artifacts from Pompeii are housed. Seeing these can enrich your understanding of the site.
End on a High Note: End your day with a delicious meal in Naples, famous for its pizza, before heading back to Rome.
Other day trip ideas from Rome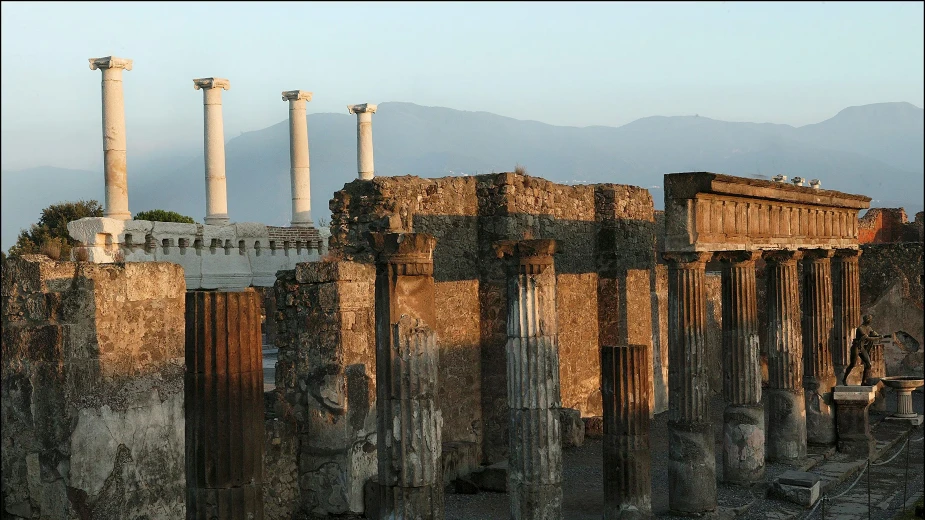 Not only Pompeii but there are also other tourist attractions located near Rome.
After visiting Pompeii, tourists can climb Mount Vesuvius and see the whole view of the city.
They can even drive to the Amalfi Coast, another UNESCO-recognised heritage site, capture the beautiful scenery, and have lunch in one of the lovely cafes there.
You can also go to Positano, a local village, to experience its old Roman charm and for a little shopping spree, but remember that most of the stores are closed in winter.
You can visit Margellina Port to glimpse the Roman lifestyle. From there, try out the beautiful city of Naples, Sorrento Peninsula, or Vomero Hill to enjoy the serene views and relax.
Foodies and wine connoisseurs can also go for local food and wine tasting, especially limoncello, mainly manufactured in the southern regions and very popular in Italy.
Recommended Reading: Interesting facts about Pompeii
Tourist attractions in Rome