There are two ways to see the Colosseum at night – walk around the attraction or book a night tour and get inside.
More than 99% of the tourists visit the Colosseum during the day, and the rest fight (not Gladiator style, of course!) for the limited night tour tickets.
That's how rare a Colosseum night tour ticket is.
These VIP night tours are also known as a Moonlight tours of the Colosseum.
When you visit the Roman Colosseum at night, there is no crowd, and it is silent and eerie.
If you love that feeling and want to explore areas of the Colosseum not available during day tours, you must explore this Roman monument at night.
However, be aware that the night tour is in much demand and hence you must book your Colosseum night tour in advance.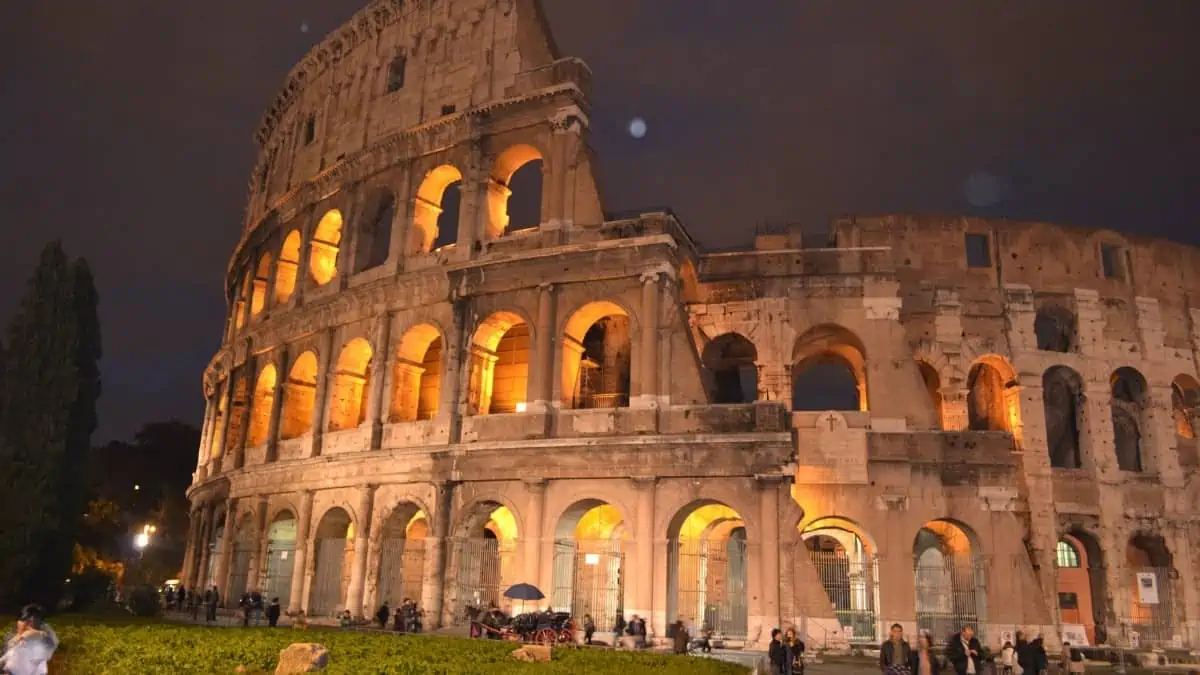 What to expect on a night tour of the Colosseum
---
---
Colosseum at night vs. day
Both a day visit and a night visit to the Colosseum have pros and cons.
Colosseum by day
You can choose between self-guided and guided Colosseum tours
You can book your Colosseum entry ticket for any time during the day
After visiting the Colosseum, you can also visit the Roman Forum and Palatine Hill
It gets very crowded during the day
The weather is hot because there is no cover
Colosseum at night
The monument is lit up, creating amazing visuals both inside and outside
Without the crowd, it seems like a private tour of the Colosseum
You get to explore areas not available as part of the regular daytime ticket
The darkness brings about a thrill and excitement, which the day tour can't match
The night tour tickets cost much more than the regular daytime tickets
These Roman Colosseum at night tour tickets sell out much in advance, so you have to plan much ahead
You can only see the Rome Colosseum at night. Roman Forum and Palatine Hill are not part of the night tours
It won't be fair on our part to pick one Colosseum tour over the other.
But having said that, we feel that your first visit must be during the day so that you can see the Roman architectural skills in full daylight.
If you have already visited the Colosseum once during the daytime, you must try out the night visit.
Some tourists book the Vatican and Colosseum combo tour and see both attractions in a day. At the same time, some visitors prefer to see the Colosseum and Trevi Fountain together.
---
---
Colosseum by night timings
Colosseum night tours are available from April till the end of the year.
The night tours start an hour after the regular closing time of the Colosseum.
During the peak months of March to September, Colosseum closes at 7.15 pm.
And since the closing time of the Colosseum is dependent on the sunset, these Colosseum Rome night tours always start when it is dark.
These night tours usually last 1 to 2 hours.
Colosseum's timings
The last Sunday of Oct to 15 Feb: 8.30 am to 4.30 pm
16 Feb to 15 Mar: 8.30 am to 5 pm
16 Mar to the last Saturday of Mar: 8.30 am to 5.30 pm
Last Sunday of Mar to 31 Aug: 8.30 am to 7:15 pm
1 to 30 Sept: 8.30 am to 7 pm
1 Oct to last Saturday of Oct: 8.30 am to 6.30 pm
Tip: Whichever Colosseum entrance ticket you purchase, be at the attraction's gates at least 15 minutes before the time mentioned on your ticket. If you are late, you will be sent back.
---
---
Colosseum night tour tickets
You avoid the crowd during this hassle-free tour of the Colosseum and Ancient Rome by night.
This Roman Colosseum night tour is led by a professional guide, who narrates anecdotes making it a memorable trip.
You meet your guide at a distance from the Colosseum so that you can watch the lit-up monument in its full glory even as you walk towards it.
Besides the main and second floors of the Colosseum, you also get to explore the Arena floor.
Tourists can opt to visit the Colosseum's Underground or skip it, and the cost of the night tour changes accordingly.
The Underground Level of the Colosseum is only included in the tours on Saturdays departing at 7:30 pm.
This after-dark tour of Rome's most beautiful monument is unsuitable for kids five years and younger.
Kids under five years are not allowed on this Colosseum at night tour.
Ticket price (WITHOUT Underground access)
Adult ticket (18+ years): €79
Child ticket (6 to 17 years): €74
Ticket price (WITH Underground access)
Adult ticket (18+ years): €99
Child ticket (6 to 17 years): €94
If roaming around at night interests you, check out these night tours of Rome –
Recommended Reading
– Trivia about the Colosseum
– Colosseum made out of LEGO
Sources
# Romecolosseumtickets.tours
# Colosseum-rome-tickets.com
# Walksofitaly.com

The travel specialists at TheBetterVacation.com use only high-quality sources while researching & writing their articles. We make every attempt to keep our content current, reliable and trustworthy.
Tourist attractions in Rome