The San Diego Zoo is a world-renowned zoo in San Diego, California, United States.
It is one of the world's largest and most diverse zoos, with over 3,500 animals.
The Zoo welcomes around four million visitors annually.
Many consider it one of the best zoos in the country for its 700+ unique species, conservation programs, excellent visitor facilities, and friendly staff.
The zoo is located in Balboa Park, a 1,200-acre urban cultural park in the heart of San Diego.
The zoo is also involved in conservation efforts around the world, with a particular focus on protecting endangered species and their habitats.
No wonder it is the most visited zoo in the whole of the USA.
In this article, we share everything you must know before buying San Diego Zoo tickets.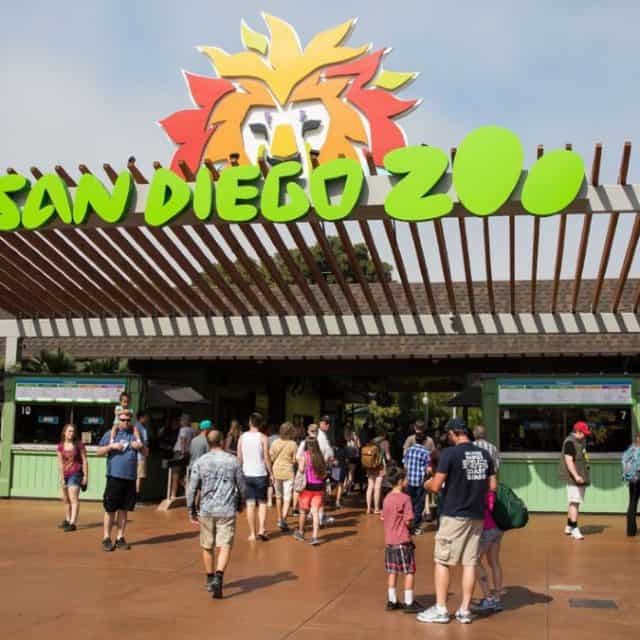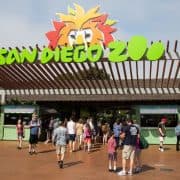 San Diego Zoo ticket prices
The San Diego Zoo ticket costs $69 for all visitors 12 years and above.
Kids aged between 3 to 11 years get a $10 discount on the price of the adult ticket and hence pay only $59.
Ticket discounts
Infants up to two years get a 100% discount and don't need to purchase any tickets.
Children between 3 to 11 years get the next best discounts to San Diego Zoo – a 17% reduction in the adult ticket cost. They pay only $59, while an adult pays $69.
Active military professionals can enter the zoo for free by showing their ID. Their dependents qualify for a 10% price reduction.
San Diego Zoo offers a 15% discount on the ticket price to seniors (65+ years) and students (12+ years) with valid photo ID cards.
However, the Military, Seniors and Student discounts can only be availed at the ticket window.
The best way to save money on your San Diego holiday is by opting for the Go San Diego Pass. You get to visit San Diego Zoo, San Diego Safari Park, SeaWorld San Diego, and 30+ other city attractions for free with this one pass. Find out more
---
---
San Diego Zoo tickets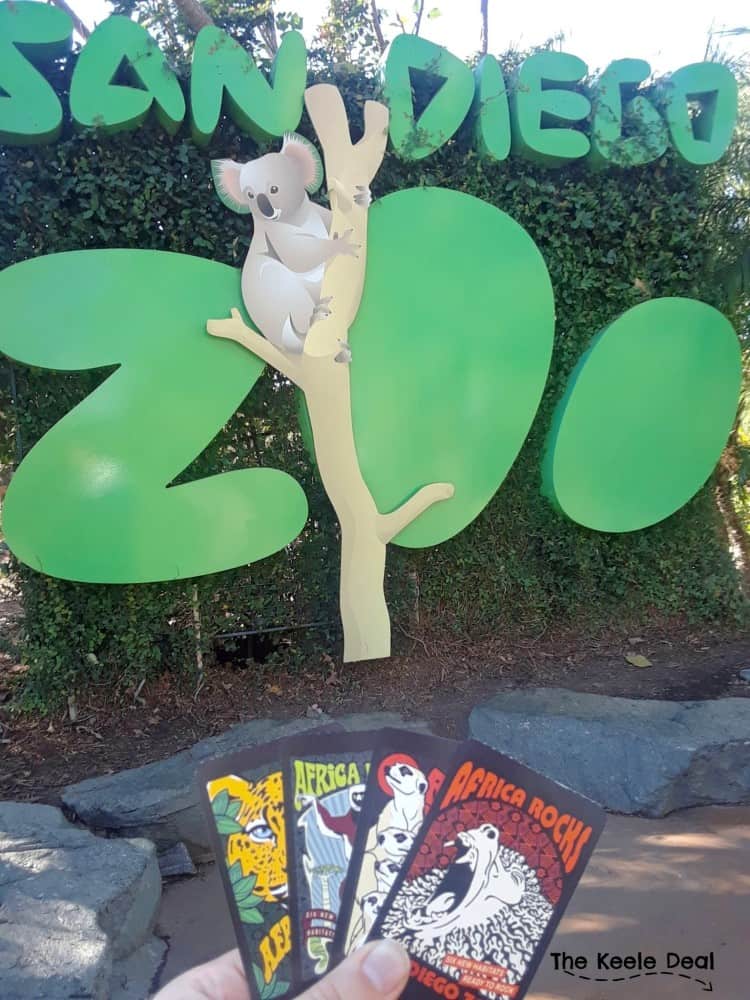 Purchasing your tickets for San Diego Zoo online is a better experience for three reasons:
Online tickets are cheaper than the price you will pay at the entrance
You don't wait in the ticket counter queue and waste your time and energy
Tickets on-site are sold on a 'first come, first served' basis. Booking your tickets online (and in advance) ensures a guaranteed entry
Cancellation policy: San Diego Zoo tickets can be canceled up to 24 hours in advance to receive a full refund.
Mobile tickets: The tickets get emailed to you, and on the day of the visit, you can show them on your mobile and walk in. You don't have to take print outs.
San Diego Zoo 1-Day Ticket
This skip-the-line San Diego Zoo ticket gets you access to everything there is to see and experience.
You can see all the animal exhibits, indulge in animal encounters, participate in interactive experiences, animal presentations, and shows.
This zoo ticket also includes:
Kangaroo Express Bus, which you can use to explore the zoo
Guided Bus Tour, a 35-minute narrated tour in a double-decker bus, covering much of the attraction
Skyfari aerial tram, an airborne shortcut over the treetops to the other end of the Zoo
Children's Zoo, which offers play and learn opportunities to kids
Adult ticket (12+ years): $69
Child ticket (3 to 11 years): $59
Infants up to two years enter for free.
San Diego Zoo and Safari Park: 2-day ticket
The Safari Park is San Diego Zoo's sister park located 56 km (35 miles) away, in Escondido. The travel time is approximately 45 minutes.
This combo ticket is popular amongst tourists who love wildlife and are in the region for at least two days.
This ticket helps you save 20% on the ticket costs and gets you one entry into the San Diego Zoo and one entry into San Diego Zoo's Safari Park.
If you don't want to try the second location, you can visit the same attraction twice.
Over and above all the previous ticket's inclusions, you also get an Africa Tram Safari and Cheetah Run at the Safari Park with this combo ticket.
Adult ticket (12+ years): $118
Child ticket (3 to 11 years): $108
Infants up to two years enter for free.
If you prefer to view animals in large field enclosures where herds roam free, opt for the 1-day Safari Park ticket.
---
---
San Diego Zoo directions
San Diego Zoo is in Balboa Park, at 2920 Zoo Drive, San Diego, CA 92101. Get Directions
By Public Transport
Santa Fe Depot train station, located in downtown San Diego on Kettner Blvd and Broadway, is closest to San Diego Zoo. It is 4.8 km (3 miles) away.
To get to the Santa Fe Depot station, you can use Amtrak (Pacific Surfliner), COASTER, or San Diego Trolley's Green Line.
Bus to San Diego Zoo
You can board either Route 7 or Route 215 bus from just outside the Santa Fe Depot along eastbound Broadway in Downtown San Diego.
The buses take you to San Diego Zoo and Balboa Park.
Remember to get down when the bus announces: 'Zoo Place – San Diego Zoo.'
The quickest way from Santa Fe Depot to San Diego Zoo is by taxi – it takes only 9 minutes.
Car Parking
Plenty of free parking slots are available in front of the zoo.
On busy days you can avail the valet parking facility, from near the zoo's gate.
The free parking lot also has four electric vehicle charging stations and a few accessible slots.
Additional free parking is available throughout Balboa Park, just that they will be farther from the zoo's main entrance.
---
---
Hours for San Diego Zoo
San Diego Zoo opens at 9 am, all through the year, including holidays.
In peak summer months, which sees maximum tourists, the Zoo remains open till 9 pm, and in winter, it closes at 5 pm.
Is San Diego Zoo open? Yes, after a long Covid break, San Diego Zoo reopened on 30 Jan 2021.
---
---
Best time to visit San Diego Zoo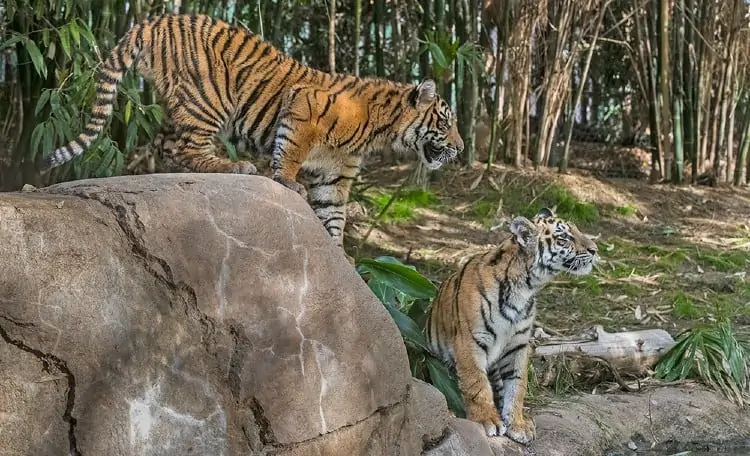 The best time to visit San Diego Zoo is as soon as they open at 9 am.
There are four advantages of starting early – the animals are most active early in the morning, the temperatures are still moderate, the crowd is yet to get in, and you have the whole day to explore.
When you start early, you can explore for a few hours, have lunch at one of the restaurants, and then begin exploring the zoo again.
We recommend weekdays for a peaceful visit because it gets crowded on weekends and school holidays.
At San Diego Zoo, the busiest hours on weekdays are 11 am to 1 pm, and on weekends it is 11 am to 2 pm.
Trivia: The first video to be ever uploaded on Youtube was shot at San Diego Zoo by one of the Internet platform's co-founders.
---
How long does San Diego Zoo take
If you are visiting with kids and plan to attend keeper talks, feeding sessions, etc., you will need 4 to 5 hours to explore San Diego Zoo.
However, if you are a bunch of adults and want to wrap up soon, you can cover most animal exhibits in two hours.
Some families who pace themselves well, with regular breaks, are known to spend the whole day at the zoo.
Tip: When you buy San Diego Zoo tickets online, you can skip the long lines at the ticket office and save time.
---
---
Activities at San Diego Zoo
Depending on the number of hours and energy left, you can participate in numerous San Diego Zoo experiences.
We list some of our favorites –
Guided bus tour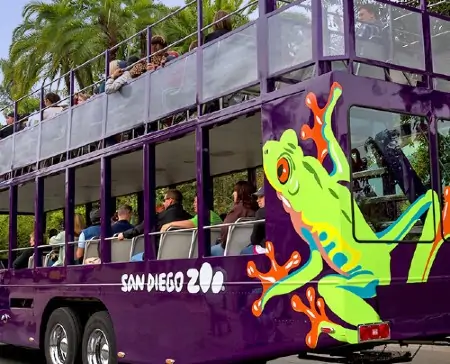 The 35-minute guided bus tour is a great way to get a quick overview of the zoo.

The tours start at 9.30 am and continue till about an hour before closing time daily.

Image: Sandiegozoo.org
The 35-minute guided bus tour is a great way to get a quick overview of the zoo.
Skyfari aerial tram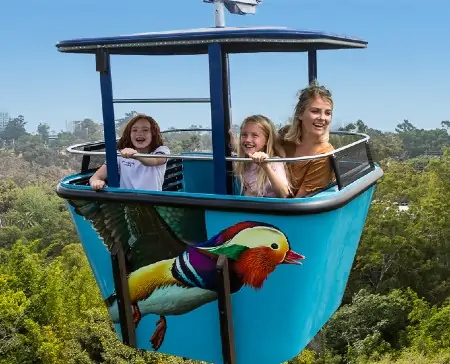 The Skyfari is an aerial tram that goes from the entrance of the zoo to its back. It is a fun way to soar over the treetops and explore the zoo.
Image: Sandiegozoo.org
The tram service starts at 10 am till the zoo closes at 9 pm (much earlier in winters).
Access to Skyfari is part of the San Diego Zoo tickets.
4D theaters
San Diego Zoo has two 4D theaters – one at the Northern Frontier and another at the Children's Zoo.
Be ready for gusts of wind, vibrating seats, and surprise sprays of water in your face, immensely enhancing the movie-watching experience.
Movies run daily till about an hour before closing time.
Visitors must pay an entry fee of $6 per person.
Keeper Talks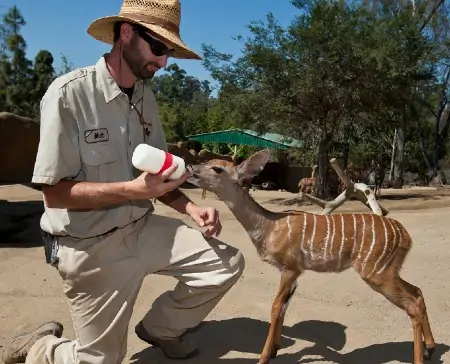 Also known as Animal Encounters, the Keeper Talks are a great way to learn about the animals, their habitats and see them in action.

The Keepers Talks happen all through the day, and for some animals, they happen twice a day.
Image: Sandiegozoo.org
Do ask for the day's schedule of the San Diego Zoo's Keeper Talk at the entrance.
Animal Shows
The moment you enter the zoo, find out the show timings and plan your exploration accordingly.
The San Diego Zoo has a couple of top-rated shows with visitors of all age groups.
Dr. Zoolittle and Friends Explore Africa are scheduled at 4 pm and 5 pm daily.
The show titled 'Wild About Animals', happens at 1 pm every day.
Botanical Tours
Visitors can take a self-guided tour of the San Diego Zoo's spectacular gardens and plant collections.
The five gardens to look out for are Australian Outback, Elephant Odyssey Trees, Fern Canyon (in Lost Forest), Hawaiian Native Plant Garden (in Asian Passage), and Monkey Trails.
Kangaroo Bus
The Kangaroo Bus service has four stops, each marked with a yellow Kangaroo Bus banner. A bus arrives at the stops every 15 minutes.
Image: Maryinvancity.com
Visitors use it as a means of transport within the zoo and save some energy.
Access to the bus is included with the San Diego Zoo tickets.
With four fantastic zoos, California State is a wildlife lover's destination. Read about all the Zoos in California.
---
---
Kids activities at San Diego Zoo
San Diego Zoo has lots of attractions and activities for kids.
Some of the kids' favorite animal spots are the Flamingo and Duck Pond and the Otters section in Lost Forest.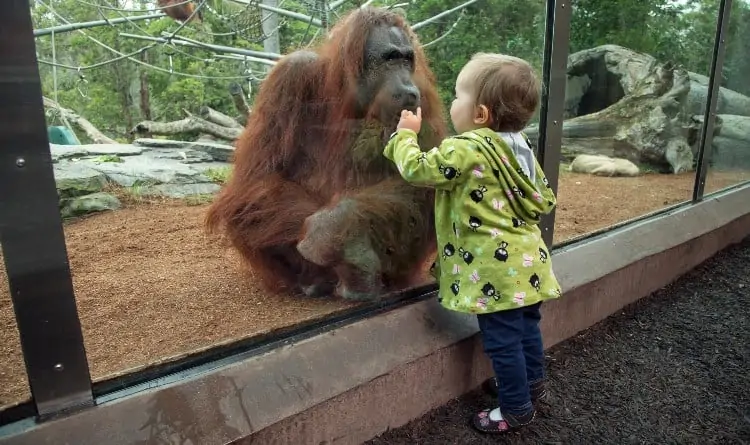 They also love spending time with Penguins at Conrad Prebys Africa Rocks, Giant Pandas in Asia Passage, Gorillas in Lost Forest, Elephant at the Odyssey, and the Polar Bears in Northern Frontier.
The new Children's Zoo, which highlights four distinct environments, Desert Dunes, Wild Woods, Rain Forest, and Marsh Meadows, is also a hit with the youngsters.
Skyfari is an opportunity for the kids to soar above the treetops for a birds-eye view of the animals below.
When it comes to feeding the animals, the giraffes win hands down. Do keep an eye on the giraffe-feeding times so that your kid doesn't miss them.
Some of the other star attractions are – the Discovery Playground and the Petting Paddock.
Just outside the San Diego Zoo, you will find two more activities that enthrall kids of all age groups – the Balboa Park Railroad Miniature Train and Balboa Park Carousel.
For more details, check out San Diego Zoo for kids.
---
---
San Diego Zoo animals
San Diego Zoo has the best collection of animals, and at a count upwards of 3500, a lot of them too!
Covering approximately 100 acres, it houses more than 700 species and subspecies of animals.
The animals in San Diego Zoo are divided into numerous sections.
At Africa Rocks, visitors can experience six types of terrains and hundreds of animals, including Leopard, Fossa, Gelada, Baboons, Lemur, Meerkat, Monkey, Penguins, etc.
The Asian Passage section has animals such as the Leopard, Grizzly Bear, Red Panda, Snow Leopard, Sun Bear, Takin, etc.
Discovery Outpost is primarily reptiles, and you get to see the famed Anaconda, Chinese Alligator, King Cobra, Mang Mountain Viper, Rattle Snake, Galapagos Tortoise, Turtle, etc.
The name Elephant Odyssey is misleading because, besides Elephant, this part of San Diego Zoo is also home to the Lion, Jaguar, Camel, Two-Toed Sloth, Capybara, etc.
The Lost Forest has kid attractions such as the Hippo, Gorilla, and Otter. The other animals in this section are Babirusa, Bonobo, Monkey, Okapi, Tapir, etc.
Gorilla Tropics, which houses the Scripps Aviary, is also part of the Lost Forest enclosure.
The Northern Frontier consists of animals such as the Arctic Fox, Mountain Lion, Polar Bear, Reindeer, Zebra, etc.
The Outback is a relatively smaller section and displays animals such as Koala, Laughing Kookaburra, and Tasmanian Devil.
The two superstars at the Urban Jungle are the crowd favorites Giraffe and Rhinoceros.
---
---
Tips for visiting San Diego Zoo
San Diego Zoo gets around 5 million visitors annually, that's around 14,000 a day. Purchase your San Diego Zoo tickets online, so you don't have to stand in long queues.
The animals are most active in the morning hours, which is why it is best to visit the zoo as soon as it opens. On hot days, animals hide in the shade as the day progresses.
Take a selfie with Rex, The Lion, at the Zoo entrance. This 8.2 meters (27-feet) tall, 9,070 Kg (20,000 Pounds) heavy structure is the largest cantilever bronze animal statue in the world.
If you have reached the zoo early, start with the 35-minute guided bus tour that takes you around. This trip helps you understand the layout of the zoo, which later helps while exploring on foot.
The zoo layout is complicated, so download a copy of the San Diego Zoo's map.
Time your Skyfari around dusk so that you can see the stunning sunset over the Zoo, the rest of Balboa Park, and the city.
When tired, use the Kangaroo Express bus for transportation
If you or your kids feel the heat of the weather, head over to the Aviaries in Lost Forest. It is an enclosed area, and is much cooler throughout the day.
If you want to step out for a picnic lunch, get stamped at the gate for same-day re-entry. Since big baskets aren't allowed inside the zoo, visitors leave their picnic basket in their cars.
San Diego is typically hot and sunny most of the year, so it is better to bring your hats, sunscreen, and water bottle.
Hold on to your San Diego Zoo tickets till you exit the zoo. Sometimes, like while boarding the Skyfari tram and Kangaroo Express bus, you are expected to show the entry tickets.
At the San Diego Zoo, visitors will have to walk a lot, including some climbing. It is better to wear walking shoes. If your group may have trouble with all the walking, rent out the shaded electric scooters, which are available for $55 on a first-come, first-served basis.
Since steep climbs and long distances can be tiring for younger kids (even up to preschoolers), it is better to rent out a stroller. You can rent a single stroller for $14, and a double stroller for $18.
---
---
San Diego Zoo map
With more than 3500 animals to see, it is wiser to have a copy of the San Diego Zoo map to navigate the various exhibits.
Besides the animal enclosures, a map also helps you identify visitor services such as restaurants, restrooms, kids parks, souvenir shops, etc.
Carrying the San Diego Zoo's layout is highly recommended if you are traveling with kids because you won't waste time finding the various exhibits, and in the process, get exhausted.
You can either download the map (2.5 Mb, pdf) or download the zoo's mobile apps for android or iPhone.
---
---
San Diego Zoo restaurants
San Diego Zoo has around 25 restaurants (some of them are cafes & kiosks) offering a wide range of food and drinks to help visitors recharge themselves.
All these food outlets serve both adult and child portions.
Albert's Restaurant: Located in Lost Forest, Albert's offers full-service dining and a full-service bar.
Busy Bee Cafe: Is in the Zoofari Party Area and offers honey corn dogs, triple trouble burgers, pizza, wings, etc.
San Diego Sandwich Co.: Located just inside the Zoo entrance, San Diego Zoo Sandwich Co. offers hot breakfast, specialty sandwiches, soups, fresh salads, etc.
Some of the sections of the Zoo have many food outlets to choose from:
On Front Street
Safari Kitchen
Sweet Shack
Lagoon Terrace
Kettle Corn
Nestle Toll House Cafe by Chip
San Diego Craft Beer & Margaritas
In Lost Forest
Treetops Cafe
Jungle Java
Zoo Brew
Ituri Hut
In Outback
Sydney's Grill
Broadwalk Beer Garden
Koala Cart
On the Asian Passage
Hua Mei Cafe
Hua Mei Cones
Bamboo Bar
The Pagoda
At the Elephant Odyssey
Sabertooth Mexican Grill
The Bridge Snacks & Refreshments
Popular attractions in San Diego
Other Zoos in California
# San Diego Safari Park
# Los Angeles Zoo
# San Francisco Zoo
Sources
# Sandiegozoowildlifealliance.org
# Wikipedia.org
# Tripadvisor.com
# Britannica.com

The travel specialists at TheBetterVacation.com use only high-quality sources while researching & writing their articles. We make every attempt to keep our content current, reliable and trustworthy.