San Diego Safari Park is a wildlife paradise in Southern California.
The 1,800-acre Safari Park houses more than 2,500 animals of 300 species in open field enclosures.
The park is divided into habitats such as African Plains, Asian Savanna, and Australian Outback, each housing animals native to those regions.
In addition to the animals, the park has a variety of botanical gardens featuring over 1.5 million plants representing more than 4,500 species. The gardens are designed to showcase different types of plants worldwide, including succulents, bamboo, and orchids.
It is San Diego Zoo's sister and often gets referred to as San Diego Zoo Safari Park.
This article shares everything you must know before purchasing your San Diego Safari Park tickets.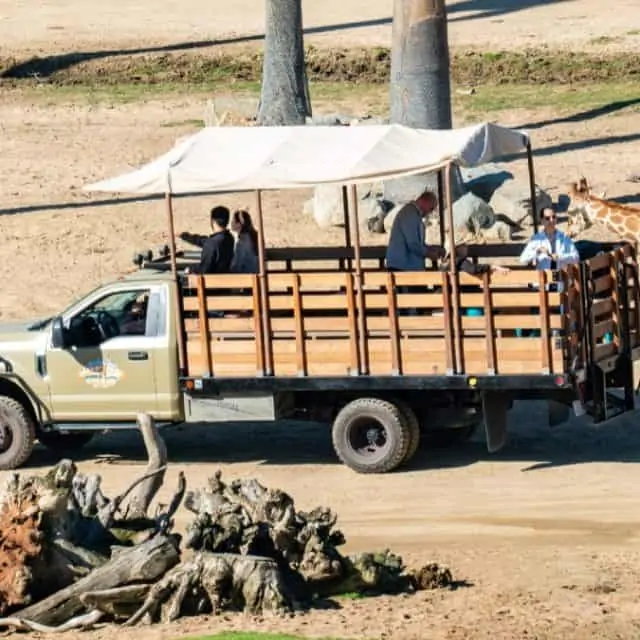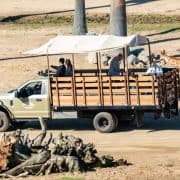 What to expect at Safari Park, San Diego
---
---
San Diego Safari Park tickets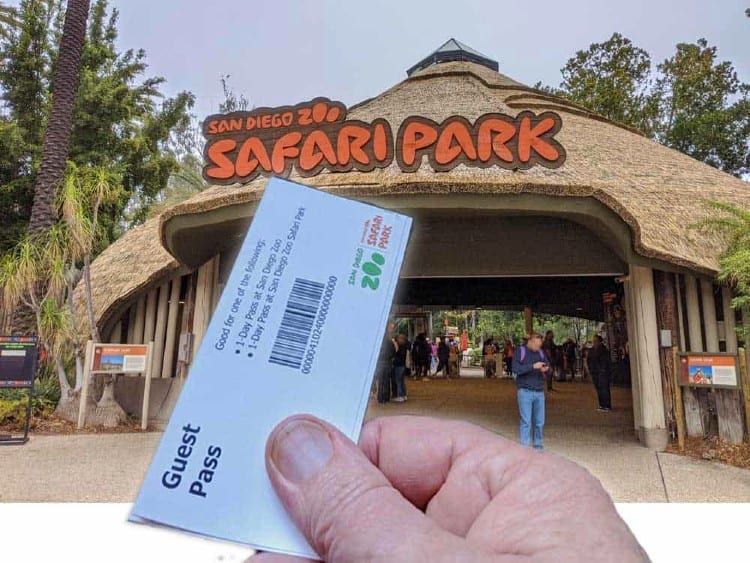 Purchasing your tickets for San Diego Safari Park online is a better experience for three reasons:
Online tickets are cheaper than the price you pay at the entrance
You don't wait in the ticket counter queue and waste your time and energy
Tickets on-site get sold on a 'first come, first served' basis. Booking your tickets online (and in advance) ensures a guaranteed entry
Cancellation policy: San Diego Safari Park admission tickets can be canceled up to 24 hours in advance to receive a full refund.
Mobile tickets: The tickets get emailed to you, and on the day of the visit, you can show them on your mobile and walk in. You don't have to take printouts.
1-day San Diego Safari Park ticket
This skip-the-line San Diego Safari Park Zoo ticket gets you access to almost all exhibits to see and experience.
The Safari Park ticket gets you access to the following:
Africa Tram Safari
Cheetah Run
Frequent Flyers Bird Show
Animal Ambassador Stage
Hidden Jungle
Kangaroo Walk
Lemur Walk
Tiger Keeper Talk
Training Talk
Lorikeet Landing
Nairobi Station
Jameson Research Island
All kids play areas
This ticket doesn't get you access to any of the paid safaris.
Paid safaris at San Diego Safari Park are nice but unnecessary because the 30-minute Africa Tram Safari is already included with this ticket.
Adult ticket (12+ years): US$ 69
Child ticket (3 to 11 years): US$ 59
Safari Park + San Diego Zoo: 2-Day Ticket
San Diego Zoo is San Diego Safari Park's sister, located 56 km (35 miles) away.
The travel time between the two wildlife destinations is approximately 45 minutes.
This combo ticket is popular amongst tourists who love wildlife and are in the region for at least two days.
This ticket helps you save 20% on the ticket costs and gets you one entry into the San Diego Zoo's Safari Park and San Diego Zoo.
You can visit the same attraction twice if you don't want to try the second location.
Adult ticket (12+ years): US$ 118
Child ticket (3 to 11 years): US$ 108
If you prefer to view animals in a not-so-open environment (which is far more convenient for visitors), opt for the 1-day San Diego Zoo ticket.
---
---
Discounts for San Diego Safari Park
Infants up to two years get a 100% discount and don't need tickets.
Children between 3 to 11 years get the next best discounts to San Diego Safari Park – a 17% reduction in the adult ticket cost. They pay only US$ 59, while an adult pays US$ 69.
Active military professionals can enter the zoo for free by showing their ID. Their dependents qualify for a 10% price reduction.
San Diego Zoo offers a 15% discount on the ticket price to seniors (65+ years) and students (12+ years) with valid photo ID cards.
However, the Military, Seniors, and Student discounts can only be availed at the ticket window.
The best way to save money on your San Diego holiday is by opting for the Go San Diego Pass. With this one pass, you get to visit San Diego Zoo, San Diego Safari Park, SeaWorld San Diego, and 30+ other city attractions for free. Find out more
---
---
San Diego Safari Park directions
The San Diego Safari Park is in Escondido, California. Get Directions.
It is 56 km (35 miles) northeast of the San Diego Zoo near Balboa Park in San Diego.
Depending on the time of the day, it takes 45 to 60 minutes to travel from the Zoo to Safari Park.
Address: 15500, San Pasqual Valley Road, Escondido, California.
From within the city
Public transport from San Diego to the San Diego Zoo Safari Park is extremely poor, and we recommend your private car or a taxi.
Uber can take you from San Diego Santa Fe Depot to the San Diego Zoo Safari Park for around $45.
From outside San Diego
Amtrack Railway Service is a better option if you plan to visit a wildlife attraction from another city, such as Los Angeles.
At 43 km (27 miles), Oceanside Amtrak Station is the closest station to San Diego Safari Park.
From Oceanside, you must board the light rail service called Sprinter to get to Escondido.
After 53 minutes and 14 stops, you must get down at Escondido Transit Center, after which you can walk to Stall 15 and board Bus No. 371.
In 17 minutes, the bus will drop you outside Safari Park's gate.
The bus service is minimal on weekends and holidays.
From Escondido Transit Center, many visitors opt for a taxi, which costs around $15 to $18 but is faster.
San Diego Safari Park parking
The San Diego Zoo Safari Park's parking costs $15 per day.
Preferred parking (a spot closer to the Safari entrance) is $18 extra, which means you pay $33 for parking your vehicle.
Credit cards, debit cards, or cash are accepted.
---
---
San Diego Safari Park hours
San Diego Zoo Safari Park opens at 9 am, throughout the year, including holidays.
During the summer months of April to August, when the park gets lots of visitors, it closes at 7 pm, and the rest of the year, at 5 pm.
Is San Diego Safari Park open
After a long Covid break, San Diego Safari Park reopened on 30 January 2021.
---
---
Best time to visit San Diego Safari Park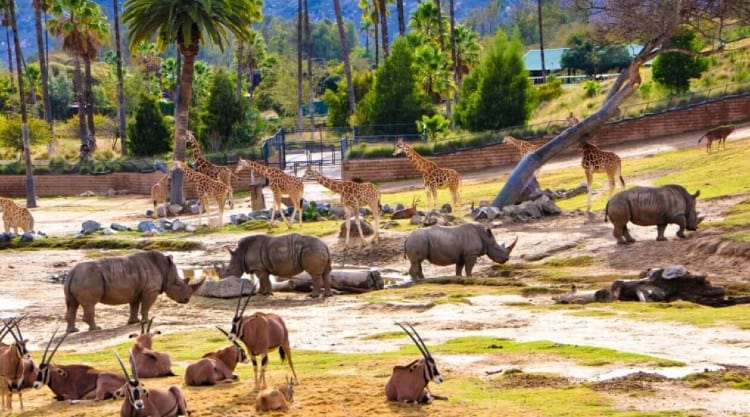 It is best to visit San Diego Zoo Safari Park when it opens at 9 am because the animals are most active during the first half of the day.
As the day gets hotter, animals tend to look for shade.
Heat can also affect your experience at the Safari Park, so a fair-weather day is recommended.
On Weekdays, expect the longest lines at San Diego Safari Park between 11 am to 1 pm, and on weekends, it is between 11 am to 3 pm.
However, the crowd doesn't affect your experience if you purchase your tickets in advance.
San Diego Safari Park is most crowded from June to August and during school vacations.
Best time of the year
The best time of the year to visit San Diego Zoo Safari Park is spring – from mid-March to mid-June. This is also known as the birthing season.
The park sets up nursery exhibits where you can see baby animals take their first steps into the wild.
---
---
How long does San Diego Safari Park take
Visitors need at least four to five hours to explore San Diego Zoo Safari Park to satisfaction.
If you plan to explore the bare minimum – walk in, go on the Africa Tram at the Safari Park, and step out – you need around 90 minutes.
Some visitors wonder if they can shorten their visit by driving through the safari park.
Unfortunately, that's impossible because San Diego Zoo Safari Park is a walk-through sanctuary.
Note: During peak summer months, the queue for the Tram ride can be long, leading to longer waits.
With four fantastic zoos, California State is a wildlife lover's destination. Read about all the Zoos in California.
---
---
San Diego Safari Park free entry
All through the year, infants up to two years and active military professionals can enter the zoo for free.
Besides this, everybody must purchase a ticket.
Seniors free days
Adults 65 and older can visit San Diego Zoo Safari Park for free throughout February.
Kids free days

In October, every child aged three to 11 years get free admission to San Diego Safari Park as long as a paying adult accompanies them.
Only kids aged 12 and above need to purchase tickets this month.
---
---
What to do at San Diego Zoo Safari Park
The animals at San Diego Safari Park are divided into 11 primary areas, which you can walk around and explore.
You can interact with the wildlife at the Park in many exciting ways.
Africa Tram
The Africa Safari is a 30-minute guided tour on an open-air tram.
The tram takes a 4 km (2.5 miles) long route through San Diego Zoo Safari Park's field habitats, and visitors get to wild animals such as giraffes, rhinos, elephants, antelopes, etc.
African Tram Safaris start from the African Outpost, a 20-minute walk from the attraction entrance.
The Tram trips start at 10 am and continue till 45 minutes before the park closes.
The African Tram Safari is free with the regular San Diego Safari Park ticket.
To avoid waiting in queue to board the safari tram, be at the African Outpost in San Diego Safari Park, before 11 or after 3 pm.
Tiger Keeper Talk
At 11.45 am, the Tiger Keepers at San Diego Safari Park conduct a training session with the animals at the Sambutan Longhouse.
This keeper talk is a fantastic opportunity to meet the San Diego Safari Park's tigers up close.
Since the talk is popular, plan to arrive at least 20 minutes early for the 15 minutes long Tiger Keeper Talk.
The majestic animal gets a brief physical visual examination by their caretakers and lots of treats.
Animal Ambassador Stage
The Animal Ambassador Stage at the San Diego Safari Park is an open platform for showcasing different animals.
Visitors get a chance to get within a couple of feet of animals that aren't available in an exhibit.
The stage is at Safari Base Camp close to the park entrance, and there are two shows daily – first at noon and the last at 4 pm.
If you are lucky, you may interact with the massive python 'Julius Squeezer,' cheetah, Kestrel hawks, or the high-jumping servals and caracals.
Nairobi Station
At the Nairobi Station, visitors get close-up views of some of the smaller animals at San Diego Safari Park.
Don't miss out on Robert, the safari's interactive digital zebra.
The Animal Care Center houses the baby animals and is also at Nairobi Station.
Expect some waiting time when baby lions or cheetahs are cared for at the center.
Petting Kraal
Open from 10 am to 4:45 pm, and the Petting Kraal is an excellent opportunity for your kids to interact with the Safari Park's friendly goats.
Kids can feed the Pygmy, Nubian, and Boer goats and have fun.
Lorikeet Landing
At Lorikeet Landing, visitors can engage with a colorful rainbow of parrots from 10 am to 3:45 pm.
The entrance to the exhibition is free, but the nectar you feed the parrots is for sale.
A small bowl of nectar can get these parrots to land on you and make for beautiful, funny photographs.
Lemur Walk
At Lemur Walk, open from 9 am to the Safari Park's closing time, visitors get to spend time with the Lemurs.
You walk along a path inside the habitat as ring-tailed lemurs hang around in the trees or walk with you.
Only visitors over five years of age are allowed.
Frequent Flyers Bird Show
The 20-minute Frequent Flyers Bird Show at San Diego Safari Park is scheduled twice daily – at 12 noon and 2 pm.
The exciting show is perfect for a quick break mid-way through exploring the park.
Visitors see exotic birds like owls, parrots, and large vultures flying just inches above your head.
Training Talk
The Training Talk happens in the amphitheater between Gorilla Forest and African Woods.
It is an opportunity to get a closer look at free-flight bird training as the birds prepare for the famous Frequent Flyers show.
Most people ignore this show, which means you can get the front seat row.
Shiley's Cheetah Run
San Diego Zoo Safari Park's Cheetah Run is held once a day, at 3.30 pm.
You get to see an agile Cheetah run down a 100 meters (330 feet) long track and reach its top speed of nearly 112 km (70 miles) per hour.
It is better to be at the spot 15 minutes earlier because it is a massive hit with visitors.
Cheetah Run is different from Cheetah Safari. Read up on the other safaris at San Diego Safari Park.
Safari Park Gardens
If you love the greenery, check out the Safari Park's World Gardens, with thousands of plants representing geographical areas worldwide.
Our favorite gardens are Baja Garden, Old World Succulent Garden, Epiphyllum Trail, Bonsai Pavilion, and California Nativescapes Garden.
Conservation Carousel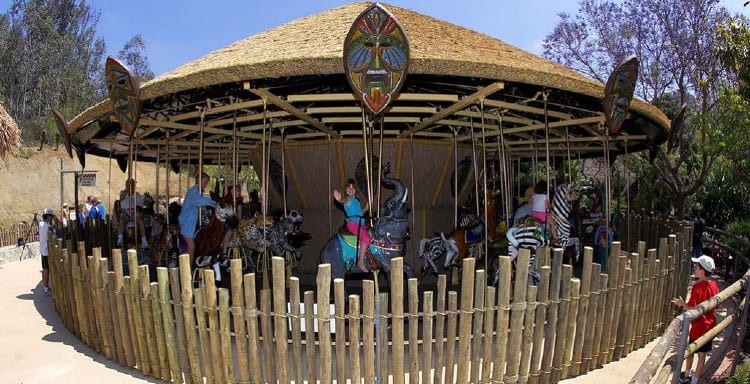 The Conservation Carousel is at the Safari Base Camp and costs $6 per person for an all-day bracelet.
It is a good entertainment option for kids, with 60 reproductions of rare or endangered animals that rotate around an axis.
Kids can choose their favorite animals, such as Giraffe, Rhino, Zebra, Cheetah, etc., to ride on.
It is open from 10 am to when the Safari Park closes.
---
---
Kids in San Diego Safari Park
San Diego Zoo Safari Park is very kid-friendly, and more than half of the visitors on any given day are children.
Besides the animal exhibits, which are always a hit, many activities and experiences are designed for children.
Village Playground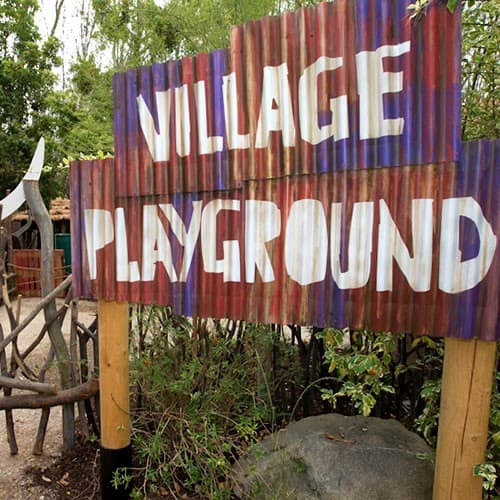 The Village Playground is designed like an African village, next to the Petting Kraal in Nairobi Village.
The interactive play area is open from 9 am onwards.
Savanna Cool Zone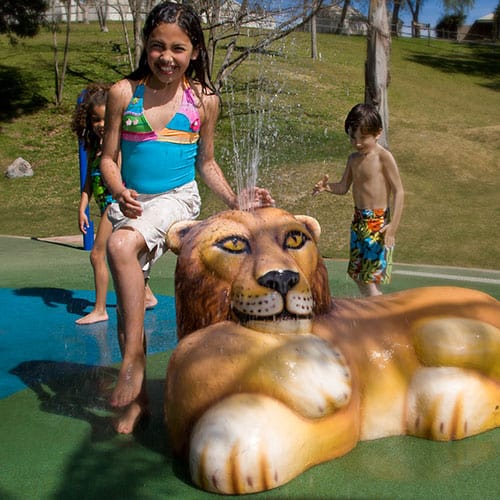 Located in the Lion Camp, this is an excellent way for your family to beat the heat.
The kids can have a wet and wild time even as you relax in the shade with snacks.
Kids love the play statues shaped like lions and tortoises with water squirting from their heads.
Samburu Jungle Gym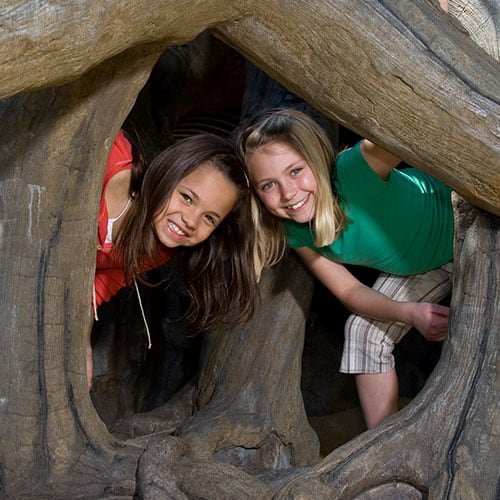 Located below the Benbough Amphitheater in the African Woods, this is a hit for kids and adults.
Children love climbing up and exploring in this safari-themed play area, even as the parents put their feet up in the shade at Samburu Terrace and keep an eye on them.
Tiger Trail Play Area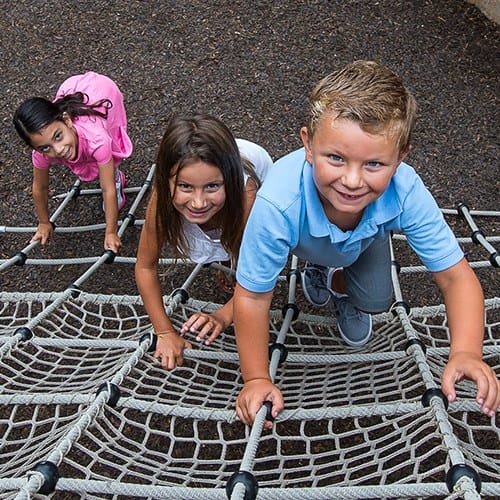 Also known as the Camp Play area, this spot is part of the lush wooded landscape of Tiger Trail.
Children love climbing, sliding, and running on tree trunks in a simulated logging camp.
Besides this, kids also love Petting Kraal and Conservation Carousel, a paid activity.
All play area images from Sdzsafaripark.org
Stroller Rentals for kids – San Diego Zoo Safari Park offers strollers for rent on a first-come, first-serve basis. The daily charge for a single stroller is $16, and a double stroller is $20.
---
---
Weather at San Diego Safari Park
Because of some odd zoning rules, the Safari Park is in San Diego, referred to as the San Diego Safari Park.
However, Safari Park's geographical location is Escondido.
Escondido is around 32 km (20 miles) inland and usually 5 to 7 degrees Celcius (10 to 14 Fahrenheit) warmer than oceanfront San Diego.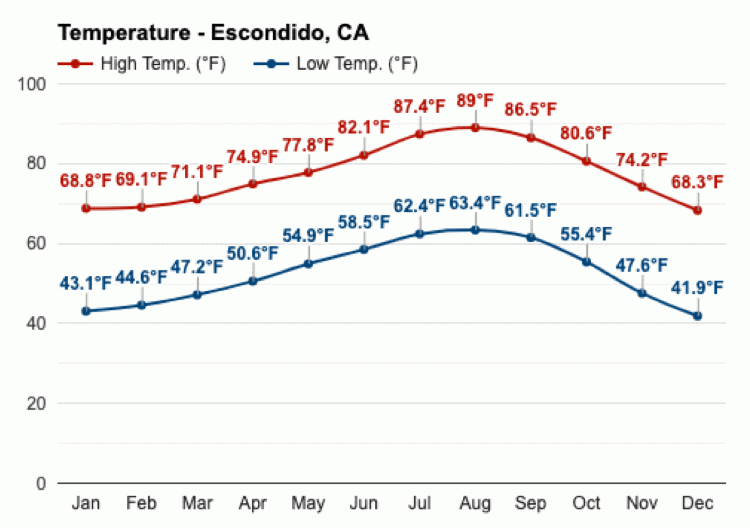 Since the Safari Park is an outdoor attraction, it makes sense to dress up in layers during your visit.
The weather gets warmer as the day progresses.
---
---
San Diego Safari Park map
With more than 2500 animals to see, a San Diego Safari Park map is helpful.
Besides the animal enclosures, a map helps you identify visitor services such as viewing points, petting areas, restaurants, restrooms, etc.
Keeping the San Diego Zoo Safari Park's layout handy is highly recommended if you are visiting with kids because you won't waste time looking for the exhibits and, in the process, get exhausted.
You can also download the GPS-enabled San Diego Zoo app from Android or iOS store.
Sources
# Sandiegozoowildlifealliance.org
# Wikipedia.org
# Tripadvisor.com
# gocity.com

The travel specialists at TheBetterVacation.com use only high-quality sources while researching & writing their articles. We make every attempt to keep our content current, reliable and trustworthy.
Popular attractions in San Diego
Other Zoos in California
# San Diego Zoo
# Los Angeles Zoo
# San Francisco Zoo