USS Midway is an aircraft carrier that served in the United States Navy for 47 years, and till 1955 was the largest ship in the World.
Today, USS Midway is a museum in San Diego, a tribute to the Battle of Midway, which happened in June of 1942.
The Midway Museum receives more than one and a half million visitors annually.
In this article, we share everything you must know before buying your USS Midway tickets.
Top USS Midway Museum Tickets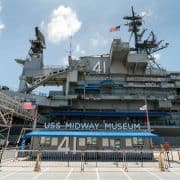 How to reach USS Midway
The USS Midway Museum is at 910 North Harbor Drive, San Diego, California, 92101, alongside Navy Pier. Get Directions
By public transport
Santa Fe Train Depot is the closest station to USS Midway in San Diego.
If you plan to take the San Diego Trolley, a light rail system operating in the city's metropolitan area, get down at the American Plaza Trolley Station.
USS Midway Museum is 600 meters (.4 miles) from both Santa Fe Train Depot and the American Plaza Trolley Station, and a brisk ten minutes walk can get you there.
Driving to Midway
The easiest way to drive to the USS Midway Museum is by using Google Maps.
However, we don't recommend it because USS Midway does not have a dedicated parking lot.
Car parking
Visitors with cars must park their vehicles at the Navy Pier adjacent to the Midway Museum.
Navy Pier's accessible parking spaces are available on a first-come, first-served basis.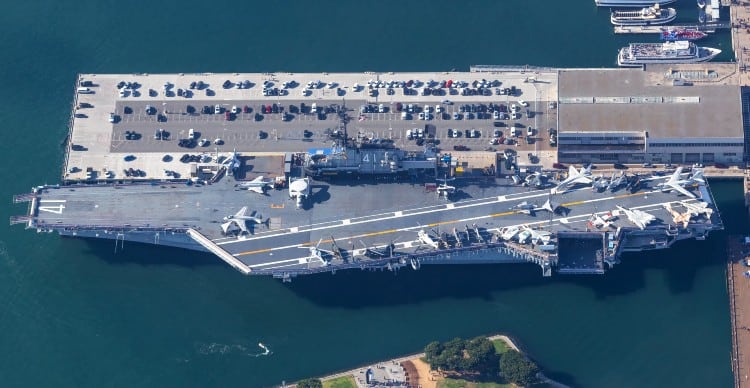 Parking rates range between $10 – $20 per car, with higher rates for special events and on holidays.
During the peak months, this parking area fills up fast, and visitors are forced to opt for the metered parking on city streets adjacent to the USS Midway Museum.
---
---
USS Midway Museum hours
USS Midway in San Diego opens at 10 am and closes at 5 pm, all through the week. The last entry is at 4 pm.
The museum remains closed for Thanksgiving and Christmas.
---
---
How long does USS Midway take
Visitors spend three to four hours exploring the various exhibits and activities at USS Midway.
Families with kids tend to spend more time at the aircraft carrier museum than adult groups.
Duration of the audio tour
While using Midway's audio tour, visitors can choose which section and exhibits they want to stop and explore.
The audio tour lasts two to four hours, depending on the visitor's selection.
The audio tour is included with the USS Midway ticket.
---
---
USS Midway free entry
Some visitors qualify for free entry into Midway Museum, San Diego. They are:
Children five years and below (no need to buy tickets)
Two kids under 13 years are free to enter with a ticket-holding adult (you must visit the ticket booth to receive the kids' tickets)
Active military personal with a valid ID
Active Sworn Law Enforcement with a valid ID
Active Sworn Fire Fighter with a valid ID
---
---
USS Midway discount tickets
Kids get the most significant discounts at USS Midway Museum.
Children five years and below get a 100% discount on their tickets (they don't need to buy tickets at all!).
Up to two kids below 13 years accompanying a ticket-carrying adult also qualify for a 100% discount on the ticket price. They can collect their free ticket at the ticket booth.
If you don't want to stand in the ticket booth for the free ticket, you can still purchase a discounted ticket for your 6 to 12 years old child.
The full adult ticket costs US$ 26, but your child will get a 30% discount, and you will pay only US$ 18. Find out more
---
---
USS Midway Museum tickets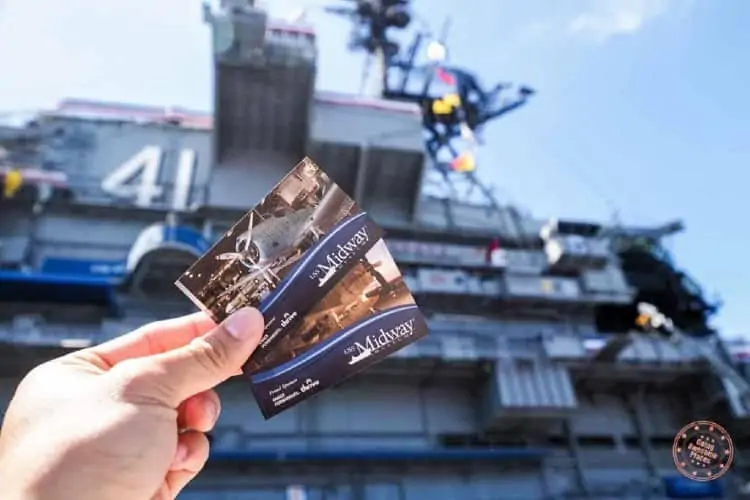 Purchasing your tickets for Midway Museum online is a better experience for three reasons:
Online tickets are cheaper than the price you will pay at the entrance
You don't wait in the ticket counter queue and waste your time and energy
Tickets on-site are sold on a 'first come, first served' basis. Booking your tickets online (and in advance) ensures a slot on the tour
Cancellation policy: USS Midway tickets can be canceled up to 24 hours in advance to receive a full refund.
Mobile tickets: The tickets get emailed to you, and on the day of the visit, you can show them on your mobile and walk in through the special entrance for online ticket holders. You don't have to take print outs.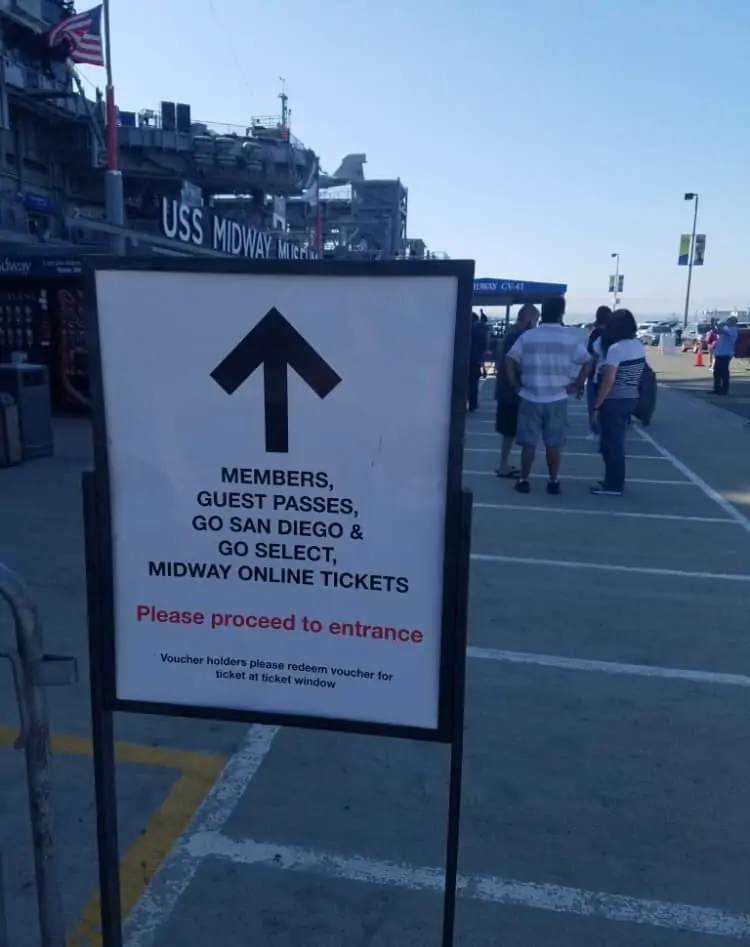 Re-entry: This ticket allows for same-day re-entry. If you want to take a break, stop at the Visitors Information Center by the ship's exit, inform them, and then step out. You can use the same San Diego Museum ticket to re-enter.
These Skip the line tickets offer a memorable visit to the USS Midway, the longest-serving Aircraft Carrier in the American fleet.
The museum's audio guide, available in 8 languages, is also part of the ticket.
Adult ticket (13 to 61 years): US$ 26
Youth ticket (6 to 12 years): US$ 18
Child ticket (up to 5 years): Free entry
Military ticket (with ID): US$ 18
---
---
What to see at USS Midway
USS Midway Museum has 10 acres of exhibits and displays, including 30 restored aircraft, all of which have made it the No. 1 tourist spot in San Diego.
From high up on the ship's bridge to the main engine room below, visitors can see more than 60 exhibit areas.
Hanger Deck Exhibits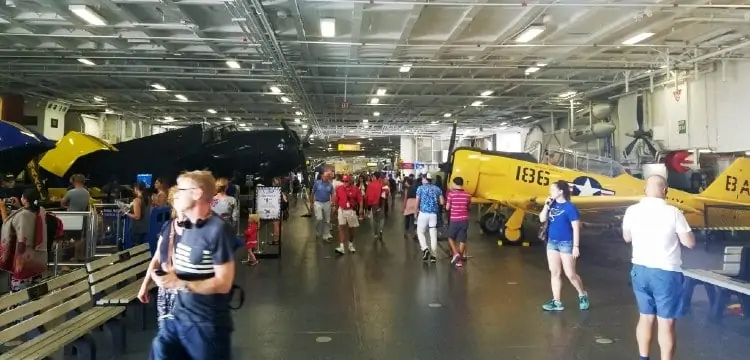 In this section, you learn about the Midway war, see vintage aircraft from World War II, and you also climb into actual aircraft cockpit trainers.
Gallery Deck exhibits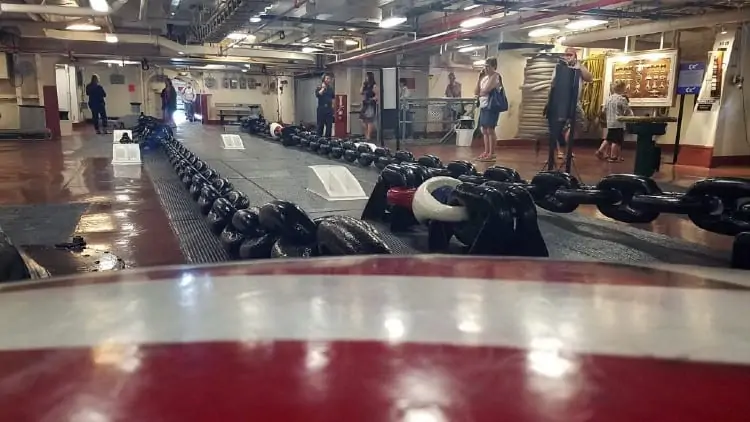 Here you get to see the Squadron Ready Rooms, understand the story of naval helicopters, and learn how the pilots and their support staff lived just below the flight deck.
Don't miss out on the massive anchor chains of the ship.
Flight Deck Exhibits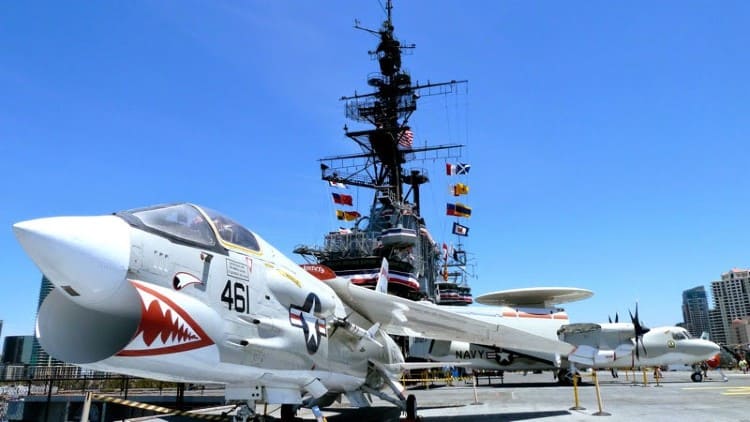 In this section, visitors see and touch the fighters, bombers, and helicopters that made USS Midway a potent aircraft carrier.
They also learn how what it takes to take off and land on such a small airstrip.
Below Deck exhibits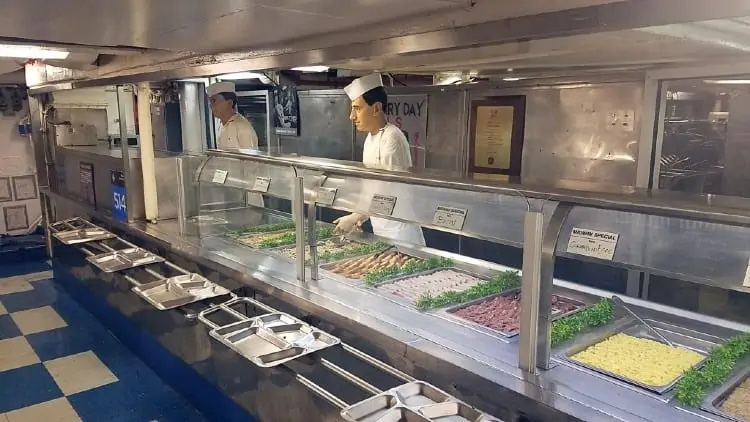 This section is less romantic and yet an essential part of the aircraft carrier, for it kept it going.
Here you can climb into the narrow sleeping bunks of the young sailors, see how the cooks prepared their meals, explore their hospital ward, and go down even further to marvel at the massive engine room.
Activities at USS Midway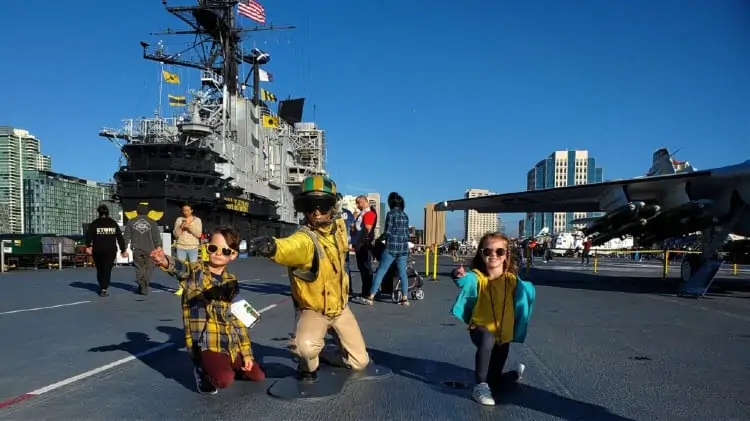 The Midway Museum also has some exciting activities which appeal to all age groups.
Theatre Experience: watch the 15-minute movie called 'Voices of Midway' on the Battle of Midway. It is free for all ticket holders.
Flight Simulators: Air Combat 360 and Screaming Eagles are two flight simulators, which help you live the life of an aviator.
Guided Island Tour: This tour is part of the regular USS Midway ticket, and a world-class volunteer Docent acts as your guide and takes you up serpentine ladders through the navigation and flight control sections of the ship.
Junior Pilot Program: Kids get to complete the tasks provided, and at the end, a Midway Docent awards them their Junior Pilot Wings in a small ceremony.
Catapult and Trap Talks: The Catapult and Trap talks are an excellent opportunity to learn how aircraft land and take off from carrier decks.
For more details on what's inside USS Midway, follow the link.
---
---
USS Midway audio tour
Entry tickets to the USS Midway Aircraft Carrier include a self-guided audio tour.
Tourists who have tried the audio tour highly recommend it.
They say, it brings Midway's history to life and adds a personal touch to the experience.
There are two audio tours – one for the adults and one for kids.
Both the self-guided audio tours are available in English, Spanish, Japanese, Chinese, German, and French.
Audio tour for adults
USS Midway Aircraft Carrier's audio tour has three engaging sections – the Flight Deck, the Hanger Deck, and the Below Deck.
In the Flight Deck section, you will listen to Midway pilots describe what it was to take off from and land on this floating airport. You will also visit Admiral's & Captain's Country and pilot Ready Rooms.
In the Hanger Deck section, Midway sailors will narrate how it was to drop anchor, sleep in their bunk, etc.
In the Below Deck part of the audio tour, you will explore and learn about Sick Bay, Galley, Laundry, Engine Room, etc.
Audio tour for families
This San Diego Museum's audio tour was designed especially for kids.
Families can follow Airman Sam Rodriguez as he leads youngsters on an entertaining audio tour to more than 30 locations throughout the aircraft carrier.
If you plan to take an audio tour, it is better to bring your headphones.
Visit Docent Information Center at the start of your visit to learn how your kid can get the Junior Pilot Wings.
Popular attractions in San Diego
Sources
# Midway.org
# Tripadvisor.com
# Kkday.com

The travel specialists at TheBetterVacation.com use only high-quality sources while researching & writing their articles. We make every attempt to keep our content current, reliable and trustworthy.