Whale watching is one of the most popular activities in San Diego.
Both California locals and tourists worldwide love whale watching cruises, which are both entertaining and educational.
Guided by marine biologists, these tours are an excellent way to explore the beautiful marine ecosystem San Diego has to offer.
In this article, we share everything you must know about whale watching in San Diego.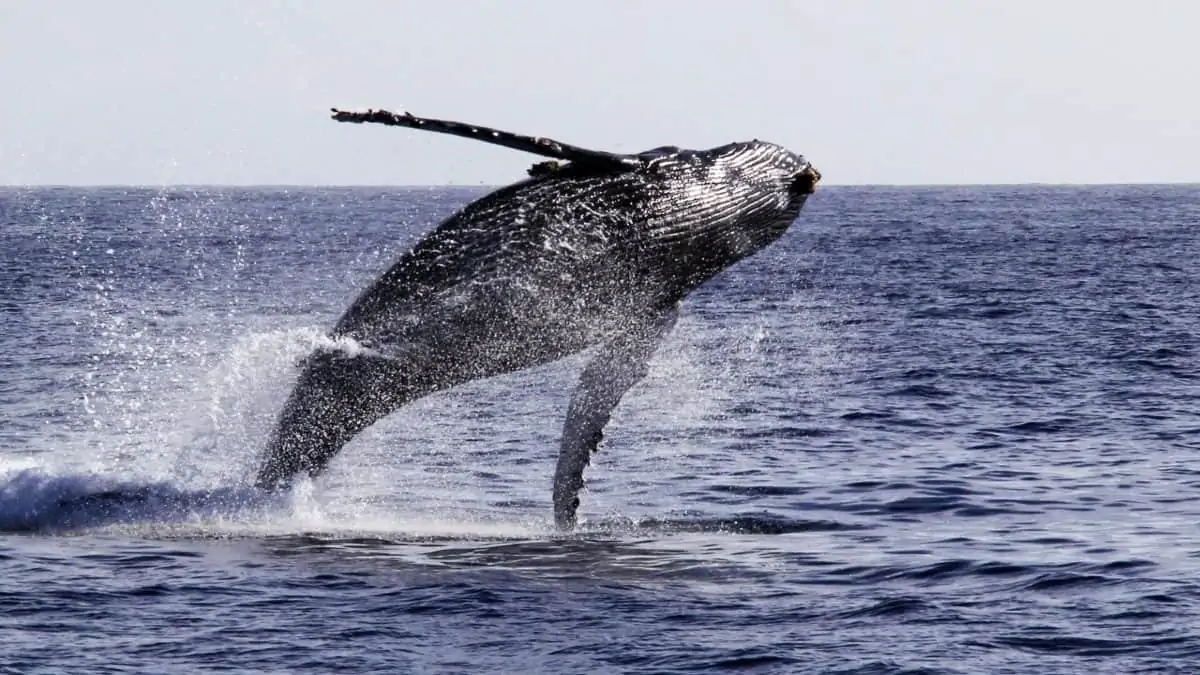 Why San Diego is perfect for whale watching
More than twenty thousand Gray Whales travel a distance of 16000 km (10000 miles) from Alaska to Baja California's lagoons, every year.
After giving birth to their young ones, and watch them grow stronger in the warmer Baja California waters, the whales journey north again in spring.
This trip is the longest known distance any mammal migrates annually.
With more than 110 km (70 miles) of San Diego's coastline directly in the migration path, San Diego is the perfect spot to watch these massive animals from a boat.
Here is a drone video of whales having fun off the coast of San Diego.
This Gray Whale migration lasts from mid-December to April.
If you are in San Diego from mid-June to September, you may not be able to see Gray Whales, but you can come face to face with Blue Whales.
Blue whales, the most endangered of the great whales, are found off the coast of San Diego from mid-June through September.
The rich California coast becomes a feeding ground for up to 3000 Blue Whales during the summer months.
Even though to catch a glimpse of these 100-feet long whales, you must venture further into the sea, they are easy to spot because of the 30-foot column of water they spout in the air.
Regular San Diego Harbor Cruises, where you get to see the city's skyline and numerous other attractions, are also popular with tourists.
---
---
Whale watching season in San Diego
The best time of the year to go whale watching in San Diego is from mid-December to April, which coincides with the Gray Whale migration.
With more than 20,000 Gray Whales migrating through California waters, your chances of spotting them are high.
During this season, besides the Gray Whales, you can also spot Humpback Whales, Orcas, Fin Whales, and Minke Whales.
Early in the season, whales swim closer to the coast, so the whale cruises only sail out a maximum of 8 kms (5 miles) into the ocean.
When the whales are swimming back to Alaska, the yachts must sail out as far as 20 kms (12 miles) from the coast.
A milder whale season exists from mid-June through September when you can spot Blue whales.
---
---
Best time to whale watch in San Diego
Whales are active all through the day (and night!), so anytime is a good time to go on a whale watching tour in San Diego.
However, if you are looking for the best scenic light for taking photographs, we recommend a sunrise or sunset whale watching cruise.
Out in the ocean, the best overhead light is from 11 am – 3 pm, which results in beautiful blue waters in your photographs.
---
---
Whale watching cruise by Hornblower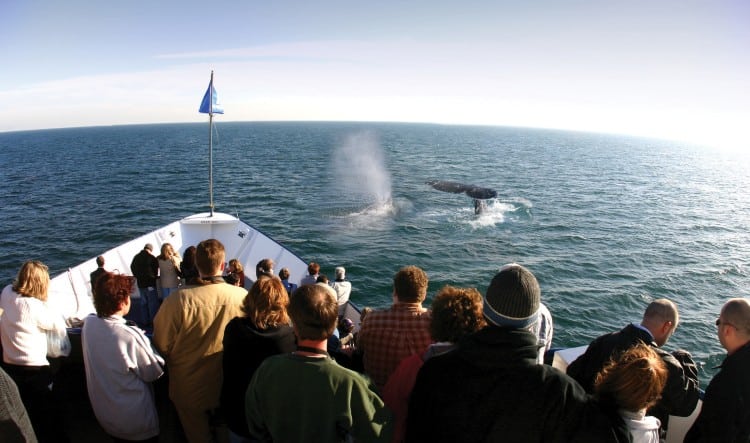 Hornblower's whale watching tour in San Diego is three and a half to four hours long and is led by an expert local guide.
Besides spotting whales, sea lions, dolphins, and harbor seals during the cruise, you also get to see famous San Diego landmarks.
During the tour, you will also learn about marine life from expert captains and whalers.
The ship has outdoor and indoor seating, and besides the narration, you can also check out a video documentary.
Departure: The cruise departs from 970 North Harbor Drive.
Time: You must report at least 15 minutes before the scheduled departure.
Requirement: Coast Guard regulations require a photo ID upon boarding.
Cost of Cruise
Adult ticket (13+ years): US$ 45
Child ticket (4-12 years): US$ 22.50
---
---
Flagship's whale watching cruise
Flagship Cruises is San Diego's local company and has been owned by a family for more than 100 years.
Ocean experts lead the 4-hour-long Flagship Cruises' whale watching tour in San Diego.
The two-story whale-watching yacht has both indoor and outdoor seating and offers 360-degree views.
This cruise also offers free wifi to its patrons all through the trip.
Departure: The cruise departs from 970 North Harbor Drive.
Time: Report at least 15 minutes before the scheduled departure.
Requirement: Coast Guard regulations require a photo ID upon boarding.
Cost of Cruise
Adult ticket (13+ years): US$ 45
Child ticket (4-12 years): US$ 22.50
Many tourists wonder if they can see Dolphins during their whale-watching cruise. Well, it is common to spot Dolphins in the San Diego Bay area all through the year.
---
---
Whale watching in San Diego on a Kayak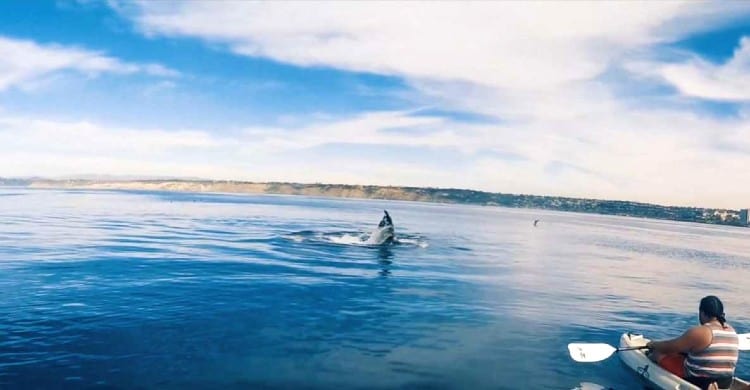 Yes, it is possible to go whale watching on a Kayak.
You start the 90-minutes tour by exploring La Jolla's Ecological Reserve and Seven Sea Caves by a kayak.
A certified trained tour guide takes you through San Diego's Marine Protected Area, home to various fish, birds, dolphins, turtles, sea-lions, and whales.
In the summer and fall months, it is usual to spot harmless leopard sharks. You are likely to find Gray Whales in their migration during the winter.
Tour price
Single Kayak: US$ 54
Double Kayak: US$ 76*
*Price for two people
---
---
Whale watching in a sailboat
Tourists who prefer a more private whale watching experience opt for the sailboat.
During the 3-hour sailing tour, you discover the San Diego Bay area and look out for local wildlife, including seals, whales, and dolphins.
Unlimited beer, white wine, non-alcoholic drinks, and snacks are provided throughout the cruise.
In case you forget your sunscreen and sunglasses, the sailboat has spares to offer.
In case it gets chilly during the tour, they also provide jackets, hats, and blankets.
Tour price: US$ 95 per person
---
---
What to expect during whale watching tour
Whale watching is an attempt to see some of the largest animals on Earth in their natural habitat, making it an exciting activity.
However, knowing what to expect from the tour helps you make the most out of your experience.
No guarantee
No one can predict the exact location of the whales.
Some whale watching tour companies' guarantee sightings', but what they mean is that if you don't spot a whale during one of your trips, they will give you a free ticket to return another day.
The one thing that can be guaranteed about whale watching is that every trip out into the ocean is different.
So, what to expect?
You have a very nice chance of seeing a whale in action during your cruise, so don't give up hope.
Be outdoors, keep listening to the narration and be ready to spot the below-given indicators of a whale's presence.
The Spout (or Blow)
Whales breathe quickly because they can take in air only when they are out on the surface.
When they breathe out, warm, moist air exhaled meets the cool air at the ocean surface and creates what we call a spout (or blow).
A gray whale's blow can spray up to 15 feet high, and each blow is visible for about five seconds.
All whales have a pattern – they dive for 3 to 6 minutes, then surface for 3 to 4 blows in a row, each around 30 seconds apart, and then descend again for 3 to 6 minutes.
When you are scanning the horizon for a whale, look out for this spout.
The Flukes (or tail)
After it has 3 to 4 blows in a row and has enough Oxygen, the whale decides to dive.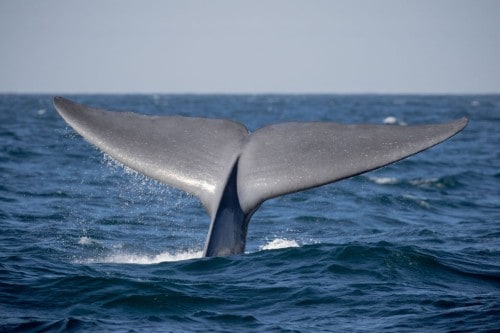 A gray whale often displays its around 4-meter (12 feet) broad fan-shaped flukes or tail just before diving.
Image: Discoverywhalewatch.com
The weight of the tail above the whale's body helps gain some momentum for the deep dive.
Knuckled Back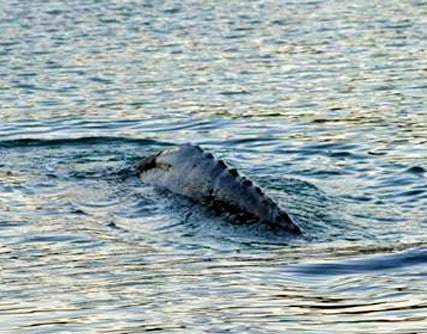 If the whale is close enough and there is enough light, you can spot the Gray Whale's back during and after the blow.
Image: Steve Zabel
Its skin is black or gray and shiny because of the water. If you watch closely, you can spot the knuckled ridge along the spine.
Whale's footprint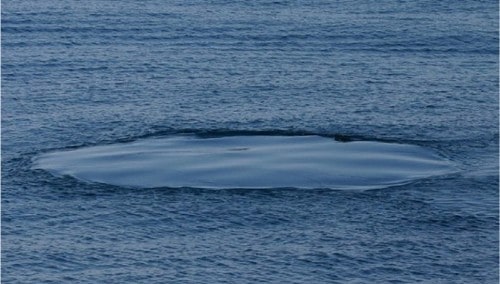 After a whale goes underwater, it leaves an elongated, smooth oval of calm water known as the footprint.
Image: Aquarium.ucsd.edu
Since it is often impossible to see the whales beneath the surface, this 'footprint' helps people track them without seeing them.
Breach and Splash
Once in a while, Gray Whales hurl themselves out of the water and plunge back with a tremendous splash.
The act of getting out of the water is called 'Breaching'.
If you are lucky, other whales nearby may try to copy the first whale, and you may end up witnessing a spectacle.
---
---
Whale watching from the shore
Not all whale watching needs to be from a cruise.
San Diego has a few great spots, such as Birch Aquarium at Scripps, Cabrillo National Monument, Torrey Pines State Reserve, etc., to view the grey whale migration from the shore.
All the locations offer expansive views of the Pacific Ocean.
However, a cruise is the best way to see Blue Whales as they tend to stay farther out at sea.
Sources
# Sdwhalewatch.com
# Sandiego.org
# Flagshipsd.com
# Cityexperiences.com

The travel specialists at TheBetterVacation.com use only high-quality sources while researching & writing their articles. We make every attempt to keep our content current, reliable and trustworthy.
Popular attractions in San Diego