Introduction
Are you a water enthusiast and want to experience San Diego with seals?
Then this tour is for you. San Diego SEAL Tours is a great water and land activity for water enthusiasts.
The activity is named to honor the Navy and often refer to themselves as SEALs, an acronym for SEa And Land, just like in the Navy.
This article shares everything you need to know before booking Seal Tour San Diego tickets.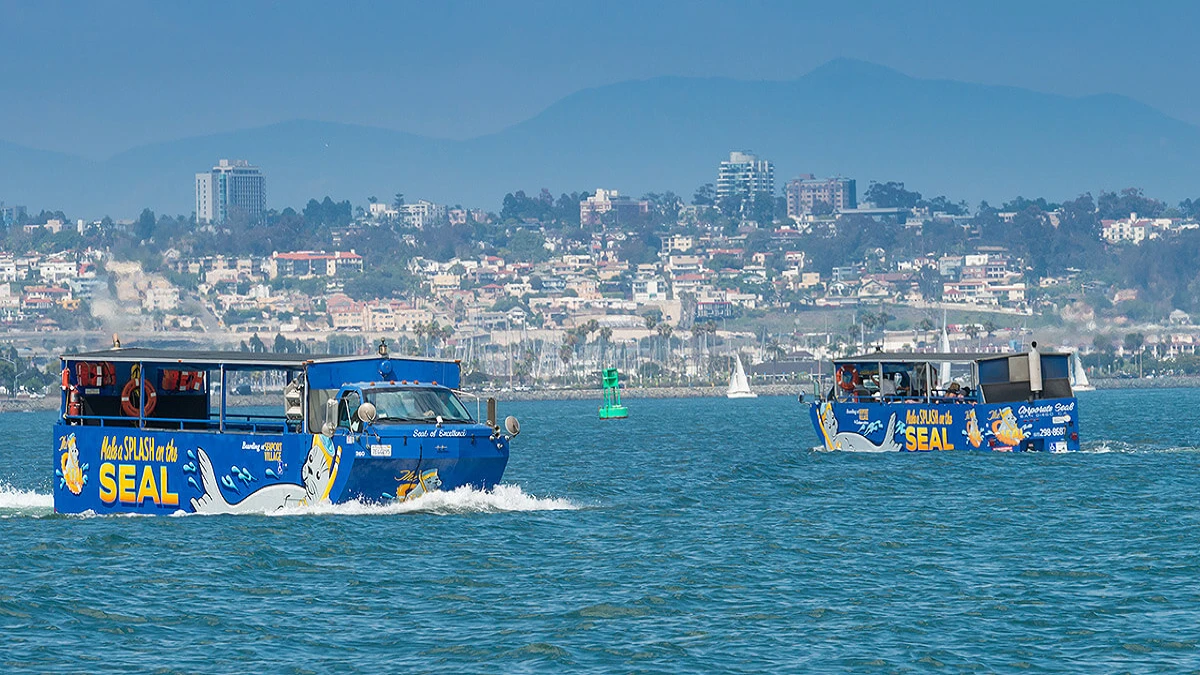 What to expect at San Diego Seal Tour
The San Diego Seal Tour is a distinctive sightseeing tour that takes you through San Diego's downtown and out onto the San Diego Bay seas.
Get on the amphibious seals that can operate on land and then convert into water.
You can cover over 13 miles of well-known monuments and attractions in San Diego.
During the land tour, you will see the Old Town San Diego, the Maritime Museum, and the Gaslamp Quarter.
The tour will continue on San Diego Bay as you make a dramatic splash into the sea. You can see the Coronado Bridge, the renowned sea lions, and Navy ships up close here.
---
---
Where to book San Diego Seal Tour tickets
You can buy tickets for the San Diego Seal Tour online.
When you buy online, you can avoid the long queues at the ticket counters.
Online ticket purchases help you save money.
We recommend online booking due to the strong demand for San Diego SEAL Tours tickets.
When you book early, you get your preferred time slot.
Do buy your tickets early to avoid disappointments at the last minute.
How do online tickets work
On the booking page, select the desired date, preferred time, and the number of tickets.
Your tickets will be emailed to you immediately following your purchase and reservation.
To start, hand your ticket to the cashier.
Cost of San Diego Seal Tour tickets
Tickets for the San Diego Seal Tour costs US$57 for all visitors above the age of 13 years.
Kids between the ages of 4 to 12 can purchase the ticket at a discounted price of US$29 and save US$28.
Infants up to 3 years can get the ticket for US$10.
---
---
San Diego Seal Tour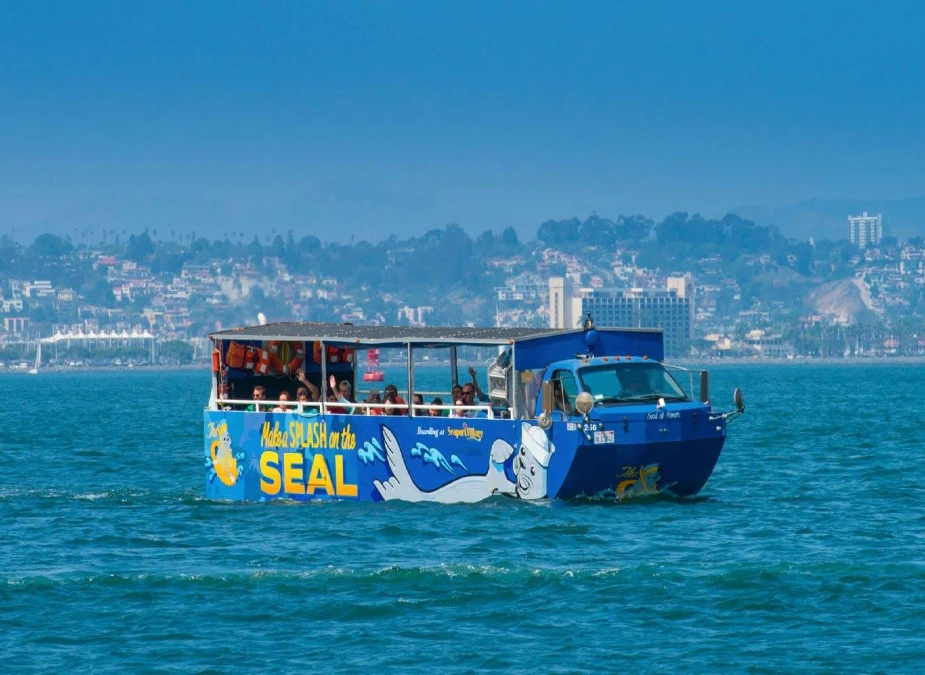 The San Diego Seal Tour is an amphibious vehicle-based sightseeing tour in San Diego Bay that combines a land and water adventure.
You'll cruise by well-known waterfront attractions, including SeaWorld San Diego and Vacation Isle.
The educational commentary of the guide will also teach you about the city's history and famous sites.
Family-friendly departure times are offered throughout the day for the tour.
Please be aware that the tour route may alter at any time due to inclement weather or traffic.
Wheelchair-friendly surfaces are available, as well as the tour.
When making a reservation, you will receive confirmation for this tour, and you should show up at least 30 minutes before your departure time.
Ticket Prices
Adult Ticket (13+ years): US$57
Child Ticket (4 to 12 years): US$29
Infant Ticket (up to 3 years): US$10
Infant Ticket (up to 3 years): US$10
Save time & money! Buy San Diego City Pass and get access to 55+ San Diego activities, tours, cruises, and attractions. Visit SeaWorld, Belmont Park, Hollywood Museum, and many more famous sites, or go for a whale-watching cruise or hiking tour.
How to reach San Diego Seal Tour
You can choose between two meeting points.
Address 1: 1004 N Harbor Dr, San Diego, CA 92101, USA. Get Directions
Address 2: 500 Kettner Blvd, San Diego, CA 92101, USA. Get Directions
San Diego Seal Tour can be reached via a variety of routes. You can drive, utilize public transport, or hire a taxi!
By Bus
You can take the Flixbus and get off at San Diego (Downtown/Seaport Village).
From there, it is a 5-minute walk.
By Rail
You can take the Green or Silver tram and get off at Seaport Village.
From there, it is a 5-minute walk to the Seaport Village departing point.
By Car
You can drive or use a taxi to get to the San Diego Seal Tour.
Put on Google Maps for your chosen location, i.e., Seaport Village or Embarcadero, and get started!
A few parking lots surround San Diego Seal City Tours.
San Diego Seal Tour timings
The San Diego SEAL Tours opens at 10 am and closes at 6 pm.
The last booking is at 5.30 pm.
Make sure to reach the location 30 minutes before departure.
However, particular times may change depending on the season and other variables.
For the most recent information on available tour times, it is advisable to check the tour availability on their website.
---
---
How long does San Diego Seal Tour take
The Seal tour takes about 1.5 hours to complete.
You will spend approximately 40 minutes on land and 60 minutes on the water.
You will need at least 3 hours, including travel time, and reach the location 30 minutes before departure.
Best time to visit San Diego Seal tour
The best time to visit San Diego Seal City Tours is as soon as it opens at 10 am to avoid the sun and beat the crowd.
You can plan your trip for late September for the most optimum weather condition.
FAQs
Is the tour suitable for kids?
Definitely! The tour is suitable for kids, and you can even get tickets for a lower price.
Can we sit together on the tour? 
The tour is first-come, first serve. Make sure to arrive early to get your perfect seat! 
Can we see seals on your tour?
You'll likely spot sea lions and other marine species when we cruise close to the bait barges in the harbor. 
Will I get wet on the tour?
No. However, you can get a few water splashes. 
Will I become seasick?
No. If you are prone to motion sickness, you can bring something for comfort. 
What is the dress code for San Diego Seal Tour?
As the vehicle is open-air, wear comfortable clothing and carry a jacket because it can become cool on the land section.
Can young children ride the SEAL?
Infants and young children can travel in their car seats, on a parent's or another adult's lap. 
A child may take their seat, depending on their age.
Are refreshments and food permitted on tour?
Drinks and food are welcome. 
However, alcohol is never allowed.
Popular attractions in San Diego