What if you could indulge in an adrenaline-pumping adventure that doesn't involve jumping off cliffs and flying over two miles up in the sky?
At iFly San Diego, you can experience the unparalleled thrill of skydiving without jumping from a plane.
An ultimate indoor skydiving experience, it is a unique and safe way for all ages to live out their daring dreams.
This article shares everything you must know before booking your tickets for iFly San Diego indoor skydiving.
What to expect at iFly San Diego
You are in for an incredible adventure with iFly San Diego skydiving, boasting state-of-the-art technology and top-of-the-line equipment for a heightened indoor flight.
Over 12 feet wide, 45 feet tall, and powered by four high-performance fans, the wind tunnel produces a wind speed of up to 175 mph to create the sensation of freefall.
You are in the safe hands of experienced, dedicated, and certified instructors who guide visitors through every step, ensuring a safe, comfortable, and one-of-a-kind experience for you.
Immerse in the virtual reality experience of skydiving in some of the world's most exotic locations, like mountains, across oceans, and through valleys.
Whether you're a beginner or an expert or decide to fly solo or with up to 100 friends, iFly San Diego has got you covered for endless fun.
The transparent acrylic tube-enclosed wind tunnel allows you to watch the action as it happens and cheer for your children having a blast.
Visitors are given a detailed safety briefing before their flight, and the instructors remain by their side throughout the flight to ensure their safety.
If you work up your appetite after all that excitement, grab a bite to eat at the cafe on site.
Make special occasions, like family outings, corporate events, birthday parties, social events, and other private events, truly memorable with iFly San Diego indoor skydiving.
iFLY offers many exciting activities and events each month that make flying extra special.
Educational programs like STEM trips and Scouts provide children with hands-on learning and experience with science and technology.
Other programs like All Abilities allow people with special needs to soar high.
Your children's dream of flying is not unrealistic anymore, as they can learn indoor flying with a team of expert instructors at iFly San Diego.
---
---
Where to buy iFly San Diego tickets
The tickets for iFly San Diego are available for booking online in advance.
Since long queues can be a killjoy, the online booking method is in the best interest of visitors.
It helps you save time and avail unmissable discounts and offers.
You can easily plan your day at the facility when you book your tickets in advance.
In addition, the tickets often sell out sooner than you realize.
So, book your tickets online to avoid such last-minute disappointments and head to a stress-free day out with your friends and family.
How online ticket works
Go to the iFly San Diego booking page, and select your preferred date, time slot, and number of tickets to buy the tickets.
Immediately after purchase the ticket gets emailed to you.
You don't need ticket printouts.
You will get entry into the facility by redeeming your smartphone ticket on-site in exchange for a wristband on the day of your visit.
It's best to bring along your official photo ID.
Cost of iFly San Diego tickets
iFly San Diego tickets are priced at US$105 for all guests aged three years and above, which is less than half the price of real skydiving.
Military, healthcare, first responders, and teachers discount offer is valid on First Time Flyer 2, 3, 4, 5 & 10 flight packages.
iFly San Diego tickets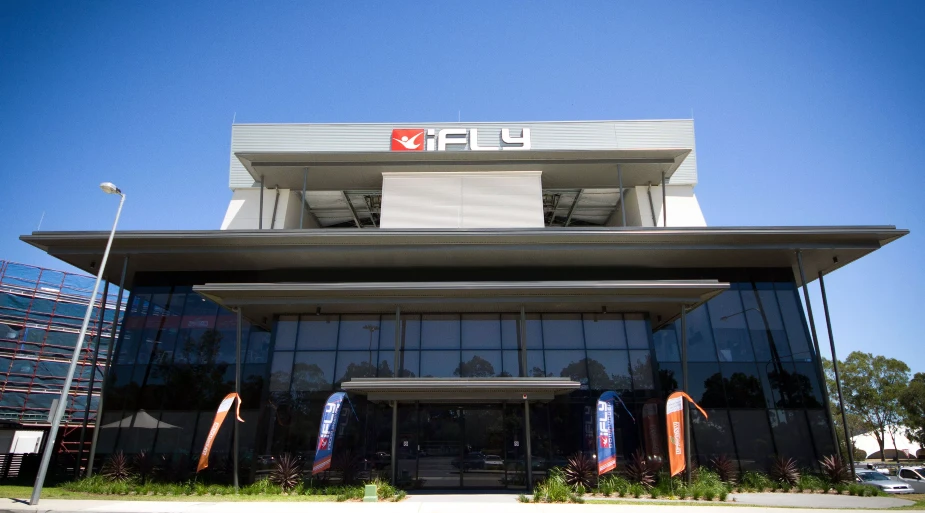 A ticket to iFly San Diego indoor skydiving allows two amazing flights for one person.
Choose from a range of packages, depending on your skill level and experience.
These iFly San Diego tickets come with on-site training skydiving gear.
No one is a novice, as you will have one-on-one guidance from a certified flight instructor for your seamless flight experience.
Since indoor skydiving is no short of a feat, you will also receive a personalized Certificate of flight achievement.
Ticket prices: US$105
Save time & money! Buy San Diego City Pass and get access to 55+ San Diego activities, tours, cruises, and attractions. Visit SeaWorld, Belmont Park, Hollywood Museum, and many more famous sites, or go for a whale-watching cruise or hiking tour.
---
---
Restrictions at iFly San Diego
For safety purposes, iFLY San Diego has some height and weight restrictions.
The facility may be unable to accommodate people weighing 260-300 lbs (118-136 kgs), especially flyers whose weight exceeds 300 lbs (136 kg).
High flights are available to add to the flight experience for flyers who weigh 260 lbs (118 kgs) or less.
Only iFLY Paramus has a height restriction where flyers must be at least 40" (1.2 feet) tall.
A parent or guardian should accompany children under 18 to sign their waiver.
Pregnant women should not fly in the iFly San Diego indoor skydiving.
The facility prohibits flights for flyers with a permanent hard cast or prosthetic.
Additionally, flying is not permitted for people with current or prior head, neck, back, or shoulder injuries or dislocations, heart conditions, or any other condition that may impede their ability to participate in physical activity or increase the risk of injury.
What to wear to iFly San Diego
The must-visit iFly San Diego skydiving facility encourages you to wear well-fitting, lace-up sneakers or running shoes only.
Wearing jewelry, watches, accessories, loose clothing, and open-toed shoes or sandals and carrying items in pockets is prohibited in the wind tunnel.
Additionally, you should wear casual clothes, preferably pants, and a shirt without a collar so that you don't have to change out of these clothes—and put your flight suit on over your street clothes.
Finally, we recommend that individuals with long hair secure their hair in a low, braided bun.
iFly San Diego timings
iFly San Diego indoor skydiving opens from 12 pm to 7 pm on Wednesdays, Thursdays, and Fridays.
The facility is open from 9 am through 4 pm on Saturdays and Sundays.
iFly San Diego is closed on Mondays, Tuesdays, and other federal holidays.
How long does iFly San Diego visit take
A trip to the iFly San Diego indoor skydiving takes at least an hour and 45 minutes.
This will cover your check-in time, the training session, your flight time, and the time after your flight to remove gear and look at photos and videos if interested.
Best time to visit iFly San Diego
The best time to visit iFly San Diego is as soon as it opens – at 12 pm on Wednesdays, Thursdays, and Fridays and 9 am on Saturdays and Sundays.
Try weekdays for a more relaxed experience, as weekends are crowded.
Mornings and afternoons are generally relatively quiet; you can try these for a better experience.
During holidays, this place gets crowded and may have long queues.
---
---
How to reach iFly San Diego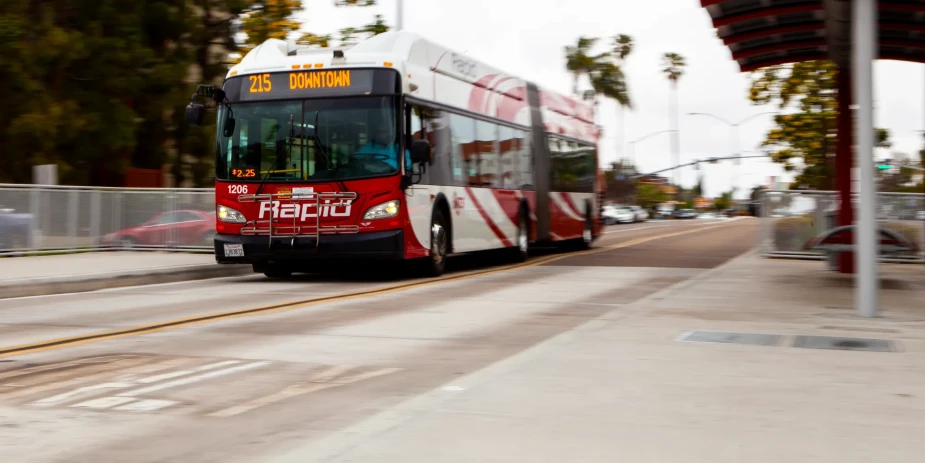 iFly San Diego indoor skydiving is in Mission Valley.
Address: iFLY Indoor Skydiving – San Diego Mission Valley 2385 Camino Del Rio N, San Diego, CA 92108, USA. Get Directions.
You can reach the attraction by public transport or car.
By Bus
Take bus #6 or #18 towards Mission Valley, and get off at the Camino Del Rio N & Qualcomm Way stop, which is approximately a 2-minute walk from the stadium.
By Trolley
Take the Green Line trolley and get off at the Rio Vista Station.
The iFly San Diego Mission Valley facility is a 10-minute walk from the Rio Vista Station.
By Car
If you're driving by car, turn on Google Maps and get started!
FAQs about iFly San Diego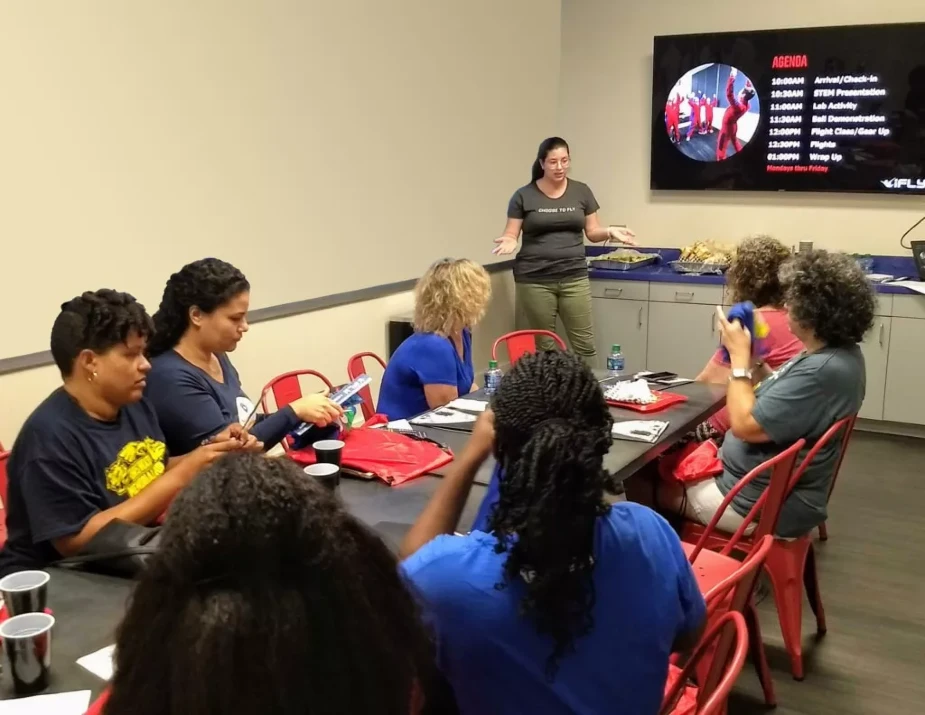 Here are some frequently asked questions about iFly San Diego skydiving.
Can I eat before I fly at iFly San Diego indoor skydiving?
Yes, you can eat before your scheduled flight session, as you will not likely feel motion sickness, nausea, or a drop in your stomach.
Can I gift iFly vouchers to friends and family?
Yes, you can gift your friends and family fully-funded iFly vouchers or gift cards. 

There are several packages to choose from. Additionally, iFLY gift vouchers and gift cards never expire. 
Is iFly San Diego wheelchair accessible?
No, iFly San Diego is not wheelchair accessible.
Is indoor skydiving at iFly San Diego safe?
Yes, iFly San Diego provides a safe and controlled environment for a risk-free flying session. 

Your highly-trained flight instructor is with you through your entire flight experience, regardless of your experience level. 
How does indoor skydiving work at iFly San Diego?
The vertical wind tunnel is a large, vertical cylinder with powerful fans at the bottom that draw air up through the tunnel. 

The powerful upward airflow provides enough lift to keep the participant airborne, allowing them to experience the sensation of skydiving without actually jumping out of a plane.
Can I reschedule my flying session at iFly San Diego?
Yes, you can reschedule your flight session with at least a 48-hour notice by contacting the facility directly.
Sources
# Iflyworld.com
# Indoorskydivingsource.com
# Tripadvisor.com

The travel specialists at TheBetterVacation.com use only high-quality sources while researching & writing their articles. We make every attempt to keep our content current, reliable and trustworthy.
Popular attractions in San Diego