SeaWorld San Diego is an aquatic theme park with lots of animal interactions, exciting shows, and some of the world's most thrilling rides.
This family-friendly attraction gets around five million visitors annually.
In this article, we share everything you must know before booking your SeaWorld San Diego tickets.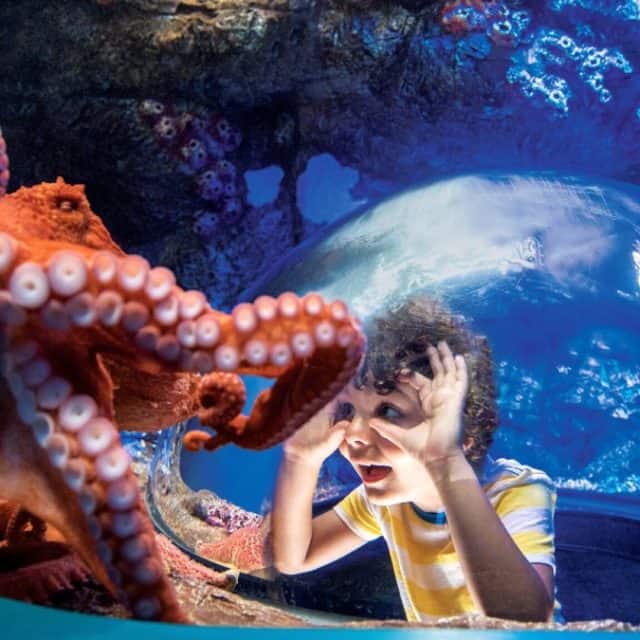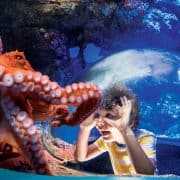 SeaWorld San Diego ticket price
SeaWorld San Diego prices depend on where you purchase your tickets.
The San Diego SeaWorld's regular ticket for all visitors above three years of age costs $79 when bought online. At the gate, the same ticket gets sold for $94.
The SeaWorld Drink and Dine bundle, which besides entry, also includes six food and drink items for adults (including beer & wine) and four food and drink items for kids, costs $103 when bought online.
The Drink and Dine bundle, also known as the 'Eat Free' ticket, is priced at $134 at the attraction's entrance.
---
---
Discounts at SeaWorld San Diego
The best way to get San Diego SeaWorld discount tickets is to purchase them online.
When you buy San Diego SeaWorld's regular ticket online, you get a discount of $15 per person on the gate price.
The Drink and Dine bundle, when bought online, helps you score a discount of $31 per person.
Kids below two years get the best deal at SeaWorld San Diego – they can enter for free.
The Go San Diego Pass is yet another fantastic way to reduce your ticket costs. The all-inclusive attraction pass gets you free admission to the SeaWorld San Diego, San Diego Zoo, San Diego Zoo Safari Park, and 35 other attractions.
---
---
SeaWorld San Diego tickets
Purchasing your tickets for SeaWorld San Diego online is a better option for three reasons:
Online tickets are cheaper than the price you will pay at the entrance
You don't wait in the ticket counter queue and waste your time and energy
Tickets on-site get sold on a 'first come, first served' basis. Booking your tickets online (and in advance) ensures a guaranteed entry
Mobile tickets: The tickets get emailed to you, and on the day of the visit, you can show them on your mobile and walk in. You don't have to take print outs.
There are two types of San Diego SeaWorld tickets you can choose from – the regular ticket and the 'Eat Free' tickets.
We explain them below.
Regular San Diego SeaWorld tickets
This skip-the-line SeaWorld San Diego ticket gets you access to all the animal exhibits, all the shows (except Rescue Tail), and all the rides.
Animal Encounters are paid activities and aren't included with this ticket.
Ticket price (3+ years): $79
Kids below three years can enter for free.
This ticket costs $94 at the attraction's entrance, and by booking it in advance, you save $15 per person.
SeaWorld San Diego `Eat Free' tickets
The SeaWorld `Eat Free' ticket is also known as the 'Drink and Dine' bundle and helps you reserve your food, brews, and cocktails at the attraction.
Besides entry into SeaWorld, the 'Eat Free' tickets also include –
For adults: Six food and/or drink items of your choice (including beer, wine, and cocktails)
For kids: Four kids food and/or drink items of your choice
Ticket price (3+ years): $103
Kids below three years can enter for free.
This ticket costs $134 at the attraction's entrance, and by booking it in advance, you save $31 per person.
*On the ticket booking page, select 'Eat Free Ticket'
---
---
How to reach SeaWorld San Diego
SeaWorld San Diego is at 500, SeaWorld Drive, San Diego, CA 92109, near Interstate 5 and Interstate 8.
It is around 15 minutes north-west of downtown San Diego and San Diego International Airport (SAN).
Public Transport
San Diego Santa Fe depot is the most important transportation center in Downtown San Diego.
From San Diego Santa Fe, you can board the Sycuan Green Line train or the Coaster to get to Old Town Center, the closest transit stop to SeaWorld San Diego.
You can board Bus No 8 or 9 to get to San Diego SeaWorld from just outside the station.
SeaWorld is approximately 6.5 km (4 miles), and it takes 15 minutes to travel the distance.
Car parking
SeaWorld San Diego has enough parking slots and also offers three types of car parking packages.
General Parking costs $25, and Up-Close Parking, where you can park your car in the first six rows near the park entrance, costs $30.
For $45, you can enjoy a reserved parking spot in the closest parking section near the park entrance.
You can decide which slot you prefer on the day of your visit.
Parking for RVs and campers is $40, and parking for motorcycles is $20.
---
---
SeaWorld San Diego hours
SeaWorld San Diego opens at 10 am every day of the year.
From Monday to Thursday it closes at 7 pm and on Friday, Saturday and Sunday it remains open till 9 pm.
SeaWorld San Diego reopening
After being closed for the Covid pandemic, SeaWorld opened to the public on 8 Feb 2021.
---
---
Best time to visit SeaWorld
The best time to visit SeaWorld San Diego is as soon as they open at 10 am.
Early in the day, the animals are fresh and active, and the crowd is yet to come in, resulting in shorter queues.
If you purchase your tickets in advance, you don't need to stand at the ticket counter and can start visiting the animals off as soon as you arrive.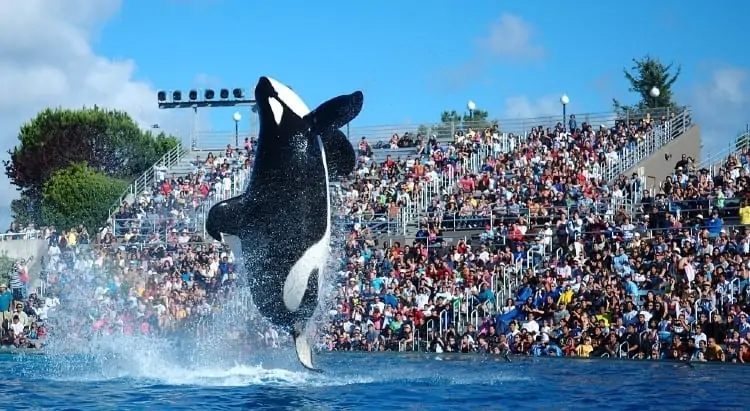 The summer months and school holidays are the busiest at the San Diego attraction.
However, during the crowded days, SeaWorld has extra shows and stays open for longer.
Tour duration
Most families spend six to seven hours at SeaWorld San Diego. Staying longer helps you see all of the shows, animal exhibits and encounters, and rides.
---
---
SeaWorld San Diego animals
SeaWorld San Diego is home to about 13,000 animals, including mammals, fishes, birds, and reptiles.
There are three ways you can explore these animals – the interactive animal exhibits, animal attractions and the animal encounters.
Interactive animal exhibits
There are three animal exhibits where you can touch the marine lifeforms.
The regular Seaworld San Diego tickets get you access to all interactive exhibits.
Explorer's Reef
Explorer's Reef is just inside the park entrance and is the first opportunity to interact with sea life.
It is a series of touch pools, where you get to see and touch several reef sharks species, horseshoe crabs, stingrays, etc.
Feel free to ask for insights from the Animal Care Ambassadors nearby.
Bat Ray Shallows
Kids get an opportunity to interact with touch-friendly bat rays at Bat Ray Shallows.
Visitors can also go downstairs (beneath the touch pool) for an underground aquarium that includes white sturgeons and shovelnose guitarfish.
Sea Lion Point
At the Sea Lion Point of SeaWorld, both kids and adults can feed and enjoy the antics of seals and sea lions.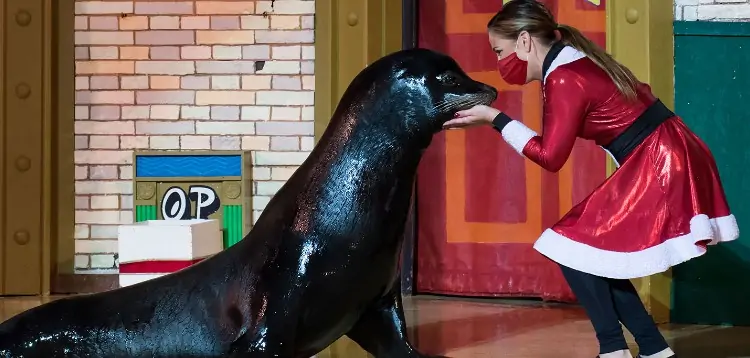 These animals are always active, so expect a crowd.
Animal Attractions
Like the interactive animal displays, access to the animal attractions is also included with the regular SeaWorld ticket.
Attractions are animal exhibits that visitors can see and enjoy, but they can't interact with them.
The most popular animal attractions are – Dolphin Point, Orca Underwater,
Bat Rays, Flamingos, Sea Lion Point, Otter Outlook, Moray Eels, Magellanic Penguins, Macaws, Sea Turtles, Sloths, Sting Rays, Tide Pools, etc.
Animal Encounters
SeaWorld San Diego has four animal encounters – with Dolphins, Sloths, Flamingoes, and Sea Otter.
All encounters are paid activities, and all participants under 18 will need a paying parent or guardian present.
Dolphin Encounter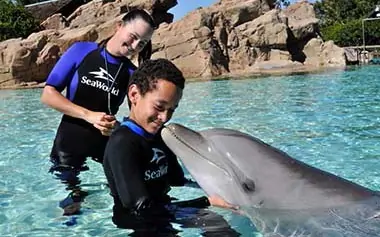 This 15-minute tour is an exclusive trainer-guided, poolside opportunity to meet, feed, and learn to communicate with Bottlenose Dolphins.

Image: Seaworld.com
For this encounter at Dolphin Point, a paid parent or guardian must accompany participants under 122 cms (48 inches) tall.
For a group of up to six members, the encounter costs $69, and you must reserve in advance.
Sloth Encounter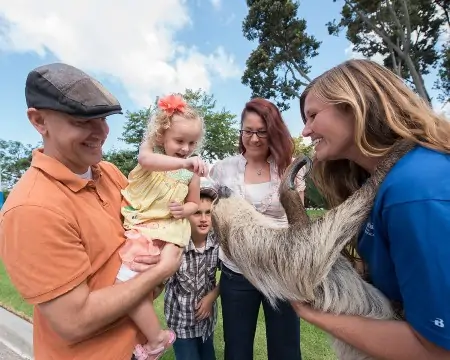 During the Sloth Encounter, you go behind the scenes at Dolphin Amphitheater for an up-close experience with a two-toed sloth.
Image: Seaworld.com
A #Slothie (Sloth selfie) is one of the highlights of the 15-20 minute session.
Participants must be at least six years old (and accompanied by a paid adult participant) if they are below 18.
The Sloth Encounter costs $79 for one person, and reservation in advance is a must.
Flamingo Encounter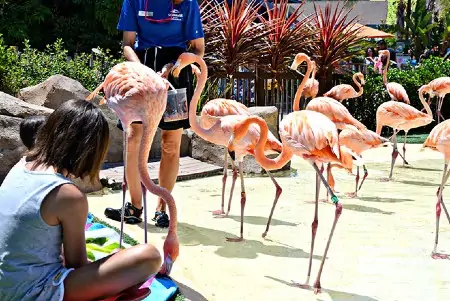 Flamingo Encounter is a 20 minutes session inside the Flamingoes habitat, where an Aviculturist shares unique facts about the birds.
Image: Seaworld.com
It costs $19 for one person, and reservation in advance is mandatory.
Sea Otter Encounter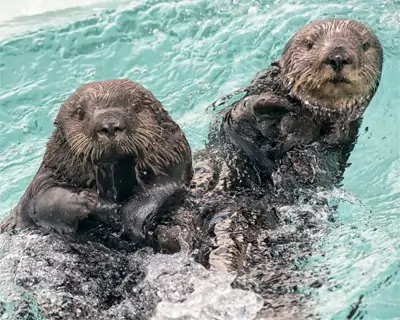 The Sea Otter Encounter is a 30 minutes session during which you will feed the Sea Otter and learn about the fascinating animal.
Image: Seaworld.com
This session with the curious and playful sea otters happens at the 'Otter Outlook', and you must reserve it in advance.
---
---
SeaWorld San Diego shows
Five shows at SeaWorld San Diego Sea Lions Live, Dolphin Days, Orca Encounter, Magellanic Penguin, and Sesame Street Meet‑and‑Greets are free for all ticketholders.
The sixth show, Rescue Tails, is paid.
Tip: Ask for the day's show schedule and times at the attraction's entrance. It will come in handy to plan your day's itinerary.
Sea Lions Live
Located at the Sea Lion Amphitheater, the Sea Lions Live is a free show.
Visitors get to join Sea Lions Clyde and Seamore and their buddy O.P. Otter for some splashy action.
This San Diego SeaWorld show is both funny and educational and a favorite amongst most families.
Dolphin Days
During this show visitors get to see the SeaWorld aquarium's family of Bottlenose Dolphins and their incredible athleticism.
This free show happens at the Dolphin Amphitheatre.
If you take up a seat close to the Dolphins, be ready for some splashing.
Orca Encounter
This show is a fantastic opportunity to meet Orca, the ocean's most powerful predator.
Spectators get to learn about orcas masterful hunting techniques and complex communication codes.
This free show at the Orca Encounter venue can get very splashy.
Sesame Street Meet‑and‑Greets
The Sesame Street Meet and Greet at SeaWorld San Diego is highly popular with younger kids.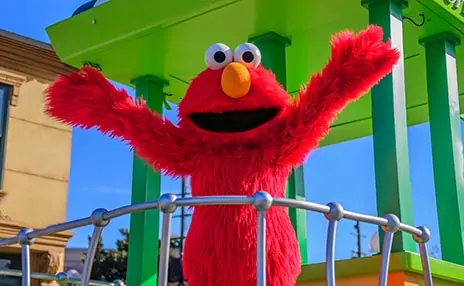 During this free activity, kids and adults meet their favorite Sesame Street characters such as Elmo, Cookie Monster, Abby, Oscar the Grouch, Grover, Zoe, Rosita, Telly, Bert, and Ernie.
Magellanic Penguin show
Visitors get to see the keepers feed the penguins during this free show at the outdoor Magellanic penguin exhibit.
The keepers also tell stories and answer questions about the penguins.
Ask for the park schedule to know the feeding times.
Rescue Tails
At the Rescue Tails show at Nautilus Amphitheater, visitors learn about SeaWorld's commitment to animal care and rescue.
Visitors meet many of the park's rescued animals, such as birds of prey, primates, and reptiles, and learn about their unique stories.
Besides meeting the animals, you also get to take photos with the fantastic animals.
Entry to this show is paid and costs $14.99 per person.
Reserved Seating at shows
Visitors who prefer to get front row action at the SeaWorld San Diego shows can reserve their seats.
Unlimited single-day reserved seating at all participating shows costs $14.99 per person.
Reserved seating upgrade will guarantee you front row action at Orca Encounter, Dolphin Amphitheater, and Sea Lion & Otter Amphitheater.
It won't be valid at Cirque Electrique, Nautilus Amphitheater, or Mission Bay Theater shows.
Seating is reserved only till the show starts, after which unused seats get opened for general seating.
---
---
SeaWorld San Diego rides
Most visitors check out the animals, attend shows, then head out to SeaWorld San Diego's rides for their adrenalin rush.
SeaWorld has five high thrill rides, out of which four are roller coasters.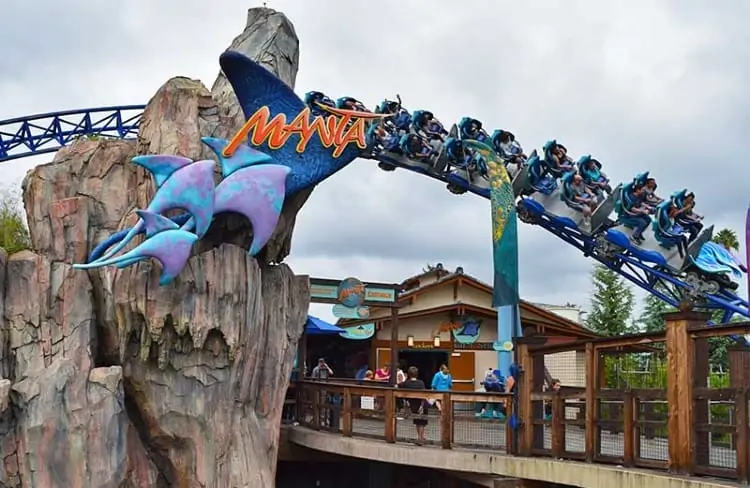 Emperor, the fifth roller coaster of the attraction, is expected to be unveiled in 2021.
SeaWorld also has two water rides and nine rides for smaller kids.
Some of SeaWorld San Diego's most popular rides are Electric Eel, Journey to Atlantis, Manta, Tidal Twister, etc.
In 2021, SeaWorld San Diego's latest ride called Emperor is expected to be unveiled.
---
---
SeaWorld San Diego map
Spread over nearly 200 acres in Mission Bay, SeaWorld San Diego is a significantly large tourist attraction.
Carrying a map and being aware of the location of the exhibits helps save time and energy.
Besides the animal enclosures, a map also helps you identify rides and visitor services such as restaurants, restrooms, souvenir shops, etc.
San Diego SeaWorld's layout is even more necessary if you are visiting with kids.
The SeaWorld app for Android and iPhone has an interactive map to help you find your way during your visit.
Sources
# Lajollamom.com
# Funex.com
# Tripster.com
# Mousesavers.com

The travel specialists at TheBetterVacation.com use only high-quality sources while researching & writing their articles. We make every attempt to keep our content current, reliable and trustworthy.
Popular attractions in San Diego