San Diego Harbor Cruises is the best way to explore the San Diego Bay area, a natural harbor, and a deepwater port.
These cruises are professionally narrated tours that take you under the Coronado Bridge, past military ships, waterfront landmarks, etc., for an in-depth look at San Diego's scenic beauty.
Visitors can choose from numerous options – dinner cruises, champagne cruises, speed boat rides, drive-your-own speedboats, and more.
In this article, we share everything you must know before booking your San Diego Bay Harbour Cruise.
What to expect on a harbor cruise
Here is a quick video on what to expect on a San Diego Bay Harbor cruise.
---
---
Companies offering San Diego Cruises
Two companies offer cruises in the San Diego Bay area – Flagship Cruises and Hornblower Cruises.
Both the companies offer excellent services and are rated 4.5/5 on Tripadvisor.
Flagship Cruises
Flagship Cruises is a family-owned company and has been operating for more than 100 years.
They offer many ways to cruise around the San Diego Bay, but their cruises on their luxury ships are the most popular.
Flagship's luxury ships have three indoor and outdoor seating levels, 360-degree views, and an onboard snack bar serving snacks, sodas, beer, and wine.
Tourists with love for speed prefer Flagship's Patriot Jet Boat Thrill Ride, a turbo-charged way to explore the San Diego bay.
They also offer seasonal whale watching tours, which are available only between December to April.
Flagship harbor cruises are the most beautiful way to enjoy the best of San Diego.
Hornblower cruises
The Hornblower Cruises company offers numerous narrated San Diego harbor cruises for all kinds of visitors.
Their 90 minutes Best of the Bay Harbor Cruise is the most popular among tourists and locals.
Hornblower also offers a 3-hour, 3-course Dinner Cruise and a 2-hour Champagne Brunch Cruise in the San Diago Bay.
If you prefer fun-filled happy hour entertainment with an enticing menu and cocktail specials, you must check out Hornblower's Sights & Sips 2-hour Sunset Cruise.
The company also offers Whale and Dolphin Watching Cruises and Sea Lion Adventure Cruises for those interested in local wildlife.
---
---
San Diego Harbor Cruise prices
The 1-hour harbor tour by Flagship Cruises to either South or North of the San Diego Bay costs US$ 28 per person.
For just US$ 33, you can go on the 2-hour Flagship cruise where you get to see both the North and South side of the Bay.
The 90-minutes long Best of the Bay Harbor Cruise by Hornblower Cruises is priced at US$ 35.
The San Diego Harbor Dinner Cruise costs US$ 117, and the Brunch Cruise comes with a price tag of US$ 99.
San Diego Cruise discounts
Both Hornblower and Flagship offer the same kind of discounts on their cruises.
Everybody above 13 years of age must pay the full price, while kids 4 to 12 years get a 50% discount on the adult ticket price.
Children three years and younger can join in for free.
---
---
San Diego Harbor Cruise North or South
While booking a San Diego Harbour Cruise, tourists have three options: they can opt for the North Harbor, South Harbour, or both.
If you opt for one of the harbors, the cruise is one hour long, and you get to see only half the attractions.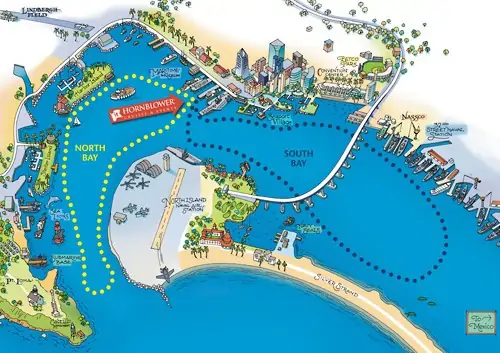 North Harbor: You get to see the San Diego skyline, Star of India, and the iconic ships of the Maritime Museum, Harbor Island, Shelter Island, and North Island Naval Air Station.
South Harbor: You see the USS Midway Aircraft Carrier, US Navy Surface Fleet, Coronado waterfront, Naval Amphibious Base Coronado (Navy SEALs train here), and Coronado Bay Bridge.
The full tour of San Diego Bay lasts two hours, and you get to see both the North and the South harbors.
The complete 2-hour long tour by Flagship Cruises costs only US$ 5 more than the 1-hour-long cruises.
So if your question is, "North Harbor or South Harbor at San Diego Harbor?" our answer is "Both!"
HornBlower's 90-minute cruise also covers all parts of the San Diego Harbor cruise.
---
---
Dress code for San Diego Harbor Cruises
The dress code for San Diego Harbor Cruises depends on the type of cruise booked.
Dinner Cruises
For dinner cruises on the San Diego Bay, business casual to dressy casual attire is a safe bet.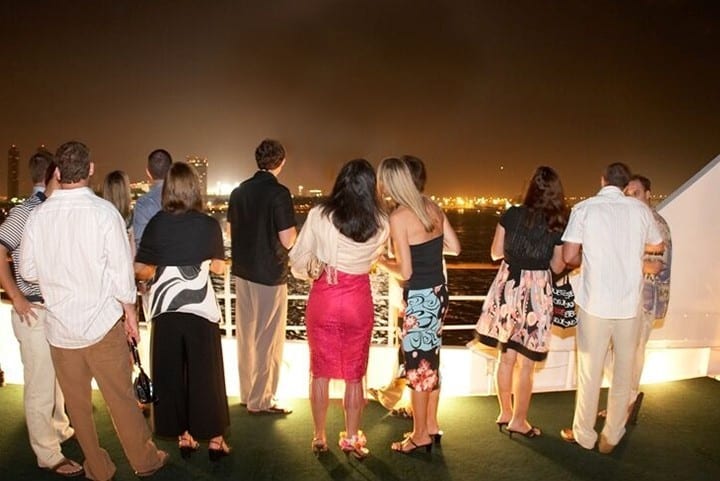 Men can wear slacks or khaki pants and a collared shirt with or without a jacket, while women can wear slacks or skirts with a collared shirt or dress.
Hornblower recommends no jeans, shorts, tank tops, flip-flops, or gym shoes on dinner cruises.
Lunch and Brunch Cruises
For lunch and brunch cruises, it is better to be dressed in business casuals, such as khaki pants and collared shirts.
Shorts, tank tops, flip flops, or gym shoes are strongly discouraged.
Regular Harbor & Whale Watching tours
For San Diego whale watching cruises, or normal harbor tours tourists can wear casual attire, such as shorts and t-shirts.
We recommend dressing in layers and bringing along a jacket or a wrap because it can get breezy on board, especially on the outer decks and on cruises that head out on the open ocean.
For daytime cruises, it makes a lot of sense to bring along a hat and some sunscreen.
---
---
Departures
Hornblower Cruises depart from 970 North Harbor Drive, and the Flagship Cruises leave the shores from 990 North Harbor Drive.
Departure piers for both the companies are just 300 meters (.2 miles) from each other.
However, it is better to check your ticket confirmation email to determine the boarding point and the timing.
Boarding time
Boarding time is usually 15 to 30 minutes before departure.
For dinner cruises, it is better to reach at least 30 minutes in advance so that you can enjoy your boarding cocktail and dockside sights.
---
---
FAQs about San Diego Cruise
Tourists planning a cruise around the San Diego Bay area have many questions.
We answer them here –
What happens to the cruise during bad weather?

Hornblower and Flagship cruises sail rain or shine. 

During severe weather conditions (or when directed by the US Coast Guard), the ships remain dockside.

The Patriot, which has open-air seating, is more likely to be canceled due to rain. 

But you don't need to worry because if your cruise gets canceled, you can choose to reschedule or receive a full refund.

Are there any age restrictions on San Diego cruises?

There are no age restrictions on most cruises, but all minors require adult supervision.

Cocktail cruises are usually for patrons 21 years and older. 

When is the dinner served on dinner cruises?

The moment you get on board, you get a boarding drink, after which the service begins.

How safe are San Diego Cruises?

San Diego Harbor cruises are very safe because each vessel US Coast Guard certified with life preservers and all required lifesaving equipment, including child life vests.

Will I get seasickness?

Since the Bay area cruises don't leave the San Diego harbor's calm waters, most of the guests don't experience any discomfort. 

However, if you experience motion sickness, you are likely to face uneasiness during the cruise. 

In such a case, you may want to take your usual preventative measures.

Whale watching cruises go out into the open ocean, which increases your chances of seasick increases. 
Popular attractions in San Diego
# San Diego Zoo
# San Diego Zoo Safari Park
# Legoland California
# SeaWorld San Diego
# USS Midway