If you like adventure, water, and the waves, the Patriot Jet Boat thrill ride experience in San Diego is an ideal activity for you.
The San Diego Patriot Boat takes you on a journey along the coast of San Diego and gives you a thrilling experience.
This article shares everything you need to know before booking San Diego Patriot Jet Boat tickets.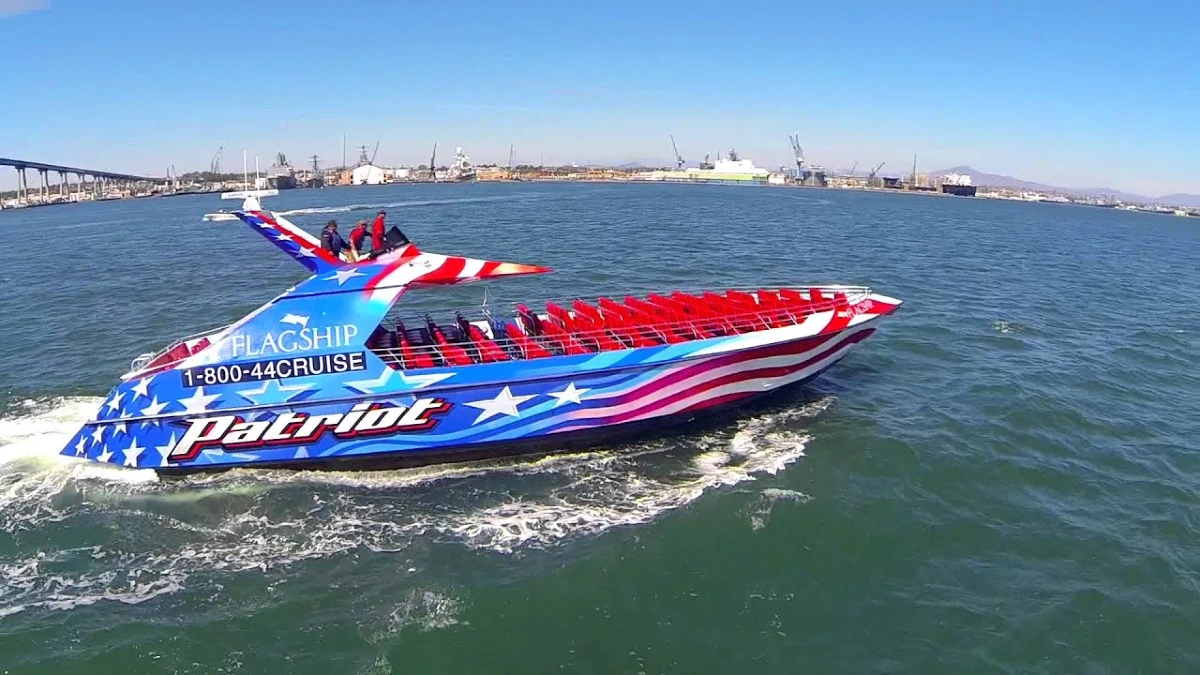 What to expect during Patriot Boat ride
Get ready for a ride of a lifetime at the Patriot Jet Boat thrill ride experience in San Diego.
On a Patriot Jet Boat excursion, you can anticipate an exhilarating 30-minute or two-hour journey through San Diego Bay.
You'll enjoy music and an entertaining and interesting narration while experiencing 360-degree turns, fast runs, and splash-downs.
---
---
Where to book San Diego Patriot Boat tickets
The San Diego Patriot Boat tickets are available online and at the ticket counter at the docks.
However, it is best to buy them online to avoid long queues and save time.
Besides, you pay less for online tickets than what you pay at the dock.
Online ticket purchases are suggested because of the significant demand for tickets to the Patriot Jet Boat thrill ride experience in San Diego.
Buy your tickets early to avoid disappointment at the last minute.
While booking your tickets to the joy ride, you must choose your preferred timeslot.
How do online tickets work
When you book the Patriot Boat experience, you must select your preferred time and date of visit.
Immediately after purchase, your tickets get emailed to you. You don't need to take any printouts.
Once you reach the departure dock ten minutes before the time mentioned on your ticket, you can show your ticket on your smartphone and board the boat.
Cost of San Diego Patriot Boat tickets
The tickets for Patriot Jet Boat Thrill Ride cost $40 for all visitors over the age of five.
If you want to book your Drive Your Own Speed Boat experience, it will cost $95 per person.
Kids below the age of five are not allowed on these tours.
Patriot Jet Boat Thrill Ride in San Diego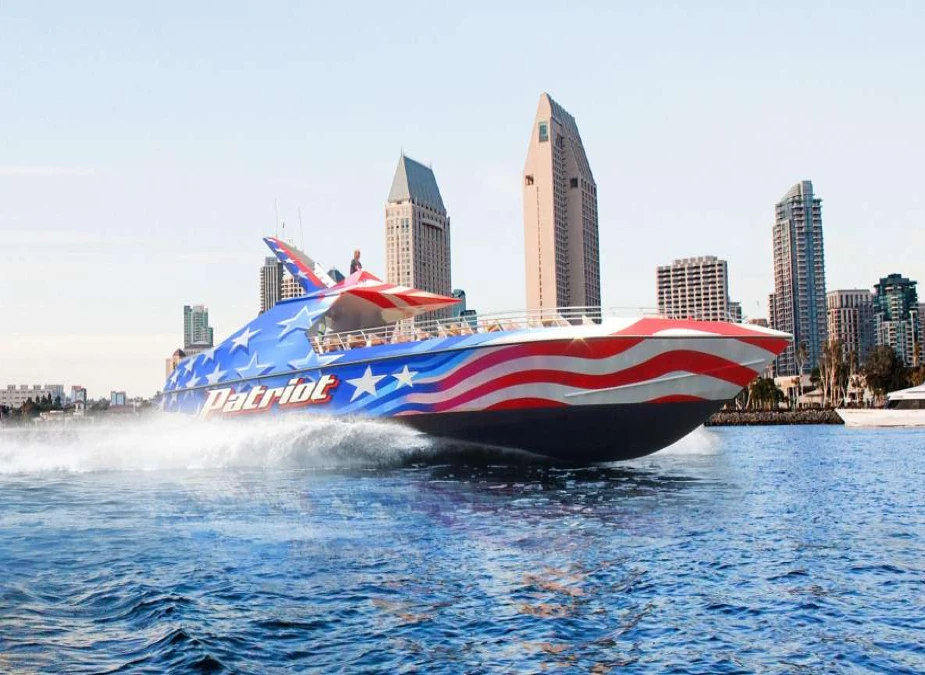 Riding on the Patriot, an open-air jet boat, you will experience the thrill of a 30-minute trip along San Diego Bay.
Rock music will be pumping as you travel up to 50 mph (80 kph) past naval vessels, beneath the Coronado Bridge, and along the city skyline.
While on the ride, you can see the USS Midway Aircraft Carrier, North Island Naval Air Station, Coronado Bridge, Star of India, and the renowned ships of the Maritime Museum.
Ponchos are offered, so dress for the possibility of getting wet!
This tour may not be appropriate for:
children under the age of three
expecting mothers
individuals with back issues
individuals with heart issues
those who become seasick easily
high blood pressure patients
individuals who have just had surgery
those who are motion sick
Riders must be 48 inches (122 cm) or taller. Every minor must be in a group with an adult.
Ticket Prices: $40 per person
San Diego: Drive Your Own Speed Boat 2-Hour Tour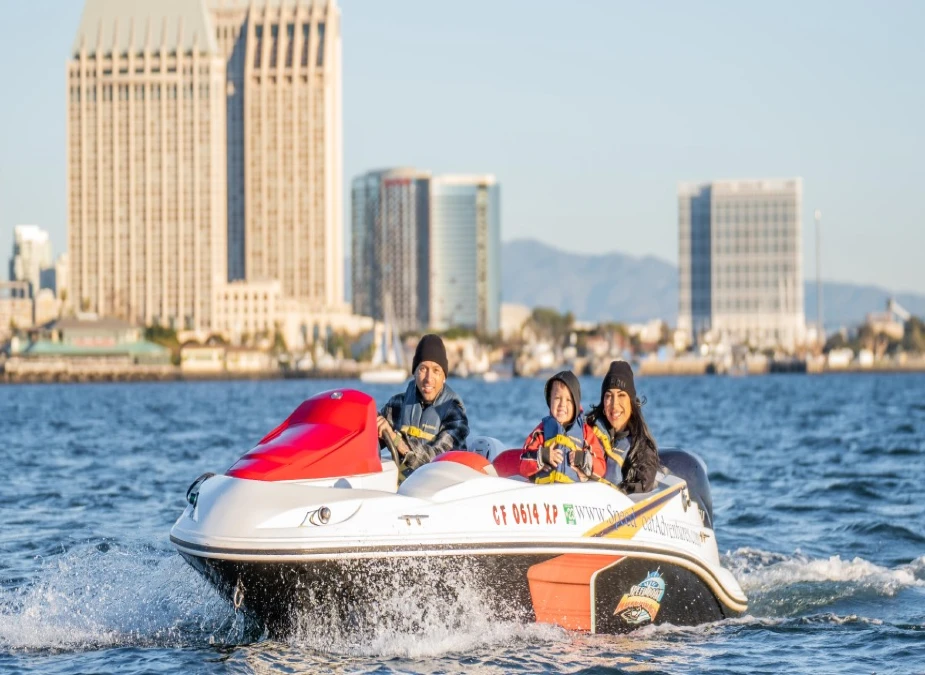 During this two-hour excursion in San Diego Harbour, you can pilot your own speed boat while listening to a knowledgeable guide who speaks to you using a two-way radio.
Enjoy the beautiful views, which include the USS Midway, the Russian submarine on display at the Maritime Museum, and the skyline of downtown San Diego.
The tour guide will share fascinating historical information and humorous commentary.
You need to sign a waiver before getting on the speedboat.
Speedboat drivers must be at least 18 years old.
You must make separate reservations for each boat if you need more than one.
Each boat has a limit of 450 pounds (204 kg).
Ticket Price: $95 per person
Save time & money! Buy San Diego City Pass and get access to 55+ San Diego activities, tours, cruises, and attractions. Visit SeaWorld, Belmont Park, Hollywood Museum, and many more famous sites, or go for a whale-watching cruise or hiking tour.
---
---
San Diego Patriot Boat timings
The first San Diego Patriot Boats tour of the day is scheduled at 11.30 am, and the last boat tour of the day departs at 5.30 pm.
During the peak season, the Patriot Boat has seven daily tours – at 11.30 am, 12.30 pm, 1.30 pm, 2.30 pm, 3.30 pm, 4.30 pm, and 5.30 pm.
The timings for the tours can change depending on the season.
How long does San Diego Patriot Boat take
The Patriot Jet Boat thrill ride experience in San Diego takes about 30 minutes for the ride.
Reach the location at least 15 minutes before your SpeedBoat tour starts and keep aside at least an hour and a half for the entire experience.
Best time to visit San Diego Patriot Boat
The best time to book a ride for the Patriot Jet Boats in San Diego is either in the morning slot at 11.30 am or the evening slot at 5.30 pm.
The 11.30 am tour is the first trip of the day and is not crowded while the 5.30 pm tour is far more beautiful because of the sunset.
Avoid booking tickets for midday and noon as the sun would be too bright.
If you book your tickets from November to March, expect a little rain during your trip.
Things to keep in mind
Kids between the ages of four to 18 should be accompanied by an adult.
There is no specific dress code for Patriot Jet Boats in San Diego.
You can dress casually and comfortably.
Don't forget to carry a hat and sunscreen for your tour.
You must reach the meeting point 15 to 30 minutes before departure to avoid being late for your trip.
How to reach San Diego Patriot Boat
Patriot Jet Boats in San Diego is located in downtown San Diego.
Address: 990 North Harbor Dr., San Diego, CA 92101. Get Directions
There are numerous methods for getting to the San Diego Patriot Boat departure point. You can use public transport or reserve a cab!
By Bus
If you're taking bus 923 or 992, get off at N Harbor Dr & Broadway.
From there, it is a 1-minute walk to the port.
By Car
You can drive your vehicle or hire a cab to the venue.
Put on Google Maps and get started on your journey.
You have a variety of parking lots to pick from.
Popular attractions in San Diego
Sources
# Flagshipsd.com
# Gosandiego.com
# Tripadvisor.com

The travel specialists at TheBetterVacation.com use only high-quality sources while researching & writing their articles. We make every attempt to keep our content current, reliable and trustworthy.