Welcome aboard, travelers! When you're in San Diego, you must know how to have fun in the sun.
Belmont Park San Diego is the place to be if the sound of a beachside amusement park sits well in your ears.
An iconic attraction since 1925, the Belmont Park in San Diego is perfect for thrill-seekers and family fun enthusiasts alike.
From roller coasters and bumper cars to delicious food, there's something for people of every age at Belmont Park.
This article shares everything you must know before buying Belmont Park tickets.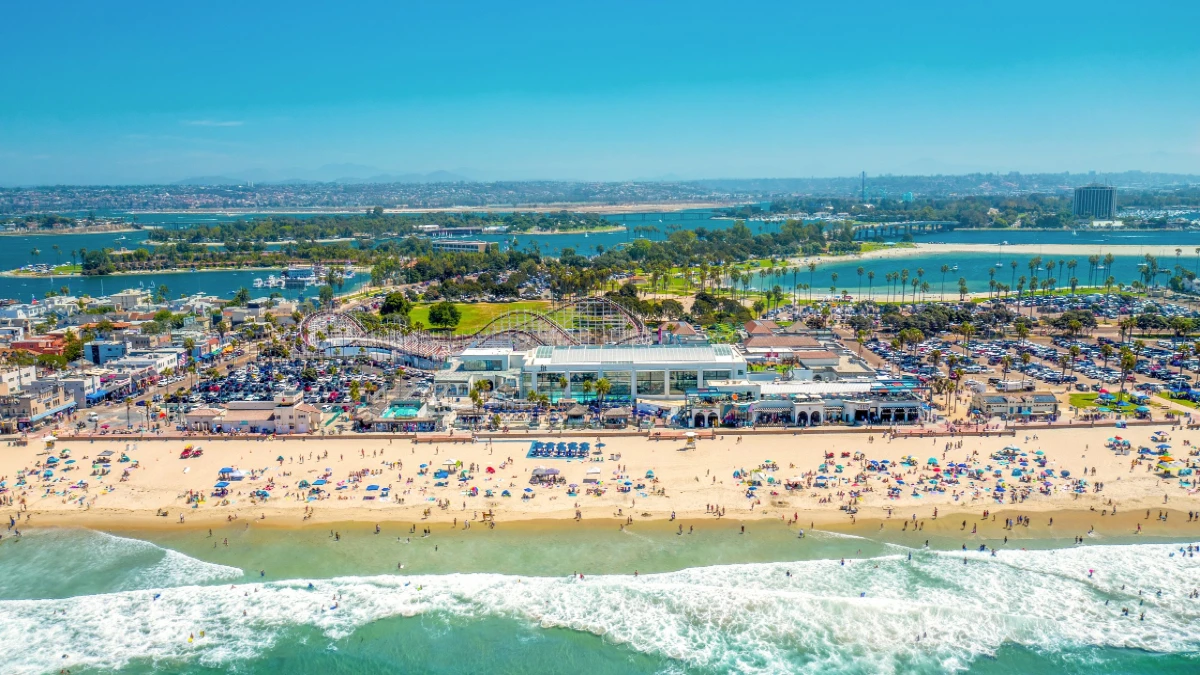 What to expect at Belmont Park
Giddy up for an adrenaline rush with the historic Giant Dipper Roller Coaster at San Diego's only beachfront boardwalk and amusement park, which has been delighting riders for nearly a century.
Amp up the thrill by trying out the Beach Blaster or the Control Freak, two of Belmont Park's newest additions.
For the ones who get a kick out of games, Belmont Park is right up your alley, offering a variety of classic and modern games like skee ball, air hockey, go-karting, laser tag, and much more, sure to keep you entertained for hours.
Worked up an appetite after all the excitement?
Sate your food cravings and hunger with plenty of lip-smacking food and drink options with a stunning sea view.
From live music to street performers, fire dancers, and acrobats, Belmont Park can keep you abuzz with energy with plentiful live entertainment.
Have a special day coming up?
Make it unforgettable with Belmont Park. This amusement park has so much to offer with its four dynamic event spaces for your elegant indoor or casual outdoor themes alike!
Shop away with gusto cool Belmont Park merchandise, souvenirs, and much more at the fun retail shops.
Soothe your aesthetic needs with the beautiful ocean views on the beachside.
---
---
Where to book Belmont Park tickets
The tickets for Belmont Park are available online in advance.
Since long ticket counter queues can be a killjoy, we recommend you book the tickets online.
It helps you save time and you also get to avail discounts which are only available online.
Tickets also often sell out sooner than you realize.
So, book your tickets online to avoid such last-minute disappointments and head to a stress-free day out with your friends and family.
How online ticket works
Go to the Belmont Park booking page, and select your preferred date and number of tickets (per height) to buy the tickets.
Immediately after the booking, you receive the tickets in your email.
Ticket printouts are not mandatory.
On the day of your visit, you can show your ticket on your smartphone and exchange it for amusement park's branded wristband.
Remember to bring your official photo ID.
Cost of Belmont Park tickets
Belmont Park tickets cost US$60 for all guests 48 inches (122 cm) or taller.
Guests with a height under 48 inches pay a discounted rate of US$55 for entry.
Belmont Park tickets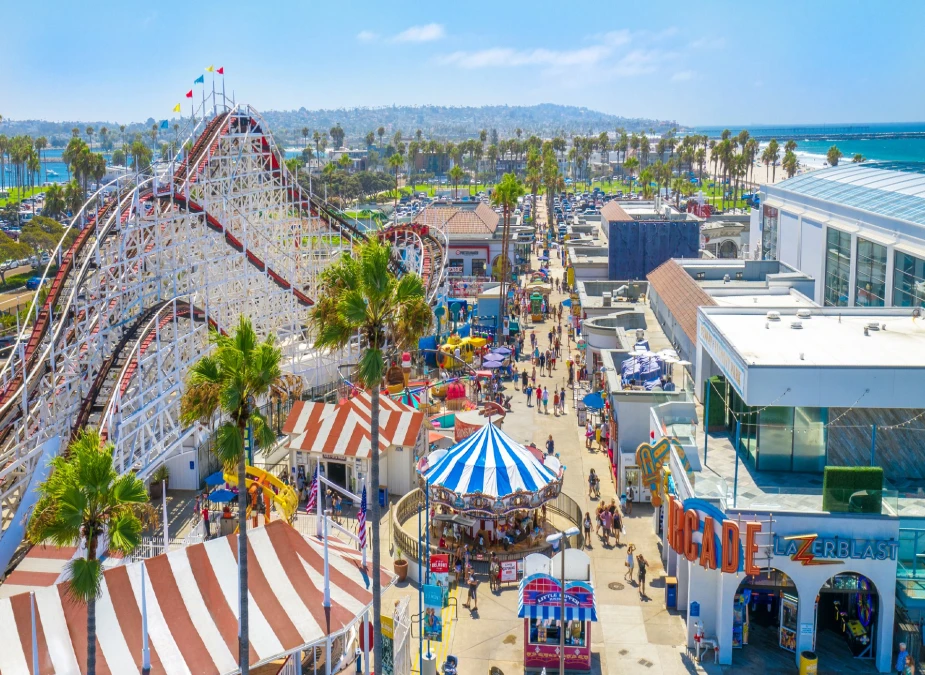 Get in the summer spirit at Belmont Park, where anyone, regardless of age, gets to be a child for a day.
Getting tickets to this classic amusement park gives you unlimited access to 13 awesome rides and other attractions.
Take a break from life's monotony and head to the park, where every day is a carnival.
If you are a frequent Belmont Park visitor, you can also avail of the new Belmont Park annual pass, providing unlimited rides and attractions at an unbelievable price.
Ticket Prices
For guests 48 inches or taller: US$54
For guests under 48 inches: US$55
Save time & money! Buy San Diego City Pass and get access to 55+ San Diego activities, tours, cruises, and attractions. Visit SeaWorld, Belmont Park, Hollywood Museum, and many more famous sites, or go for a whale-watching cruise or hiking tour.
---
---
Height and weight restrictions in Belmont Park
For safety purposes, height and weight restrictions apply to all rides and attractions throughout Belmont Park.
For example, the Giant Dipper roller coaster requires riders to be at least 50 inches (127 cm) tall, while the Krazy Kars ride requires a minimum height of 48 inches (122 cm).
Some rides may require an adult to accompany a child on the ride.
A few rides may have other health requirements, such as not being pregnant or having certain medical conditions, like high blood pressure.
Ensure checking with the park for the most up-to-date information.
Belmont Park timings
Belmont Park in San Diego opens at 11 am and closes at 8 pm daily.
While Belmont Park is open every day, weekly hours may vary.
To eliminate any element of surprise, we strongly recommend checking the Belmont Park calendar to plan your trip.
Best time to visit Belmont Park
If you have a penchant for warm weather and sunny skies, the ideal time to visit Belmont Park is during the summer months (June to August).
The temperature during this period ranges typically between 23 to 27 Celsius, with minimal rainfall.
However, remember that summer is the peak tourist season, so the park may be more crowded, and prices may be higher.
Fall is also a favorable time for a good time at Belmont Park.
To avoid the crowd, you may want to visit the amusement park in the early hours, right after it opens up at 11 am.
Weekends are tight for the beachside amusement park, so try going there on weekdays for a more relaxing experience.
How long does Belmont Park take
You can explore San Diego Belmont Park within a few hours to a full day.
The total time required to explore Belmont Park can depend on many factors, like the activities you want to do, your pace, and so on.
You need only a few hours (up to 3 hours) to visit Belmont Park for a quick stroll, a bite to eat, or shopping for souvenirs.
However, we encourage setting aside half a day or more if you want to fully experience the park's main attractions, such as riding the Giant Dipper Roller Coaster, taking a dip in the Plunge pool, or playing mini-golf.
---
---
How to reach Belmont Park
Belmont Park is located in Mission Beach.
Address: 3146 Mission Blvd, San Diego, CA 92109, USA. Get Directions
You can use public transport or car to reach Belmont Park in San Diego.
Nearby popular tourist attractions include the Sea World.
By Bus
You can board bus #8 to W Mission Bay Dr & Mission Blvd, a 2-minute walk from Belmont Park.
By Subway
There is no direct subway service to Belmont Park.
However, you can take the MTS trolley to the Old Town station, walk to the Old Town Transit Center and board the #8 bus to reach W Mission Bay Dr & Mission Blvd from where Belmont Park is a 2-minute walk.
By Car
If you're driving by car, turn on Google Maps and get started!
You can park at any of the four public lots that are FREE to guests and beachgoers alike.
There is no overnight parking available at the site.
FAQs about Belmont Park San Diego
Here are some frequently asked questions about Belmont Park in San Diego.
Who owns Belmont Park, San Diego?
Pacifica Enterprises LLC. along with Eat.Drink.Sleep, own Belmont Park in San Diego.
What types of events can Belmont Park host for me?
Belmont Park has the perfect space for events needing a capacity of 40-1,200 / 40,000 square feet for corporate events, conference outings, social, team building, nights out, birthdays, or celebrations.
Is Belmont Park worth it?
Belmont Park is a great beachside amusement park offering amazing rides, a gaming arcade, shopping stores, dining space, and live concerts for an all-around fun experience. It's definitely worth it!
Are my Belmont Park tickets refundable?
No, all sales are final, non-refundable, and non-cancellable, but they are valid for up to a year, so you can avail them on your next visit.
Can I share my Belmont Park annual passes?
No, only the owner of an annual pass can use it.
What restaurants does Belmont Park have?
Belmont Park has many full-service beachfront restaurants and dining options, like 'Draft,' 'Beach House,' and San Diego's largest oceanfront rooftop 'Cannonball.'
Is Belmont Park wheelchair accessible?
Yes, Belmont Park is completely wheelchair accessible.
Sources
# Belmontpark.com
# Wikipedia.org
# Tripadvisor.com

The travel specialists at TheBetterVacation.com use only high-quality sources while researching & writing their articles. We make every attempt to keep our content current, reliable and trustworthy.
Popular attractions in San Diego