Around 1.5 Million locals and tourists visit the San Diego Zoo Safari Park in Escondido, California, every year.
The 1,800-acre San Diego Safari Park houses more than 2,500 animals of 300 species in open field enclosures.
These animals are divided into 11 primary habitats, each unique to the animals it houses.
To explore the wildlife, most visitors book the regular Safari Park tickets, which also includes the free 30-minute African Tram Safari.
San Diego Safari Park's paid safaris are also good experiences, but they tend to be costly.
This article explains the animals you can expect at San Diego Safari Park and their habitats.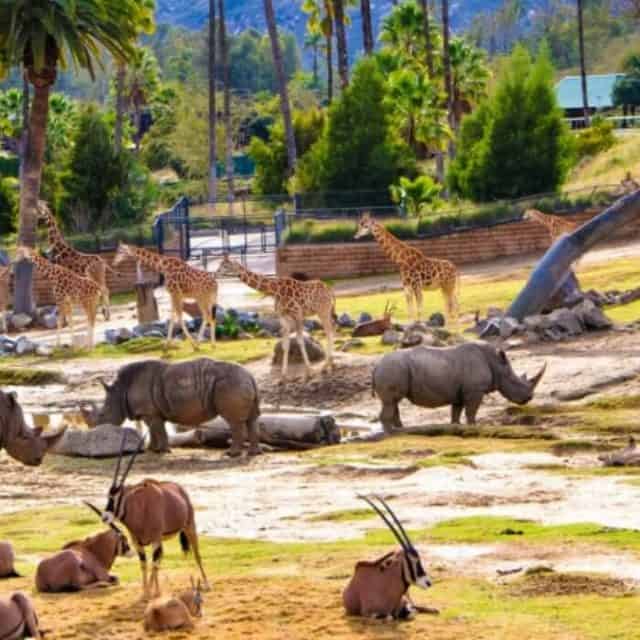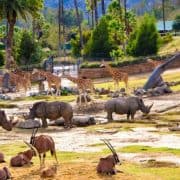 African Woods & African Outpost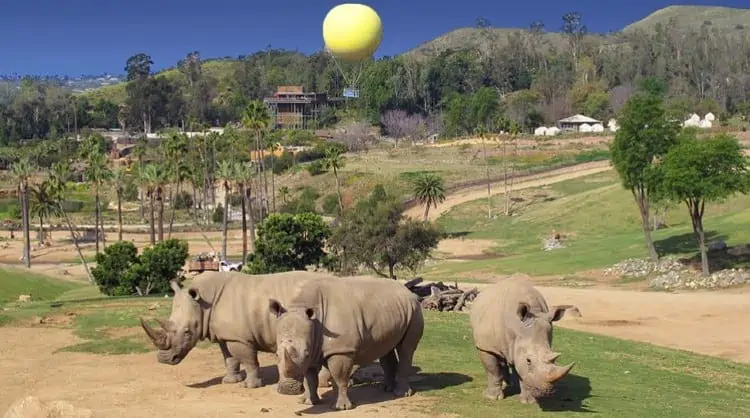 Both these sections together were earlier referred to as the Heart of Africa.
These two sections are the Safari Park's major exhibits, and visitors experience the trail that replicates African habitats.
Visitors get to see Rhinos, Vultures, Okapi, Red River Hogs, Bat Eared Foxes, Cheetahs, Nyalas, etc.
Elephant Valley
The Safari Park has two large exhibit yards for its African elephant herd.
A large pond helps the Elephants enjoy a refreshing dip anytime they want.
Visitors can observe the herd from the Elephant Viewing Patio, located at the south end of Elephant Valley, next to Tembo Stadium.
Nairobi Village
Safari Park's Nairobi Village is home to some of the most exciting animal displays.
Lorikeet Landing, Hidden Jungle, Lemur Walk, Petting Kraal, Village Playground, Talking Zebra etc. are all in the Nairobi Village.
Walkabout Australia
Walkabout Australia is 3.6 acres, and guests can expect to see Western Grey Kangaroos, Red-Necked Wallabies, Australian Brushturkeys, etc.
Don't miss the animal ambassador area where visitors can meet the Safari Park's Australian animal ambassadors and the Platypus Pond, home to two cute platypuses Birra and eve.
Asian Savanna and African Plains
The Asian Savanna and African Plains make up the San Diego Safari Park's most extensive exhibits, covering over 300 acres (120 ha).
In these open-range enclosures, visitors see the various plains habitats from Africa and Asia.
In the Asian Savanna, expect to see Indian rhinoceros, Bactrian camels, Banteng, Gaur, Blackbuck, Barasingha, Sambar, etc.
And in the African Plains, one gets to see Southern White Rhinoceros, Gazelle, Zebras, Giraffes, Antelope, Springbok, Ostrich, Black Rhinos, Fringe-eared Oryx, etc.
Tourists on shorter vacations want to know which is better – San Diego Safari Park or San Diego Zoo.
Gorilla Forest
The Gorilla habitat at San Diego Safari Park houses a troop of Western Lowland Gorillas, Eastern Lowland Gorillas, and Mountain Gorillas.
The gorilla troop at the park consists of five females and three males, including an elder "silverback" named Winston, about 45 years old.
Condor Ridge
At Condor Ridge, one gets to experience the endangered North American desert wildlife, the most important being California Condors and Desert Bighorn Sheep.
Other animals you can expect to see are Aplomado Falcons, Northern Bald Eagles, Ocelots, Porcupines, Desert Tortoises. etc.
Lion Camp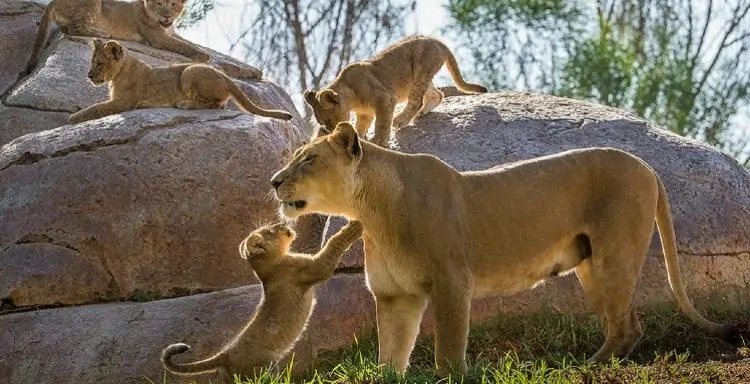 The Lion Camp houses the San Diego Zoo Safari Park's six African lions, Izu, Mina, Oshana, Etosha, Ken, and Dixie, in a 1-acre (0.40 ha) area.
One side of the enclosure has an artificial rock and a 12 meter (40 feet) long glass viewing window.
Visitors in a hurry opt for the San Diego Zoo because they get to see more animals in smaller space.
Tiger Trail
The Safari Park has two Sumatran male tigers and four female tigers, and visitors can see all their activities through the glass viewing window for visitors.
The Tiger Trail has many smaller spots such as the Logwalk, Pondok, Underwater Viewing, Waterfall, and the Longhouse.
So all set to see the wildlife at San Diego Safari Park?
If you prefer a little more comfort, it is better to visit the San Diego Zoo.
Popular attractions in San Diego
# San Diego Safari Park
# San Diego Zoo
# Legoland California
# USS Midway Museum
# SeaWorld San Diego
# San Diego Harbor Cruise
Sources
# Sdzsafaripark.org
# Sandiegozoowildlifealliance.org
# Wikipedia.org
# Tripadvisor.com

The travel specialists at TheBetterVacation.com use only high-quality sources while researching & writing their articles. We make every attempt to keep our content current, reliable and trustworthy.
Other zoos in California
# Los Angeles Zoo
# San Francisco Zoo