With more than 4 million visitors annually, San Diego Zoo is the most visited zoo in USA.
Located in Balboa Park, this 100 acres zoo with more than 3,500 animals has lots to offer to kids.
This article discusses why young visitors love the San Diego Zoo and how parents can make it a comfortable visit. 
Top San Diego Zoo Tickets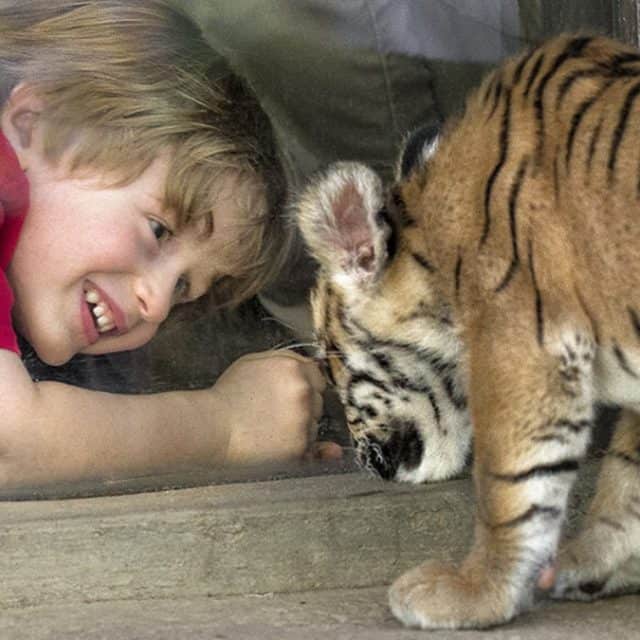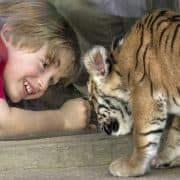 Best time to visit San Diego Zoo with kids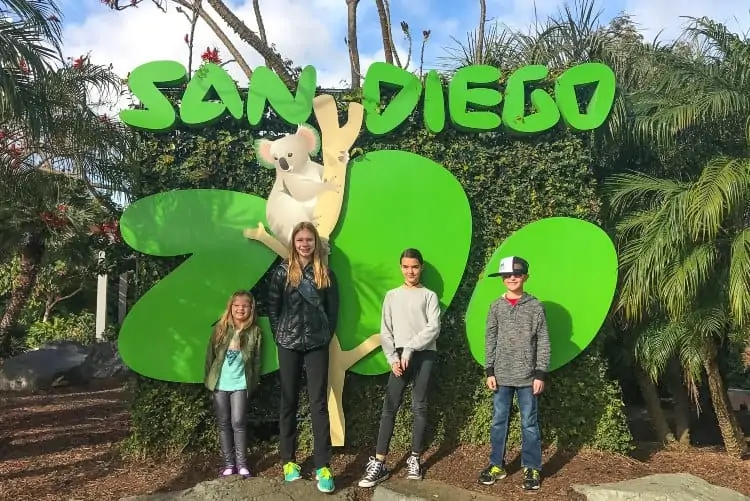 If you are visiting with kids, it is best to step into the San Diego Zoo as soon as they open at 9 am.
Here are our four reasons –
Animals are most active in the morning, which is good because your kids will love interacting with them.
The temperatures are still moderate, which means your child won't be irritated.
The crowd is yet to come in, and you can avoid waiting in the lines with your kid.
When you start early, you can pace yourself and explore more of the zoo.
---
---
San Diego Zoo ticket discounts for kids
The San Diego Zoo ticket costs US$ 60 for all visitors 12 years and above.
Kids aged between 3 to 11 years get a US$ 10 discount on the price of the adult ticket and hence pay only US$ 50.
The best way to save money on your tickets is by opting for the Go San Diego Pass. You can visit San Diego Zoo, San Diego Zoo Safari Park, SeaWorld, and 30+ other city attractions for free with this one pass.
---
---
Free San Diego Zoo entry for kids

Every year, in the month of October, in honor of the zoo's founding, children aged 11 and younger can enter for free.
However, an adult (18+ years) with a valid ticket must accompany the children.
Up to five kids can enter for free with one ticket-holding adult.
Infants up to two years don't need tickets to enter the zoo all through the year.
---
---
Tips for visiting San Diego Zoo with children
Buy your San Diego tickets online and in advance. It helps you avoid the long ticket counter queues at the venue.
San Diego can get hot. It is better to carry hats, sunscreen, and a bottle of water.
Ensure your kid is wearing sneakers because exploring the zoo requires a lot of walking (and some climbing)
Usually, kids up to five years or so have trouble with all the walking required to explore San Diego Zoo. Consider bringing a stroller or renting one at the attraction.
If your child loves taking photographs, don't miss 'Rex, the Lion' at the zoo's entrance. It is a massive metal lion standing on one paw.
At the entrance, note down the various animal show timings, and keep them in mind while planning your walking route through the zoo.
Take the 35-minute free guided bus tour as soon as you enter the zoo. It helps you understand the layout of the attraction and plan your walking route.
San Diego Zoo has around 25 food and drink outlets. Take a break at regular intervals so that the family stays recharged.
The Skyfari is an aerial tram that goes from the entrance of the zoo to its back. Your child will love spotting the animals from the top.
The free Kangaroo Bus service has four stops and is a great transport option within the zoo. Look out for bus stops marked with a yellow Kangaroo Bus banner.
---
---
San Diego Zoo animals that kids love
San Diego Zoo has more than 700 species (3500+ animals), and it is impossible to see all of them during your visit.
Even though the youngsters love all animals, they love some more than the others.
That's why it makes sense to discuss with your kids and prioritize the zoo's different sections.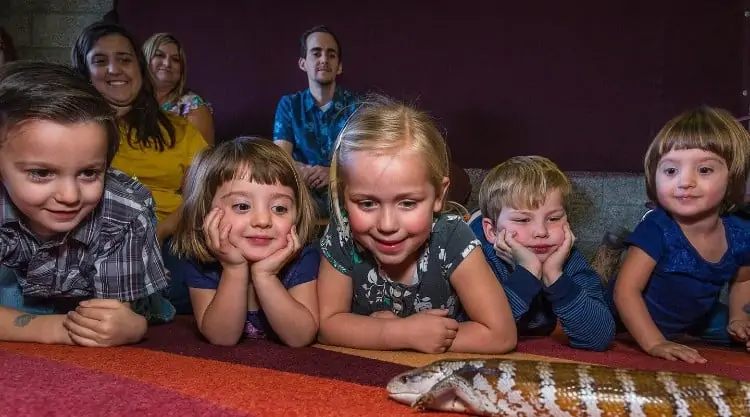 Once you know the must-see animals, you can plan your path using the San Diego Zoo's map and be ready.
The animals in San Diego Zoo are divided into numerous sections.
At Africa Rocks, visitors can experience six types of terrains and hundreds of animals, including Leopard, Fossa, Gelada, Baboons, Lemur, Meerkat, Monkey, Penguins, etc.
The Asian Passage section has animals such as the Leopard, Grizzly Bear, Red Panda, Snow Leopard, Sun Bear, Takin, etc.
Discovery Outpost is primarily reptiles, and you get to see the famed Anaconda, Chinese Alligator, King Cobra, Mang Mountain Viper, Rattle Snake, Galapagos Tortoise, Turtle, etc.
The name Elephant Odyssey is misleading because, besides Elephant, this part of San Diego Zoo is also home to the Lion, Jaguar, Camel, Two-Toed Sloth, Capybara, etc.
The Lost Forest has kid attractions such as the Hippo, Gorilla, and Otter. The other animals in this section are Babirusa, Bonobo, Monkey, Okapi, Tapir, etc.
Gorilla Tropics, which houses the Scripps Aviary, is also part of the Lost Forest enclosure. Children love spending time inside the Aviary.
The Northern Frontier consists of animals such as the Arctic Fox, Mountain Lion, Polar Bear, Reindeer, Zebra, etc.
In here, your child is sure to spend a lot of time at the Polar Bear Plunge.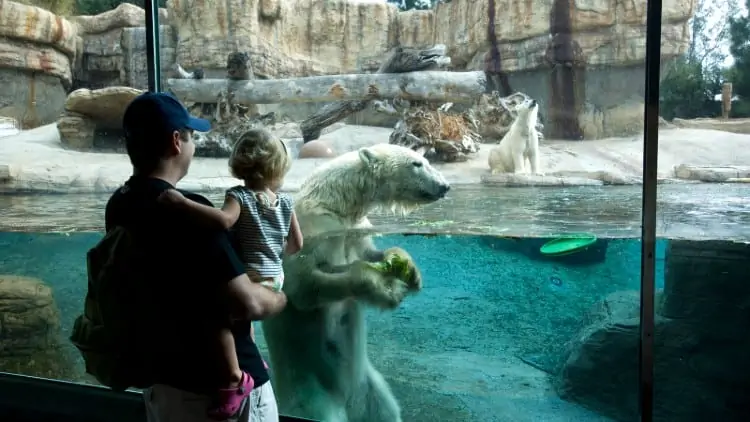 The Outback is a relatively smaller section and displays animals such as Koala, Laughing Kookaburra, and Tasmanian Devil.
The two superstars at the Urban Jungle are the kid favorites Giraffe and Rhinoceros.
---
---
Kids activities at San Diego Zoo
Depending on the time you plan to spend inside, you can participate in numerous San Diego Zoo experiences.
We list some of our favorites –
Keeper Talks
Keeper Talks are an integral part of every zoo visit, and they are both entertaining and educational.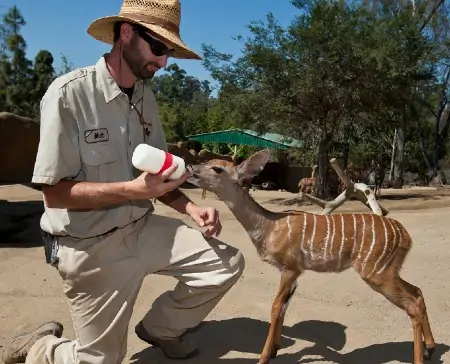 The best part is that since the zookeepers have food with them, the animals are most active during the keeper talks.
Image: Sandiegozoo.org
We suggest you request for the keeper talk schedule at the entrance and plan your exploration around them.
Kids generally love keeper talks of Giraffes, Polar bears, Lemurs, Meerkats, etc.
Animal Shows
When you enter the zoo, find out the show timings and mark the ones you want to attend.
The San Diego Zoo has a couple of top-rated shows suitable for visitors of all age groups.
Dr. Zoolittle and Friends Explore Africa are scheduled at 4 pm and 5 pm daily.
The show titled 'Wild About Animals', happens at 1 pm every day.
Guided bus tour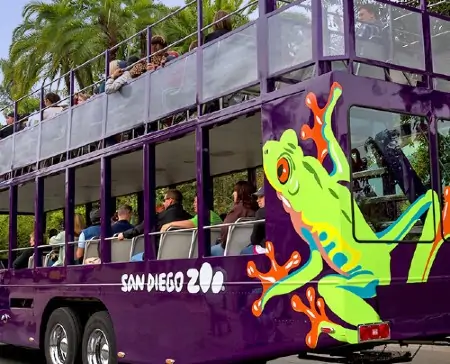 It is better to board the bus tour at the beginning of your visit because it is a great way to understand the zoo's layout.
Image: Sandiegozoo.org
The 35-minute guided bus tours start at 9.30 am and continue till about an hour before closing time daily.
Skyfari aerial tram
The Skyfari is an aerial tram that goes from the entrance of the zoo to its back.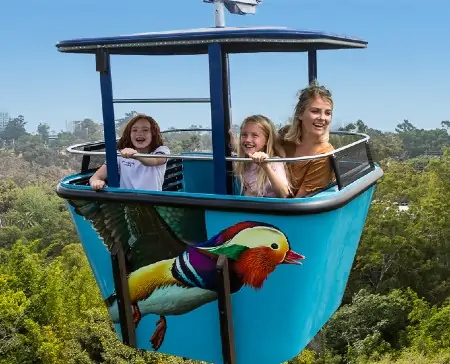 Kids love soaring over the treetops and trying to spot animals below.
The tram service starts at 10 am till the zoo closes at 9 pm (in winters much earlier).
Image: Sandiegozoo.org
It is included in the San Diego Zoo's entry ticket.
4-D theaters
San Diego Zoo has two 4D theaters – one at the Northern Frontier and another at the Children's Zoo.
Be ready for gusts of wind, vibrating seats, and surprise sprays of water in your face, immensely enhancing the movie-watching experience.
Movies run daily till about an hour before closing time, and the entry fee is $7 per person.
Kids Playgrounds
Besides the fantastic animals, San Diego Zoo also has nice playgrounds for toddlers.
The open-air Elephant play yard is opposite Elephant Odyssey and has puzzles, play fossil digs, etc.
The Koala Klimber play area is in the Australian Outback, and kids love to copy the koalas and climb up like them.
The Polar Play Area is sure to wow your child, for it has supersized illustrated storybooks, life-size statues of polar bears, and even a polar bear cave to crawl into.
San Diego Zoo Children's Zoo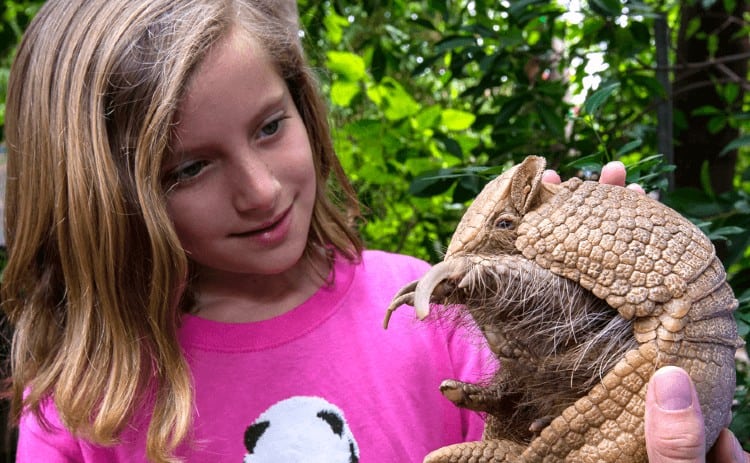 Soon, a newer version of San Diego Zoo Children's Zoo is coming up.
This zoo's four distinct environments will be – Marshlands, Desert, Woodland, and Rain Forest.
Kids will get to explore animals via interactive learning, close-up encounters, and modern technology mesh fun, etc.
San Diego Zoo Kids Store
We recommend you keep the kid's store for the last – when your child is upset about leaving the zoo.
The shop has plush animal toys, T-shirts, games, educational activities, etc.
It is a great way to end the day by giving your child something to remember the San Diego Zoo.
Balboa Park Railroad Miniature Train
The miniature train is just outside the San Diego Zoo and is a replica of a real diesel locomotive.
The train station is just outside the zoo's exit, and at regular intervals, the train pulls out for 3-minute rides around a portion of Balboa Park.
Children under 1-year-old ride free and the others pay $3 per person.
Balboa Park Carousel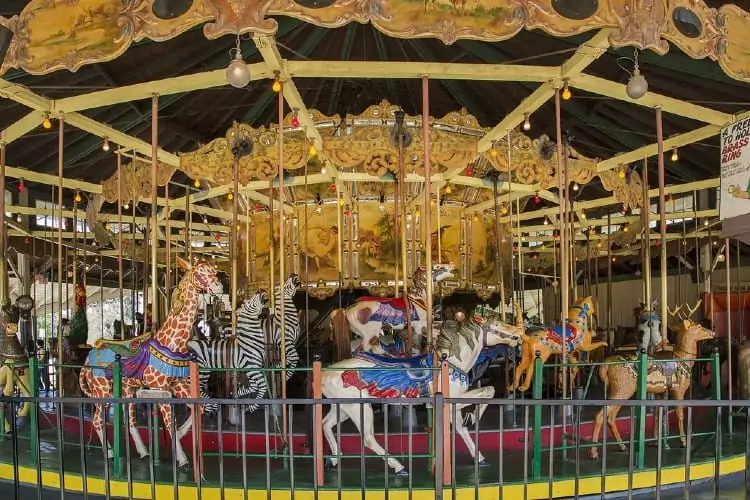 Built in 1910, the Balboa Park Carousel is yet another attraction just outside the zoo but an integral part of the zoo visit.
Kids get to pick the animal on whom they will sit – horse, camel, lion, or zebra?
It is a historic ride and may even remind the parents of their childhood.
Still not sure? Check out a San Diego Zoo vs Safari Park comparison.
---
---
Strollers for rent
The San Diego Zoo allows almost all kinds of baby carriages.
If you have a stroller at home and are visiting with a younger child, it is better to bring it to the zoo.
Kids below five years usually have trouble walking the distances expected of them at San Diego Zoo.
Visitors can also rent strollers at the zoo's entrance.
A single stroller costs $14, and a double stroller is priced at $18.
These are one-size strollers where most children can comfortably sit.
All strollers have cup holders and a storage pouch in the back.
However, if you plan to rent a stroller at the San Diego Zoo, arrive early in the day because they get rented out on a first-come, first-served basis.
Stroller on the Guided Tour Bus
While riding the 35-minute guided bus tour, you must leave your baby carriage/stroller in the designated parking area.
But don't worry, for the bus comes back to the same place.
Strollers on Skyfari
The Skyfari aerial tram has stroller size limits.
Baby carriages that fold smaller than 60 cms (23.75 inches) can be accommodated, and visitors must leave the bigger ones in the parking space close to the tram.
If it is your own stroller, you can pick it up on your way back, and if it is a rented stroller, you will get one when you get off the Skyfari.
---
---
Baby Nursing station
San Diego Zoo's First Aid office is located next to the Reptile House, and mothers often use it for nursing their infants.
The facility also has a microwave for preparing your child's meal.
Some mothers prefer to sit just outside the First Aid office on one of the benches provided.
Sources
# Sandiegozoowildlifealliance.org
# Zoo.sandiegozoo.org
# Wikipedia.org
# Sdzwildlifeexplorers.org

The travel specialists at TheBetterVacation.com use only high-quality sources while researching & writing their articles. We make every attempt to keep our content current, reliable and trustworthy.
Popular attractions in San Diego
# San Diego Zoo
# Legoland California
# USS Midway Museum
# San Diego Safari Park
# SeaWorld San Diego
# San Diego Harbor Cruise
Other zoos in California
# Los Angeles Zoo
# San Francisco Zoo