Located in the easternmost district of Lisbon, Park Nations, Lisbon Oceanarium is the second largest European Aquarium, after L'Oceanogràfic in Valencia.
It can hold around 5000 cubic meters of water, providing a haven to more than 15000+ creatures from over 450 species.
The Oceanarium, built on a pier in an artificial lagoon, resembles a ship docked on water.
Both kids and adults love visiting Oceanário de Lisboa to see the underwater treasure trove.
This article shares everything you need to know before purchasing your Lisbon Oceanarium tickets.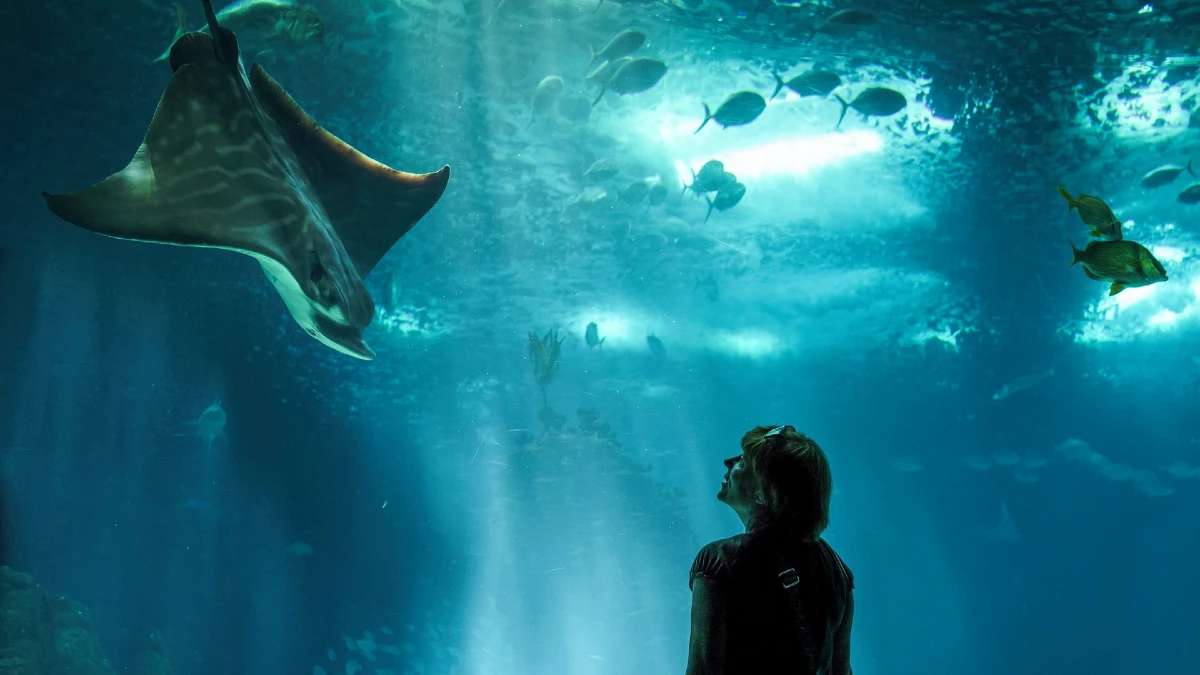 What to expect at Lisbon Oceanarium
Lisbon Oceanarium takes you deep down the oceans, where you are exposed to amazing small and big underwater creatures whose beauty will take your breath away.
The Oceanarium presents exhibits that are easy on the eyes and sets up a learning platform for everyone to understand the aquatic ecosystem's structure, function, and threats.
Marine species from four oceans- the North Atlantic, Antarctic, Temperate Pacific, and Tropical Indian Ocean can be spotted here.
You can find many incredible marine creatures, from jiggly jellyfish to colorful corals to fascinating frogs.
---
---
Lisbon Oceanarium tickets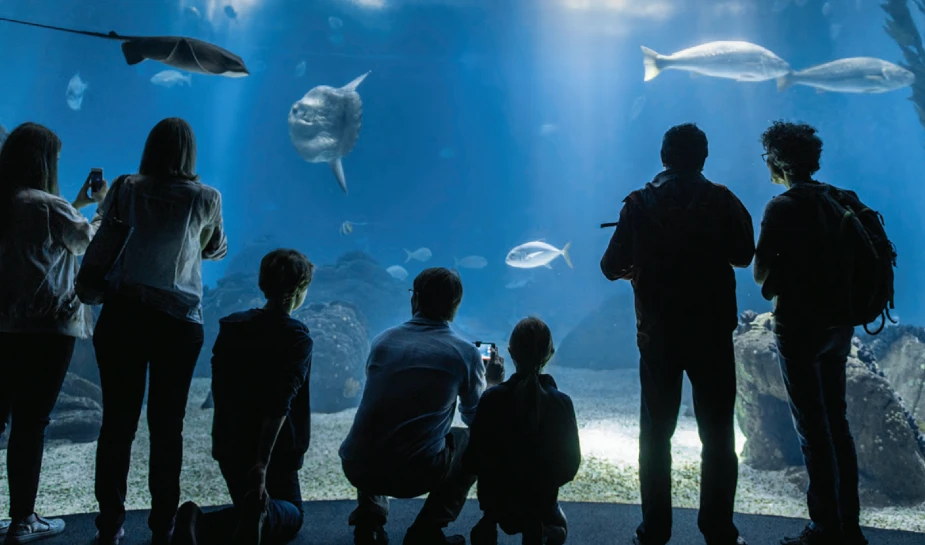 Lisbon Aquarium tickets are available online and at the attraction.
We recommend online tickets because tickets at the attraction are costlier, and you also end up waiting in long ticket counter queues.
Every Lisbon Oceanarium ticket includes a visit to both permanent and temporary exhibits.
How does online ticket work
Once you purchase your Aquarium ticket online, it gets delivered to your email.
On the day of your visit, show your smartphone Lisbon Oceanarium tickets at the online tickets track to avoid the long regular line and enter.
Ticket Price
Adult ticket (13 to 64 years): €19
Child ticket (3 to 12 years): €13
Senior ticket (65+ years): €15
Infant ticket (up to two years): Free Entry
Oceanário de Lisboa + Lisbon Cable Car
Lisbon Aquarium is just 2 km (just over a mile) from the Lisbon Cable Car. Tourists and local families that want to make it a full-day outing in the city opt for the Aquarium + Cable Car combo.
Lisbon Zoo + Lisbon Oceanarium
Lisbon Zoo is only 15 minutes away by car from Oceanarium in Lisbon, which is why some families plan to visit both on the same day. Buy Combo Ticket
---
---
Opening hours
Oceanarium Lisbon opens at 10 am and closes at 8 pm daily.
The last entry is one hour before closing.
On special days and holidays, the marine attraction follows a different schedule.
On 24 and 31 December, the Lisbon Oceanarium operates from 10 am to 7 pm.
On 25 December and 1 January, it opens at 11 am and closes at 8 pm.
---
---
How to get to the Oceanarium
Lisbon Oceanarium is located at Doca dos Olivais, Parque das Nações.
Address: Esplanada Dom Carlos I s/nº, 1990-005 Lisboa, Portugal. Get Directions
The Orient (East) station is the central point of all the transport networks.
Whether you take a metro, bus, Underground, or train, you need to get down at the Orient (East) station and then walk or take a taxi to reach the Oceanarium.
By Bus
The nearest bus stop to the Oceanarium is Oriente (East) Station.
The bus routes to the station are – 705, 725, 728, 744, 708, 750, 759, 782, 794
Underground
The closest underground station to Lisbon Oceanarium is the Orient (East) station on the Red Line.
By Train
The train routes to Lisbon Oceanarium are Alfa Pendular and Intercity trains, inter-regional and regional trains, and the Azambuja line (Lisbon-Azambuja).
Car Parking
For all those who want to drive, fire up your google maps and follow the directions.
There are enough car parking facilities available around the Lisbon Oceanarium. We list a few –
Oceanário Park (274 parking spots)
Doca Park (700 parking spots)
Vasco da Gama Tower Park (250 parking spots)
Oriente (East) Station Park (2000 parking spots)
---
---
Best time to visit Lisbon Oceanarium
The best time to discover the novelties of the ocean at the Oceanarium Lisbon is as soon as they open at 10 am.
During the early morning, the marine animals are active, and you can watch them paddling through the glass enclosures.
If you can't make it in the morning, the next best time to visit the Oceanarium is after 3 pm.
You can avoid getting stuck in the crowd if you visit after 3 pm.
How long does the Lisbon Aquarium take?
Exploring the Lisbon Oceanarium, including the permanent and temporary exhibits, may take two to three hours.
And when you're with kids, you may expect the tour duration to extend by an hour or so as kids usually spend more time around the marine exhibits.
---
Exhibits at Lisbon Oceanarium
There is a lot to see at the popular Aquarium, and we list some of the highlights.
Birds
In the enclosure dedicated to birds, you see Atlantic Puffin, Common Murre, Inca Tern, Magellanic Penguin, Razorbill Auk, Southern Rockhopper Penguin, etc.
Invertebrates
Some of the most popular invertebrates at the Oceanarium are – Bubble Tip Anemone, Cabbage Leather Coral, Blood Star, Common Cuttlefish, Giant Pacific Octopus, Giant Spider Crab, Red Starfish, Sunflower Seastar, White Spotted Jellyfish, etc.
Fish
Both adults and kids love spending time with fish such as Azure Demoiselle, Bignose Unicornfish, Blue and Yellow Grouper, Bluering Angelfish, Devil Ray, Long Snouted Seahorse, Red Lion Fish, etc.
Amphibians
Some of the most popular amphibians are – the Dusky Salamander, Red Eyed Tree Frog, Pipa, Rubber Eel, Strawberry Poison Frog, Natterjack Toad, etc.
Mammals
The only mammal on display at the Aquarium is the Sea Otter.
Plants and Algae
Don't miss the section dedicated to the plant kingdom, where you will see Buddleia, Boxwood, Areca Palm, Coconut, Coffee, Common Yew, Mother-In-Law's Tongue, Lipstick Plant, Shell Ginger, Zebra Plant, etc.
Forests Underwater
The Oceanário de Lisboa's temporary exhibition, "Forests Underwater by Takashi Amano," showcases tropical forests inside a large aquarium.
This exhibit is installed to create awareness among the visitors about the relevance of the tropical underwater forests and how they are depleting slowly.
ONE, the ocean as you never felt it
As you step near this exhibit, you will feel engulfed in the arms of the pristine ocean, whose touch, sight, and sound will evoke a sense of pleasure and peace.
This artistic installation created by Maya de Almeida Araujo portrays the deep connection between humans and the seas.
The temporary exhibit strives to instill a sense of responsibility and pride among the visitors to preserve the ocean's jewels.
---
---
Food at the Aquarium
After spending long hours at the Lisbon Aquarium, your body might need some fuel.
Tejo Restaurant, located within the premises of the Oceanarium, has set up comfortable and cozy dining, which will surely win your heart.
Inspired by the Medirterran cuisine, the restaurant offers simple and healthy food that will kick your taste buds right.
Shopping at Lisbon Oceanarium
In 2018 Oceanário de Lisboa inaugurated an on-site gift shop, which pushed the Aquarium one step closer to the #SEATHEFUTURE movement.
The gift shop features sustainable and eco-friendly products like glass bottles, t-shirts, bags, toys, sweatshirts, caps, etc.
During summers, the gift shop operates from 10 am to 8 pm, while in winters, it runs from 10 am to 7 pm.
Sources

# Oceanario.pt
# Wikipedia.org
# Lisbon.net
# Tripadvisor.com

The travel specialists at TheBetterVacation.com use only high-quality sources while researching & writing their articles. We make every attempt to keep our content current, reliable and trustworthy.
Popular attractions in Lisbon