Lisbon boasts soothing fado music, wonderful beaches, beautiful castles, cobbled and bustling traditional streets, and impressive art collections stored in the museums.
There are many ways to explore the hidden gems in Lisbon; you can take a bus or tram tour and keep ticking your itinerary's travel locations.
But why not try a new mode of transport that is thrilling and makes your tour more memorable?
HIPPOtrip offers a unique sightseeing experience of Lisboa in its amphibious vehicle that runs on both land and water.
This article explains everything you need to know before buying your HIPPOtrip Tickets.
Top HIPPOtrip Lisbon Tickets
What to expect from a HIPPOtrip
HIPPOtrip takes you on a Lisbon tour where you get a chance to explore the iconic attractions from land and water.
The HIPPOtrip Amphibious bus and boat driver drive around the monuments, castles, and churches ornated on the land, then plunges into the Tagus river giving a new twist to the tour.
You can catch glimpse of Terreiro do Paça, Praça da Figueira, Elevador de Santa Justa, Padrão dos Descobrimentos and many other sites on your way.
On land, you go wild, while on the water, you can feel the waves pushing the vehicle forward, and the cool breeze touching your face will light up your soul.
When the bus cum boat plunges into the river, prepare to get wet.
The tour guides are witty and use Portuguese and English to explain every attraction the amphibious vehicle passes by.
They keep you entertained throughout the 90 minutes journey.
Unlike other tours where you all sit and politely listen to the guides, on HIPPOtrip, plenty of audience participation is involved.
So shout aloud, "Hippo, Hippo, Hurra!!" and get ready for unlimited fun.
---
---
Tickets for HIPPOTrip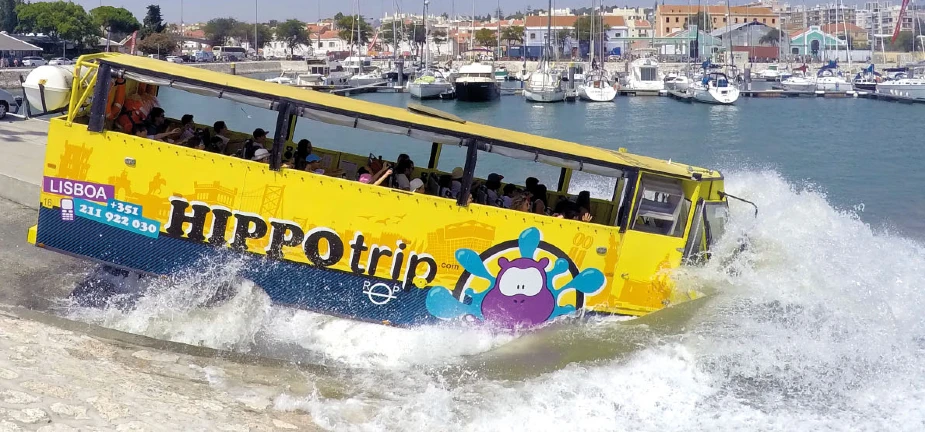 There are three ways to purchase your HIPPOtrip bus and boat tickets – at the boarding point, over the phone, or you can book them online.
We recommend booking them online in advance for three reasons – online tickets tend to be cheaper, you don't wait in a long queue, and you get your preferred time slot (with a limit of only 24 passengers, the vehicle fills up fast).
Departure Point
HIPPOtrip tickets can be purchased at the departure point @ Doca de Santo Amaro in Alcantara.
The ticket booth operates from 9 am to 6 pm.
After the payment, you will receive a booking confirmation, which you must present upon boarding.
By Phone
Pre-booking on the phone is available between 9 am and 6 pm.
Dial +351 211 922 030 and book your tickets.
You must reach the departure point at least 30 minutes before the trip's departure time and make the payment to guarantee your seat on the vehicle.
Reservation is only guaranteed up to 15 minutes before the tour's scheduled start.
Online tickets
Now you can book your HIPPOtrip tickets online at any time and anywhere.
When you book your tickets online, you're assured of getting a seat on the HIPPOtrip Amphibious bus and boat.
How online ticket works
While buying your HIPPOtrip tour tickets, all you need to do is select the preferred date for your tour, pick the time that fits your schedule, and then finally select the number of tickets based on age group.
The child ticket is available only in combination with the adult ticket to ensure children's safety.
Once you make the payment, you will immediately get your tickets in your email.
No need to take printouts – just show the ticket in your email while boarding.
Ticket price
Adult ticket (17 to 64 years): € 30
Child ticket (2 to 16 years): € 18
Senior ticket (65+ years): € 18
---
---
Tour schedule
HIPPOtrip tours take place every day regardless of the weather.
From April to September, which is the peak season, the HIPPOtrip tours start at 10 am, 12 noon, 2.05 pm, 4 pm, and 6 pm.
From October to March, which is the lean season, only four tours are available daily – at 10 am, 12 noon, 2.05 pm, and 4 pm.
During weekends and the summer season (April to September), the HIPPOtrip tickets are high in demand, so additional tours get added at 11 am, 1 pm, 3 pm, 5 pm, and 7 pm.
Because of this high demand, booking your HIPPOtrip tour in advance is better.
Due to traffic, tide, or scheduling issues, the tour may be advanced or delayed by 15 minutes from departure time.
---
---
Tour length and language
The HIPPOtrip tour in Lisbon lasts 90 minutes, out of which 60 minutes are spent on land while the rest is on the water.
The vehicle's route on the road is fixed, but the circuit on the water may vary – depending on the height of the tide, the weather conditions, and the state of the water.
The tours are in English and Portuguese.
From where does the tour depart
The departure point is located @ Doca de Santo Amaro in Alcantara, which is the marina almost below the big red 25 de Abril bridge.
The passenger boarding area is near the "Associação Naval de Lisboa" entrance, directly beside the Tagus River.
---
---
Things to remember
Here are a few things to remember if you have booked Lisbon's HIPPOtrip bus and boat tour.
Reach the departure point 20 minutes before the scheduled time.
If passengers do not reach the boarding location on the date and time of the ticket purchased, their tickets will be canceled without a refund.
Children under two years of age are not allowed aboard HIPPOtrip vehicles.
It is windy and breezy on river Tagus, so it is better to carry extra layers like sweaters or jackets.
Passengers cannot bring luggage or other bulky items aboard the amphibious vehicles.
Kids are given booster seats to ensure a good view from the high-sided vehicle.
Adverse weather conditions or high traffic can alter the route of HIPPOtrip's amphibious vehicle
---
---
How to reach HIPPOtrip
Address: HIPPOtrip Building, Doca de Santo Amaro – Alcântara. 1350-353 Lisbon. Get Directions
The nearest train station, Alcantara-Mar, is a 6-minute walk from the dock.
You can hop into tram 15E or 18E to Alcântara – Av. 24 Julho stop. From there, the HIPPOtrip departure point is nearly 8 minutes walk away.
You can take bus number 728 or 98D and get down at the Alcântara Mar bus stop from where the departure point is 6 minute walk away.
Car Parking
If you're traveling by car, turn on your google maps and get started.
The car parking in proximity to the departure point is Estacionamento Docas and Parque Docas Telpark by Empark.
Both the parking lots are within walking distance from the departure point.
---
---
HIPPOtrip tour circuit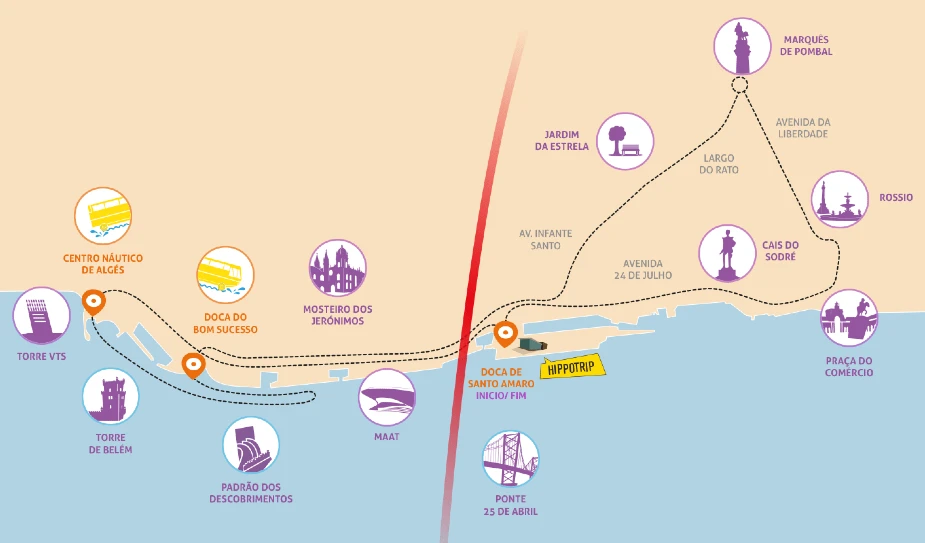 Departing point: Docas de Santo Amaro
Sites covered on land
Museum of Ancient Art
Mercado da Ribeira
Praça do Município
Terreiro do Paço
Praça da Figueira
Rossio Square
Dona Maria National Theater
Restauradores Square
Avenida da Liberdade
Praça Marquês de Pombal
Largo do Rato
Jardim da Estrela
Electricity Museum (Museu da Electricidade)
Belém Palace
Jerónimos Monastery (Mosteiro dos Jerónimos)
Belém Cultural Center
Praça do Comércio
Sites covered on Tagus River
Doca do Bom Sucesso (Belém)
Padrão dos Descobrimentos
Torre de Belém
Torre VTS
Champalimaud Center
Centro Náutico de Algés
---
---
HIPPOtrip Lisbon for groups
HIPPOtrip provides a different level of fun and adventure for groups with ten or more passengers by tailoring the tour based on group requirements.
You can celebrate your birthday, professional achievements, new project launch at the office, and family get-together on the HIPPOtrip Amphibious boat and bus.
Schools can take students on a historical trip that ensures infotainment.
Based on different subjects, age groups, and the number of students, HIPPOtrip offers Lisboa tours in various languages and tour lengths.
For group tours, HIPPOtrip goes the extra mile and customizes the tour language, route, and length so that you remember the adventure for the rest of your life.
Popular attractions in Lisbon