Lisbon Zoo (founded in 1884) helps kids and adults learn about animals, wildlife conservation, and how illegal trafficking affects our ecosystem.
Located very much within the city of Lisbon, the Zoo hosts around 2000 animals of more than 300 species.
This article shares everything you need to know before buying your Lisbon Zoo tickets.
What to expect at Lisbon Zoo
At Lisbon Zoo, you can explore animals from different parts of the world and indulge in unlimited fun and infotainment.
The Zoo hosts presentations and attractions that offer immense learning for visitors.
---
---
---
Lisbon Zoo tickets
To get into the Lisbon Zoo, you need a ticket, and we suggest you plan and book them early to reserve your entry.
Where to buy tickets
You have two options to buy tickets: purchase tickets directly at the attraction or book your tickets online.
If you purchase tickets from the Zoo's ticketing counter, you need to travel to the Zoo, stand in queues, and wait for your turn.
When you book your Lisbon Zoo tickets online, you also get a discount because online prices are cheaper than the cost at the venue.
During weekends and holidays, the Zoo gets really crowded, and booking online helps avoid last-minute disappointment.
How online tickets work
When you buy Lisbon Zoo tickets online, you can select a preferred date and time for the visit.
After purchase, your ticket gets sent to your registered email ID.
You don't need to take printouts.
When you visit the Zoo, you have to show the e-ticket at the ticket booth that the code scanner terminal will validate.
We advise you to bring your ID cards and reach the Zoo 10 to 15 minutes before the scheduled time for a smooth entry.
Ticket Price
Adult ticket (13 to 64 years): €26.50
Child ticket (3 to 15 years): €16.50
Senior ticket (65+ years): €19
Infant ticket (up to two years): Free entry
Oceanarium & the Zoo
Lisbon Oceanarium is only 15 minutes away by car from Lisbon Zoo, which is why some families plan to visit both on the same day. Buy Combo Ticket
---
---
Opening hours
During Summer (21 March to 20 September), the Lisbon Zoo opens at 10 am and closes at 8 pm, with the last entry at 6.45 pm.
During Winters (21 September to 20 March), the Zoo opens at 10 am and closes at 6 pm, with the last entry at 5.15 pm.
The Lisbon Zoo remains open round the year.
Best time to visit Lisbon Zoo
The best time to visit Lisbon Zoo is as soon as they open at 10 am.
During morning hours, the animals are in their most active state.
However, they usually hide in their shelters to nap or escape the heat in the afternoon.
Also, in the early hours of the day, the crowd is less, and you get more time and space to spend at the exhibits.
How long does Lisbon Zoo take?
Exploring the Lisbon Zoo takes around three to four hours if you wish to cover all the presentations and attractions.
Families with slightly older kids spend more time because the children don't tire easily.
Lisbon Zoo offers immense learning and gives you a chance to come closer to the animal world.
---
Lisbon Zoo's Train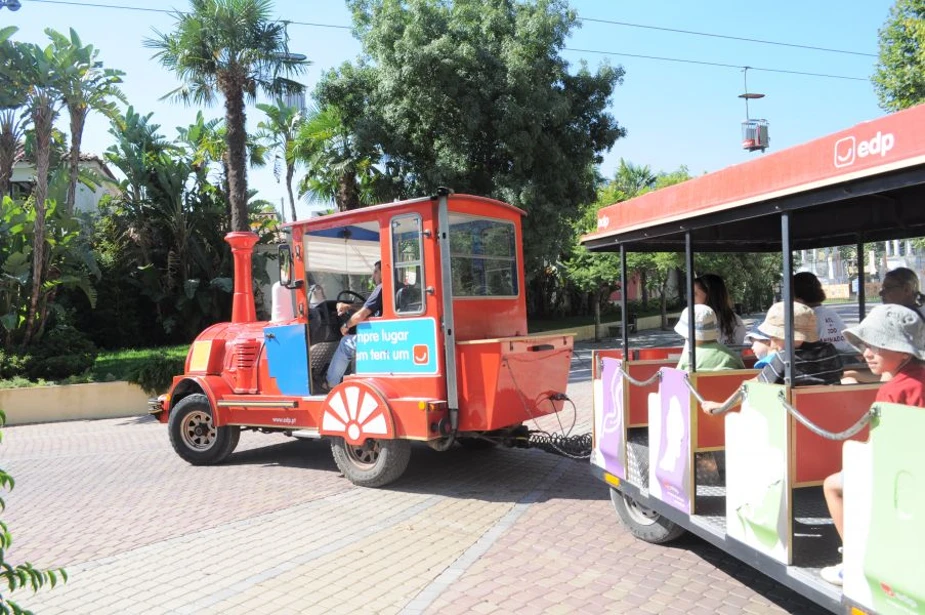 Come, board the Zoo's train and take a round of the Zoo in the comfort of your seat.
The 15 minutes trip offers a different experience around the Zoo, including audio explanations along the way so visitors can learn more fun facts about the animals.
The Lisbon Zoo train ticket is not included in the Lisbon Zoo entry ticket.
However, they are available for purchase from a couple of places in the Zoo.
Ticket Price
Adult ticket: €1
Child ticket: €0.50
Group ticket: €0.50
Lisbon Zoo's Cable Car
What can be more beautiful than exploring the Lisbon Zoo from the top?
The cable car at Lisbon Zoo takes you on a 20 minutes trip around the wildlife attraction.
During summers, the cable car operates from 11.30 am to 7.30 pm (last tour).
In winter, it starts at 11 am, and the last ride is at 5.30 pm.
The cable car is shut down for maintenance on 28 March, 2 May, 30 May, 27 June, 25 July, 29 August, 26 September, 31 October, 28 November, and 26 December.
---
---
How to reach Lisbon Zoo
The Lisbon Zoo is at Praça Marechal Humberto Delgado, 1549-004 Lisboa, Portugal. Get Directions
By Metro
The wildlife attraction in Portugal's capital is within a 2-minute walk of Jardim Zoológico station (Blue Line).
By Bus
Carris bus routes that can drop you at the Zoo are – 701, 716, 726, 731, 746, 754, 755, 758, 768, and 770.
Once you exit at Sete Rios, a brisk 3-minute walk can get you to the Zoo.
By Rail
Sete Rios train station is right next to the Lisbon Zoo.
You can plan your trip by visiting the National Rail website.
Car Parking
If you're visiting Lisbon Zoo in a car, turn on your google maps and head towards the tourist attraction.
Extensive underground and open-air paid car parking facilities are available opposite the main Zoo entrance.
---
---
Animals in the Zoo
Lisbon Zoo hosts more than 2000 animals of nearly 300 different species.
We list some of the most popular animals at the attraction.
Africa: Black Rhinoceros, Okapi, Gorilla, Addax, Scimitar-Horned Oryx, Grevy's Zebra, African Penguin, and Lemure
America: Golden Lion Tamarin, Silvery-Brown Bare-Faced Tamarin, and Tufted Capuchin
Asia: Komodo Dragon, Arabian Oryx, Sumatran Rhino, Persian Leopard, and Siberian Tiger
Europe: Iberian Lynx
Oceania: Koalas
Rivers, seas, and oceans: Bottlenose Dolphin and the Mediterranean Monk Seal
---
---
Presentations and attractions at Zoo
There is lots to see and enjoy at the Lisbon Zoo, and we list some of the highlights.
Dolphin Bay
At Dolphin Bay or Dolphinarium, Dolphins dip and dive into the water.
The dolphin presentations take place thrice daily – 11 am, 2.30 pm, and 4.30 pm.
The presentation runs for 20 minutes, where the dolphins show their tricks and athleticism.
Pelicans
During the Pelicans presentation, you can closely watch beautiful white Pelicans feeding and resting.
The presentation runs daily at 11.45 am for 10 minutes.
Enchanted Forest
The Enchanted Forest introduces you to the exuberance of tropical birds flying in the sky.
You learn much about prey, predators, and nocturnal and diurnal birds.
The presentation runs daily at 12.30 pm or 4 pm.
During 20 minutes of the Enchanted Forest presentation, you will see a spectacular flight of birds that will amaze you.
Children's Farm
At Children's farm, you can learn about domestic animals like Donkeys, Rabbits, etc.
The farm also teaches about the plant kingdom and how to distinguish between plants and trees like lemon, strawberries, lettuces, carrots, etc.
During summer, the Children's Fam presentation runs from 10 am to 8 pm, while in winter, it runs from 10 am to 5 pm.
Lagoon House
You meet the incredible Bottlenose Dolphins at the Lagoon House and watch them suckle and swim underwater.
During summers, the presentation runs from 10.30 am to 8 pm, and in winters, it runs from 10.30 am to 6 pm.
Reptile House
Catch sight of a variety of reptiles at Reptile House.
Here you can see the mythical Komodo Dragon, the Reticulated Python, the Philippine Sailfin Lizard, the Rhinoceros Iguana, the giant American Alligator, and the little Egyptian Tortoise.
Iberian Lynx Grove
Meet the most endangered feline in the world, Iberian Lynx, at this presentation
This attraction is kept in a secluded area of the Zoo to ensure Iberia Lynx can live peacefully.
The grove is surrounded by Mediterranean flora, olive trees, oaks, and aromatic plants to make the animals feel a home.
The Temple of the Primates
At the Temple of the Primates, you can see Chimpanzees, Gorillas Orangutans.
This attraction is built outdoors, keeping in mind the suitable habitat for primates, and this is why trees, waterfalls, lakes, vegetation, and wood decks are installed for the animals to climb.
Valley of the Tigers
Come to the Valley of the Tigers and see tigers walking on platforms, quenching thirst in ponds, and resting on rocks.
This attraction is home to two species of tigers- the Sumatran tiger and the Siberian tiger.
You will learn the threats faced by tigers and how they are moving toward the verge of extinction.
Savana MEO
Savana MEO transports you to the African Savana, where you see giant Elephants, beautiful Giraffes, water-loving Hippos, and spiral-horned antelope called Nyalas.
---
---
Lisbon Zoo's map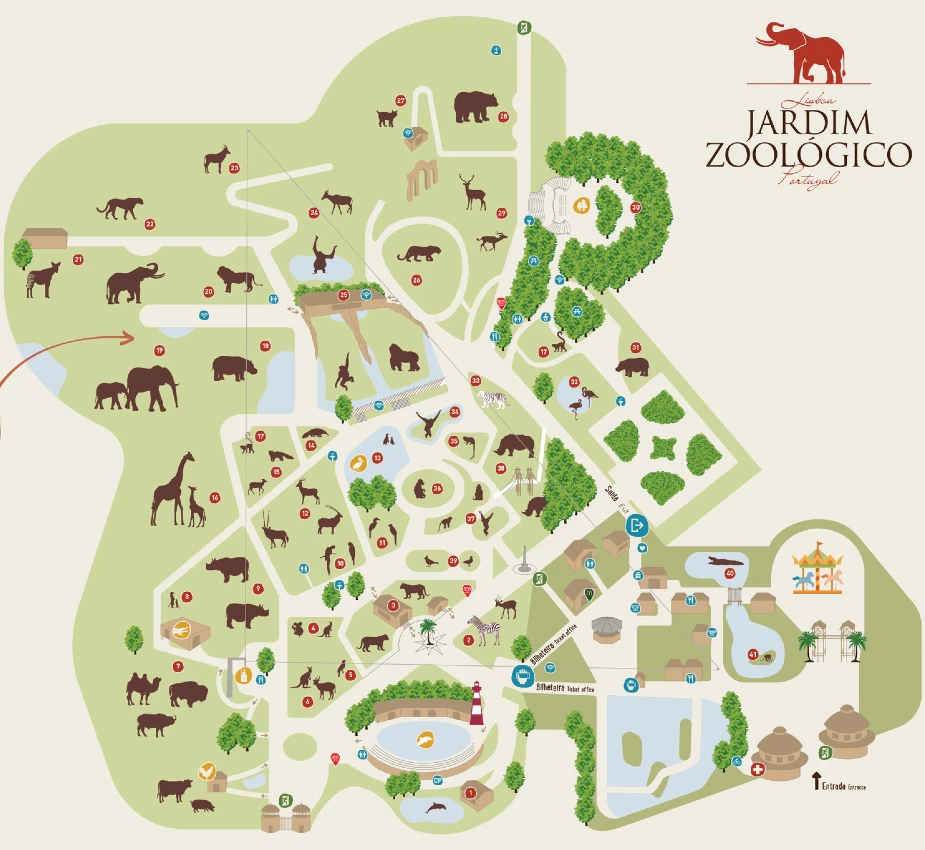 A map is a must when you are planning to visit Lisbon Zoo.
With a map in your hand or downloaded on your phone, you can easily navigate the Zoo and reach your favorite attraction and presentation without much search. Download Map of Lisbon Zoo (338 Kb, WebP)
Besides the exhibits, the map will also help you to locate a first-aid post, toilet and baby changing room, drinking fountain, ATM, baby care center, and so on.
The map also provides you a way to an emergency exit, office, ticket center, car parking, and restaurants.
Sources

# Zoo.pt
# Wikipedia.org
# Portugalvisitor.com
# Tripadvisor.com

The travel specialists at TheBetterVacation.com use only high-quality sources while researching & writing their articles. We make every attempt to keep our content current, reliable and trustworthy.
Popular attractions in Lisbon