Though there are many transport facilities in Lisbon at locals' and tourists' disposal, there is no better way to explore Lisbon than a tram.
Tram 28 may seem old, but it is a lively and fun ride that takes you on a historical tour of Lisbon in the comfort of your seat.
Lisbon Tram 28 passes through narrow streets, taking sharp turns while climbing on steep hills making your tour no less than an adventure.
This article shares everything you need to know before buying your Lisbon tram 28 tickets.
What to expect on a Tram No. 28 ride
Tram 28 in Lisbon transports you to different streets and neighborhoods of the Portuguese capital.
With the panoramic view–from busy streets to bustling ports and the vibrant architecture of parliament and church, you can't think of taking your eyes off.
The jerky ride along the narrow streets and hills allows you to relive the history and culture of Lisbon.
You can explore the city and its attractions from the comfort of your Tram seats.
There are three ways to experience Lisbon's Tram Number 28.
Tourists can book a 24-hour pass for Tram 28, a Tram No. 28 ride with a walking tour, or a Hills Tram tour + Lisbon Cathedral combo.
---
---
Where to buy Lisbon Tram 28 tickets
If you want to take the Lisbon tram 28, you can buy your Ticket directly from the tram driver.
But to avoid any last-minute disappointment, we suggest you book your tickets online.
When you purchase your tickets online, you tend to get a discount and can get tickets hassle-free.
An online ticket reserves your seat in advance and promises you a smooth journey.
If you plan to take multiple trips, opt for the 24-hour Tram 28 pass. Else go for the highly rated guided ride on Tram No. 28 with a walking tour.
---
---
Tram No. 28 Ride & Walking Tour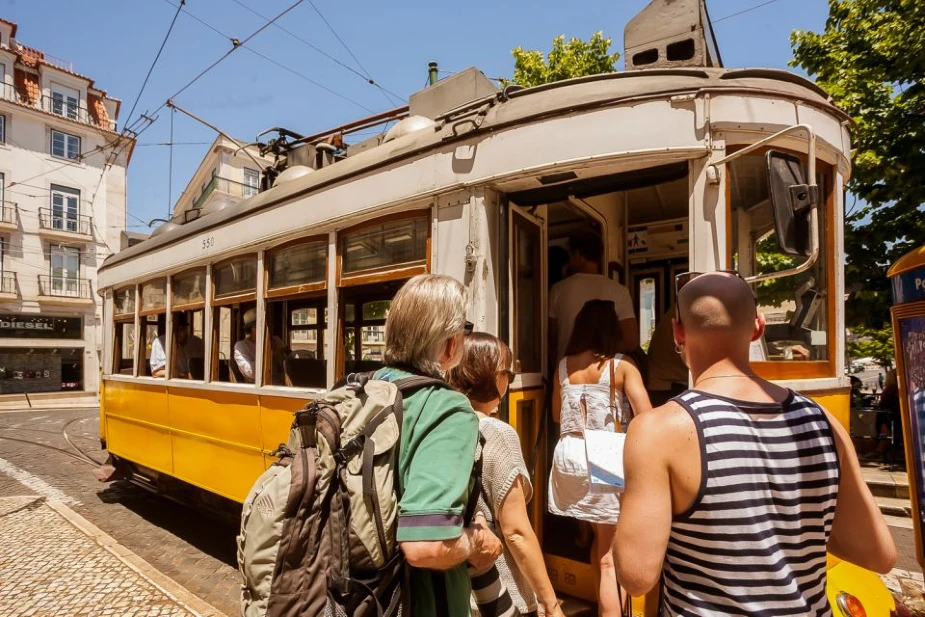 This is a combo tour, where you can experience Tram No 28, and a local expert takes you on a short walking tour.
You will board the most famous tram in Lisbon for an adventure through the Old Town's narrow streets.
After taking in panoramic views of the city and river as the tram climbs one of Lisbon's many hills, you will hop off the tram and get closer to the city.
Every Tuesday and Saturday, enjoy the hustle and bustle of Feira da Ladra, the famous flea market in Lisbon.
Get wowed by the Sé de Lisboa, the medieval cathedral and the city's gem.
Discover the unique archtuecture of Mosteiro de São Vicente de Fora (Saint Vincent Monastery).
Unravel the majestic Panteão Nacional (National Pantheon) history and be prepared to get amazed by the dome and its architectural details.
Explore Alfama, and witness the maze of cobbled streets, traditional houses, trendy cafes, and shops, with fado music running in the background.
This Lisbon Tram 28 tour is three hours long.
The tour departs from Praça Luís de Camões.
Your guide will be wearing a black backpack with the Lisbon Spirit logo.
The nearest subway station to the departing stop is Baixa-Chiado, a one-minute walk away.
You can take the bus routes 202 and 758 and get down at Praça Luís de Camões bus stop.
Ticket Prices
Adult ticket (13+ years): € 20
Child ticket (less than 12 years): Free
---
---
Tram 28's 24-Hour Ticket
Prepare yourself to explore the most iconic landmarks in Lisbon in a vintage tram with a 24-hour ticket.
The best place to board Tram 28 is Praça do Comércio.
Although you can hop onto the tram at any stop, you'll probably have to stand as all the seats will be taken by other passengers.
The closest metro station to the boarding stop is Praça do Comércio station.
Bus number 774 will drop you at the Pç. Comércio stop, from where the tram boarding stop is just one minute walk away.
The Hills Tramcar Tour lasts for 90 minutes.
The tour departs from Praça do Comércio every 30 minutes from 10 am to 7 pm.
However, at 1:30 pm, there is no departure.
Booking tickets online assures you that you'll get a seat on the tram and make your journey easier.
Ticket Prices
Adult ticket (17+ years): € 22
Youth ticket (11 to 16 years): € 16.50
Child ticket (4 to 10 years): € 11
Infant ticket (less than 3 years): Free
---
---
Hills Tram tour + Lisbon Cathedral
Purchase a combo ticket for Hills Tram tour + Lisbon Cathedral and enhance your experience.
With a single ticket, hop onto the tram and get ready for exciting sightseeing in Lisbon, covering remarkable landmarks.
The hills tram tour starts from Praça do Comercio.
The tour runs every day from 10 am to 7 pm.
You can visit Lisbon Cathedral, the oldest yet most popular cathedral that dates back to the 12th century.
The cathedral's gothic cloister and Roman, Arabic, and Medieval remains inside it will surprise you.
The cathedral is open to visitors from 9.30 am to 7 pm from Monday to Saturday.
On a single ticket, you can save as much as € 3.
Source
# Timetravelturtle.com
# Lisbonlisboaportugal.com
# Tripadvisor.in

The travel specialists at TheBetterVacation.com use only high-quality sources while researching & writing their articles. We make every attempt to keep our content current, reliable and trustworthy.
Popular attractions in Lisbon