Located in the historic city of Lisbon, the National Palace of Sintra was declared a UNESCO World Heritage site in 1995.
Also known as Palácio da Vila (The Town Palace), the palace dates back to the 9th century when the Moorish governors built their residence on the site.
During the middle ages, this palace was extensively used by the monarchs as a resort, hunting retreat, and safe haven during outbreaks of diseases.
During your Lisbon holiday, a visit to the National Palace of Sintra is a must to know how culturally rich the city was during medieval times.
This article shares everything you need to know before buying your National Palace of Sintra tickets.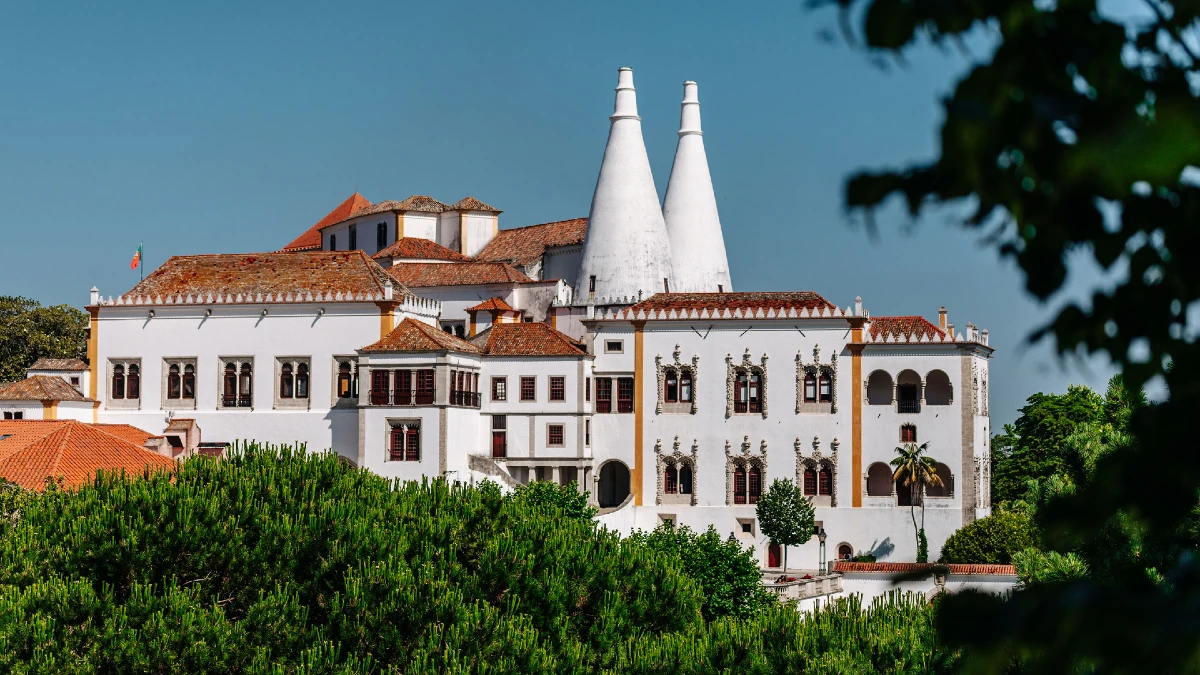 What to expect at the palace
You will get transported to medieval times when you step into the National Palace of Sintra.
Unique architecture
Learn about the architecture at the palace, which is a fusion of Gothic, Manueline, and Mudéjar styles (a combination of Muslim and Christian artistic influences).
Giant kitchen Chimney
See the 14th-century kitchen's conical chimney, which is 33 meters (108ft) high and vented out all the smoke from the kitchen.
Coats of Arms room
Visit the "Sala dos Brasões" (Coats of Arms room) and see the marvelous collection of Mudéjar Azulejos (colored glazed tiles).
The tiles depicting bucolic and hunting scenes are extraordinary.
Swans Hall
Swans Hall is the oldest stateroom in the Portuguese Palace, whose ceilings are ornated with the painting of swans in octagonal panels.
Magpies Room
Enter the Magpies Room and see the Renaissance fireplace made of marble and a ceiling divided into 136 triangular panels depicting magpies.
The room has very old furniture that reflects the majesty of the monarch.
National Palace of Sintra is a meeting point of various cultures whose beauty was magnified regularly as new kings were placed on the throne.
---
---
National Palace of Sintra tickets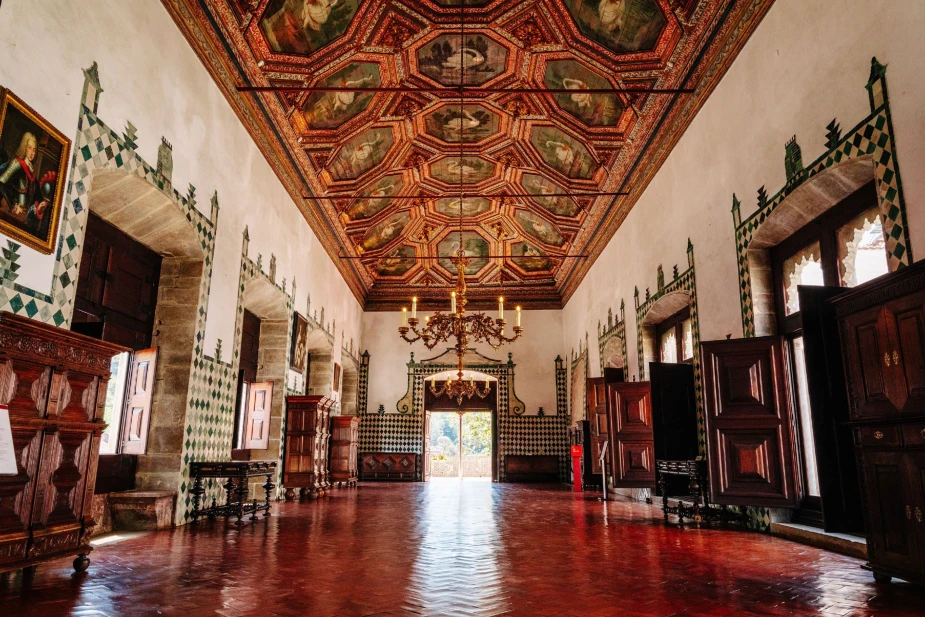 You can purchase National Palace of Sintra tickets at the attraction or online.
We recommend you buy your tickets online because they help you save time, money, and energy.
Online tickets tend to be cheaper and you also get to skip the long queue at the ticket counter.
When you get your tickets for Sintra's National Palace online, they get emailed to you.
On the day of your visit, you can show your tickets on your mobile and enter – no need to take printouts.
Buying tickets online ensures a smooth entry and helps you avoid last-minute disappointment.
Even though Kids under six get in for free, on the booking page, you must select a free ticket for them.
Ticket prices
Adult ticket (6+ years): €10
Infant ticket (up to 5 years): Free
---
---
Park and Pena Palace + National Palace + Castle of the Moors
Amplify your tour of Lisbon by buying a single ticket for Park and Pena Palace in Sintra, the National Palace of Sintra, and the Castle of the Moors.
Book your ticket once and get ready to explore:
Park and Pena Palace in Sintra, which looks like a fairy tale castle
National Palace of Sintra, a UNESCO World Heritage site
Castle of the Moors, where you'll find artifacts from the Bronze Age, Iron Age, and the Neolithic period
When you book this combo ticket, you get a 6% discount and save at least €2 per person.
---
---
National Palace of Sintra + Monserrate Palace
Level up your fun in Lisbon by purchasing a combo ticket for the National Palace of Sintra and Monserrate Palace.
Both these monuments are declared UNESCO World Heritage sites, so visiting these palaces is a must.
At Monserrate Palace, you'll explore what was once a 16th-century chapel and a private house.
The architecture of Monserrate Palace is a blend of Gothic, Moorish, and Indian styles, which is a treat to the eyes.
The palace engulfs beautiful and romantic gardens, featuring lakes, springs, fountains, caves, and plant species worldwide.
At the National Palace of Sintra, you'll explore the Magpies Room, Swans Room, etc., which lets you relive history.
---
---
Opening hours
The National Palace of Sintra gates are open for visitors from 9.30 am to 6.30 pm.
The palace welcomes tourists on all days of the week.
The last entry is one hour before the closing.
How long does the palace take
Most tourists spend 90 minutes to two hours exploring the National Palace of Sintra.
History buffs tend to spend four to five hours exploring the numerous rooms of Sintra's National Palace.
---
---
How to reach the National Palace
The National Palace of Sintra is located in the town of Sintra, in the Lisbon District of Portugal.
Address: Largo Rainha Dona Amélia, 2710-616, Sintra. Get Directions
By Train
Sintra train station is close to the National Palace of Sintra, approximately 10 minutes walk away.
If you are in Lisbon, you can take a train from Lisbon's Rossio station.
Every half an hour, a train leaves the station for Sintra.
By Bus
Largo Ferreira Castro (434) and Largo C.M.Sintra (433 and 434) are the nearest bus stops to the palace.
Car Parking
If you're traveling in the car, turn on your google maps and get started!
You can park your car at the Estacionamento parking lot, just a 5-minute walk from the palace.
Sources

# Sintra-portugal.com
# Wikipedia.org
# Visitworldheritage.com
# Tripadvisor.com

The travel specialists at TheBetterVacation.com use only high-quality sources while researching & writing their articles. We make every attempt to keep our content current, reliable and trustworthy.
Popular attractions in Lisbon