Lourinhã Dino Park is an exciting dinosaur-themed park located in the town of Lourinhã, Portugal.
It is the largest outdoor dinosaur park in the country and one of the largest in Europe.
The park is situated in a beautiful natural setting and covers an area of approximately 10 hectares, with over 120 models of life-size dinosaurs on display.
This article shares everything you should know before booking tickets for the Dino Parque Lourinha Amusement Park.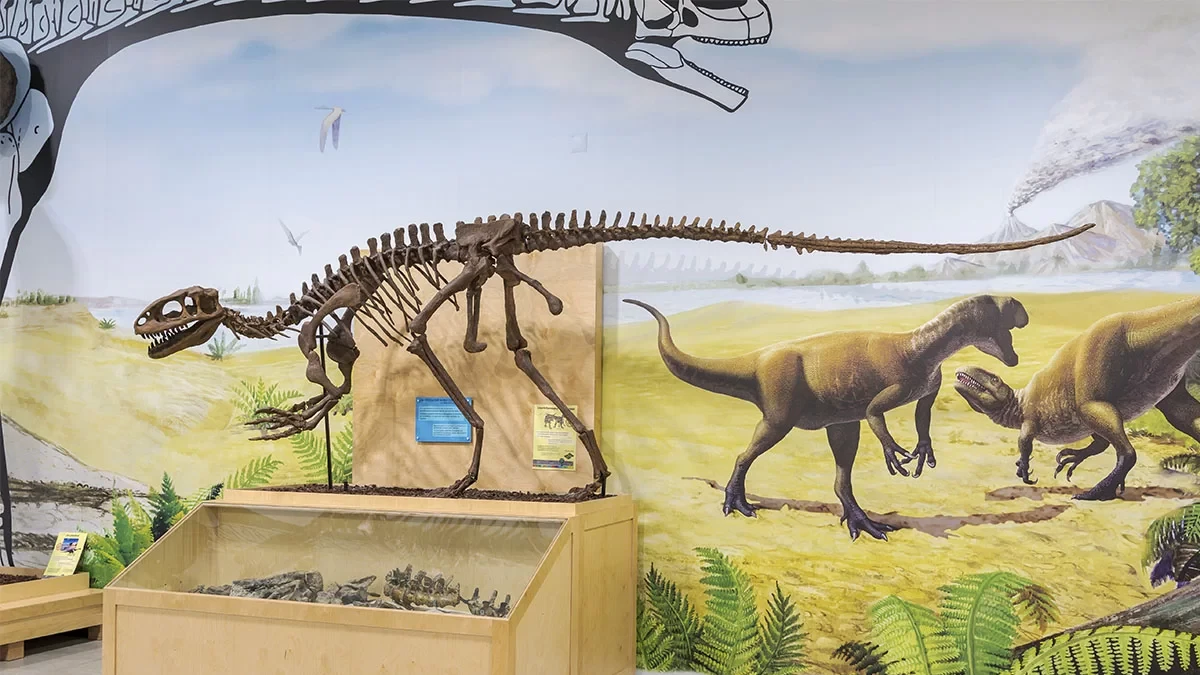 What to expect at Lourinhã Dino Park
Lourinhã Dino Park offers visitors a range of exhibits and activities that showcase the fascinating world of dinosaurs.
Life-size dinosaur models
The Dinosaur Park in Portugal features over 120 life-size models of various species of dinosaurs, including the T-Rex, Stegosaurus, Triceratops, and many others.
The models are incredibly detailed and realistic, allowing visitors to get a sense of what these prehistoric creatures may have looked like.
Dinosaur Island
The Dinosaur Island features a range of dinosaur models placed in naturalistic settings, such as a forest, a swamp, and a desert.
You can walk along the paths and see the models up close, taking photos and enjoying the stunning scenery.
Dino Lab
The Dino Lab exhibit allows you to learn about the science behind paleontology and how fossils are excavated and studied.
You can try your hand at excavating fossils, identifying different species of dinosaurs, and learning about the tools and techniques used by paleontologists.
Dinosaur Museum
Museu Dino Parque houses a collection of fossils, bones, and other artifacts related to the study of dinosaurs.
You can learn about the history of these creatures and the research that has been done to understand them better.
Fossil Hunting
Lourinhã Dino Park offers visitors the opportunity to go on a guided tour and search for fossils in the surrounding area.
This is a great activity for families, and you can take home any fossils they find.
Playground
The Dino Parque has a playground area for children, with dinosaur-themed equipment and activities to keep them entertained.
Overall, you can expect an immersive and educational experience, learning about the history and science of dinosaurs and enjoying the beautiful scenery at Dino Parque Lourinha.
---
---
Where to buy Dino Parque Lourinha tickets
You can purchase your Lourinhã Dino Park entry tickets at the attraction or online in advance.
If you land at the venue to buy tickets, you'll have to line up at the ticket counter.
During peak times, these lines can get long, and you will end up wasting your time.
Online tickets for the Dino Parque Lourinha are cheaper than the tickets sold at the venue.
Online tickets also help you avoid last-minute disappointments when tickets get sold out.
How online ticket works
Go to the Dino Parque Lourinhã ticket booking page, select your preferred date and the number of tickets, and buy the tickets instantly.
After the purchase, you will receive the tickets in your email.
You don't need to take any printouts.
Show your smartphone ticket at the entrance on the day of your visit and enter the Dino Parque Lourinha right away.
Cost of Lourinhã Dino Park tickets
The Parque Dinossauros Lourinhã entry tickets cost €14 for all visitors aged above 13 years.
Children between 4 to 12 years get a discount of €4 and pay only €10 for entry.
Kids under 4 years can enter the Dino Parque Lourinha amusement park for free.
Tickets for Lourinhã Dino Park
The tickets for Lourinhã Dino Park include access to the park's exhibitions, activities, and shows related to dinosaurs and prehistoric life.
You will also have the chance to see real fossils and learn about the process of fossilization.
The Dino Park offers various shows featuring animatronic dinosaurs, actors in costumes, and other special effects.
There are play areas for children to enjoy various activities such as climbing walls, slides, and other attractions.
You can also participate in various educational activities, such as workshops and guided tours, to learn more about dinosaurs and prehistoric life.
Ticket Prices
Adult Ticket (13+ years): €14
Child Ticket (4 to 12 years): €10
Infant Ticket (up to 3 years): Free
Save time & money! Buy Lisbon 24, 48, or 72-Hour Pass and explore museums, palaces, monasteries, historic buildings, and many more attractions. Get unlimited free access to the public transport system.
---
---
Lourinhã Dino Park timings
Parque dinossauros Lourinhã opens at 10 am and closes at 6 pm every day from March till May.
From June through September, the park remains open till 7 pm.
The Dinosaur Park closes early at 5 pm from October to February.
Best time to visit Lourinhã Dino Park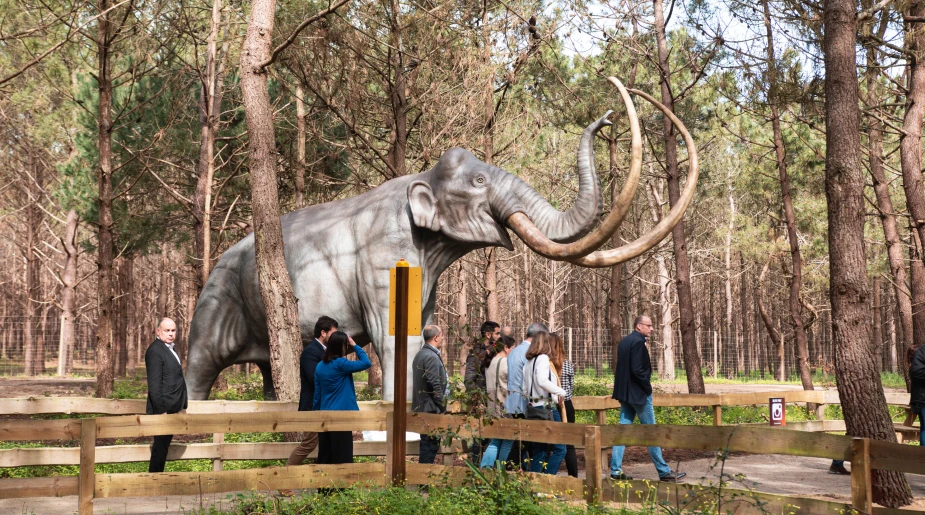 It is best to visit Lourinhã Dino Park as soon as they open at 10 am.
When you start early, there are only a few tourists, and you can get closer to the exhibits and take fantastic photos.
If you prefer a quieter experience, you may want to visit during the weekdays or outside of peak season.
How long does Lourinhã Dino Park take
On average, visitors typically spend around four to five hours exploring the park.
However, it's important to note that the park covers a large area and has many different exhibits to see
This includes life-size dinosaur models, interactive displays, and a dinosaur museum.
When you're here with your toddlers, you'd need almost half a day.
---
---
How to reach Dino Parque Lourinha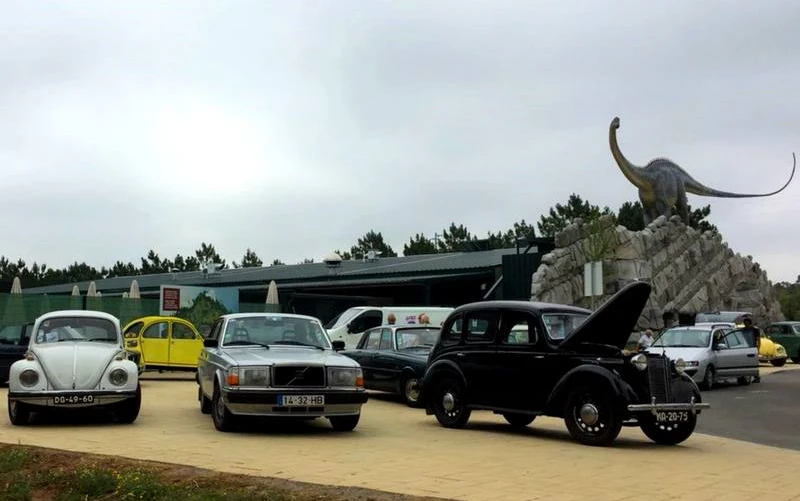 Dino Parque Lourinha is located in Lourinhã, about 70 kilometers (43 miles) north of Lisbon, Portugal.
Address: R. Vale dos Dinossauros 25, 2530-059 Lourinhã, Portugal. Get Directions!
You can reach the Parque dinossauros Lourinhã via public transport or personal vehicle.
But we suggest you come in your personal vehicle or rent a cab, as the bus stops and train stations are quite far from Dino Park.
By Bus
Marteleira Avenida da Republica is the nearest bus stop, 15 minutes away by drive.
By Train
Sao Mamede and Paul train stations are a 20 to 25 minute drive away from Dino Park.
By Car
The easiest way to reach the park is by car, so turn on Google Maps on your smartphone and get started!
On-site car parking is available at Dino Parque Lourinha.
The park has a large parking area where visitors can park their cars for free.
Is the Dino Parque Lourinha worth a visit?
Lourinhã Dino Park Amusement Park is a fantastic destination for anyone interested in dinosaurs and the natural world.
The park offers an immersive and educational experience for visitors of all ages, making it a great place for families to visit and learn together.
With its beautiful setting, interactive exhibits, and impressive collection of dinosaur models, Parque dinossauros Lourinhã is undoubtedly one of the most exciting dinosaur parks in Europe.
Sources

# Página não encontrada
# Tripadvisor.com
# Center of Portugal

The travel specialists at TheBetterVacation.com use only high-quality sources while researching & writing their articles. We make every attempt to keep our content current, reliable and trustworthy.
Popular attractions in Lisbon